4 Areas the Yankees Should Address Before Spring Training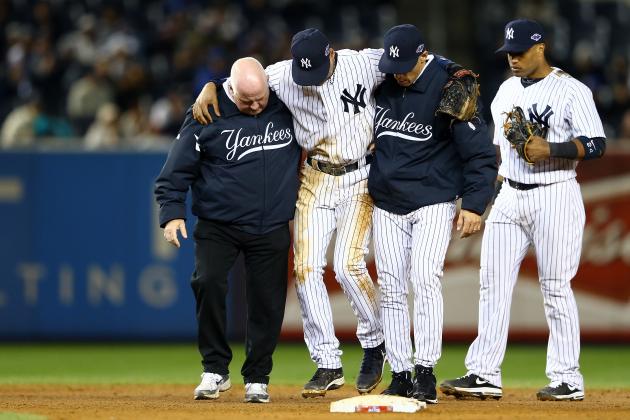 Al Bello/Getty Images
Derek Jeter's leg injury in game 1 of the 2012 ALCS helps highlight one area the Yankees should address entering spring training
Even with all of the productive moves made by the organization so far this winter, the New York Yankees still have several areas they might want to address before spring training.
An aging roster and losses to free agency have made Brian Cashman's job more challenging than in years past.
Factor in the Toronto Blue Jays' upgrades and the organizational decision to remain under the luxury tax and the Yankees really have their work cut out for them in 2013.
But that's why they are the Yankees.
Even when people are counting them out, they seemingly always find a way to win.
Prospects, including Adam Warren, Zolio Almonte and Austin Romine, may all join the Major League roster at some point this year.
However, there are several positions that New York needs to evaluate before the season ever begins.
Here's what I'm talking about.
Begin Slideshow

»
Mike Stobe/Getty Images
Former Yankee Bobby Abreu connects on a pitch during an August 19, 2011 game against the New York Yankees
Ironically, much of the Yankees' success in 2012 could be attributed to players who didn't play every day.
Veteran bats like Raul Ibanez, Andruw Jones, and Eric Chavez came off the bench and paid huge dividends for New York in both the regular season and the playoffs.
Now, all three are gone.
And what was one of the Yankees' most valuable assets, a deep bench, has turned into an area of concern entering 2013.
If he is healthy, the return of Brett Gardner should prove helpful. However, with the departure of Nick Swisher, New York has an outfield dominated by left-handed hitters.
Big-name free agent signings are out of the picture as the Yankees continue to cut down on payroll, but don't be surprised if Brian Cashman targets an experienced low-cost outfielder before Spring training.
Even if it isn't the most attractive target.
Possible options include: Bobby Abreu, Grady Sizemore, Scott Podsednik, Xavier Nady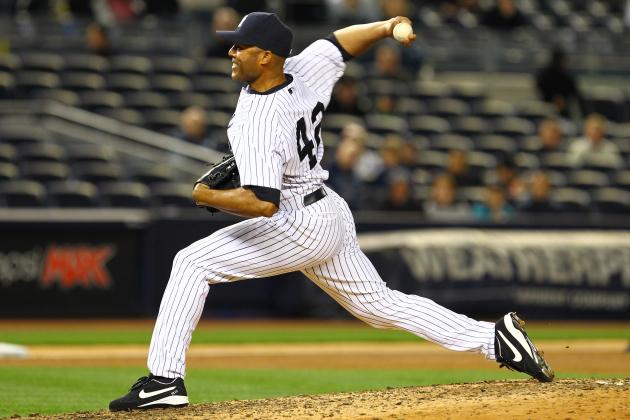 Al Bello/Getty Images
Mariano Rivera pitches against on April 30 against the Orioles just days before tearing his ACL
Mariano Rivera is returning from injury and Rafael Soriano departs.
The only question is: Will Mo still be Mo coming off major knee surgery at the age of 43?
If anyone can make the return, it's him.
But given the uncertainty, the Yankees may want to consider adding some depth to their bullpen before the season starts in April.
As it stands, if Mariano is available on opening day, he would serve as the closer with David Robertson and Joba Chamberlain setting up in the seventh and eighth innings respectively.
But talent doesn't translate to consistency, and New York should pursue some extra arms to fill the void in case any of the three main pieces falls off.
Possible Options Include: J.P. Howell, Brandon Lyon, Matt Lindstrom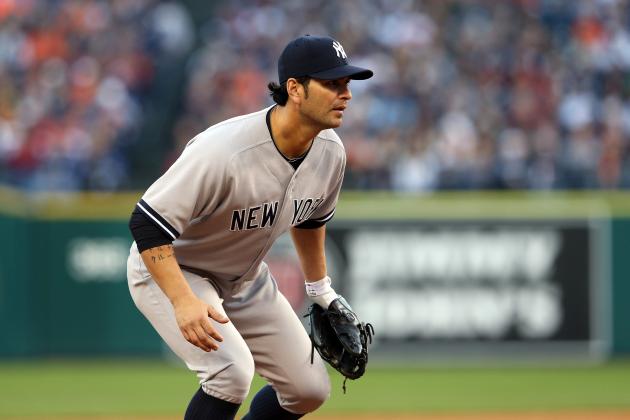 Leon Halip/Getty Images
Eric Chavez plays in place of Alex Rodriguez at third base during Game 4 of the ALCS against the Detroit Tigers
What guys like Chavez provided for the Yankees was flexibility on the infield and professionalism at the plate.
Now, with his departure, New York is left with an aging infield of injury prone superstars.
Sure it is tough to complain when Robinson Cano, Mark Teixeira and Derek Jeter put on the pinstripes every day.
But the fact remains is that they simply won't be able to play every day.
We've already seen injuries take a toll on this group with Jeter's broken leg and Alex Rodriguez's second major hip surgery.
Heck, even Teixeira spent time on the DL a season ago.
So who is going to fill the gaps when the injury bug strikes again? Who will step up to play when 38-year-old Jeter needs the day off?
Eduardo Nunez has played that role effectively in years past, and figures to continue that trend in 2013.
However, the Yankees may need someone else to come off the bench and give them experience and professionalism in the dog days of August when the schedule gets tough.
Possible options include: Brandon Inge, Alex Gonzalez, Orlando Hudson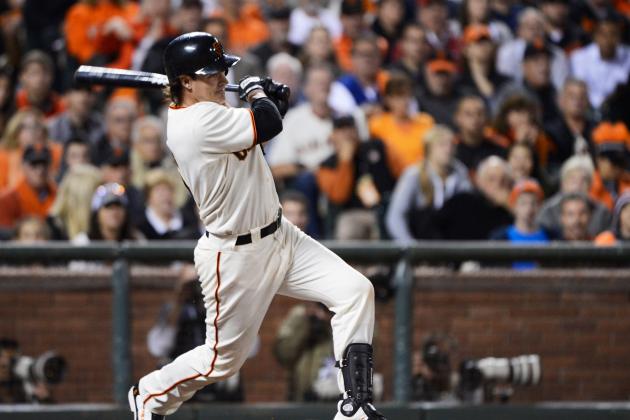 Thearon W. Henderson/Getty Images
Aubrey Huff helped the San Francisco Giants win a World Series Title in 2012
If they aren't going to sign someone who can play them all, the Yankees need to seriously consider targeting someone who can at least play the infield position of first base.
Currently, New York has just one true first baseman on their active roster in Teixeria.
And though Kevin Youkilis has played the position in the past, A-Rod's injury has made third base a mainstay for the Yankees' new acquisition.
First base is another area that has suffered from the departure of Nick Swisher. As a switch-hitter and multi-positional player, Swisher provided New York with ultimate flexibility.
So now, the Yankees must pursue alternative options.
Older names like Casey Kotchman and Aubrey Huff come to mind when evaluating the free agent market.
Though neither player figures to excite Yankee fans by any stretch of the imagination, both could help fill a gaping hole at first base.
Possible options include: Kotchman, Lyle Overbay, Huff