15 Stars That Faded in 2012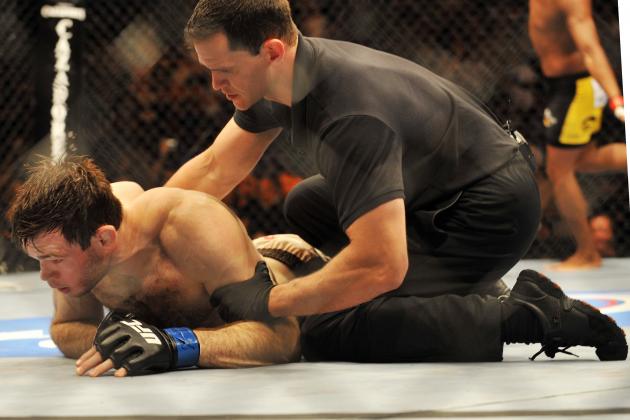 Jon Kopaloff/Getty Images
Forrest Griffin is one of the fighters that 2012 did not treat kindly.
Twelve months is a very, very long time. Think about how different the world was on December 31, 2011.
We had NHL hockey to look forward to. A Manny Pacquiao vs. Floyd Mayweather fight was a distinct possibility. We had no idea what the Colts would do with Peyton Manning. On and on.
In the twelve months since UFC 141, headlined by Brock Lesnar vs. Alistair Overeem, the world of MMA has seen plenty of fighters and personalities lose stock and fade off from where they were in 2011. So who are these stars that are finding 2012 to be a year to forget about? What folks who were doing well in 2011 have you just plain forgotten about?
Find out right here!
Begin Slideshow

»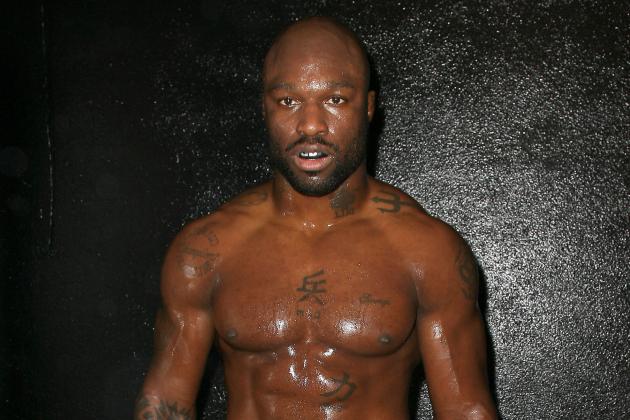 Valerie Macon/Getty Images
Mo Lawal would have been a great addition to the UFC light heavyweight addition...until he almost died, then got suspended for months.
This has been a really bad year for Mo Lawal. The oft-injured light heavyweight would start the year off right, beating down Lorenz Larkin at Strikeforce: Rockhold vs. Jardine. Unfortunately, shortly after the fight, he would test positive for an anabolic steroid unknowingly contained in one of his supplements.
From there, he nearly died to a staph infection, and after several surgeries and months of rehabilitation, he would finally be healthy enough to face the Nevada State Athletic Commission. At his hearing, he would take issue with an official's condescension on Twitter (famously labeling the woman a "racist bitch"). He would receive a relatively light sentence (nine months) but would be cut by Zuffa.
He has since signed with Bellator, and will be making his debut with the promotion in January after they begin airing events on Spike TV, but does not yet have an opponent scheduled. In the meantime, he has been keeping himself busy as a tertiary character on TNA: Impact Wrestling, but has generally kept quiet during his suspension. Because of that, one of Strikeforce's biggest stars and what would have been a very interesting addition to the UFC's light heavyweight division has largely fallen out of fans' minds.
That said, while 2012 was a year he will probably not want to remember, his future is very bright. Look for him to quickly reach top ten status as he runs through competition in his new promotion.
Tom Szczerbowski-USA TODAY Sports
Brian Stann was out-wrestled by Michael Bisping, leaving many wondering if he is truly a top middleweight.
One fight can make a huge statement.
Back on January 1, 2011, Brian Stann let the whole world know he has some of the heaviest hands in the middleweight division. On September 22, 2012, Stann showed the whole world that heavy hands is about all he has.
After once again finding himself near the top of the title picture by punching out Alessio Sakara in April, Brian Stann was matched against promotional newcomer, but established talent out of Bellator, Hector Lombard. Unfortunately, Stann would have to pull out of that fight with a bum shoulder, and was later matched against longtime contender Michael Bisping in the UFC's most clear-cut "Hero vs. Heel" matchup of all time.
While Stann would win the first round, Bisping would demonstrate his superior kickboxing in the second and, remarkably, his superior wrestling in the third. It was a surprising turn of events that did not give us a greater appreciation for Michael Bisping, but just showed us that Brian Stann is really, truly not a legitimate contender in the middleweight division.
Stann is a great fighter who has provided some electrifying knockouts, and is one of the most lovable personalities in all of sports. He is a bona fide American hero, but he will never touch UFC gold.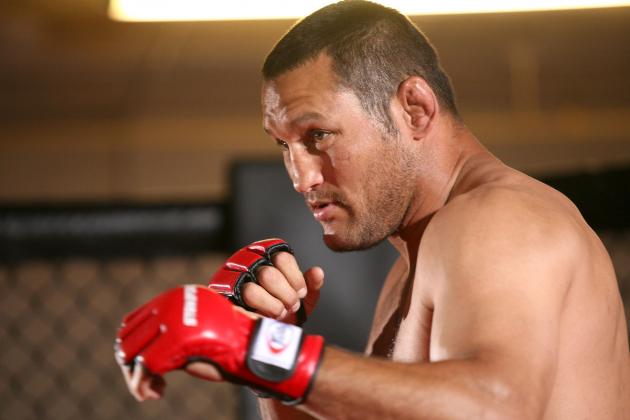 Valerie Macon/Getty Images
Dan Henderson had zero wins and one ruined event in 2012.
2011 was a career year for the veteran on-again-off-again light heavyweight. At 41 years old, Hendo knocked out Rafael Cavalcante to become the Strikeforce light heavyweight champ, knocked out all-time great Fedor Emelianenko, returned to the UFC and won the 2011 fight of the year over Mauricio "Shogun" Rua at UFC 139.
With Jon Jones running through the entire division's upper echelon inside a year, Henderson wisely sat back, knowing the UFC basically had no other option for a title fight at light heavyweight. Things went exactly as planned, and Henderson would be matched against Jones for a title fight at UFC 151.
As you probably know, that is where things stopped going well for Henderson. Henderson would pull out of his UFC 151 fight eight days before the event with a knee injury he sustained weeks earlier. Dana White would scramble to find an opponent for Jones, but could only come up with Chael Sonnen, who Jones refused to fight.
While Jones would take the heat initially, Hendo has found himself labeled as the bad guy in UFC 151's cancellation, which puts him on Dana White's bad side. He is now scheduled to face Lyoto Machida at UFC 157 in February, which may or may not be a top contender's match. This leaves 2012 a lost year for Henderson, who will be watching teammate Chael Sonnen fight Jones some time in 2013.
On top of everything else, Alexander Gustafsson has officially jumped ahead of him in the title picture. Not a good year for Hendo.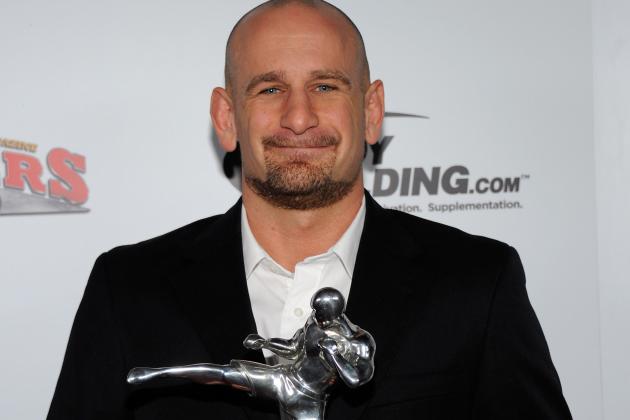 Ethan Miller/Getty Images
Greg Jackson has become more famous in 2012, but went from behind-the-scenes to widely-hated.
Jackson, one of the two non-fighters on this list, has been under fire for a long while, but the criticisms have grown in number exponentially in the last twelve months.
Looking back, it all started back in 2010, when Nate Marquardt lost to Yushin Okami at UFC 122. White criticized the long-time contender's corner for telling him he had the fight won, and encouraging him to coast to the judges (which, obviously, did not work out). This was followed by the very public divorce between Rashad Evans and the Jackson camp over Jon Jones' championship reign in March 2011.
In 2012, though, every time a Jackson-coached fighter has turned in a less-than-amazing win, the keyboard warriors instantly begin complaining about how game plans and strategy are ruining MMA's pure spirit, rooted in the ancient tradition of Rock'em Sock'Em Robots. Carlos Condit, for example, found himself criticized by Nick Diaz's rabid, inconsolable fandom when he earned a decision win by demonstrating superior range and better lateral movement, rather than the electrifying knockouts that endeared him to fans.
Worse yet was the aforementioned Clay Guida vs. Gray Maynard fight, which was decried by fans who remember the exciting, pre-UFC 107 Clay Guida. To top it all off, when UFC 151's cancellation was announced, Jackson and star pupil Jon Jones were pointed to as the responsible parties and became near-pariahs in the MMA world.
Obviously, Jackson is not actually destroying MMA, and his fighters are not all boring plodders. He was the coach of Rashad Evans when he punched out Chuck Liddell, and still instructs Donald Cerrone, one of the lightweight division's best finishers. On the flip-side, there is no getting around the fact that Jackson's fighters do, sometimes, fail to impress.
Either way, Jackson's name has certainly come up more in 2012. Going from relative obscurity to one of the sport's most widely-reviled personalities, though, is not usually a good thing.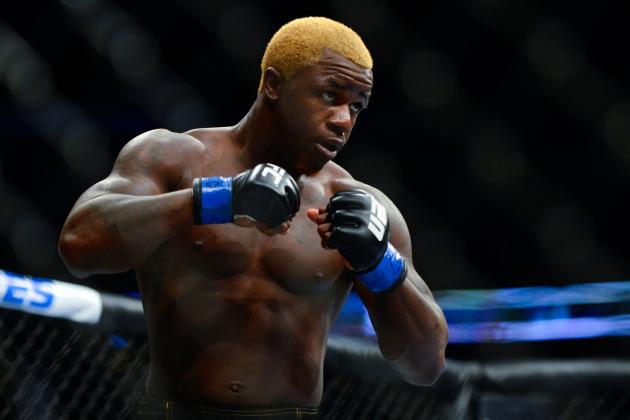 Ron Chenoy-USA TODAY Sports
Melvin Guillard has had a lot of trouble this year, and could find himself cut from the UFC if he loses on Satuday.
This is cheating a little bit, but Melvin Guillard's UFC career is in some dire straits.
In 2011, Guillard was near the top of the title picture. He had a five-fight winning streak over some solid guys, knocking out three of them. He was, perhaps, going to step over Benson Henderson to fight Clay Guida in the top contender bout at UFC on Fox 1. Then he lost to Joe Lauzon. Then he lost to Jim Miller. Then he beat no-namer Fabricio Camoes in less-than-inspiring fashion. Then he lost to Donald Cerrone.
That makes him 1-3 in his last four. He is scheduled to face a tough opponent in Jamie Varner at UFC 155 and, keep in mind, very few fighters survive going 1-4 in a five-fight stretch. Granted, he could turn things around in a profound way if he emphatically beats Jamie Varner, but that is a huge if.
Regardless, Guillard has gone from title contender to chopping block within fourteen months. That is a profound drop, and one of the quickest turnarounds we've seen in MMA history.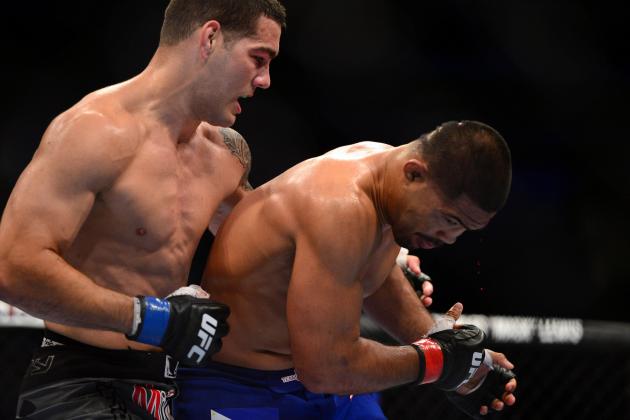 Kyle Terada-USA TODAY Sports
Mark Munoz went from top contender to afterthought when he was roughed up by Chris Weidman.
Mark Munoz was two good rounds away from fighting Anderson Silva at UFC 148. Remember that?
After beating Aaron Simpson, CB Dollaway, Demian Maia and Chris Leben, Mark Munoz found himself near the top of the middleweight division. With Anderson Silva still nursing a shoulder injury, Munoz was matched against Chael Sonnen in a top contender's fight that was to co-headline UFC on Fox 2.
Then, years of abusing his body left him with enough bone fragments in his elbow to play Yahtzee with. Munoz was taken off the card and replaced by Michael Bisping. Sonnen would win, and go on to his rematch with Silva.
Munoz would make his return in July, headlining a UFC on Fuel TV card against Chris Weidman. Munoz was downright obliterated. Seriously. Obliterated.
Weidman dominated Munoz with his wrestling in the first round, and landed the now-famous spot-on elbow that ended the fight (or, should have, at least, since the ref let Weidman punch an unconscious Munoz for a good 10 seconds). It was a savage beatdown that left many asking if Munoz was ever really good to begin with.
While Munoz hasn't retired, he has not fought since and has been nearly silent with the media. He has no fights scheduled, which will likely keep him out until Spring 2013.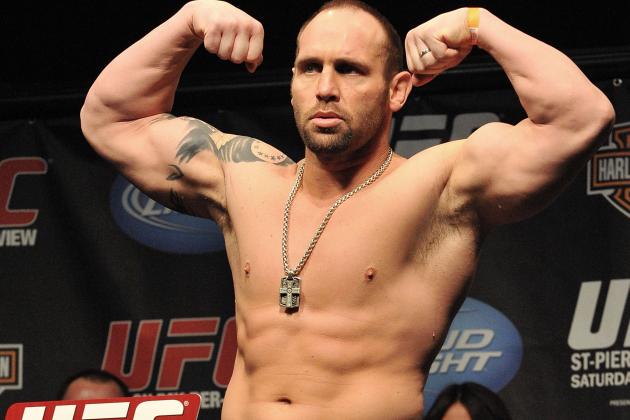 Jon Kopaloff/Getty Images
Shane Carwin finds himself further and further removed from his last fight after a slew of injuries.
If it wasn't for Carwin's stint as coach on The Ultimate Fighter season 16, you probably wouldn't even remember who this guy is at this point.
Since gassing and getting choked out by Brock Lesnar in July of 2010, Shane Carwin has fought just once. That was a lopsided beatdown at the hands of Junior dos Santos. Since then, he has suffered injury after injury, canceling fight after fight, most recently pulling out of his coaches' fight with Roy Nelson at the TUF16 Finale, where Nelson would score an electrifying knockout over Matt Mitrione.
The injuries he has suffered to his knee and back in conjunction with his relatively advanced age (he will be 38 in January) has many suggesting he should retire. All in all, it's tough to argue against this.
Until Carwin starts fighting again, he is going to remain on the outside looking in when it comes to making headlines (unless, of course, he gets fingered for steroids again). At this point, though, his body just doesn't seem to let him.
It's hard to maintain your stardom in the fight world when you can't fight.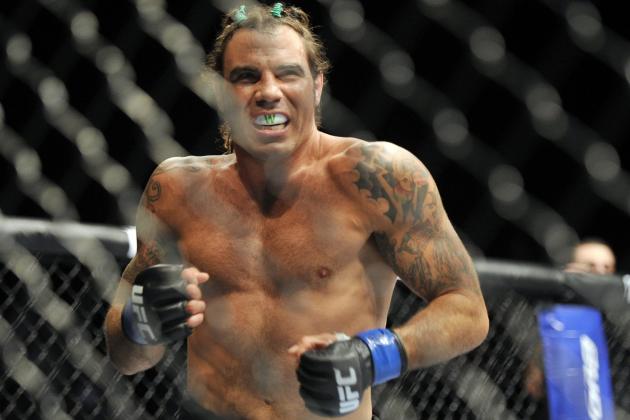 Joe Camporeale-USA TODAY Sports
Clay Guida infuriated fans with his snoozer of a fight against Gray Maynard.
Back in November 2011, Clay Guida was riding a four-fight winning streak into a top contender fight with Benson Henderson. He would lose the brawl, but was still a fan favorite because of his relentless fighting style and electrifying energy.
Then he fought Gray Maynard. It remains difficult to explain what happened, and what could have been going through his mind. Guida used his endless gas tank to, essentially, do laps around the cage for all five rounds of the fight, inspiring boos from fans and taunts from his opponent.
In the end, Maynard would have his hand raised while Guida would find himself in Dana White's doghouse. While Guida would say he "felt good" about his performance, fans and MMA media alike would rip on him, as well as his long-time coach, Greg Jackson. Some time later, he would announce he was dropping to featherweight, and is currently scheduled to face Hatsu Hioki at UFC on Fox: Johnson vs. Dodson in January.
In spite of his long history of great fights, in particular his back-and-forth melee with Diego Sanchez, he still finds himself a pariah among fans. While he is just one signature Clay Guida-style fight away from being an A-list personality again, for now he finds himself on this list.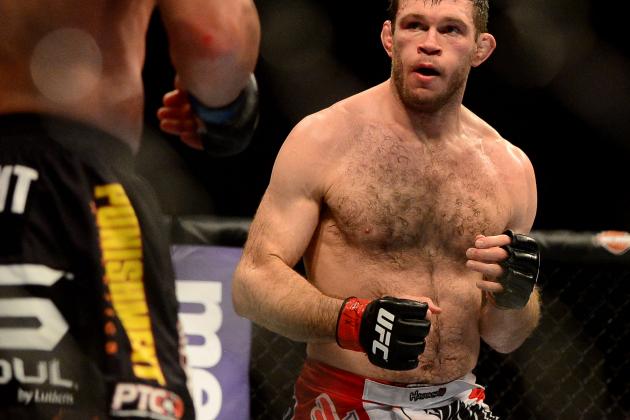 Mark J. Rebilas-USA TODAY Sports
Griffin's only fight in 2012 saw him tire badly against Tito Ortiz, then get called out by Dana White.
The former light heavyweight champion and The Ultimate Fighter Season 1 winner Forrest Griffin remains a fan favorite. That said, he finds himself sinking deeper and deeper back in a division that is becoming more and more wrapped up in younger stars with actual futures in the sport.
In his lone fight of 2012, Griffin would wheeze his way to a unanimous decision victory over former champion Tito Ortiz. Griffin's post-fight dash from the cage would make more headlines than his actual performance in it. The same goes for both Griffin's unintentional commandeering of Tito Ortiz's swan song. The same goes for Dana White's wish for him to retire. The same goes for the fact he started controversially using TRT (not that it seems to be helping him).
When all that overshadows a win, it says a lot about where the fighter's career is going. At best, he is food for the young guns in the division. At worst, he has overstayed his welcome in the promotion.
Both of those surfaced in the last few weeks, as he was withdrew from a fight with Phil Davis at UFC 155. Davis is now without an opponent, and Griffin will finish out 2012 on the bench.
He has been steadily receding from light heavyweight relevance ever since he lost the belt to Rashad Evans. That trend, unfortunately, is unlikely to reverse.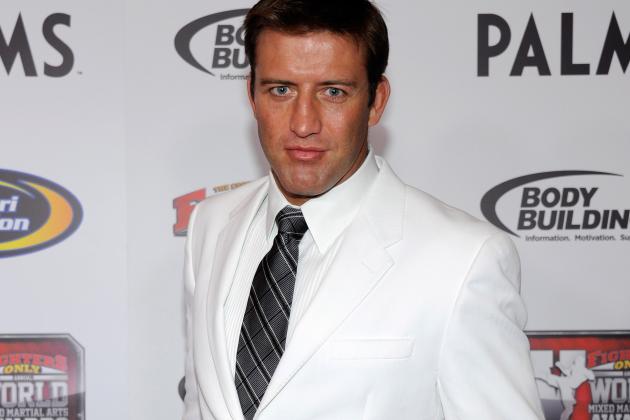 Ethan Miller/Getty Images
Stephan Bonnar has gone into seclusion since testing positive for steroids again.
After three consecutive wins over tough opponents, Stephan Bonnar found himself on the fringe of the light heavyweight top ten for the first time since 2006. Still, Bonnar made no bones about where he was in his career, and when Dana White told Ariel Helwani that Bonnar was considering retirement on Fuel TV, the question became how he would go out.
When addressing this, he discussed how, after a career spent beating no-namers while losing to champions of the future, he wanted to just have one last match against another established fighter before calling it quits. After a crazy series of circumstances saw White trying to pull together an all-new top half of the UFC 153 card, Bonnar got his wish when he was inexplicably matched against middleweight champion Anderson Silva.
Basically nobody picked Bonnar to win. Even the commercials for the event openly joked about the overwhelming odds he was facing. When the fight finally came, things went exactly as everyone expected, with Bonnar curling up after Silva delivered a perfectly-placed knee to the solar plexus.
Bonnar surprised few when he announced his retirement a week after the fight. What caught everyone off guard, though, was news that Bonnar tested positive for the anabolic steroid drostanolone.
This was not Bonnar's first failed drug test, as he was fingered for boldenone, another anabolic steroid, back in 2006 after his second bout with Forrest Griffin and as such, most assumed the worst of Bonnar. The fact that he has been completely silent since, even largely retreating from Twitter, all but confirms any negative assessment of the turn of events.
Now, Bonnar is hiding away under the radar with his legacy in question, his boss angry and many of his now-former fans believing him to be a cheater and a coward.
UFC matchmaker Joe Silva has been putting together confusingly bad fights all year.
I had a substantially nicer version of this written until the Friday-Saturday TUF: The Smashes and TUF 16 Finales double-header. Then I erased it. At this point, I am 80 percent sure that the UFC's matchmakers is pulling names out of a hat to determine bouts at this point.
Chad Mendes vs. Cody McKenzie. Chad Mendes vs. Yaotzin Meza. Phil Davis vs. Wagner Prado. Dennis Siver vs. Nam Phan. Jake Shields vs. Yoshihiro Akiyama. Mauricio "Shogun" Rua vs. Brandon Vera. On and on and on.
The UFC has seen a downright absurd number of mismatches in 2012, all capped off by the controversial title fights of Nick Diaz vs. Georges St-Pierre and Chael Sonnen vs. Jon Jones.
Joe Silva and Sean Shelby haven''t been turned on en masse by fans at this point, and Dana White hasn't turned on them. That said, I don't think many would disagree that UFC matchmaking this year has been absolutely awful.
I'm unsure why the famed pair haven't been specifically criticized this. Fans have not pointed to them en masse yet. Dana White has not publicly chastised them. Yet here we are, watching the No. 3 featherweight in the world Chad Mendes fight against a UFC newcomer in Yaotzin Meza and top-ten featherweight Dennis Siver fight distinctly low-mid-tier Nam Phan inside a week of each other.
Again, while Shelby and Silva have not been ripped on for this (while still being credited whenever we see a great card), it's about time somebody got blamed for the top-to-bottom matchmaking woes the UFC has had in recent months.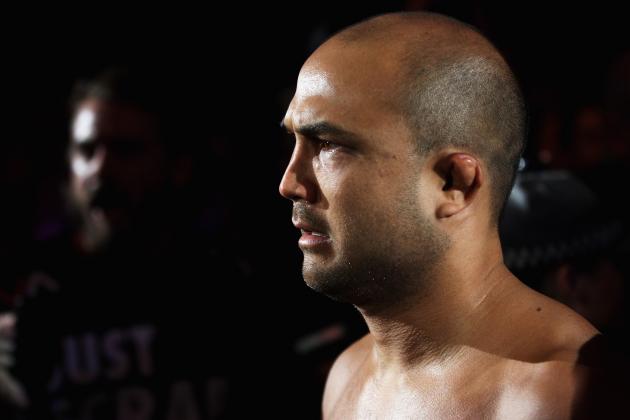 Mark Kolbe/Getty Images
BJ Penn came out of retirement to get slapped around by a substantially-larger Rory MacDonald.
BJ Penn, the former lightweight champion, future hall of famer and one of the sport's GOATs, retired for the first time in October 2011. In his match against Nick Diaz, as he so often does, Penn came out strong, but faded fast and got slapped around mightily from there.
It was not entirely unexpected that Penn wanted to come out of retirement. After all, it is a rare occasion that a fighter hangs it up and walks away decisively (except, of course, when there are serious health issues). Just a couple months later, Penn started jabbing at Nick Diaz on Twitter, leading many to believe it was just a matter of time before Penn returned.
Penn waited for the right time to return and, as you all know, he felt the best way to start his comeback was fighting Rory MacDonald, the protege of long-time rival Georges St-Pierre. This would prove profoundly unwise.
BJ Penn got wrecked by MacDonald. There is no other description for how their fight went. Penn was bullied around the cage and got beaten both physically and spiritually. For the first time in a long time, we saw the best Penn had to offer and it wasn't close to enough.
There is no shame in losing to Rory MacDonald at this point, and Penn is not at the point where he should feel compelled to retire. He would still be a top ten lightweight, and would likely be favored over high-profile fighters like Joe Lauzon, Jim Miller or Rafael dos Anjos.
For many, though, the nearly-mythical Penn coming back to fight Rory MacDonald only showed us that he does not have what it takes in today's welterweight division.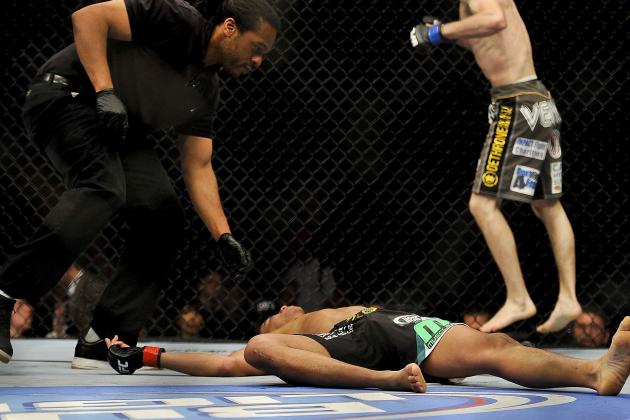 Paul Abell-USA TODAY Sports
Miguel Torres lost badly to Michael McDonald, and lost in the inaugural WSOF event.
It is very difficult to remember it at this point, but Miguel Torres was once one of the most formidable fighters in MMA. He was the WEC's bantamweight champion and successfully defended the belt three times.
He was released last December for a poorly-timed tweet about "surprise vans," but was quickly and unsurprisingly brought back to the fold just a few weeks later. He was booked to face Michael McDonald shortly thereafter and proceeded to get knocked out in the first round.
Four months later, he was inexplicably and unceremoniously cut from the UFC. The reasons were fairly confusing, as even though he was coming off a loss, he was still 3-2 in his last five fights. What's more, this was quite a long time after his fight. He would sign on with Titan FC shortly thereafter, but would then sign up with World Series of Fighting.
He was matched against up-and-comer (but still relative unknown) Marlon Moraes to, reportedly, set up for a compelling bout with Tyson Nam. However, Torres would lose to Moraes and, along with the fight, saw his spot among the upper echelon of the bantamweight division fade away.
Still reeling from the loss, Torres' future is uncertain. Ranked as the sixth-best bantamweight in January, this was one of the biggest falls rankings-wise in 2012.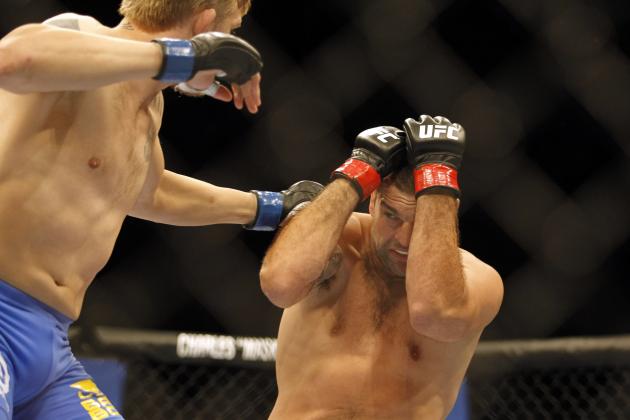 Joe Nicholson-USA TODAY Sports
"Shogun" Rua tired and struggled in both of his 2012 bouts, leading many to wonder if his career is over at just 31 years old.
While Miguel Torres was the fighter to fall the farthest in his division's rankings, Mauricio "Shogun" Rua is the fighter that seems to have dropped off the most skill-wise.
2011 was not a bad year for "Shogun," even though he lost the belt to Jon Jones. He still demolished Forrest Griffin, and put on the Fight of the Year against Dan Henderson. There was very little reason to think the former Pride great, who is still just 31 years old, would hit the sort of wall Wanderlei Silva, Chuck Liddell and Matt Hughes did.
Rua would sit out the first half of 2012, as the UFC struggled to find a place and opponent for him. Eventually, he was shoved onto UFC on Fox 4 against Brandon Vera (originally against Thiago Silva, who withdrew from the fight after hurting his back). While Vera was widely considered to be far out of his league, Rua faded in the second round and gassed badly in the third, giving Brandon Vera a great chance to win.
Rua would battle back and score a knockout in the fourth. Still, it was an odd display from a "Shogun," whose cardio was always considered among the best in the division. Many considered this a fluke, though.
That notion would be dispelled when Rua fought Alexander Gustafsson at UFC on Fox 5. Once again, he fizzled and once again, the man who knocked out Lyoto Machida, perhaps the best pure striker in MMA today, was whiffing and wheezing. This time, he would lose by decision.
This has been a genuinely horrible year for Rua. At such a young age, there is still a chance for him to right the ship. As it stands, though, Rua seems like he might be heading towards an early end to his career.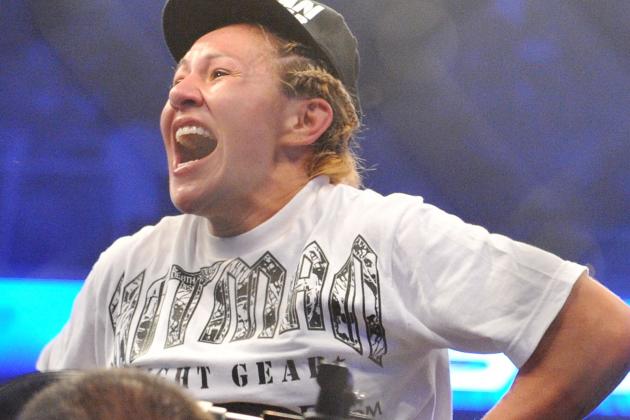 Jon Kopaloff/Getty Images
"Cyborg" Santos has found herself falling into the sport's background as Ronda Rousey ascended to the forefront of women's MMA.
If Strikeforce was going to start a hall of fame, Cristiane "Cyborg" Santos would have been a first-ballot inductee.
She dominated Gina Carano in 2009 to win the belt, and mercilessly beat down Marloes Coenen and Jan Finney in 2010 to keep it. As 2011 wore on, she fought Hiroko Yamanaka that December and beat her in 16 seconds. She is, probably, the single most dominant champion Strikeforce has ever had.
However, news would break in January that she had tested positive for the anabolic steroid stanozolol.
Santos had always been a fighter fans wondered about. She had the sort of physique that seemed achievable only through chemical help, and those suspicious of her were so unsurprised by the announcement, it was difficult for them to even muster up an "I told you so" to the rest of the MMA fandom.
In spite of that, the fallout was huge, and left serious doubts as to the viability of women's MMA going forward. Santos was hit very hard by the California State Athletic Commission, receiving a full 12-month suspension. The female half of the sport would end up finding new life with Ronda Rousey's overnight rise to stardom. Santos, meanwhile, would begin fading into the sport's background.
Sure, her name occasionally pops up as a potential opponent for Rousey, but at this point, her future is entirely uncertain and she finds herself on the outside looking in as women's MMA is set to become bigger than ever.
She is looking to drop to bantamweight in 2013, but it remains a serious health concern.