Clemson Football: Projecting the Tigers' 2013 Offensive Depth Chart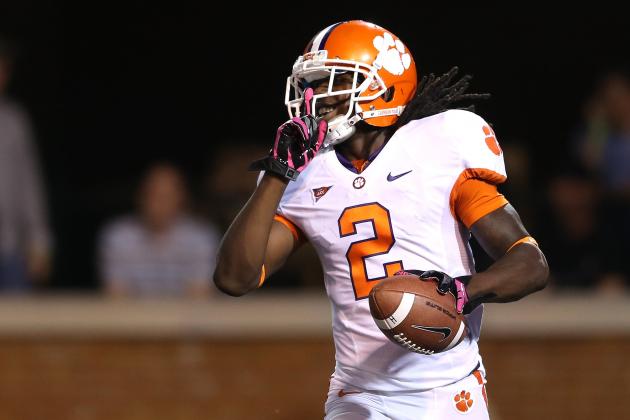 Streeter Lecka/Getty Images

Coming into 2012, there were questions of how the Clemson Tigers would top the success of 2011 with a second-year offensive coordinator who has gained fame across all of college football, but with a questionable offensive line and a wealth of talent at wide receiver.
The result: The Tigers became one of the top ten scoring offenses in the nation and boasted a 10-2 record at the end of the regular season.
Quarterback Tajh Boyd had his best season, being named a first-team All-ACC selection, and an American Football Coaches Association first-team All-American selection. Receiver Deandre Hopkins stepped up to the plate while Sammy Watkins, who was a Freshman All-American in 2011, missed time due to suspension and illness. Hopkins had the best season of his collegiate career, compiling 1,214 receiving yards and a whopping 16 touchdowns.
And going into 2013, this offense expects to come back almost fully intact, with the Tigers losing starting tight end Brandon Ford, reliable possession receiver Jaron Brown, and starting running back Andre Ellington. But fortunately for this offense, Chad Morris will be returning as offensive coordinator after interviewing both NC State and Texas Tech for their head-coaching positions.
So with that being said, here's a VERY early look at how the depth chart could look for the Clemson offense heading into 2013.
Begin Slideshow

»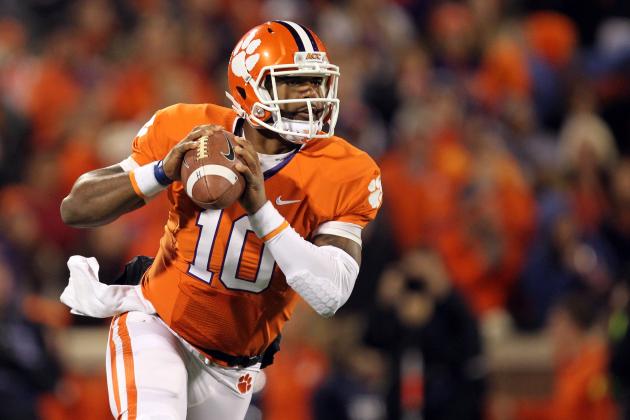 Streeter Lecka/Getty Images

Starter: Tajh Boyd
Second String: Cole Stoudt/Chad Kelly/
Others: Tony McNeal
Tajh Boyd has come a long way from year one to year two since the Chad Morris hire in 2011.
His progress was especially evident in his second year, where he became a better runner—an essential asset for a quarterback to succeed in this offense. Boyd broke both Clemson and ACC records in 2012, and, should he return in 2013, could take this team further than an ACC Championship. But since Chad Morris will be sticking around as the offensive guru for 2013, it seems likely that Boyd will return for his final year of eligibility.
His backup will have a little more of the spotlight in 2013, as one of them will be handed the starting reins should Boyd go down and play in relief of Boyd—and then be given the starting job in 2014. Cole Stoudt has won the second string job for two straight seasons over backups Tony McNeal in 2011, and redshirt freshman Morgan Roberts in 2012, who decided to transfer and will not be with the Tigers come 2013.
Kelly, who was a highly touted prospect, will be coming off of a redshirt season and will be given every opportunity to compete.
While Stoudt is more of the pocket passer between the three, Kelly is more mobile. Stoudt has shown his inconsistencies both in the spring and during his time on the field, albeit with second- and third-team players, but a lot will depend on how much of a grasp Kelly has on the playbook come spring practice.
For now, we will give the early edge to Stoudt, given he has responded to competition for two straight years now. 2014 could be a different story, but we'll cross that bridge when we get to it.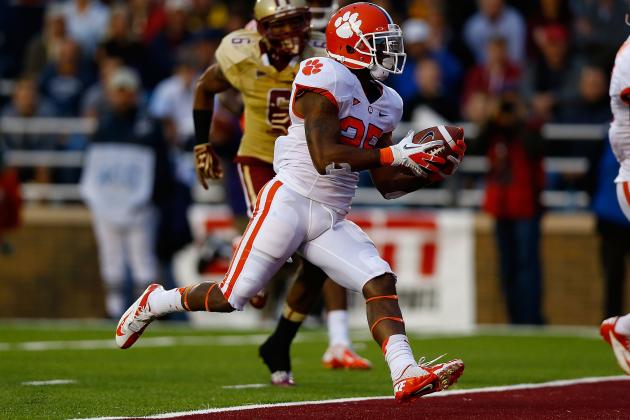 Jared Wickerham/Getty Images

Starter: Roderick McDowell or D.J. Howard
Zac Brooks
Wayne Gallman or Tyshon Dye
The biggest drawback for this offense will undoubtedly be the loss of workhorse running back Andre Ellington, a mainstay at the position for three years. Able to make it through the season and play in every single game for the first time in his career, Ellington was a first-team All-ACC Selection, rushing for 1,031 yards and eight touchdowns.
With the loss of Ellington, Roderick McDowell will likely have the first crack at running back along with D.J. Howard. McDowell served as the primary backup as Howard had nagging injuries. McDowell rushed for 424 yards and five touchdowns and was third on the team in rushing, with Quarterback Tajh Boyd getting more yards on the ground than any running back not named Andre Ellington.
Zac Brooks, whom the coaches would have loved to redshirt last year, was forced into action because of the lack of depth—the Tigers would have had only three running backs on scholarship had Brooks redshirted. A stud out of Little Rock, Arkansas, Brooks has the chance to see more time on the field should he increase his knowledge of the playbook and put forth a good performance in the spring.
The Tigers will be bringing in two very capable running backs in Wayne Gallman and Tyshon Dye. The Tigers could be in the same situation as last year and be able to redshirt only one of the two backs.
It is also very possible both could redshirt, and the Tigers take a chance on starting the season with McDowell, Howard and Brooks. But given how these backs are rated, it's very likely no quick decision will be made on them.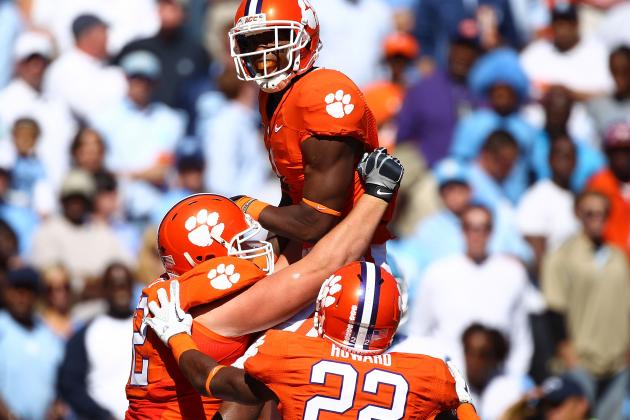 Scott Halleran/Getty Images

Starters: , Sammy Watkins, Charone Peake
Backups: Martavis Bryant, Adam Humphries, Germone Hopper
Incoming: Mike Williams, Kyrin Priester
DeAndre Hopkins had a career season in 2012 and firmly established himself as a key playmaker in Clemson's offense.
When he had his then season-best 978 yards in 2011, many did not see it thanks to record-breaking freshman sensation Sammy Watkins. But while Watkins missed time due to illness, suspension and a nagging injury, Hopkins made the spotlight his in 2012 by catching 16 touchdowns and amassing 1,214 receiving yards.
And with Hopkins having declared for the draft, Martavis Bryant could step into Hopkins' starting spot on the outside. With his deceptive speed and 6'4" frame, he provides a tall deep threat for Boyd.
Despite his down year, Watkins still had 708 receiving yards but had only three receiving touchdowns. He missed three full games—two as a result of a suspension for a minor drug arrest and one for an abdominal virus—and was forced to miss most of the game against Virginia Tech as a result of an ankle injury. But Watkins will be looking to bounce back to his 2011 form and become a major piece of the offense again.
Meanwhile, Charone Peake could step into Jaron Brown's vacant starting position, which operates primarily out of the slot. Adam Humphries will continue his work as a valuable backup, and speedster Germone Hopper is coming off his redshirt year and will likely step into the slot position behind Peake.
The Tigers currently have two receivers in their upcoming class in Mike Williams, whose 6'4 frame could give the Tigers another weapon on the outside, and Kyrin Priester, a recent commit the Tigers whisked away from the NC State Wolfpack.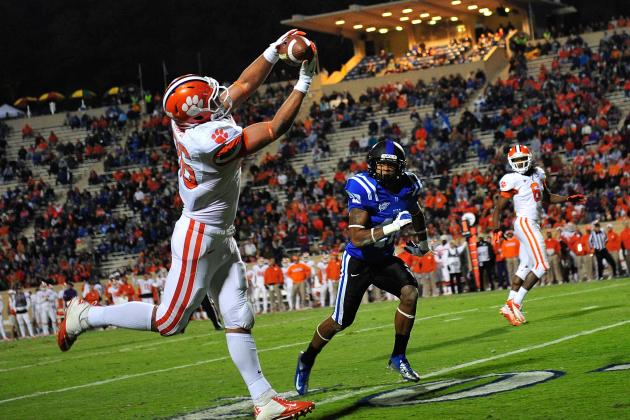 Grant Halverson/Getty Images

Starter: Sam Cooper
Backup: Stanton Seckinger
Others: Jay Jay McCullough/Jordan Leggett
With the departure of Brandon Ford, Sam Cooper will become the starter at tight end. Cooper saw more time in the offense in 2012 as the primary backup and showed good hands off the line and as a flex tight end.
While Cooper is not a pure flex tight end, he is a more complete tight end when it comes to his blocking duties. Stanton Seckinger, a converted receiver (as was Ford), will be a good flex option as he continues to bulk up and improve his blocking.
Jay Jay McCullough will be coming off a redshirt season and will likely hold the third-team duties. Freshman recruit Jordan Leggett has great tools as a tight end, but he will likely be heading towards a redshirt designation.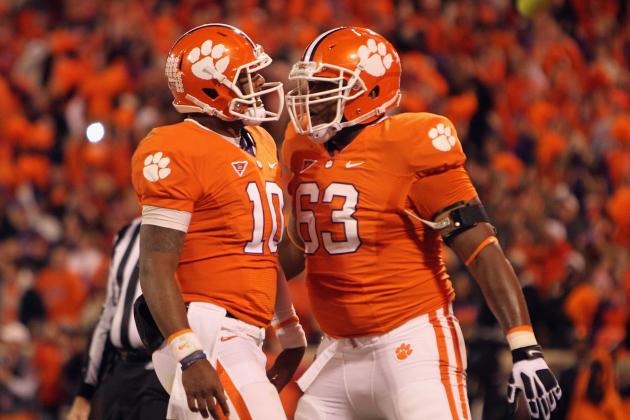 Streeter Lecka/Getty Images

Starters (from LT to RT): Brandon Thomas, David Beasley, Ryan Norton, Tyler Shatley, Gifford Timothy
Backups (From LT to RT): Isaiah Battle, Kalon Davis, Jay Guillermo, Reid Webster, Shaq Anthony
The offensive line had been the biggest question mark for this offense going into the 2012 season, but it responded to the challenge. The starting lineup stayed the same from start to finish—an impressive feat, considering they had to replace three starters along the line.
This year's unit was anchored by two experienced linemen: left tackle Brandon Thomas and senior center Dalton Freeman. Now, with the departure of Freeman, a four-year starter at the position, coaches are very high on Norton taking over as the full-time center (he was Freeman's primary backup and also logged time at left guard. Coaches hope Norton can bring a more physical element to the offensive line to go along with Shatley at guard.
Since the entire backup line returns, the only notable change will be at center, where Jay Guillermo, who redshirted in 2012, will get the first crack at backing up Norton. Isaiah Battle has huge potential to crack the starting lineup at left tackle, allowing Thomas to shift to left guard, where he was productive in 2011 and seems to be a better fit.