A Realistic Free Agent Wish List for the Miami Dolphins, Based on Cap Space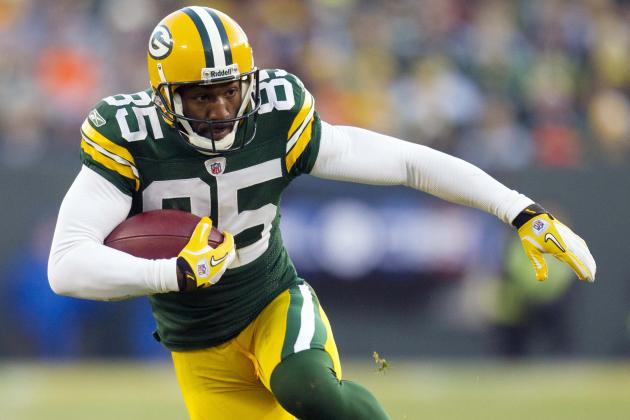 Jeff Hanisch-USA TODAY Sports

The Miami Dolphins are making a free agency list and checking it twice.
With as much as $50 million in cap space slated to be available entering the 2013 free agency season, Jeff Ireland—or his replacement...please let there be a replacement—can quite literally compile a wish list and pursue every single player on it.
In all likelihood, Ireland will still be calling the shots come March, and he'll have insurmountable pressure on his shoulders to capitalize on this unique and enviable opportunity. His team won seven games, yet it will have somewhere between $40 million and 50 million in cap space to spend and five draft picks in the first three rounds of the 2013 draft.
This is a pivotal offseason for the Dolphins, one that will dictate whether this team is mired in mediocrity for another five years or finally re-emerges as a Super Bowl contender.
Because Miami has so much cap space no player is too expensive; however, it probably won't break the bank for more than one or two big-name players. And, because it's still so early, there's a good chance most of these players re-sign with their current teams.
(NOTE: Just for clarity's sake, I'm not suggest the Dolphins sign all of the players in this slideshow. Rather, these are just potential and likely targets for the team come free agency.)
Begin Slideshow

»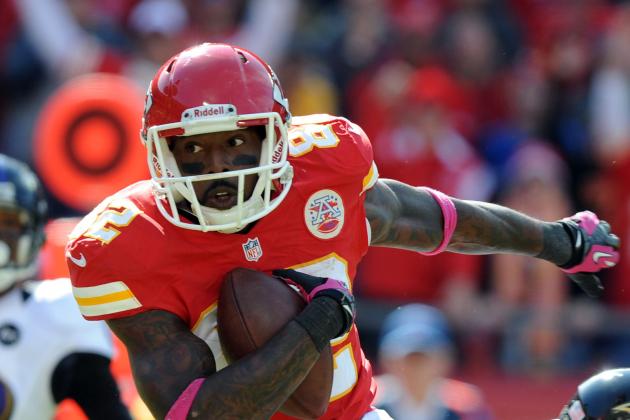 John Rieger-USA TODAY Sports

Miami's foremost priority this offseason will be adding playmakers to its offense. No positional unit is more desperate for talent and explosiveness than this wide receiver corps, which ranks among the NFL's worst.
Three names already drawing the attention of Dolphins fans: Dwayne Bowe, Mike Wallace and Greg Jennings. All three are in the final years of their respective contracts, so all could hit the open market. The Dolphins can absolutely afford to sign one of these alpha wide receivers with so much cap space at their disposal.
Bowe is the biggest enigma amongst the trio. He has developed a reputation as something of a diva, though his teammates will tell you that is unwarranted. Even so, there's no denying Bowe's penchant for drama.
He drew fire for running his mouth, was suspended in 2009 for violating the league's steroids policy, butted heads with former head coach Todd Haley and has repeatedly voiced his desire to leave Kansas City. Not to mention, he has been wildly inconsistent from a statistical standpoint in his six NFL seasons.
Given the Dolphins' issues with Brandon Marshall and Chad Johnson in the last year alone, it's hard to envision Miami pursuing Bowe. But, what if Jennings and Wallace re-sign with their teams or sign elsewhere? Then, the Dolphins just might bite the bullet and pursue Bowe.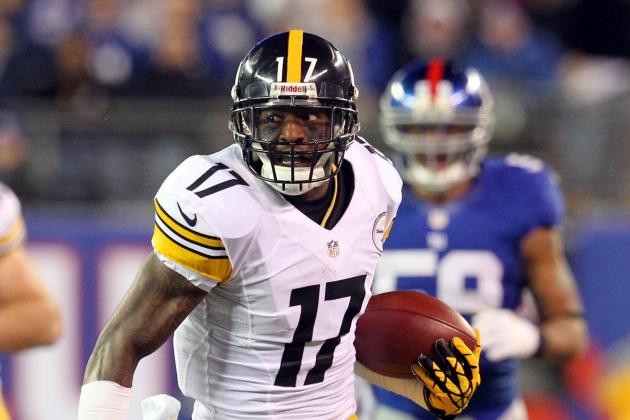 Brad Penner-USA TODAY Sports

The Dolphins need speed.
Mike Wallace is fast.
Fast is an understatement, actually—Wallace can fly. He once clocked a 4.22 40 during his days at Ole Miss, and he hasn't lost a step yet. For his career, Wallace has a 17.2 yards per catch average, which is flat-out ridiculous. Needless to say, he can provide that vertical, field-stretching threat the Dolphins so desperately need.
It's worth noting that Wallace is on pace to post career-lows in receiving yards and yards per reception, and has six drops this year. He also staged a lengthy holdout last summer that lasted into late August.
So, there are caveats to signing him even though he is the youngest and most explosive of this trio. But, Wallace's speed is special and he alone adds another dimension to Miami's offense.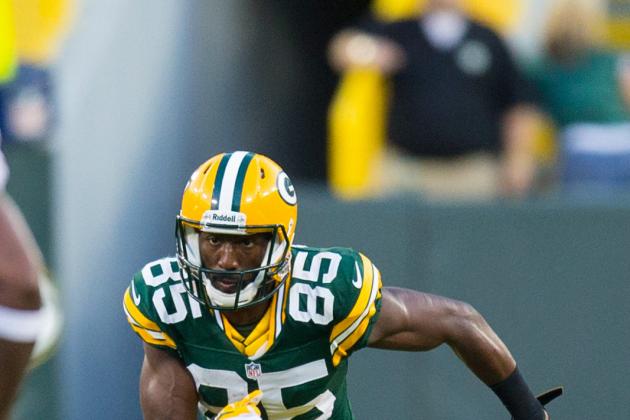 Jeff Hanisch-USA TODAY Sports

Greg Jennings is older than both Dwayne Bowe and Mike Wallace, and his 2012 season has been diminished by injuries.
Even so, he's the wide receiver Miami should pursue the hardest.
Set aside this season, Jennings has been incredibly durable and consistent. He missed only eight games from 2006 through 2011, a span in which he hauled in 389 receptions for 6,171 yards and 49 touchdowns.
And, oh yeah, he did all of this in Joe Philbin's offense. Jennings would waste minimal time getting acclimated to new schemes and surroundings, which is another reason why he's the most appealling option.
Jennings brings more to the table than both Bowe and Wallace not only because of his success on the field, but also because of what he offers off of it. He's one of the most lovable players in the NFL. He's marketable and he'll engage fans. It's not secret the Dolphins need to give this fanbase a reason to get interested and excited again, and signing Jennings will do just that.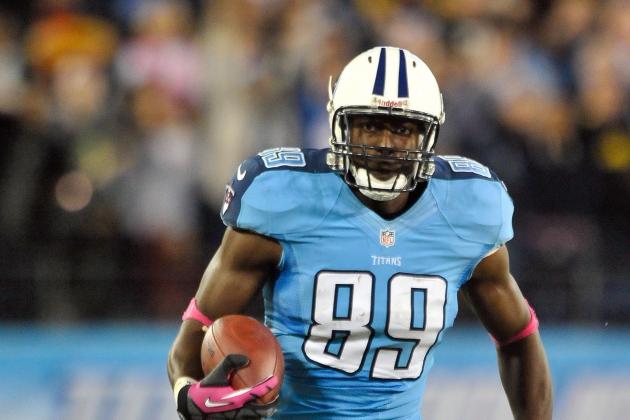 Jim Brown-USA TODAY Sports

Miami's need for an athletic, seam-threat tight end is almost as pressing as its need for a viable No. 1 wide receiver.
Unfortunately, the pickings will be slim this offseason (in free agency, anyway). There aren't any proven commodities slated to hit the open market this offseason, so the Dolphins will have consider some young, wild-card options. One of those options is Jared Cook, a 6'5", 248-pound freak who reportedly ran a 4.37 40 prior to the 2009 draft.
Theoretically, with that combination of size and speed, Cook should be a matchup nightmare a la Rob Gronkowski and Jimmy Graham. But, for one reason or another, he just hasn't put it all together. In four NFL seasons, Cook has registered only 131 receptions for 1,717 yards and eight touchdowns.
Occasionally, he'll flash a glimpse of brilliance, but those moments are few and far between. With the proper refinements and better consistency, there's no doubt Cook can become a top-flight defensive end. But, he's a gamble, and the Dolphins may be better off pursuing a tight end in the 2013 draft.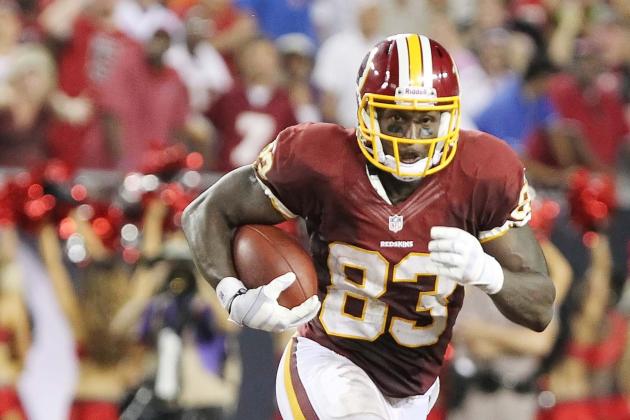 Kim Klement-USA TODAY Sports

Another tight end with a freakish combination of size and athleticism is Fred Davis. At 6'4", 247 pounds, he has a very similar build to Jared Cook but has actually enjoyed success since arriving in the NFL five years ago.
Subsequently, his price tag will be much higher.
Between 2009 and 2011, Davis reeled in 128 receptions for 1,618 yards and 12 touchdowns. Just as he was ascending up the tight end hierarchy, Davis' 2012 season was cut short by a torn Achilles' tendon.
With Robert Griffin now in the fold, the Redskins will be very reluctant to let any young weapons walk. If Davis does enter free agency, then he'll surely be on the Dolphins' radar. However, Miami can also get a cheaper tight end with greater upside in the draft (such as Tyler Eifert or Zach Ertz).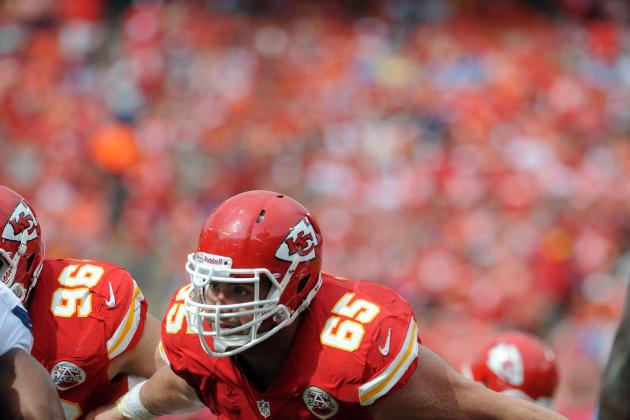 John Rieger-USA TODAY Sports

Although playmakers will be the primary focus of this offseason, the Dolphins cannot neglect their offensive line.
Jonathan Martin has played well enough at left tackle to make Jake Long expendable, so don't expect Miami to offer the former first overall pick the massive contract he'll demand. The Dolphins can feel comfortable entering next season with Martin at left tackle, Richie Incognito at left guard and Mike Pouncey at center.
The right side of the line may need some tinkering, however.
John Jerry played serviceably at right guard this year, but his size and skill set makes him a more logical fit at right tackle. So, the Dolphins should be on the hunt for a right guard, whether it be via free agency or the draft.
If they choose the free agency route, then the Phins should give Ryan Lilja a look. The 31-year-old is undersized at 6'2", 290 pounds, but he compensates with exceptional athleticism and technique, which makes him a great fit for a zone-blocking scheme.
Mitch Stringer-USA TODAY Sports

Statistics don't always tell the whole story.
Miami's 41 team sacks are good for sixth most in the league, but its pass rush has been anything but oppressing. Aside from Cam Wake, no Dolphins player has more than five sacks. The pass rush has been wildly inconsistent, and if Wake is shutdown, then quarterbacks can sit back comfortably and slice up this suspect secondary.
This is why adding a pass-rusher—or two—is another chief priority for the Dolphins this offseason.
Cincinnati's Michael Johnson is one intriguing option slated to enter free agency this offseason. At 6'7", 270 pounds, he boasts an uncanny combination of size and athleticism. Johnson has registered career highs in tackles (50) and sacks (9) in 2012, and his brightest days may lie ahead.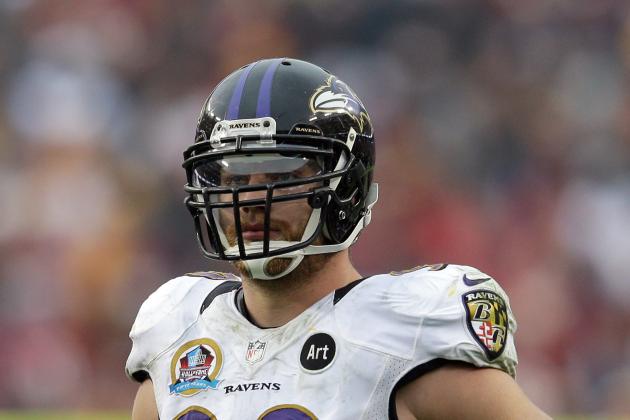 Rob Carr/Getty Images

Whenever a Baltimore Raven hits the open market, he's worth a look. The Ravens have arguably the best talent evaluation in the NFL, which has allowed the franchise to sustain incredible success for the last decade.
Ray Lewis, Terrell Suggs and Ed Reed are typically showered with praise for the success of Baltimore's defense. But, another player has emerged as a vital ingredient: Paul Kruger. The 26-year-old has started only five games in his four NFL seasons, but he has established himself as a great pass-rusher in the last two years.
Kruger has really come into his own this season, racking up 41 tackles and eight sacks. The Ravens use him as a rush-outside linebacker, but he played defensive end in a 4-3 in college and has the size (6'4", 270) to do so in the NFL.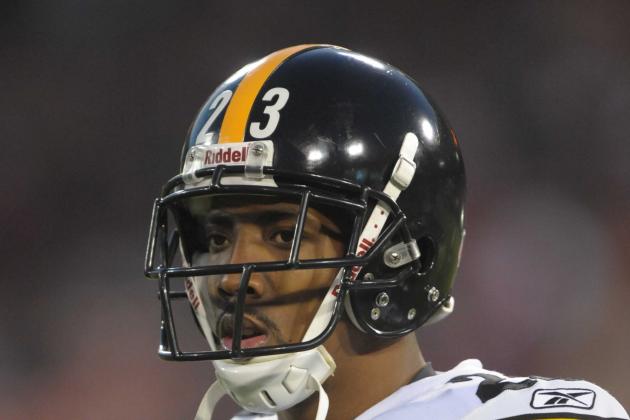 Kirby Lee-USA TODAY Sports

Everybody is talking about how Miami can upgrade its wide receiver corps, but its cornerback corps is in equal, if not more need of help.
Sean Smith is currently in the final year of his contract. If the Dolphins don't re-sign him, then this is what their cornerback corps would look like: Richard Marshall, Dmitri Patterson, Nolan Carroll and Jimmy Wilson.
That's not going to cut it, especially for a team that plays the New England Patriots twice a year.
The Dolphins need to add two starting-caliber cornerbacks, but they don't necessarily have to break the bank to do so. Keenan Lewis is a largely anonymous player having a sensational season. He has been thrown at more than any cornerback in the NFL, yet has only yielded a 52.3 percent catch rate (per Pro Football Focus).
Lewis may receive a nice payday from the Pittsburgh Steelers in wake of his breakout season, but there's still a chance he'll hit the open market for a fair price.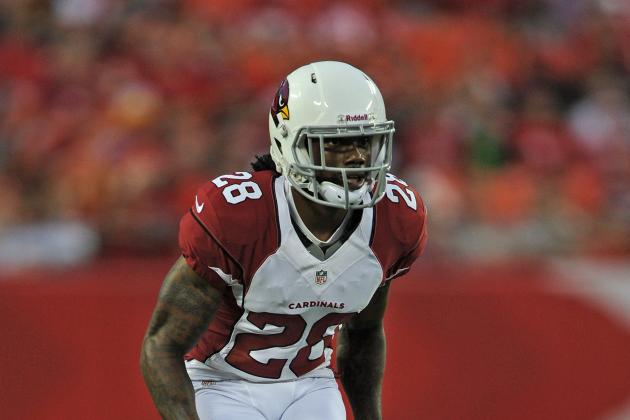 Peter Aiken/Getty Images

Another anonymous cornerback quietly having a great season is Arizona's Greg Toler, who I pinned as a 2013 free agency target back in June.
Opposing quarterbacks have a 55.4 rating when throwing into Toler's coverage, which is good for eighth best among all NFL cornerbacks. On top of that, he has yielded a 44.7 percent catch rate, which is the fifth-best figure in the league.
Toler, like Keenan Lewis, has only enjoyed one year of notable success. He's a gamble, but he's a young cornerback the Dolphins can get for a fair price. And, like Lewis, his best days may lie ahead.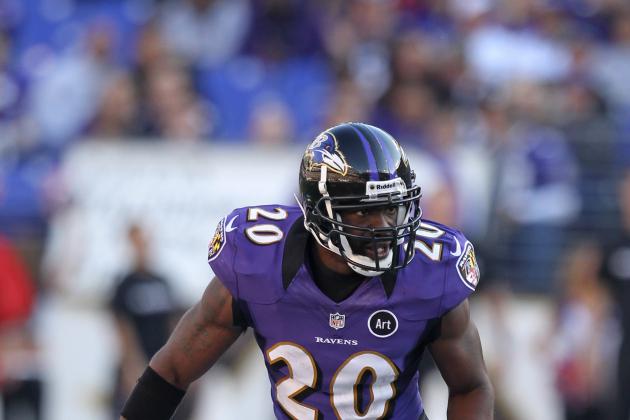 Mitch Stringer-USA TODAY Sports

There's little guarantee Ed Reed will even play another season, let alone for a team other than the Baltimore Ravens.
But, if Reed were to take his talents elsewhere for one final campaign, then the Miami Dolphins are one very logical and plausible destination.
Firstly, Reed starred at the University of Miami, and few cities would welcome him more warmly than this one. Secondly, the Dolphins can stand to upgrade from Chris Clemons, who is a free agent after this season. Not only would Reed provide that upgrade, but he could also mentor budding star Reshad Jones.
Reed would likely demand a one-year contract worth between $5 million and $7 million dollars. That's a hefty investment, sure, but it's one that would elevate Miami's defense and please its fanbase.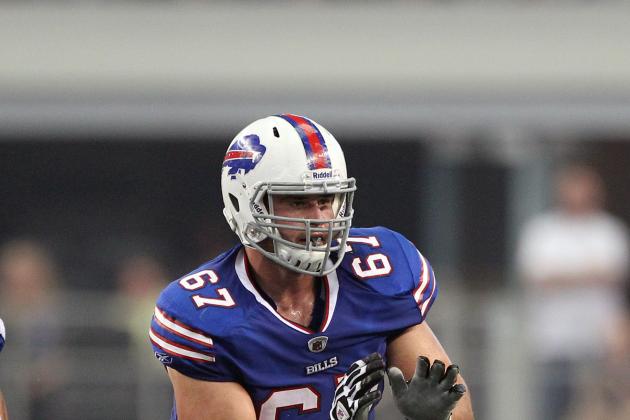 Matthew Emmons-USA TODAY Sports

Dustin Keller, TE
Martellus Bennett, TE
Branden Albert, OT
Will Beatty, OT
Ryan Harris, OT
Andy Levitre, OG
Michael Bennett, DE
Victor Butler, DE/OLB
E.J. Biggers, CB
Bradley Fletcher, CB
Derek Cox, CB
Darius Butler, CB
Chris Houston, CB
William Moore, S