Rams vs. Buccaneers: Live Game Grades, Player Analysis for Tampa Bay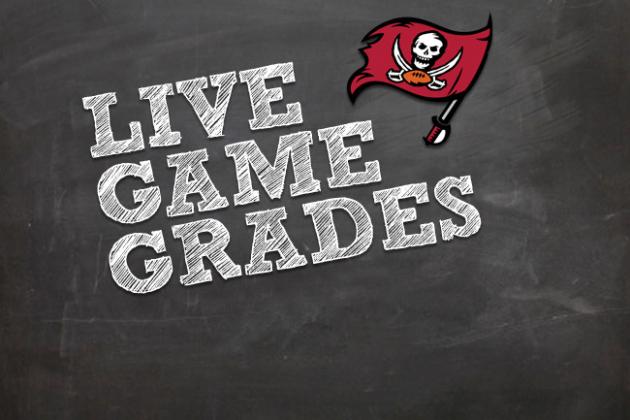 28-13 Rams
The Tampa Bay Buccaneers faced off against the St. Louis Rams Sunday at 1:00 p.m. ET in an NFC matchup.
They lost.
The Bucs have been sliding thanks to a five-game losing streak and would have liked to get one more "W" before taking on Atlanta Falcons in Atlanta next week.
This slideshow will provide you with live game grades and player analysis for the Bucs quarterback, offense, defense, special teams and coaches each quarter.
Begin Slideshow

»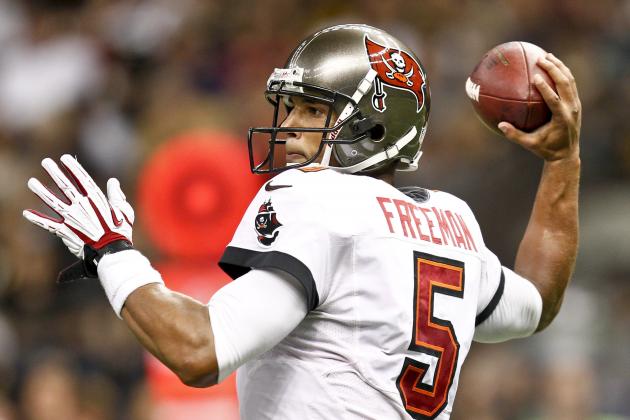 USA TODAY Sports

Overall Grade: C
Q4 Grade: B-
Of course Josh Freeman shouldn't be faulted for his 4th pick. But still, his detractors will count the four picks today as evidence as to why he should be replaced in the offseason.
Freeman could have had a very good game if not for the picks and the failure to convert.
Q3 Grade: B+
Josh Freeman's TD pass to Mike Williams was the 77th of his career, tying Vinny Testaverde for the Bucs' franchise record.

— Tampa Bay Buccaneers (@TBBuccaneers) December 23, 2012
Maybe being down 22 points turned the light bulb on in No.5's head. Excluding the interception (which he only deserves 20% of the blame for), he had a great third quarter.
Q2 Grade: D
Freeman threw an absolutely awful pass to Mike Williams on a comeback route. It ended up a pick-six for St. Louis. Half the blame does go to Williams for slipping, but the pass would have been risky regardless. There were four defenders around Vincent Jackson on the second interception. No excuses. Infuriating.
He could be a very good quarterback if not for his absolute-terribleness under pressure. But very good quarterbacks need to stay consistent under pressure, which Free can't.
Q1 Grade: A
The Josh Freeman of the first drive gave us hope. He converted a sneak on third down, nailed a 19-yarder to V-Jax, scrambled for 12 yards, and didn't miss a pass until after he was sacked.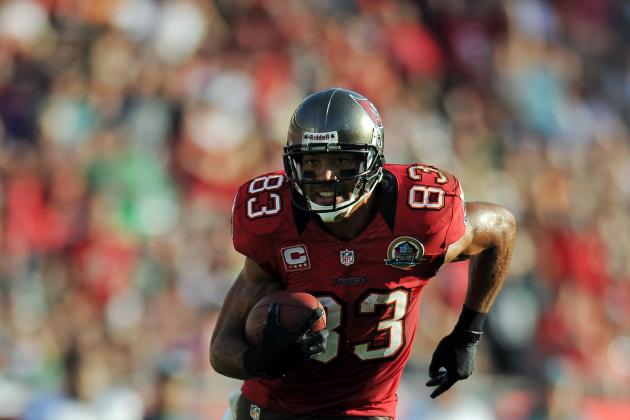 USA TODAY Sports

Overall Grade: C
Q4 Grade: C
The Bucs suffered five sacks. They allowed failed to convert on three red zone fourth down attempts. But they gained plenty of yard, not that it matters.
Q3 Grade: C
Mike Williams has not played too well, messing up routes and failing to beat defenders to the ball, but maybe the long touchdown will get him back on track.
The patchwork offensive line has been making a rebound, at least for now.
Q2 Grade: C
The run blocking has been pretty good, but the pass protection has been subpar. This is especially bad, since Josh Freeman is especially bad against pressure.
As the offensive line has regressed over the course of the season, so has Freeman.
And if anyone thinks LeGarrette Blount will be back next year, just take a look at his protection of Freeman on the third sack. He doesn't get to run, he can't catch, and he sure as hell can't block.
Q1 Grade: A
This could be a very good day for Vincent Jackson. The Rams don't seem to have any one who can cover him, so the only way St. Louis will keep him under 200 yards will be if they can pressure Freeman like there's no tomorrow.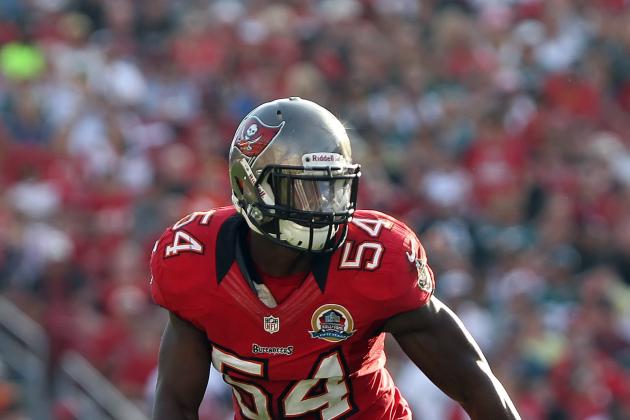 Kim Klement-USA TODAY Sports

Overall Grade: C+
Q4 Grade: A
The defense made stops throughout the fourth quarter. No points allowed either. Surprising, sure, but it happened. Too bad the offense couldn't get anything going.
Q3 Grade: C
Defense only needs one play to give up an 80 yard touchdown. It's hard to tell if Lavonte David was supposed to press Kendricks before he broke on the route, or it was Danny Gorrer who had the coverage, but either way somebody messed up.
The weird thing is that they managed two 3-and-outs after Leonard Johnson was injured. Hmm...
Q2 Grade: C+
If your defense gives up a lot of yards, you need to make turnovers. And the Bucs did just that, as the Rams were pressing in the red zone. Props to Danny Gorrer for his first interception as a Buccaneer.
Maybe the only way these Bucs can succeed is by getting turnovers. Shutdown run defense is good, but the NFL is a passing league. Far more important to stop aerial assaults than ground attacks.
Q1 Grade: C+
Oh, Leonard Johnson. You might be too slow to cover effectively, but you will always have a place in our hearts as long as you make bone-jarring hits like the one on Danny Amendola that caused a fumble.
The defense gives up yards through the air. Nothing new here.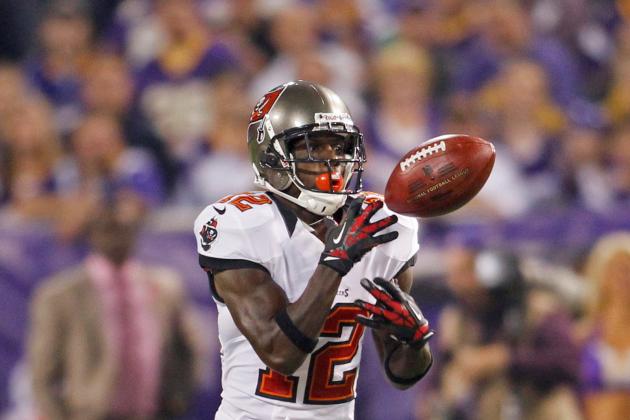 Bruce Kluckhohn-USA TODAY Sports

Overall Grade: B
Q4 Grade: B
Nothing to help the Bucs, nothing to hurt them.
Q3 Grade: A
A couple of Rams penalties added yardage in the Bucs favor.
Q2 Grade: B-
No punt protection for Roscoe Parrish on the Rams first punt. Recurring problems pop up again and again.
Connor Barth hit another field goal.
Q1 Grade: A
Connor Barth with a field goal. Groundbreaking stuff.
USA TODAY Sports

Overall Grade: C-
Q4 Grade: C-
You can't really question the coaches' decisions to go for it on fourth down in the red zone. Whether you're down 15 points or 12, you still need two touchdowns to get back in it. You can question the play calling. Not very effective when you need to get past the marker. And if you convert for a touchdown, you make it a one score game.
Q3 Grade: C
Vincent Jackson gets paid a lot of money. So why aren't the Bucs trying to get the ball to him more often?
Also, there should be more routes for Doug Martin. The Muscle Hamster can make plays in the passing game, just hasn't had a chance.
Q2 Grade: C
The coaches seem to be respecting Josh Freeman as a balanced quarterback who can make good decisions on every down. Unfortunately, he is not that quarterback. He has a strong arm and deep-ball accuracy and works best in the spread formation. That is not how he is being played. At this point, I'd try him in a few pistol sets just to see if he has any potential there.
Q1 Grade: B-
It seems every time the Bucs blitz and don't get pressure, they get burned by a long completion. Rams on the move as Bradford heats up

— Ira Kaufman (@IKaufmanTBO) December 23, 2012
One obvious solution to this is to not blitz so much. Another is to practice blitzing more often. The coaches do neither.
Great offense play calling until the Bucs reached the 10-yard line, a frequent problem this season.