ATP Power Rankings: 5 Players Next in Line for Grand Slam Victories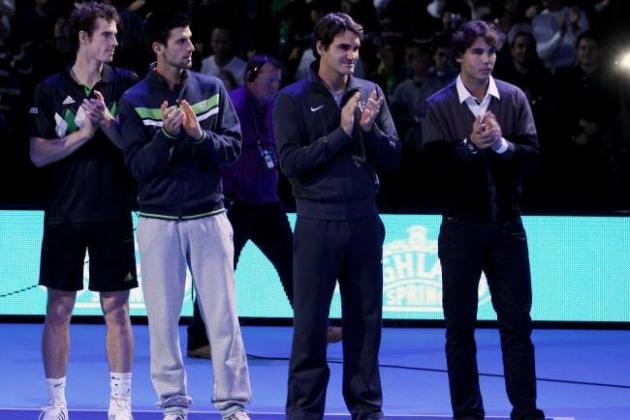 Clive Brunskill/Getty Images
Quick: Which player do you think will win a Grand Slam next year? Novak Djokovic? Roger Federer? Rafael Nadal? Maybe Andy Murray?
After so many years of sheer dominance by the top two or three players in the game, it is almost a foregone conclusion that each Grand Slam will be taken home by one of these four men.
But the power relations we've grown so used to have shifted in recent years.
Last year, for example, was the first year in more than a decade when each Grand Slam was won by a different player, as Murray broke through to take home his first title.
Today, no one player is considered truly untouchable anymore. Federer is not as young as he once was; Nadal is coming off an injury-riddled season; Djokovic lacks a consistently dominant track record; and Murray has only recently joined the "Big Four."
So, with so much uncertainty in the top rankings, will another player take advantage and claim his first Grand Slam title?
Here are the five top candidates to do just that.
Please note: This list includes only players who have never won a Grand Slam, so a player like Juan Martin del Potro, although deserving, will not be listed here because he won the 2009 U.S. Open.
Begin Slideshow

»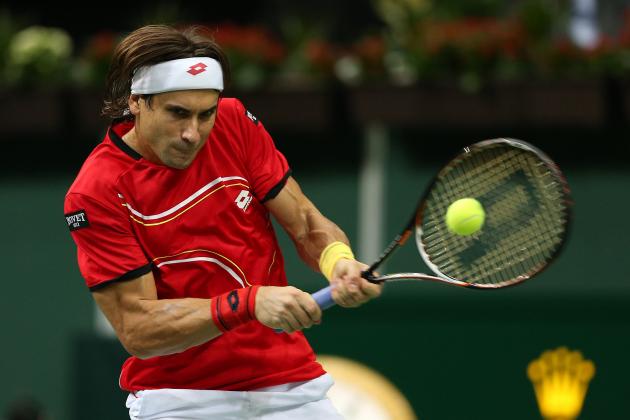 Clive Brunskill/Getty Images
David Ferrer is currently ranked fifth on the ATP tour
Let's start out with a somewhat obvious pick.
The vertically challenged Ferrer has gained recognition throughout his career as one of the hardest working players in tennis. And he certainly fits into the mold, with the superhuman level of fitness required for modern tennis players.
Ferrer has his limitations, however. The most obvious whole in Ferrer's game is a lack of the same penetrating groundstrokes that the rest of the top players have. He is noticeably overpowered when he ends up facing the likes of Djokovic, Federer, Nadal or Murray.
But he maintains his Top 10 ranking by getting to nearly every ball and building points until the other player makes a mistake.
Ferrer will be 31 in February, so his legs—his greatest asset—may start to slow down as he approaches his mid-30s. The 2013 season may very well be his last shot at winning a major.
In order for him to break that glass ceiling this year, several things have to go right for him.
First, if Ferrer is going to win a championship, it will happen at Roland Garros. Before breaking into the Top 10, Ferrer was basically a Carlos Moya-type clay court specialist. He is highly competitive on other surfaces these days, having reached as far as the semifinals of the 2012 U.S. Open, but clay courts are still his strength.
Furthermore, Djokivic, Federer and Murray's weakest surface is clay. Nadal is, of course, a virtually untouchable superstar on clay, so he presents a bigger problem for Ferrer.
However, if Nadal is not completely healthy when the French Open roles around, he will be much more vulnerable than usual, if he isn't forced to drop out altogether.
Everything needs to go right for Ferrer to get this done. It's a long shot, but it is possible.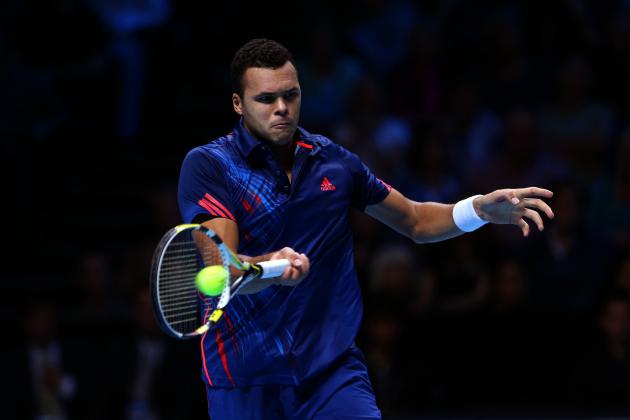 Julian Finney/Getty Images
Tsonga ranks eighth on the ATP Tour
Tsonga has been on tennis fans' radar for some time as a serious threat to the top players. He already has 13 wins against the Big Four, with four of those having come at Grand Slam events.
Tsonga has an impressive amount of raw power in his strokes. He can pound from the baseline with the best of them, and his serve is also a strength that gets him through matches.
His major weakness is a lack of consistency. He often scores big upsets against top players one day, and then loses matches to significantly less able opponents the next day. He also struggles with his acceleration and agility on the court due to his lumbering size.
Tsonga's best shot at taking home the hardware is probably at Wimbledon. He won't be able to make it past the semifinals unless he takes down one of the Big Four, and that will take every ounce of his game.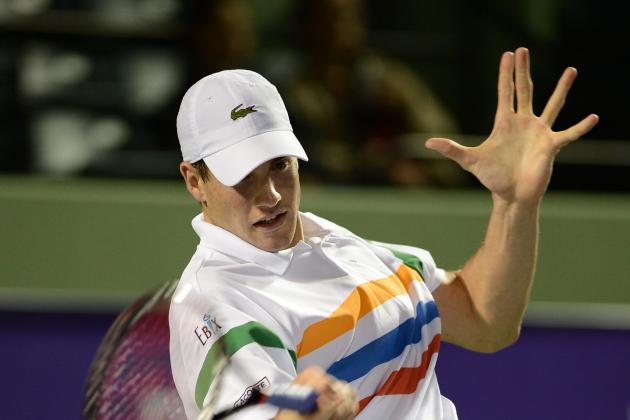 Larry Marano/Getty Images
Isner is the top American player on tour
It has been a long time since an American has had a decent shot at winning a major. If anyone is going to break the US's winless streak, it's going to be John Isner.
Isner had somewhat of a breakout season last year, finishing in the Top 15 for the first time in his career.
Isner's performance at Grand Slams, however, leaves much to be desired. He reached only the third round at the Australian and U.S. Opens, lost in the second round in France and didn't even win a match in Wimbledon.
Isner's serve and baseline game are still his only strengths. If he wants to make a serious push at a Grand Slam, he needs to become a more complete player by improving his movement and consistency. He also needs to be more efficient to end sets faster and conserve energy for the duration of a tournament.
Indeed, he has already played 252 tiebreakers in his young career, more than any other player in the Top 10 except Roger Federer.
Isner is still a long shot in my mind, but if he makes the necessary improvements to his game, he has an outside chance of winning a hard court Grand Slam in the coming years.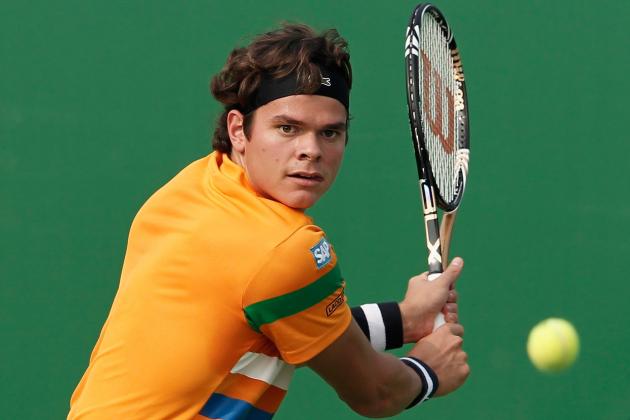 Lintao Zhang/Getty Images
Raonic is the only Canadian player in the Top 100
Roanic broke onto the scene in 2011 with his monstrous serve and strong groundstrokes game. But he is still a relatively inexperienced player who lacks the same polish and mental toughness that the top players possess.
The young Canadian has had next to no success against the top players thus far, but his game should come together as he gets more court time against them. Raonic is primed for a breakout season.
And despite his age, it's not unheard of for a big serving 21-year-old to win a Grand Slam (à la, Andy Roddick in 2003).
Raonic's best shot at taking a major title in the next few years is on hard court where his serve and baseline game will play up well. Look for the Canadian to make a good run at the Australian or U.S. Open titles next year.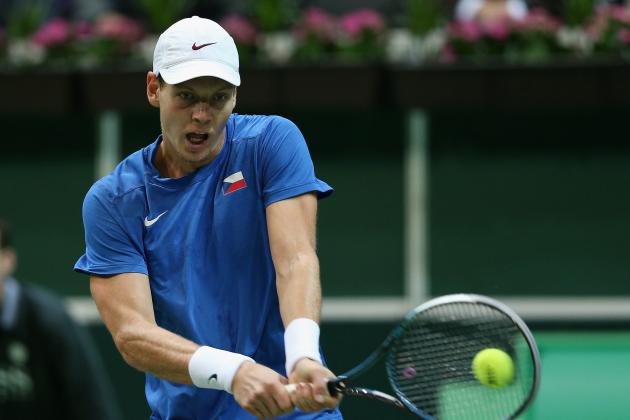 Clive Brunskill/Getty Images
Berdych ranks sixth on the ATP Tour
Berdych is an interesting case.
It seems he has been on the cusp of greatness for years. He has consistently held his spot in the Top 10 since 2010 but has been unable to work his way into the Top Five at any time in his career.
Berdych has the most impressive Grand Slam record of anyone on this list. He has reached three majors quarterfinals, two semifinals and, most notably, the 2010 Wimbledon final.
In fact, Berdych is best known for upsetting Federer and Djokovic in 2010 to reach the final, only to lose to Nadal in straight sets.
Most recently, Berdych took down Federer in the quarterfinals of the 2012 U.S. Open.
So, clearly the 27-year-old has the talent to win a Grand Slam, and soon. He has the ability to upset some of the best players in the world—Nadal is the only Big Four player he does not have a Grand Slam win against.
Berdych's greatest obstacle has always been his temper. He is known for being an easily aggravated player, sometimes seeing winnable matches slip away due to mental instability. If he can smooth out those problems, there is nothing standing in between Berdych and a championship.
Dean Mouhtaropoulos/Getty Images

Kei Nishikori
Nishikori just missed the cut on this list. He is already the greatest player ever to come out of Japan, but he has the potential to achieve much more than that.
Nishikori moves effortlessly around the court, getting to balls most players would only dream of retrieving. He has unbelievable accuracy on his groundstrokes and also packs some punch, despite his lack of physical size (he is only 5'10").
His serve, however, lacks power and consistent placement. Nishikori may not win a major this year, but the 22-year-old has a very bright future.
Bernard Tomic
Right now, Tomic is all potential and very little polish.
The 20-year-old Australian has a solid game, but he struggles at building points, often going for too many winners and missing his shot. Given a few years of coaching, Tomic will be a very good player, but I don't expect him to take any Grand Slam titles in the next few years.
Brian Baker
The oft-injured American is looking to work his way up the ATP ladder now that he is healthy. Baker has always had excellent potential, thanks greatly to his superb return game.
Baker is a wild card, but if his body holds up, he could turn some heads with a very solid run at a major.
Alexandr Dolgopolov
Dolgopolov is a very talented young player. He has all the qualities of a Top 10 player, including an excellent baseline game, a very good serve and outstanding athleticism.
However, much like Tomic, Dolgopolov tries to end points too quickly by going for too much. Thus, he piles up unforced errors.
Dolgopolov will make some good headway in Grand Slam play, but I would be surprised if he made a serious run at a major title in the next couple of years.