College Football: LB Kyle Van Noy Has Ridiculous Performance in Poinsettia Bowl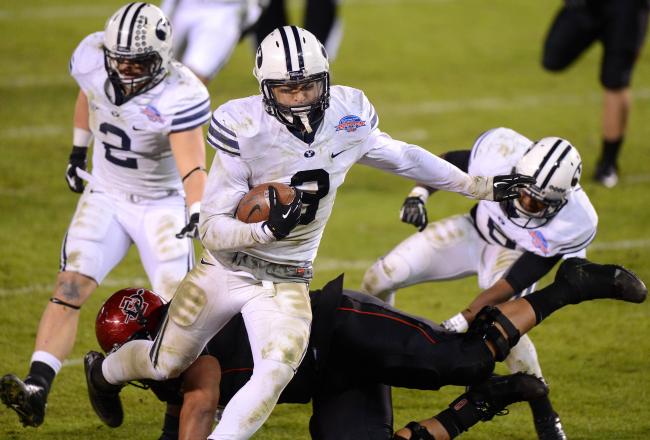 Jake Roth-USA TODAY Sports
The Poinsettia Bowl in San Diego between San Diego State and BYU had been billed as a matchup of SDSU's potent offense against BYU's top five defense. Both of those units were having terrific seasons, so the real question going into the game was; which one of them was superior?
BYU junior outside linebacker Kyle Van Noy decided to put that conversation to rest emphatically, as he led BYU to a 23-6 victory in which he very nearly outscored both offenses combined.
To say that Van Noy had a good game would be the understatement of the century. Indeed, Kyle Van Noy put together one of the finest defensive performances ever seen in college football.
For starters, Van Noy was involved in nearly every defensive stop for the Cougars through the first three quarters, including a blocked punt in the first half. While he didn't have monster stats at that point in the game, he had been harassing SDSU QB Adam Dingwell all game, causing numerous QB hurries, and just disrupting SDSU's offensive timing in general.
Van Noy was having a solid game through three quarters, but it was what he would do in the fourth quarter that would make his game one of the greatest in NCAA history.
With just under 13 minutes remaining in the game, SDSU got the ball inside their three-yard line. The Aztecs led 6-3, and had struggled to generate much offense in the second half. It appeared at this point that the game may very well end 6-3.
Where does Kyle Van Noy's performance in the Poinsettia Bowl rank amongst BYU's all-time greatest individual defensive performances?
Van Noy had something very different than a 6-3 Aztec win in mind. He came around the right tackle untouched and managed to strip the ball before SDSU QB Adam Dingwell could bring it forward. Van Noy then pounced on the loose ball in the end zone, giving the Cougars the lead for the first time in the game.
BYU added to the lead when Dingwell fumbled the snap on the next drive and CB Jordan Johnson recovered the fumble, which set up a 14-yard Jamaal Williams touchdown run. The PAT was missed, giving BYU a 10-point lead with just over 12 minutes left in the game.
There was still plenty of time remaining for the Aztecs to be able to get those 10 points, if they could finally solve the BYU defense that had locked them down for most of the game.
The BYU defense was determined not to let the Aztecs mount a comeback, and the final nail in SDSU's coffin was provided by none other than Kyle Van Noy. With just over six minutes remaining in the game, Van Noy made a leaping interception and then returned it 17 yards for a touchdown.
Kyle Van Noy was named the defensive MVP of the game, an honor that was never really in doubt. He finished the game with eight tackles, 1.5 sacks, a forced fumble, a fumble recovery, an interception, two defensive touchdowns, and numerous QB hurries that resulted in incompletions.
To put into perspective how dominating Van Noy was in the Poinsettia Bowl, he accounted for 14 points (counting the PATs that came as a result of his touchdowns), while the SDSU and BYU offenses combined for just 15 points total. It's not very often that the player with the best defensive performance in the game also has the best offensive performance.
The only real downside to Kyle Van Noy's insane performance is that it all but assures that he will declare for the NFL draft this offseason, as there is really nothing left for him to prove at BYU, and his draft stock just rose even more with this performance. If this was Van Noy's final game in a BYU jersey, he certainly picked one glorious way to go out.
This article is
What is the duplicate article?
Why is this article offensive?
Where is this article plagiarized from?
Why is this article poorly edited?

BYU Football: Like this team?