How Can the Eagles Stop Washington's High Octane Offense on Sunday?
Use your ← → (arrow) keys to browse more stories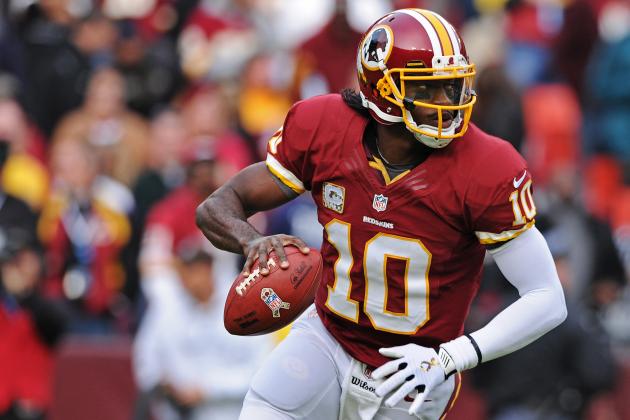 Patrick Smith/Getty Images

Stopping Robert Griffin III and the Washington Redskins' high-powered offense won't be easy.
That's the challenge the Philadelphia Eagles face this coming Sunday. The Eagles (4-10) have nothing but pride to play for at this point, although they can be a spoiler to a Redskins team desperately looking to make the playoffs.
The Redskins (8-6) have won five straight games after a loss to Carolina, and the team is in control of its own destiny. Winning against the Eagles and the Dallas Cowboys the following week will give the Redskins the division title.
The Redskins' offense begins and ends with their playmaking rookie quarterback, and that's a challenge for any defense to contain. Interim defensive coordinator Todd Bowles has really struggled in his current role, and there's not much reason for hope this Sunday.
But if the Eagles can find a way to pressure Griffin, that's where it all starts.
Griffin missed last week with an ankle injury, and fellow rookie Kirk Cousins filled in remarkably in a 38-21 win over the Cleveland Browns. RGIII will almost certainly play this week, and he's been a top-five MVP candidate in 2012.
The Eagles' much-maligned defensive line has been a weakness of the team all season. The unit has bounced back though after line coach Jim Washburn was fired, and the Eagles have a total of eight sacks in their past two games.
The release of veteran defensive end Jason Babin opened the door for former first-round pick Brandon Graham. Graham had a breakout game against the Cincinnati Bengals, beating star right tackle Andre Smith for 2.5 sacks and a forced fumble.
Trent Cole has been playing well, and the interior defensive line has a pair of solid pass-rushers in Cullen Jenkins and first-year man Fletcher Cox.
The Redskins have allowed 31 sacks this season, which puts them around the middle of the pack in terms of blocking efficiency. Left tackle Trent Williams has been the standout player, although center Will Montgomery has had a breakout campaign of his own.
Pressuring RGIII will make life much easier for the Eagles' defensive backs, who had little to no ability to stop Griffin last time the two teams played. Griffin completed 14 of 15 passes for 200 yards and four touchdowns, throwing just a lone incompletion in 60 minutes of action. The first pass he ever threw against the Eagles was a touchdown pass, and he didn't let up.
When he's pressured this season, Griffin is completing 59.2 percent of his passes for five touchdowns, just two picks and a 93.8 passer rating. But when he's blitzed, he is completing over 67 percent of his passes for 10 scores, one interception and a 138.3 passer rating.
So theoretically, that means the Eagles will need to pressure Griffin from the ends but without actually blitzing.
And offensive coordinator Kyle Shanahan has done a marvelous job this season of disguising his plays against the Eagles.
In this play, RGIII beat the Eagles with a simple pass to the fullback in the red zone.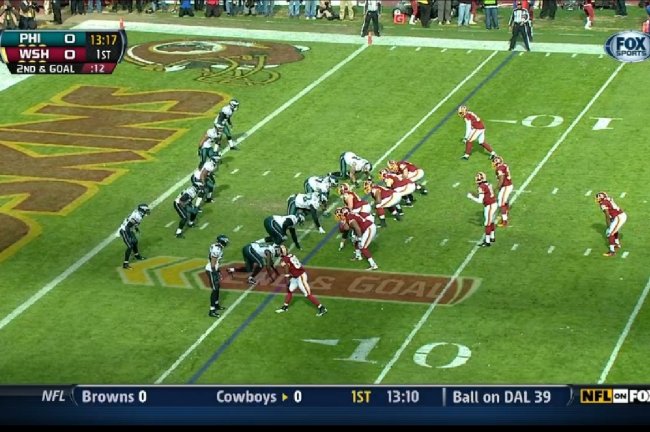 The Redskins lined up at the 6-yard line and sent Josh Morgan across the middle. Morgan brought a corner and a linebacker with him, leaving safety Nate Allen to cover fullback Darrel Young.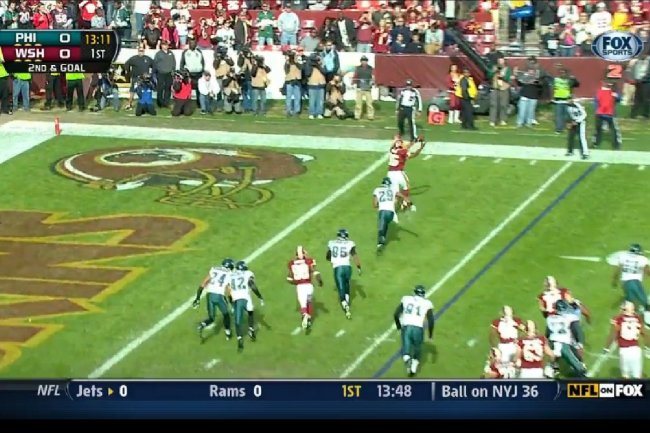 This was a win for the Redskins, since Allen can't cover anyone. RGIII floated a perfect pass to the outside of the field and Young snagged it for an early 7-0 Redskins lead.
The problem with a player of RGIII's abilities is that he also has the speed to break a run to the outside. Check out this play with defensive tackle Cullen Jenkins bearing down on RGIII.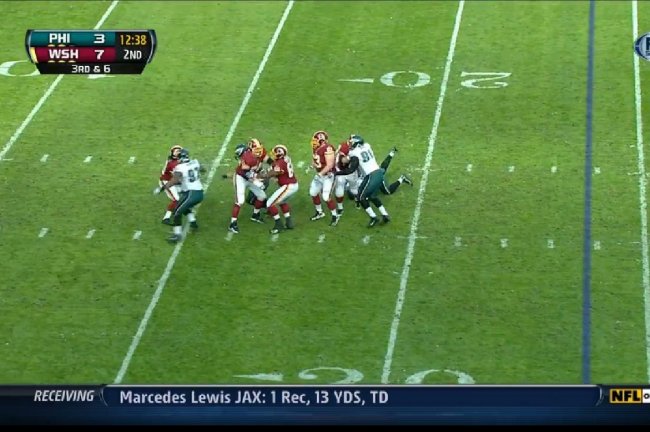 Jenkins appears to have Griffin trapped, so Griffin dashes to the outside. Rookie outside linebacker Mychal Kendricks, who is one of the quicker players on the field, was pursuing him.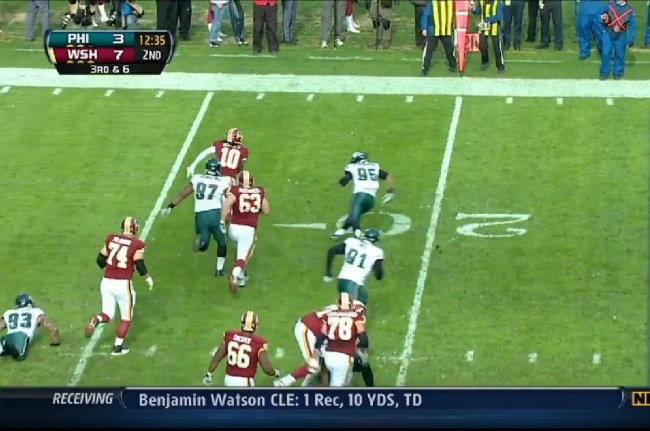 Griffin still eluded him, passed the first-down marker, and was finally pushed out of bounds 11 yards down the field.
And the defensive backs for the Eagles are subpar enough that Griffin can seemingly just throw the ball up and it will result in a touchdown.
Look at this play. Griffin threw it deep to Santana Moss, who was double-covered. He out-jumped both receivers for a 61-yard touchdown pass, eluded another tackle attempt by Nate Allen and walked into the end zone.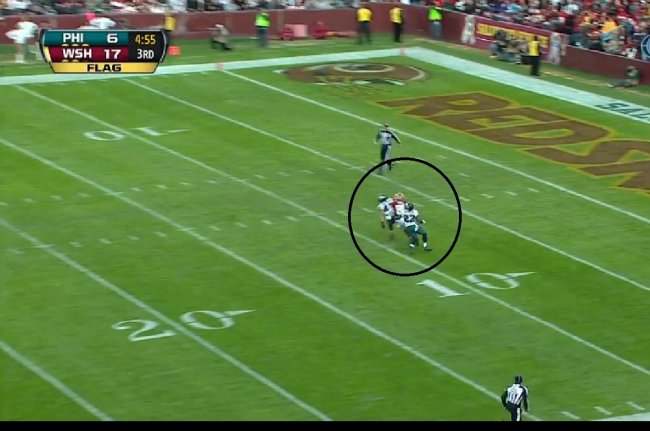 The Eagles will also have to worry about rookie running back Alfred Morris, a bruiser who has already rushed for over 1,300 yards this season. The last time the two teams met, Morris was held to 76 rushing yards on 20 carries, but the Redskins as a team did accumulate 169 ground yards on 34 rushes.
Running the football is the surest sign to winning football games, and the Redskins did their part in Week 11.
Winning this one should be fairly easy for Washington.
The Redskins need to win to stay in hunt for the NFC East title. The Eagles are all but dead. And RGIII seems to own the Eagles, based on his performance from last time.