San Francisco 49ers' Most Improved Players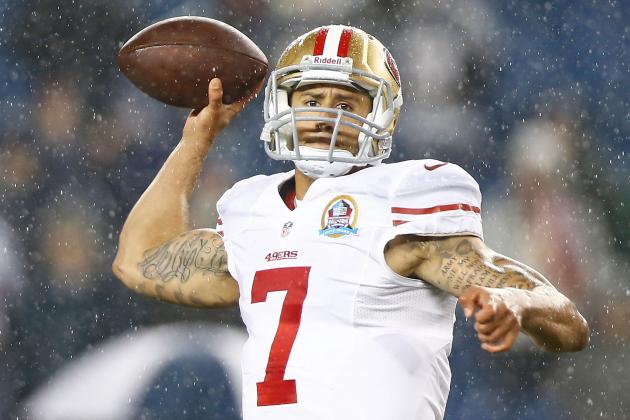 Jared Wickerham/Getty Images

The San Francisco 49ers were the NFC's second best team in 2011 after losing in the NFC Championship game. But even then, it seemed like their playoff run was something like a fluke.
After beating the New England Patriots in Foxboro on Sunday night, there is no question that the 49ers are the NFL's best team.
Or, to put it another way, they are the last team anybody wants to play in January.
San Francisco hasn't relied heavily on free agents or 2012's draft picks for improvement this season. Jim Harbaugh and his staff deserve all the credit for developing the players they already had to make the team better.
This slide show highlights the players who have improved the most since the 49ers' last playoff run.
Begin Slideshow

»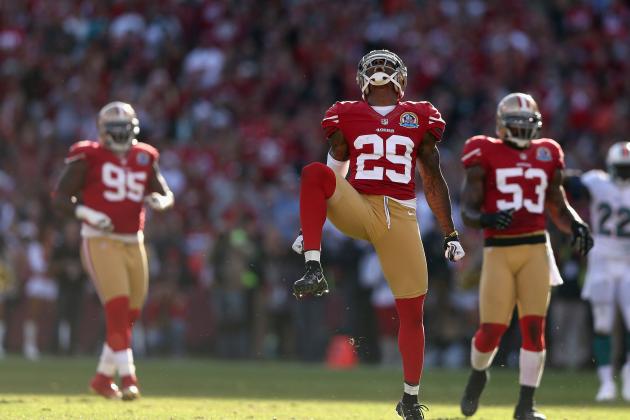 Ezra Shaw/Getty Images

Chris Culliver was torched by Tom Brady on Sunday, making him one of many young corners who have been victimized by the future Hall of Famer.
But besides his performance against the Patriots, he has quietly put together a solid season for the 49ers secondary.
Culliver only sees the field in nickel-and-dime situations but makes the most of his limited playing time. He has recorded two interceptions, two forced fumbles, a fumble recovery and 13 passes defended this season.
He transitioned from free safety to cornerback his senior year of college and is still learning the nuances of the position.
Still, he plays with the confidence of a Pro Bowler, and it shouldn't be long before he wins the starting job.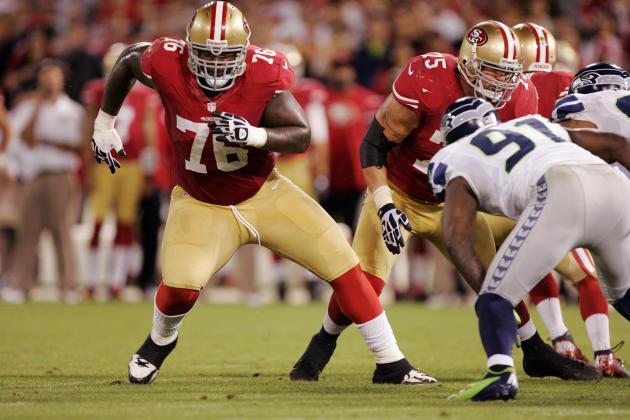 Brian Bahr/Getty Images

Anthony Davis' first two seasons were forgettable.
It was as though he was selected in the first round solely to help his quarterback off the ground after a sack.
This year, the big man from Rutgers has turned things around.
Davis has developed into a dominant run-blocker, setting the tone with his physical play. He stays with his blocks until the whistle blows, and then some. Davis also has a nasty attitude that has set the tone for the league's second best rush attack.
While Davis' pass protection has dramatically improved since last year, he's still vulnerable against elite pass rushers. But give him one more offseason, and he should establish himself as the best all-around tackle on the team.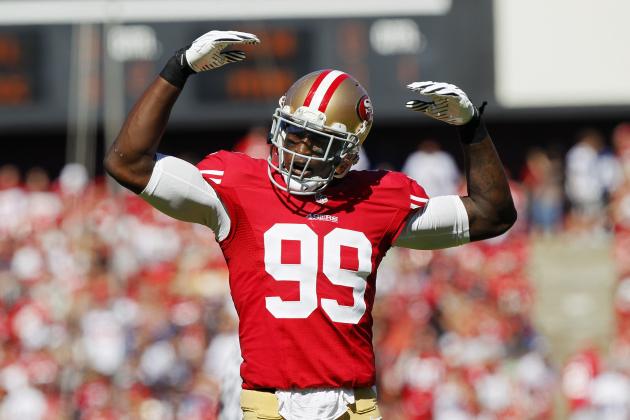 Brian Bahr/Getty Images

If Aldon Smith isn't sacking the quarterback, he's drawing holding penalties.
He's simply un-blockable.
It was obvious that Smith was an exceptional pass rusher after recording 14 sacks his rookie season, despite only playing on passing downs. But this year he has taken his game to the next level.
After 14 games Smith has 19.5 sacks, three away from tying Michael Strahan's record for most sacks in a season. Nobody in NFL history has recorded 30 sacks more quickly than Smith or had more within their first two years in the league.
But what isn't talked about is Smith's dominance in the run game.
He uses his strength to set the edge and his long arms to gobble up the ball-carrier. His ineffectiveness against the run last year is what kept him off the field for the majority of the defensive snaps.
Now that he's on the field every play, there's no telling what records he won't break.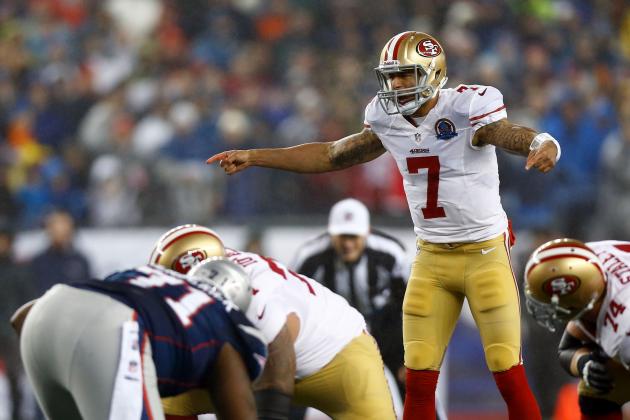 Jared Wickerham/Getty Images

There was concern in 49ers-land when Alex Smith went down with an injury in Week 10. Nobody thought Kaepernick could run the offense as well as Smith—remember, Smith had completed 92 percent of his last 27 passes before his concussion).
Five starts, four wins and nine total touchdowns later, there is no question that Kaepernick is the 49ers' next franchise quarterback.
Kaepernick's ability to avoid pass rushers and pick up first downs with his legs is no surprise—he gained over 4,000 yards rushing in college.
What has been shocking is the young quarterback's poise in the pocket.
Kaepernick handles the office like a veteran. He looks comfortable reading the defense and doesn't force throws. He uses his strong arm to complete passes down the field, something Alex Smith never has been able to do.
This has opened up the offense and resulted in big plays, another thing the 49ers passing game lacked with Smith under center.
It's hard to say that Kaepernick has improved since last season, since he only saw the field during garbage time of a few games as a rookie. But what can be said is that nobody thought the second-year man from Nevada would outplay a seasoned vet as he did in New England on Sunday night.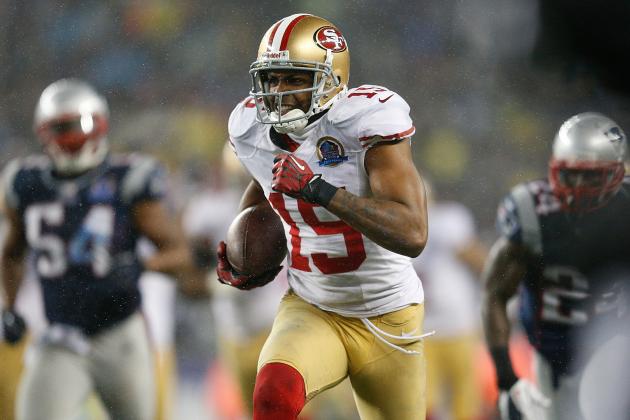 Jim Rogash/Getty Images

After 14 games, Michael Crabtree has surpassed career highs in receptions and touchdowns and needs six more yards to set a new high in receiving yards. But most importantly, the former first-round pick has cemented himself as the 49ers' go-to receiver.
Crabtree is not the biggest, fastest or strongest receiver in the league, but he just may be the trickiest to tackle. He ranks seventh in the NFL in yards after the catch (putting him ahead of Calvin Johnson and A.J. Green).
Crabtree has come up big as a third-down receiver this season. He has dependable hands, something that has plagued him in the past, and always makes the first defender miss.
While Crabtree is still working to live up to expectations, he has certainly gained respect from his team and the fans this season.
It will be exciting to see how he continues to progress with Colin Kaepernick under center.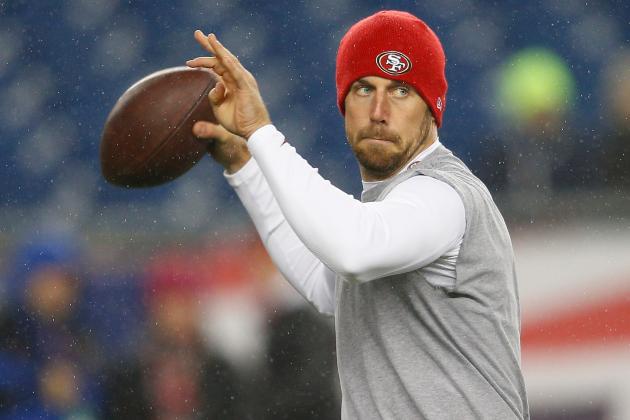 Jim Rogash/Getty Images

Alex Smith was on pace to surpass career highs in yards, completion percentage, touchdowns and yards per completion.
Not only was Smith having a career year, but his 70-percent completion percentage and 104.1 passer rating ranked among the best in the league.
He was poised to take the 49ers back to the playoffs and shed the "game manager" label.
Then, he suffered a concussion and had his job taken away by Colin Kaepernick.
It seems Smith can't win even when he's winning. Anybody with a pulse can't help but feel bad for the guy. But such is life as a quarterback in the NFL.
For now, Smith can do nothing but watch from the sideline, say all the right things to the media and wait for his next opportunity with another team.