The Ultimate Fighter 16's Roy Nelson and the Fattest Fighters in MMA History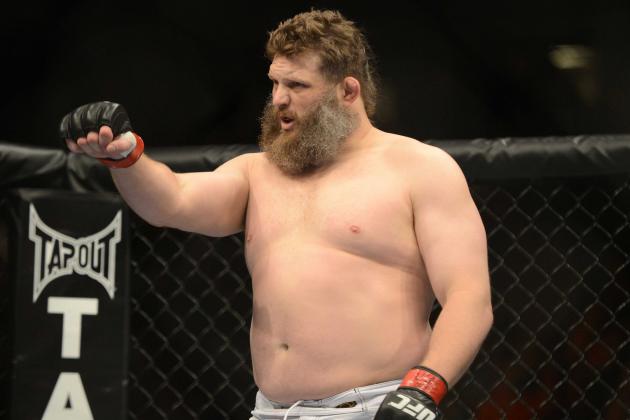 Ron Chenoy-USA TODAY Sports

This weekend, Roy Nelson will waddle on down to the cage for eighth time in his UFC career. Blaring in the background, if everything holds to form, will be Weird Al Yankovic's classic parody, "I'm Fat."
Nelson, you see, has embraced his girth, made it his gimmick.
"Do I have fat cells on my body? Everybody has fat cells," Nelson told ESPN last year. "Do I have more than most other athletes? Probably."
One man who isn't laughing is Nelson's boss, UFC president Dana White, who has pressured the fighter to lose the gut and drop the act. Last year. after a disappointing performance against Frank Mir, White let it all hang out.
"The fat thing was funny for awhile, it's not funny anymore," White told Ariel Helwani. "It's not funny when you're the co-main event in a big fight like that and the fight looks the way that it did tonight."
Of course, Nelson isn't the most corpulent man in MMA history. Far from it. Here are five other large-and-in-charge men who made the Octagon shake with their mighty presence.
Begin Slideshow

»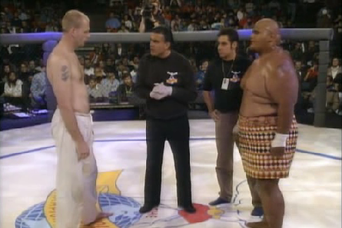 Captured from Home Video
Weighing in at over 400 pounds, Teila Tuli started the trend of massively overweight fighters in the very first fight in UFC history. His girth didn't help him much in the bout. In fact, it was, perhaps, even his undoing.
He clumsily fell to the ground against kickboxer Gerard Gordeau—a fat guy move if there ever was one—and caught a headkick for his trouble during his attempt to scramble back to his feet.
He lost a lot that night. Not just the bout, but also several teeth. Some were implanted in Gordeau's foot. Another flew right past the announcers, clearly startling Kathy Long.
"A tooth flying by me was probably one of the most memorable moments," Long reminisced to MMA Weekly. "(Tuli) got hit pretty squarely in the face and his tooth literally flew right past me."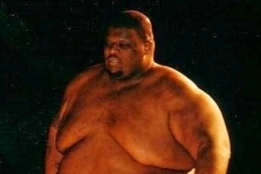 Phot via tapology.com
When it comes to pure mass, no one will likely ever top Emmanuel Yarborough. The Guinness Book of World Records certified him, all 6'8" and 704 pounds of him, as the largest athlete in the world.
And, amazingly, Yarborough was able to translate that size into no small athletic success—NCAA All-American wrestler at Morgan State, sumo champion and a single MMA win. That the win is labelled by Sherdog as "Submission (Smother) is the icing on the cake, a cake Yarborough would no doubt devour in a single sitting."
Someone once described Scott Ferrozzo's bout with fellow UFC enormity Tank Abbott as "something that resembled two whales mating."
OK, that someone was me, and that place was right here. But that makes it no less true. To their credit, these were two very dangerous whales.
Amazingly, years later, they got together—literally in someone's backyard, Kimbo Slice-style—to continue face-punching each other. If you haven't seen it, truly you must.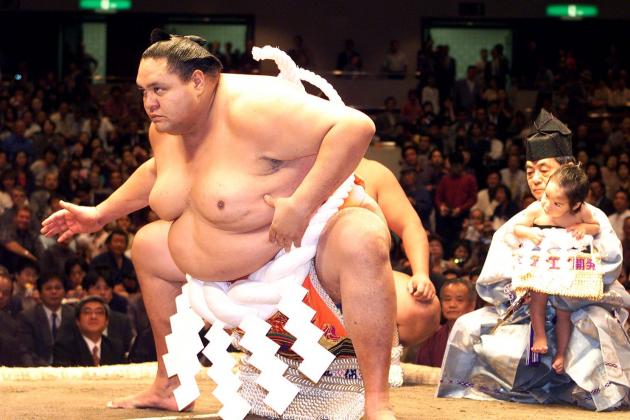 (Photo By YOSHIKAZU TSUNO/AFP/Getty Images)
Akebono was an enormous star in Japan no matter which connotation of the word "enormous" you prefer. At 6'8" and 514 pounds, he used his bulk to dominate the sport of sumo, becoming the first non-Japanese to reach the pinnacle of the sport—the rank of yokozuna.
After retiring in 2001, and finding he had the same expenses but a fraction of the income, he shocked the conservative sumo community by turning to prize fighting. And although he managed to draw television audiences upward of 50 million, he didn't find much success in the actual ring.
Four MMA fights yielded a record of 0-4, including a loss to TV comedian Bobby Ologun. In kickboxing he had a single win against seven losses. Today he continues on in the ring, but in the world of pro wrestling. There, at least, he can win a few.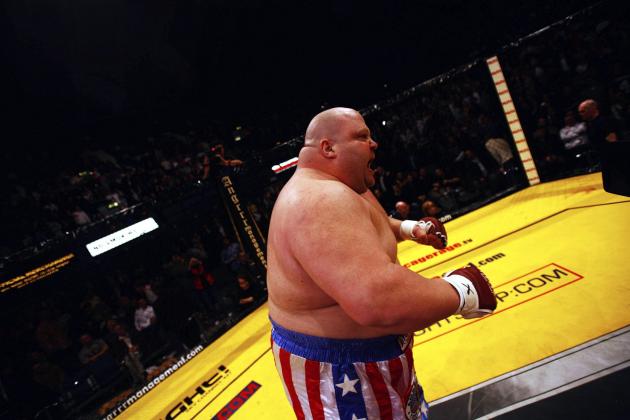 Daniel Berehulak/Getty Images

It's next to impossible to have a list of "fat guy" athletes and not include the iconic Butterbean. Luckily for me, Butterbean found a third career after leaving boxing, becoming skilled enough that he even managed to finish seven fights on the ground.
He's fought little guys, skinny, guys, pro wrestling guys and fellow fighters best described as "hefty." And he hasn't done half bad. Believe it or not, 400 pounds or not, Butterbean is no joke in the cage. When you consider both that it's 2012 and that Butterbean is 46 years old, that's a fairly amazing statement to end on.