Kansas City Chiefs vs. Oakland Raiders: 10 Keys to the Game for Oakland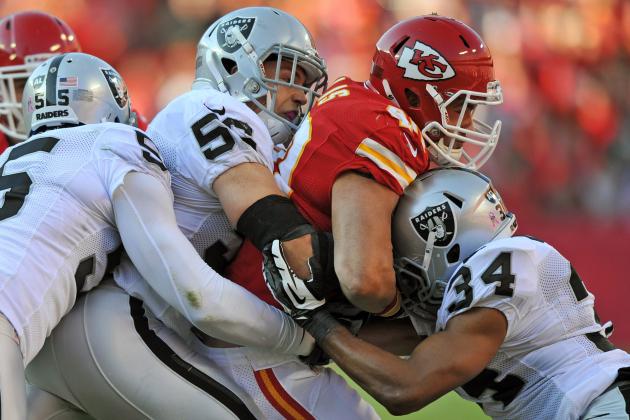 Peter Aiken/Getty Images

The Oakland Raiders welcome the Kansas City Chiefs to the O.co Coliseum in Week 15 of the NFL season. Game time is 4:25 p.m. ET.
Chiefs quarterback Brady Quinn and Co. are as desperate as the Raiders are at this point, so both teams will be looking for a confidence-boosting win.
As the Raiders limp toward the end of this NFL season, here are 10 keys to the game.
Begin Slideshow

»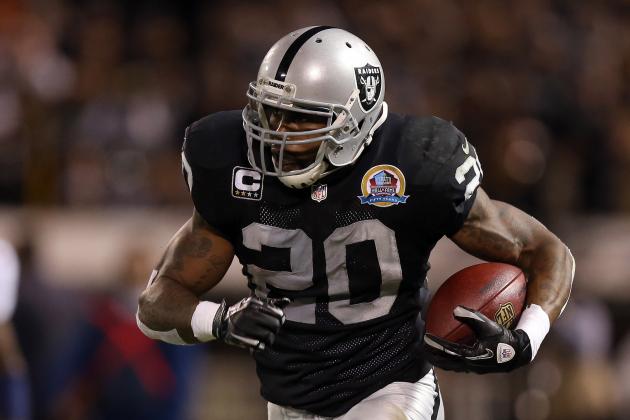 Ezra Shaw/Getty Images

The Chiefs rushing defense ranks 27th in the NFL (right behind Oakland's 26th ranking) and gives up 131.2 rushing yards a game.
Offensive coordinator Greg Knapp and Oakland's run game will make an attempt to set the pace of the game. Look for Oakland to again utilize fullback Marcel Reece in multiple pass and run packages.
With Darren McFadden questionable, Taiwan Jones will once again have the opportunity to prove himself.
The Chiefs run defense could be just what Oakland's run offense needs to regain its confidence.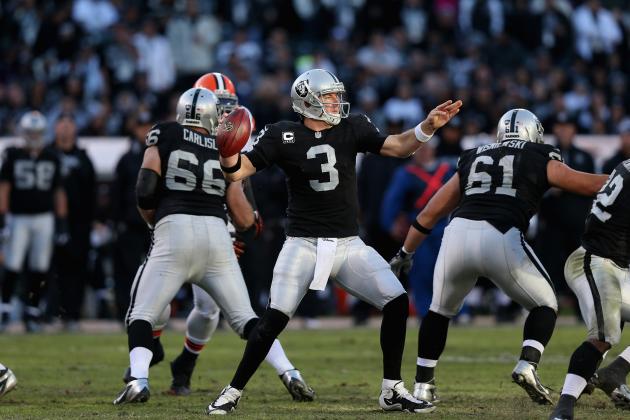 Ezra Shaw/Getty Images

See key No. 1.
When not handing the ball off, Raiders quarterback Carson Palmer needs to use the middle of the field. Tight end Brandon Myers has to continue to be Palmer's go-to receiver and win the battle in the middle.
Conservative pass plays and an aggressive run offense will be a major key. By doing this, you'll get a few chances to throw down the field to...
Thearon W. Henderson/Getty Images

Raiders wide receiver Denarius Moore has been in coach Dennis Allen's doghouse the past few games. That has to end this week.
The Chiefs have a very respectable ninth-ranked pass defense, giving up 218 yards per game. A key to breaking this defense will be to complete passes of greater than eight to 10 yards.
This is the Chiefs defensive weak spot, as they average giving up 8.2 yards per pass play. This area of the field is Moore's playground!
Palmer will be quick to utilize the play-action pass and to hit Moore across the middle of the field.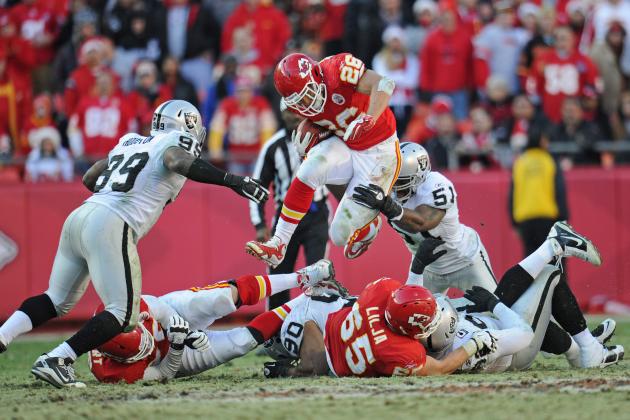 Peter Aiken/Getty Images

If there is one thing the Chiefs offense does well, it's run the ball.
Ranked fifth overall in the NFL, the Chiefs average 149.2 yards a game and 4.6 yards an attempt. However, they are also known for putting the ball on the ground. They have 10 fumbles, eight of them lost to opposing teams.
Oakland will need to make a concentrated effort to stick to its assignments and own its assigned areas of the field. The Raiders front seven, and in particular linebackers Miles Burris and Philip Wheeler, need to make sure they don't overcommit against the run (something they haven't been able to do all season).
Containment and swarming to the ball partnered with patience will be important for Oakland to have a chance at slowing down this Chiefs rushing offense.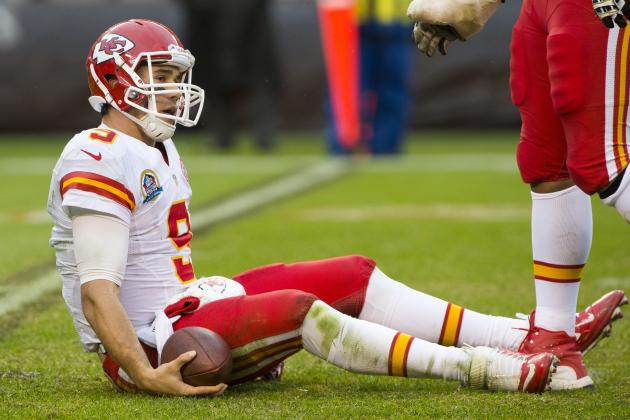 Jason Miller/Getty Images

Chiefs quarterback Brady Quinn leads the 31st-ranked passing offense in the NFL.
While their offensive line has done a good job opening lanes for their run game, they have given up 31 sacks. With that type of pressure, Kansas City quarterbacks overall have thrown 17 interceptions.
This game could be a huge confidence boost for a Raiders defense that only has 17 sacks and nine interceptions so far this season. Look for Oakland to utilize multiple zone-blitz packages to confuse Quinn's secondary reads and check downs.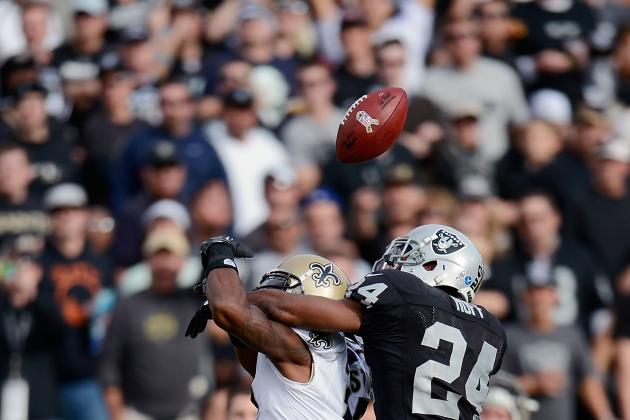 Thearon W. Henderson/Getty Images

The Chiefs' weak passing offense should match the Raiders' disappointing pass defense well. Ranked 28th in the NFL, Michael Huff and Co. cannot continue giving up an average of 7.8 passing yards per attempt.
Against Chiefs quarterback Brady Quinn, the Raiders pass defense should be able to limit Chiefs passing plays of greater than 10 yards. That is, as long as they put constant pressure on Quinn.
Expect another strong performance by Raiders safety-turned-cornerback Michael Huff against Kansas City.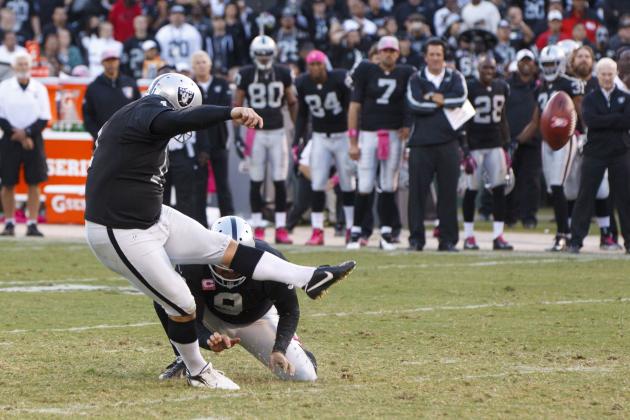 Jason O. Watson/Getty Images

Carson Palmer and the offense has not been known to blow up the score board with points. But they have been able to move the ball fairly reasonably down the middle of the field.
While the end zone has been difficult for the Oakland offense to find, the red zone has been a place Palmer and Co. know fairly well.
Kicker Sebastian Janikowski's leg will once again be important because Oakland must turn drives into points—even if they are only field goals.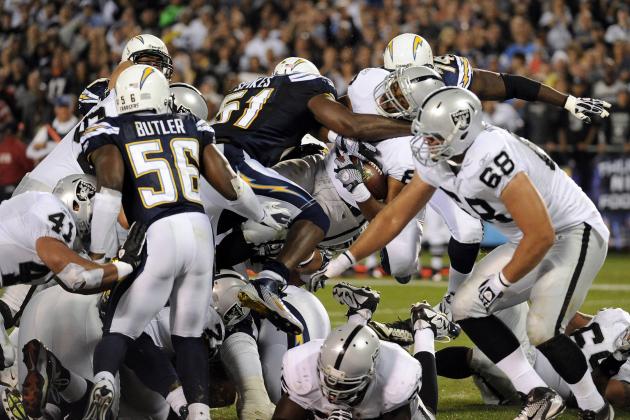 Harry How/Getty Images

The Raiders have started to revert to form the last few weeks with dumb penalties.
One of the big offenders this season has been defensive lineman Richard Seymour. If he is in fact healthy enough to play a full game this week, and he wants to remain in Oakland, he'll need to lead by example and play disciplined football.
On the offensive side of the ball, Jared Veldheer, Cooper Carlisle, Stefen Wisniewski, Mike Brisiel and Khalif Barnes will need to pay attention to the snap count and stay disciplined.
The Raiders need to prove that the decrease in penalties earlier in the season was not a fluke.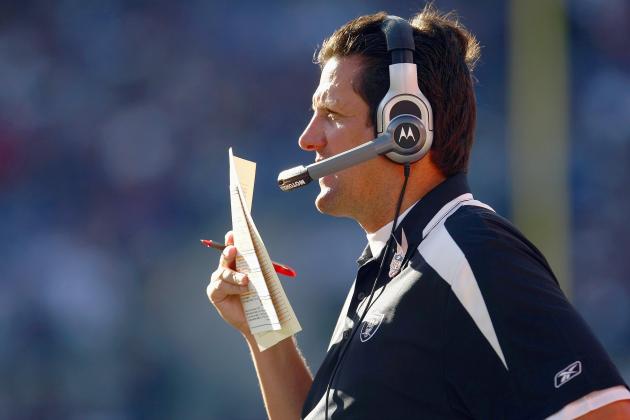 Chris McGrath/Getty Images

Coach Knapp needs to put together an efficient, clock-controlling offense that does not put the ball at risk. Learn from last week's loss and continue to attack the middle of the field and between the tackles.
Most importantly, play smart and efficient in the red zone.
We know quarterback Carson Palmer has been susceptible to interceptions in the red zone. Fullback Marcel Reece and tight end Brandon Myers have been the most consistent receivers this season, and Knapp should continue to utilize those threats against this Kansas City defense.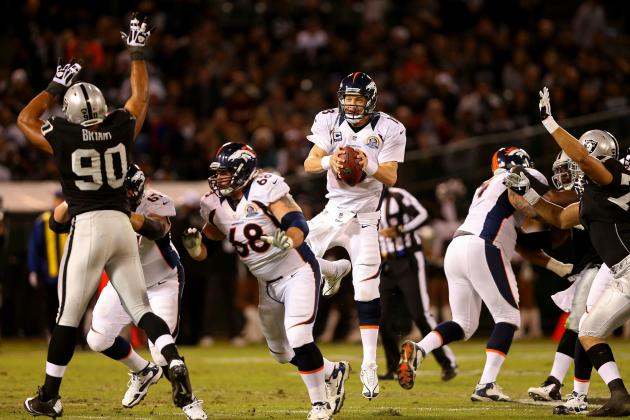 Ezra Shaw/Getty Images

DON'T USE IT!
If history has taught us anything, it's that, for the Raiders, the prevent defense only prevents them from winning. Defensive coordinator Jason Tarver and head coach Dennis Allen need to stay aggressive on defense.
Aggressive, aggressive, aggressive! Press the corners, load the box and get after the quarterback. Act like you are the big bully on the field and push your opponents around.
The Chiefs are coming into the Black Hole! The Oakland Raiders need to show that this is their house and own it with a smash-mouth defense!
What are your keys to the game? Let us know in the comment section!
Ray Garcia is a sports radio host and owner of TPSRadio.net (The People's Sports Radio Network). You can follow him on Twitter @tpsray