Notre Dame Football: Comparing 1988 Championship Team to Brian Kelly's 2012 Unit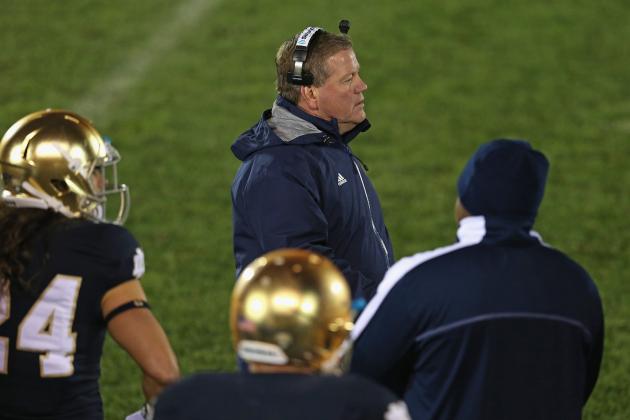 Jonathan Daniel/Getty Images

How would you compare Brian Kelly and his Irish team to the one that Lou Holtz carried to an undefeated national title run in 1988?
It has been many painful years for the folks out in South Bend since that team walked off as champions, and it would be an amazing feeling for Irish fans to enjoy some recent success.
But what does this year's undefeated team have in common with the one before it? Are there any similarities and which team would you pick as the best of the two?
Let's break down these two historic football squads and see how they compare to one another.
Note: All stats were gathered by ESPN or Sports-Reference.com
Begin Slideshow

»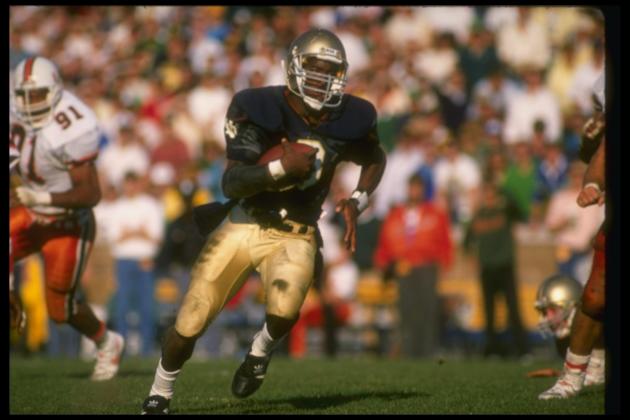 Jonathan Daniel/Getty Images

Tony Rice
Rice wasn't exactly the best passer in Notre Dame history, as he only threw the ball 149 times and completed under 52 percent of his passes. However, he was the leading rusher on the team with 775 yards on the ground and nine touchdowns. He was more of a running back that played the quarterback position and will forever be remembered for the 65-yard touchdown run he had against USC.
Everett Golson
Golson has really matured into a solid option as quarterback and appears to be on track to take over this team next season. He completed nearly 59 percent of his passes and began making better decisions with the football as the year went by. The downside is that he hasn't been as effective with his legs as you would like to see and needed backup quarterback Tommy Rees to bail him out a few times throughout the year.
Overall
You have to take Rice in this situation. Both quarterbacks weren't the best options you would choose from, but Rice had a much bigger impact on his offense than Golson. While Golson had a decent running game to rely on, Rice had the task of often putting this team on his back and grinding out a victory. Golson has yet to be given the keys to this offense.
Advantage: Rice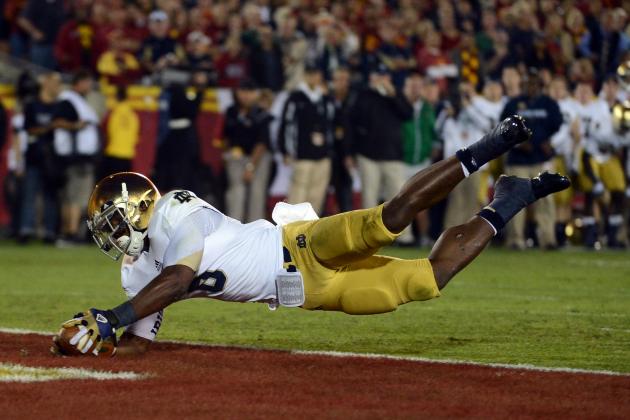 Harry How/Getty Images

This Notre Dame Team
The Irish are ranked 27th in the country in rushing, averaging a little over 200 yards a game on the ground. There were four players that managed over 300 yards on the season, but the majority of the work was done by a combination of Theo Riddick and Cierre Wood. Overall, the team averaged five yards a carry and scored 22 rushing touchdowns, which is tied for 45th in college football.
1988 Notre Dame Team
Besides Rice leading the team in rushing yards, the 1988 team included Mark Green and Tony Brooks. Both pounded out more than 700 yards each and combined for nine rushing touchdowns, forming a solid running back tandem.
Anthony Johnson was also somebody that deserves credit, as he only touched the ball 74 times on the season but scored six touchdowns. Due to having great depth at the running back position, Notre Dame averaged more than 30 points per game.
Overall
I give the overall edge to this year's Notre Dame team because of the versatility at the position. Riddick, Wood and Riddick all bring something different to the table and it has really helped carry this offense.
The older team was more effective with its ground game because everybody was so worried about Rice taking off that it helped open things up a little. Defenses have focused on this year's running game and still had issues slowing it down.
Advantage: The 2012 team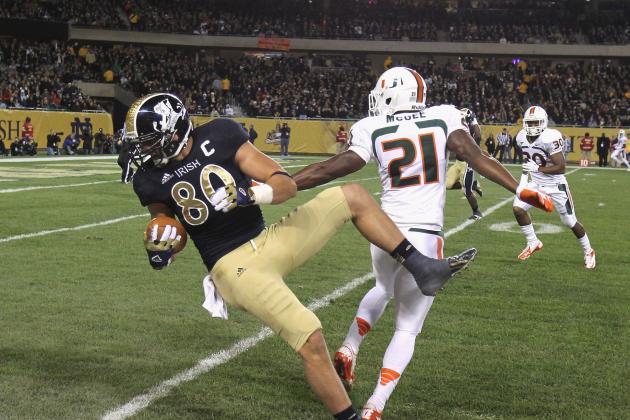 Jonathan Daniel/Getty Images

This Notre Dame Team
The receiver position starts and ends with tight end Tyler Eifert. He is without question the best NFL prospect at his position and led the Irish with 44 receptions on the season.
T.J. Jones is somebody else that has improved his play this year, hauling in 43 passes and setting a career high in yards (559) and touchdowns (six). John Goodman scored three touchdowns on seven receptions and players such as Robby Toma and DaVaris Daniels helped make plays as well.
1988 Notre Dame Team
It is really hard to judge this 1988 team in the receiving department because the team almost never threw the football. With Notre Dame running the ball quite a bit back then, running back Ricky Watters was actually the leading receiver with a ridiculously low 16 receptions. Besides Raghib Ismail, there was really no big play receiver on this team, and even Ismail still needed a year before he began to break out in South Bend.
Overall
Once again, I'm giving the edge to this year's squad because there are playmakers at the receiver position. The unit that played back in 1988 wasn't really explosive on offense and would much rather run option and zone-read plays to produce points. Eifert is a future star at the next level and Jones should be considered one of the most underrated players on the entire team. Give me the guys that can make plays in the passing game any day of the week.
Advantage: The 2012 team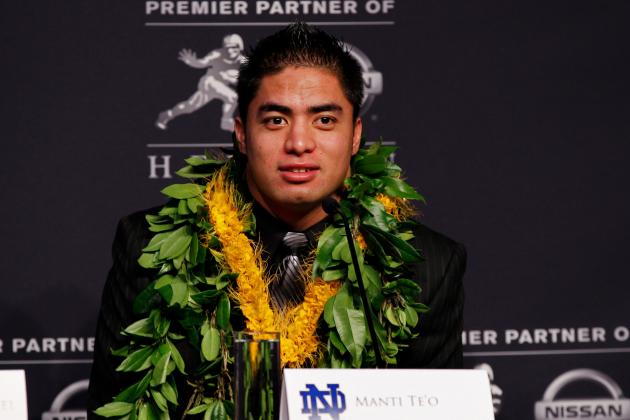 Mike Stobe/Getty Images

This Notre Dame Team
There is really no secret what has brought Notre Dame to the national championship, and that is defense. Led by linebacker Manti Te'o, the Irish rank sixth in the country in total defense and have only allowed two rushing touchdowns all season long.
Only four teams have even managed to produce at least 300 yards on this unit and the 10.3 points allowed on average is the best in the country. This defense produces plenty of pressure up front and has done a good job of forcing turnovers at the most critical time.
1988 Notre Dame Team
The 1988 championship team allowed only two teams all year long to score more than 20 points. This included holding four teams to only one score and keeping the No. 2 USC Trojans at only 10 points. What makes this unit so impressive is that it finished the year with 19 interceptions, which would have been tied for sixth in the country this season. The 13 points allowed per game was good for third in college football. Simply put, the defense was the reason why the Irish were national champions.
Overall
I think it goes without saying that the offenses are more explosive than they were back in 1988. What this Irish defense has done throughout the year has been nothing short of remarkable and has really carried this team to where it is today. When the offense couldn't get going against Michigan, the defense forced six turnovers and held the Wolverines to six points. That is just one example of the many situations this unit has answered the bell.
The 1988 defense was great in its own right and also made big plays, but it wasn't nearly under the same pressure that this year's defense was.
Advantage: The 2012 team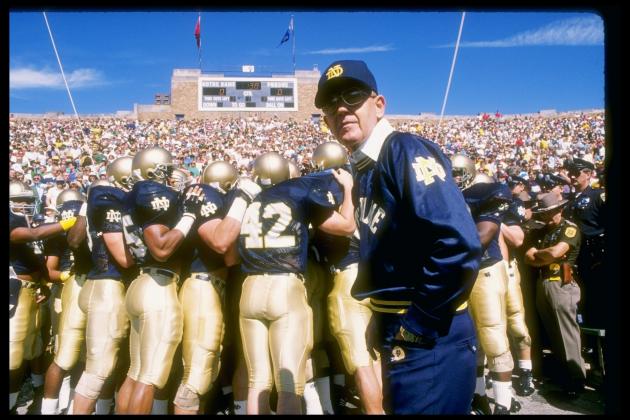 Jonathan Daniel/Getty Images

It is almost scary how similar these two teams are.
Besides Manti Te'o of this season, there really isn't much star power that can be bragged about. Neither team was a scoring machine and relied heavily on the big play of the defense to win games. They both had more than their fair shares of close contests and needed bizarre finishes to remain unbeaten.
With all of that said, the 1988 team has something this year's team doesn't, and that is a national championship ring.
Lou Holtz and his team went on to beat four ranked programs, including the No. 1, No. 2 and No. 3 teams in the country at the time. That even includes ending the historic winning streak of the Miami Hurricanes at 36 games.
With so many similarities between both teams, you would have to go with the squad that already has the hardware.
However, if the Irish find a way to knock off Alabama in this year's national championship, there is no question the 2012 squad is the better team. Going from being unranked to winning the national championship would be unheard of and would truly make its mark in college football and Notre Dame history.
Advantage: The 1988 team (For now)