Houston Texans Progress Report: Where Things Stand Heading into Week 14
Use your ← → (arrow) keys to browse more stories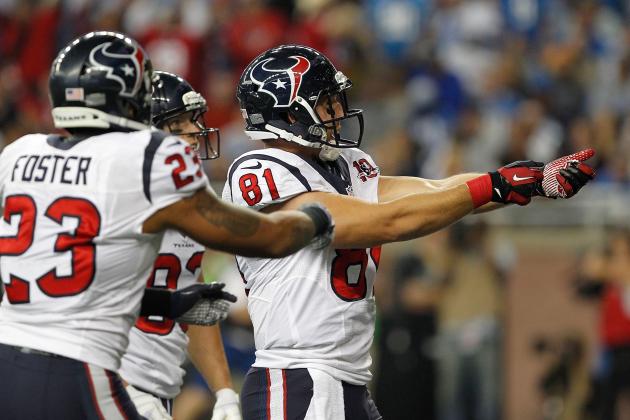 Gregory Shamus/Getty Images
It's time to celebrate Owen Daniels.
The Houston Texans are 11-1 on the 2012 season and in first place, not only in the AFC South, but they are also the top seed in the AFC.
In Week 14, they travel to Gillette Stadium to take on the New England Patriots.
They rank 11th on offense, 2nd on defense and seventh overall in DVOA.
Primary Talking Point for Week 14
They've beaten the Broncos.
They've beaten the Ravens.
The only serious contender left for the Texans to face is the Patriots, and they get their shot next Monday.
The Texans are nearly as disrespected as the Falcons, but there is air of boredom from the national media when it comes to Houston.
Much of that comes from the fact that their best player is a defender, and that rarely sells well. Houston has done everything anyone could have asked of it, but the Aaron Rodgers game and even the gutty win over the Detroit Lions have many looking past the Texans.
If the Patriots beat Houston, they'll be seen as the favorite to go to the Super Bowl in the AFC.
If Houston wins, it'll have all but locked down home-field advantage throughout the playoffs.
It's not a must-win game for either team, but the fate of the AFC could well hang in the balance.
Injury Outlook
The injuries continue to mount for the Texans, who lost Brice McCain to a broken foot this week.
Gary Kubiak gave an update on all injuries at his Monday presser.
Brett Davis-USA TODAY Sports

We came out of the game yesterday, late after the game it was discovered that (CB) Brice (McCain) had a fracture in his foot. The decision was made on the way home to go ahead and fix that today. We did it early this morning, had a screw inserted. We're going to put Brice on the injured reserve/designated to return, but obviously that's what, an eight-week period of time.

(TE) Garrett (Graham) has taken step one already today. He's doing much better. He was doing much better on the plane ride home. He has a four-, five-step phase as far as making it back from the concussion protocol. He's through step one today and doing much better.

(LT) Duane (Brown) is fine. Duane just came out of the game with a bruised knee. He's feeling fine today. All tests came out okay so we're moving forward and very lucky with Duane.

I guess the best thing to say is that the one that is still going to take an amount of time is (OLB) Brooks (Reed) and I think I've told you all that all along. But the other group of guys, it's going to be a day-to-day process.

We've got an extra day this week. We're going to start our routine on Thursday, so when you talk about (CB Johnathan Joseph) J-Joe and he's doing well. He ran today. (T Derek) Newton, (ILB) Bradie James, who am I missing here? (G Antoine) Caldwell and (CB) Alan Ball, I think they're all going to be a day to day process right now and then probably end-of-the-week decisions for us as a football team, but Brooks is still the one that has a ways to go."
Player on the Rise
It's a stretch to call Owen Daniels a player on the rise given his age, but this is a great time to point out he's on pace to have one of the best years of his career.
He's already set a new career best in touchdowns, and his 50 catches and 598 yards receiving are the fourth-best totals of his career with four games left to play on the season.
Daniels is on pace for a slash line of 67/797/8. Those are right in line with his 2008 Pro Bowl season, when he finished with 70/862/2.
His yards per catch is right where he's always been, and his advanced metrics remain solid.
Daniels has never quite hit the next level of stardom at tight end, and he won't in 2012 either.
What he has done is found his level as a very good passing weapon in a strong offense.
Feel-Good Stat of the Week
The Texans are plus-14 in turnover differential, good for second in the NFL.
The Titans win is a perfect example of a game in which the Texans forced the other team to play uphill because of the constant barrage of turnovers.
The Texans are fourth-best in turnovers lost (first in fumbles) and have forced the fifth-most takeaways.
The end result is an 11-1 record.
Troubling Stat of the Week
Houston has been great against No. 1 wide receivers and against pretty much any pass-catcher except the second.
The Texans are top eight against all targets but the designated second wideout.
Against them, they are 28th in the league.
With Johnathan Joseph and Brice McCain injured, the Houston pass defense will likely need more of those passes batted down at the line if it hopes to stop the high-powered Patriots.
Overall Trend: Steady
The Texans' win over the Titans isn't going to move the needle, as it was another in a long string of workman-like performances against an inferior club.
Monday night will be as good a test of the Texans' progress as can be found.
If they beat the Patriots, the arrow will be pointing up.
If they lose, there will be real question marks about their ability to stop an elite offense.
All quotes courtesy of the Houston Texans PR department via press release.