WWE's Rated-R Superstar: Ranking Edge's Best Entrance Songs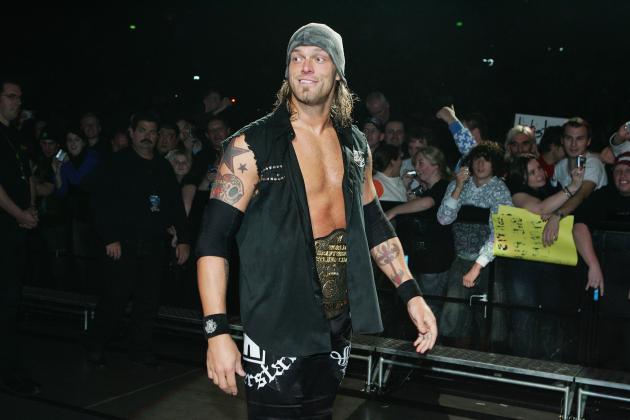 "The Rated-R Superstar," Edge, has been fortunate enough to have some great entrance themes in his time with WWE. He is also one of the most successful wrestlers in the company's history.
From themes performed by Rob Zombie to Alter Bridge, Edge has always had great theme songs that really accentuated his character.
Here are Edge's five best theme songs with WWE, in order.
Begin Slideshow

»
The reason this song is at No. 5 is because the song doesn't make me think of Edge. Rather, it makes me think of Gangrel.
"Blood" is a great song by WWE composer Jim Johnston. It gave an eerie feeling and an interesting beat that is actually very infectious.
It was used when Edge was in The Brood, which utilized my favorite entrance of all time. I wish I could rank this higher, but it simply represents Gangrel more than Edge.
Rated RKO combined "Metalingus," Edge's theme song, and "Burn in My Light," Randy Orton's theme song to create a fun mix.
However, due to the amount of great songs Edge has had, this song only comes in at four. It would be higher, but the hectic back-and-forth between songs kind of drops its value.
Either way, this song is still definitely very solid.
One of Rob Zombie's greatest songs of all time is greatly associated with Edge. I of course am talking about "Never Gonna Stop."
During the time Edge was using this song, WWE was utilizing more and more outside famous artists to compose music. It is also the marking of Edge's singles career, where he would eventually break out.
This song coming in at No. 3 only goes to show how good Edge's theme songs were.
This song would go on to define the rest of Edge's entrance themes with the simple phrase, "You think you know me."
This song was a very interesting theme during the early parts of Edge's WWE career. He used this song for singles competition, as well as when he tag teamed with Christian.
This is still one of the most recognizable songs in WWE history.
Edge's final and current entrance song is easily the best song he has ever had in the WWE.
Not only is it a great all-around song, it fit his rock star mentality and "Rated-R" persona. I especially enjoyed this song during the Royal Rumbles Edge was in, when he ran down to the ring frantically to the double bass.
There is no surprise why he has had this song for so long.