Oakland Raiders: Winners and Losers Against Cincinnati Bengals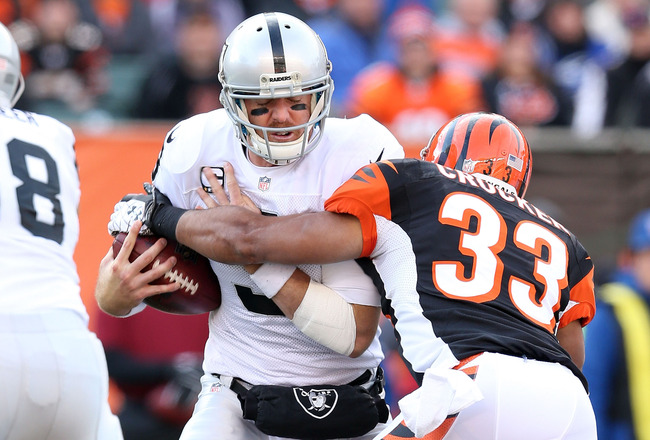 The Oakland Raiders were completely dominated by the Cincinnati Bengals.
Andy Lyons/Getty Images
After a 34-10 beat down courtesy of the Cincinnati Bengals, the Oakland Raiders fell to 3-8 on the year and continue to look like one of the worst teams in the NFL.
The Bengals racked up 221 rushing yards against the Raiders, the most the franchise has had in a single game since 2004.
Oakland failed to score a point in the first half, and Carson Palmer was treated to a rude welcome home by the Cincinnati faithful.
The Raiders continue to disappoint and digress with each week that passes. Now the team is riding a four-game losing streak and has been outscored by 90 points in the process.
Here are the winners and losers from Oakland's Week 12 loss.
Loser: Carson Palmer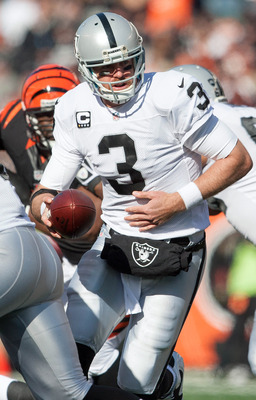 Rob Leifheit-US PRESSWIRE
When Carson Palmer decide to essentially boycott the entire Bengals franchise, he became public enemy No. 1 in the city of Cincinnati.
And the fans let him know it as soon as he stepped on the field.
Palmer saved his worst performance of the season for his former team by finishing with a total of 146 yards and two turnovers. With the lack of a running game in Oakland's arsenal, Palmer has been forced to lead the team by himself all year long.
He failed miserably.
Oakland had no offensive rhythm the entire game, and Palmer hands his hands full all day long. All in all, it was more than a forgettable day at the office for him.
Loser: Run Defense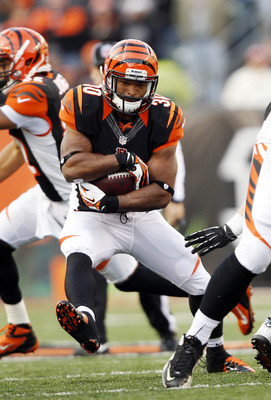 Frank Victores-US PRESSWIRE
This slide should be dedicated to the entire defensive unit, but I'll focus on just the run defense, or the lack thereof.
BenJarvus Green-Ellis looked like a top-five running back against the Raiders as he thrashed them for 129 yards on only 19 carries. Green-Ellis came into the game averaging 3.5 yards per carry for the season, but managed to average 6.8 yards per carry against a team that's giving up over 122 yards per game.
All hope was lost for Oakland once Bengals running back Cedric Peerman turned what should have been a three-yard run into a 31-yard run aided by terrible tackling by the Raiders.
Oakland has given up nearly 400 yards on the ground over its last two games.
Loser: Coaching Staff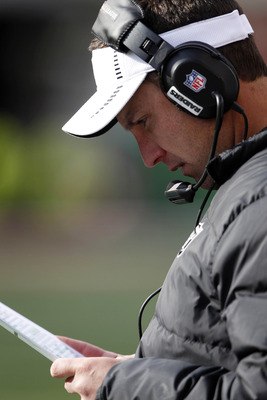 Frank Victores-US PRESSWIRE
I hope Reggie McKenzie likes his booze, because this coaching staff he's got could drive anyone to drink.
Greg Knapp continues to fail as an offensive coordinator, Jason Tarver is responsible for coordinating one of the worst defenses in the NFL and head coach Dennis Allen fails to take control of his team that is fading into the abyss.
Oakland has given up at least 30 points in seven of its 11 games this season and has been outscored by a grand total of 138 points.
This doesn't even look like an NFL team anymore. Something needs to be done.
Winner: Marcel Reece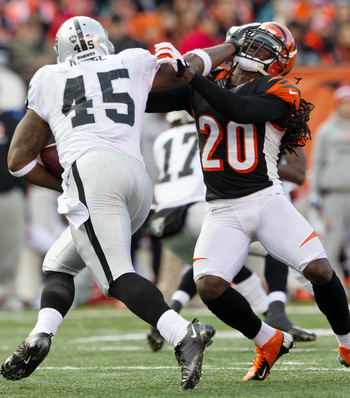 Rob Leifheit-US PRESSWIRE
If there is one bright spot of Oakland's disgusting performance against the Bengals, it is the fact that Marcel Reece continues to impress each week.
For the third straight game, Reece finished with at least 100 yards of total offense and has been the workhorse the Raiders most desperately need.
Reece uses his big frame to push through the pile, turning minimal gains into significant chunks of yardage. He averaged nearly five yards per carry against the Bengals and was Oakland's only reliable player on Sunday.
Loser: Third-Down Defense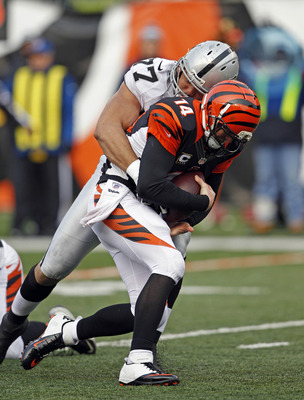 Frank Victores-US PRESSWIRE
When Cincinnati had the ball on third down against the Raiders, it was nearly automatic. The Bengals converted six of their first eight third-down conversions and finished 9-for-17 by game's end.
The Raiders have allowed their last three opponents to convert on third down 50 percent of the time.
Whether it's through the air or on the ground, converting on third down against the Raiders is like taking candy from a baby.
Loser: The Fans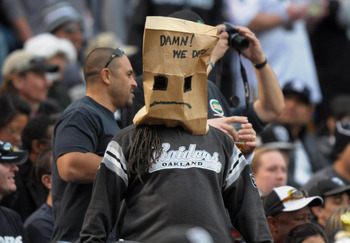 US PRESSWIRE
From a fan's perspective, watching the Raiders struggle like this is not only disappointing, it's insulting.
Oakland has the most colorful and dedicated fans in football, yet management continues to put a terrible product on the field.
The Raiders have looked completely horrible over the last month, and it's clear that something needs to be done in order to get this team rolling again.
Oakland returns home for a three-game home stand, and the fans want to see their beloved team play to its fullest potential. Things really can't get any worse.
Keep Reading

Oakland Raiders: Like this team?