Bears vs 49ers: 10 Keys to Victory for Chicago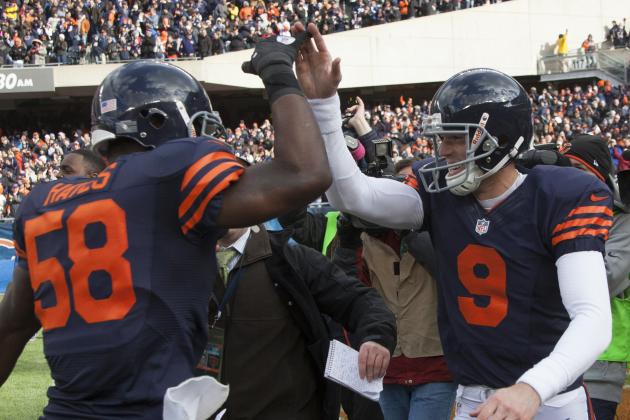 John Gress/Getty Images

For the Chicago Bears, one single game has not presented more of a challenge than their upcoming game on Monday Night Football against the San Francisco 49ers.
The Bears have a lot going for them right now, even after suffering a 13-6 loss to the Houston Texans last weekend on national television. Even though they lost, the Bears still forced two turnovers, one of which was an interception that was almost returned for a touchdown.
On offense, the Bears did not score an offensive touchdown but Jason Campbell, who came in when starting quarterback Jay Cutler left with a concussion, got to play the entire second half and got a bit of experience as a starter with the Chicago Bears.
This weekend, the Bears will have to do a lot right to walk away from Candlestick Park with a victory, however, if they do these 10 things just right, the Bears should pull off the victory and move to an 8-2 record on the season.
Begin Slideshow

»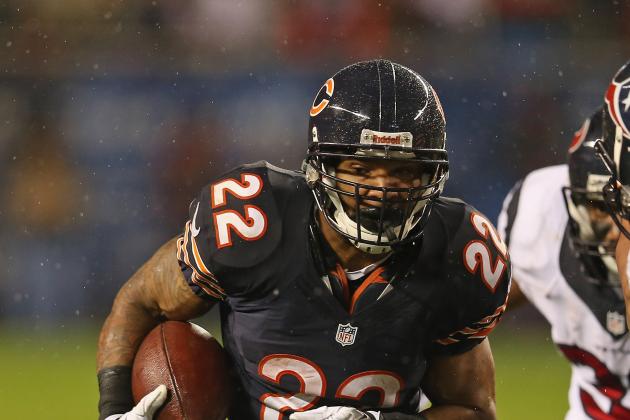 Jonathan Daniel/Getty Images

Matt Forte said that last weekend the Bears made their runs "obvious," giving away when the team was going to run the ball and making it easier for the Texans to stop himself and fellow back Michael Bush anytime the two ran the ball.
Well, no offense to Mr. Forte, but the Bears need to do the exact same this week and force the 49ers to stop their run game before they even think of passing the football.
Especially with Jay Cutler looking doubtful for Monday with a head injury, it is imperative this week more than ever that the Bears do the right thing and pound the football down the throats of the 49ers and run all over them.
Once the Bears establish the run, then and only then can they begin to think of other options. Until then, however, it has to be all run. The era of running the ball right out of the gate and ditching it a few minutes into the game has to go, and the Bears' offense, led by Mike Tice, must finally establish the run and keep with it if they want to have any chance of their offense scoring on Monday.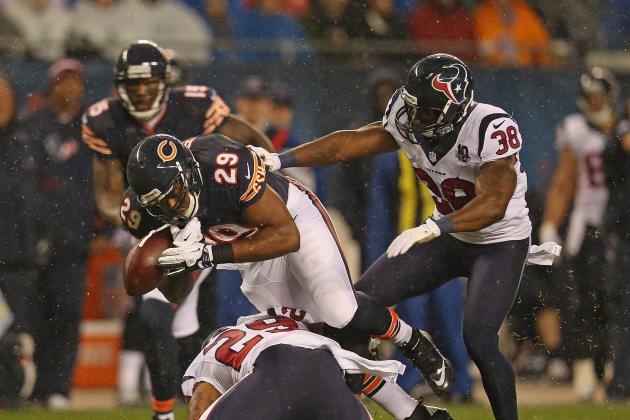 Jonathan Daniel/Getty Images

Last week the Chicago Bears had two fumbles to go along with their two interceptions, turning the ball over a grand total of four times in their game against the Texans.
This week, those numbers have got to go.
It sounds so cliche, "protect the football and victory will be yours." That cliche term however is a huge key to success for Chicago, possibly the biggest focus point for the Bears this week going into Monday.
The Bears are the best in the league at forcing turnovers, so they know how much it means to a team to get, or give away, the ball.
For the Bears to have a chance at winning this football game on Monday, it is absolutely key for the Bears to keep hold of the football. Despite the conditions, the Bears played sloppy on Sunday, there's no way around it.
If the Bears hold onto the football this weekend, and don't turn the ball over, they will have a good shot at winning this game. No matter how cliche that sounds.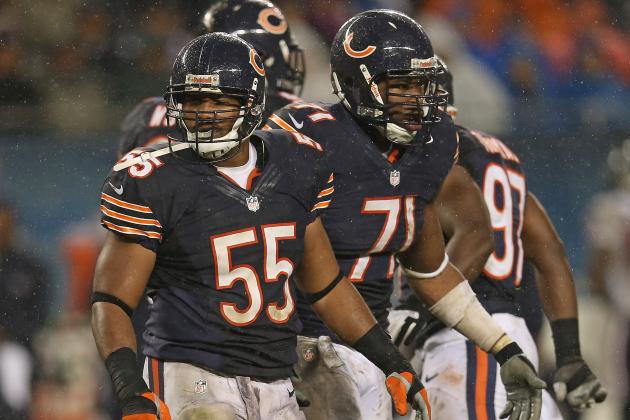 Jonathan Daniel/Getty Images

In a press conference this week, Bears' defensive tackle Henry Melton said "He's a game manager. He's kind of there to just not mess up the game."
Well Henry, it's time to put your money where your mouth is.
As harsh as it may have sounded, Melton was right. The heart and soul of the offense in San Francisco is Frank Gore, and for the Bears to win on Monday night, the team is going to have to do what they do best—stop the run.
Gore can and will make the Bears pay if they have a hard time stopping him. The key to victory for Chicago is stopping Gore and forcing Smith to throw into the sea of defenders just waiting to create a turnover in the backfield, including Charles Tillman with his punch-like defensive style and Tim Jennings with his super sticky hands.
Melton said it; Smith is merely a game manager. If they truly believe that, it's time to force him to try and win through the air, something that teams have not done well against the Bears so far this season.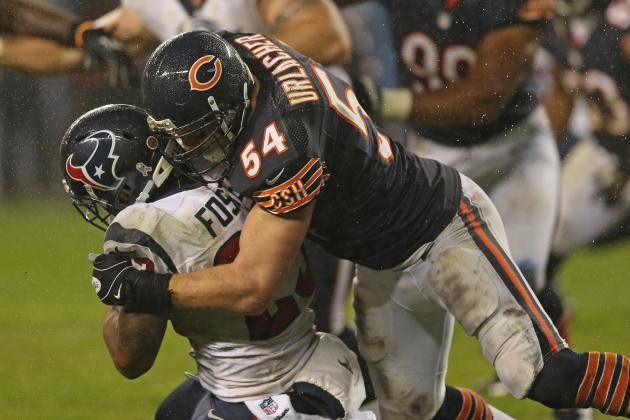 Jonathan Daniel/Getty Images

At the beginning of this season, the Bears released a new campaign slogan, reading "Believe in Monsters." After all of the talk surrounding their offense, the front office in Chicago wanted to show fans that there was still a defense in town as well.
Halfway through the season, it seems like the slogan has worked.
Teams really are afraid to play against the defense of the Bears, and that's exactly what the team wants.
On Monday, the team needs to play vicious, nasty and downright mean football; however they need to keep it clean. There is a difference between hard hitting and cheap, a very fine line and one that the Bears have walked very well this season.
The Bears know Smith is banged up and are going to be hitting him hard all night long. They just need to make sure those hits are legal, nobody likes a dirty player and even worse a dirty team as a whole.
If the Bears play their same hard style of defense fans are used to seeing, they should be fine. The Bears have played solid, mean football all season long, making opponents certainly believe in monsters.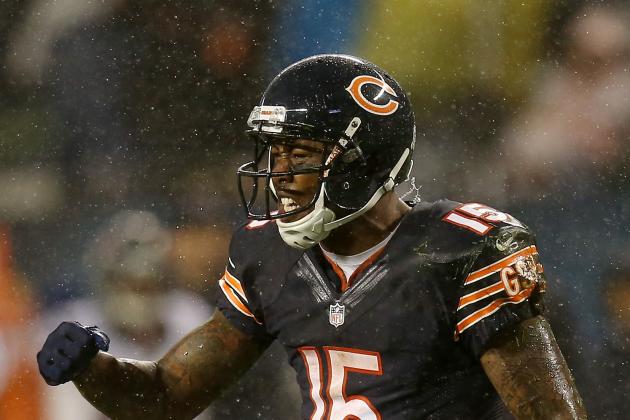 Jonathan Daniel/Getty Images

Sixty-seven receptions, 904 yards and seven touchdowns. This season, Marshall has been everything Chicago could have hoped for, and then some.
It's no secret that Marshall is Cutler's favorite receiver, but despite Cutler needing to find other receivers and spread the wealth a bit, Campbell needs to do just the opposite.
Campbell is nowhere as familiar with this current offense as Cutler is, and as such, he will not be able to hit his checkdown receivers as well. That being said, Campbell needs to find a way to get Marshall the ball, and Marshall needs to find a way to get open.
A big target and leader on offense, keeping Marshall happy is important. Targeting him all game is an important way to keep him happy and give your team a huge opportunity to win.
Yes, finding other receivers will help your team; however, finding Marshall will be key to success for the offense of Chicago and ultimately could lead to a victory for the Bears.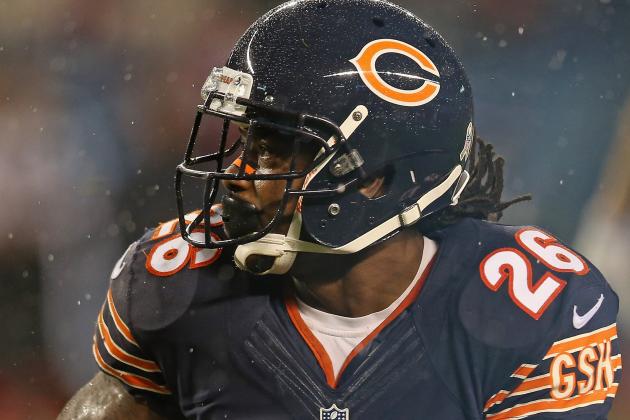 Jonathan Daniel/Getty Images

You just can't say enough about how much the takeaways the defense has forced this season has meant to the team. You can, however, say how much the team will need those takeaways to keep coming this Monday against the 49ers if they want to win.
If the Bears can intercept two passes and recover one fumble on Monday, there is now way they can blow away three turnovers and not get any points out of them. Especially with their backup expected to start the game in place of Cutler, the Bears will need all the help they can get.
If the Bears can get three turnovers, they should be able to turn that into six points at the very least. In a game that is expected to be dominated by defense, six points can make all the difference in a game.
Get Tim Jennings and Charles Tillman involved, and they will reward you graciously. Getting those takeaways is important to Chicago in this NFC battle and could mean the difference between 8-2 and 7-3.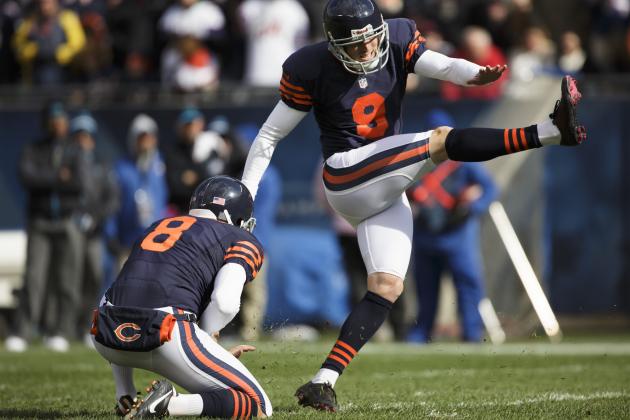 John Gress/Getty Images

Robbie Gould made headlines this week with his criticism of the conditions at Soldier Field, then made noise again by apologizing later for his comments.
Gould made an even bigger splash in the game against the Texans this past weekend, by nailing a 50-plus-yard field goal and then missing one from 50 yards.
While Gould still had a great game and is still a solid kicker for Chicago, he needs to be on the very top of his game against San Francisco. The team cannot afford a missed field goal, especially with a bruised and banged-up offense.
Gould is and always has been a key part of the scoring for Chicago since his arrival on the team. As we near closer to game day, it seems more and more like this game is going to have to look like a 2006 game, won by special teams and defense.
If Robbie Gould is on his game and makes all his field goals, it will help the Bears immensely. After all, any points are good points for Chicago, no matter how it gets them.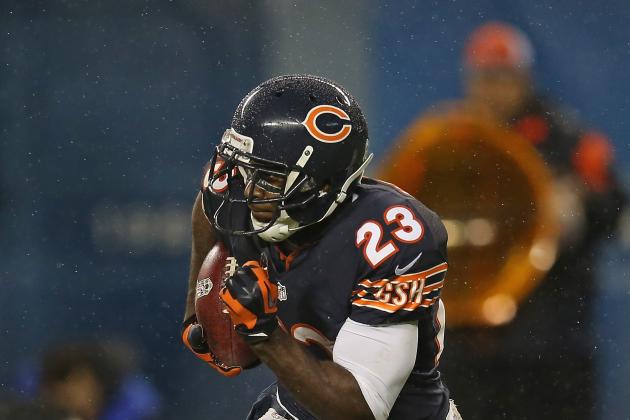 Jonathan Daniel/Getty Images

As we saw against Tennessee, Hester is still able to make quick breaks for lots of yards, and once he gets just one solid return, the team will benefit for the rest of the game because of it.
Hester may not be what he used to be; however, all he needs is one good break free for lots of yards. If he can do that, that's when opposing teams start to punt the ball out of bounds, and the Bears reap in all the benefits.
If the 49ers punt out of bounds, that means good field position for the Bears. Also, if they hold it just a second too long trying to get the ball set to punt out of bounds, that's when that defensive line on special teams breaks through the line and gets a block, just like we saw happen against the Titans.
Hester doesn't need to return to 2006 form, and he certainly doesn't need multiple touchdowns for the Bears to win this game. All he needs to do is get one, just one good return, and the Bears will benefit from it for the rest of the game.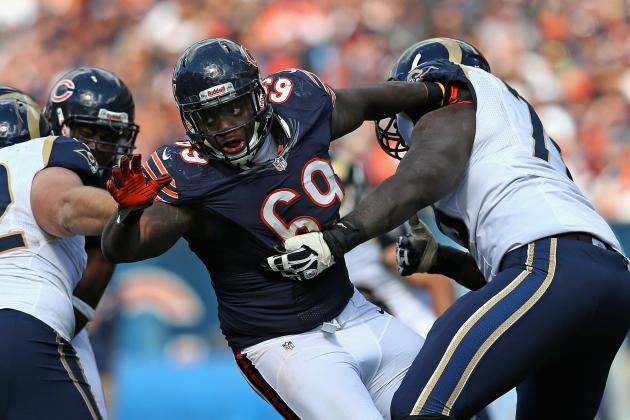 Jonathan Daniel/Getty Images

This season the key to success for Chicago has been defense, and a key performer on defense has been Henry Melton.
On the season Melton has five sacks, two forced fumbles and 32 tackles. Melton has emerged as a leader on this Bears team and a big contributor to the team's success.
Melton has been quiet in the month of November, though, with no sacks. Another interesting stat to keep in mind is that Melton has four sacks in games that Chicago ends victorious and just one sack in games where the Bears lose, that one sack coming against the Green Bay Packers.
Getting pressure is key for the Bears on Monday, and everyone already knows about Peppers and Idonije. It's up to Melton to have a monster game and make the rest of the league believers in what he can do.
Getting pressure has always been a huge part of success for the Bears this season. On Monday, it will be Melton's turn to have the game of his life and show Alex Smith why he is nothing more than a mediocre quarterback in the NFL.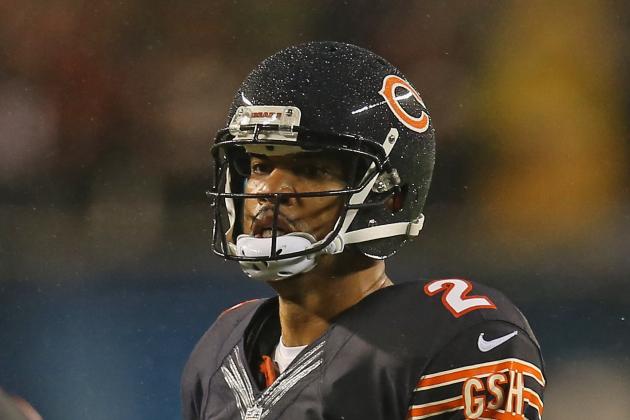 Jonathan Daniel/Getty Images

Jason Campbell does not need to have the game of his life. This will not be a career comeback game for him, and if he tries to make it one, the Bears will suffer because of it.
Campbell needs to do what Henry Melton called Alex Smith out for this week and simply manage the game. Hand the ball off to his backs, find his receivers and, most importantly, don't turn the ball over.
If there isn't an open receiver, tuck the ball and run. Play it safe and smart, just holding the Bears steady on offense. We know what the defense of Chicago is capable of doing, and we know how solid Robbie Gould usually is.
This has to be one of those nights that won't be pretty to win, but instead is a gut-wrenching victory, the kind that a team just has to grind out and take, no matter how close or ugly the win was.
Campbell is the X-factor for this Monday Night Football matchup with San Francisco. It all comes down to him and what he is able to do with the ball. If he can keep his head on straight, and manage the game correctly, the Bears will improve to 8-2 on the season.
If he tries to show up everyone and make huge plays every time he touches the ball, the Bears will fall to 7-3 and Campbell will find himself in the unemployment line at the end of this season.