Power Ranking the Top 25 Upsets in Men's Tennis in 2012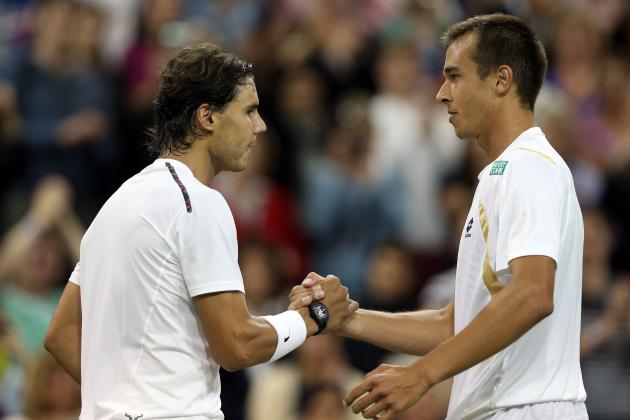 Clive Rose/Getty Images

2012 was a tremendous year for achievements in tennis as well as monumental upsets.
Each of the members of the Big Four experienced at least one such upset, and some of these came in crucial stages of Majors and ATP1000 tournaments.
Some tournaments were even famous for their recognizable performances by unknowns and underdogs.
Though the top players usually won the big tournaments, the finals were made more interesting by earlier defeats and inspired athletes.
Here are the top 25 upsets in men's tennis that occurred this past year.
Begin Slideshow

»
Philipp Kohlschrieber composed himself quite nicely as he won in a very tight and competitive five-setter.
2012 was the German's best year-to-date in my opinion, as he moved from his typical ranking position near the lower 30s to the Top 20.
David Ferrer is the better clay-courter but it seems Andy Murray didn't even have a chance in this Roland Garros quarterfinal matchup.
Ferrer would go on to lose to his compatriot, Rafael Nadal.
Though Rafael Nadal sat out of this final, the Czechs earned a well-deserved victory over typically dominant Spain.
Radek Štěpánek showcased his passion and focused on the moment in this decisive rubber.
This was one of two Majors in 2012 (both were hard-court) where Tsonga did not perform up to expectations.
Kei Nishikori was able to hang on mentally and defeat his more successful opponent Down Under.
In fact, beating Tsonga at all at the Australian Open is a huge achievement in itself.
The difference in this match was Federer's inability to return Roddick's serve.
Other than that, this match was mainly in Roger's favor although both guys were a bit sloppy.
Still, Roddick put on a great show in one of his favorite tournaments in the world and took his third and final victory against his very dominant rival.
Milos Raonic is no stranger to the top players, but the way he squeezed this win out was unique.
He was able to fight off match point against Andy Murray and take the encounter in a third set tiebreak to prevent his opponent from fulfilling his title defense.
John Isner displayed a valiant effort as he clawed his way back into the opening set and went on to defeat defending champion, Novak Djokovic, by a matter of points.
His serve and forehand made the difference for him, as per usual.
Though he would go on to lose in straight sets to Roger Federer, he showed the tennis world why he seriously belongs in the Top 10.
Michaël Llodra and Jerzy Janowicz were the two upset stars of the Paris Masters tournament.
The Frenchman beat several power players and servers back-to-back while Janowicz took out consistent baseline grinders.
First up to the plate was John Isner, who was defeated by an inspired man. Llodra came in on sensible shots and returned the American's serve a lot better than most people thought he could.
Sam Querrey is similar to John Isner but his ground strokes are better where his serve is not.
He, too, was handled in a surprising fashion by Llodra. Keep in mind that Querrey was coming off a very impressive upset himself, taking out Novak Djokovic in a bizarre match (that will soon show up in the slideshow.)
Wow, this one was particularly special. Llodra made Del Potro look like a mere qualifier in this mismatch of talent.
This tournament played out similarly to the 2010 Paris Masters for Llodra, as he proved that his home crowd brings out the best in him.
How Novak Djokovic let this one slip away from him is mind-boggling but Querrey's tenacity to come back was even more shocking.
Nole was escorted out in the second round, as Andy Murray fell in the third. This would mean the tournament would be won by a player outside of the Big Four (and David Ferrer, the fifth man in the mix, took it in style).
This was the third match in a row (where he lost) that Andy Murray failed to convert on a match point and crashed out of the draw.
Jerzy's monster game and brilliant drop shots and passing shots proved to be too much for Andy in the final set, and his mental game earned him the second set tiebreak.
Tipsarevic was in fine form in the latter stages of the year, but his level collapsed in this match and he could not wait until the finish line before retiring.
Janowicz was satisfied in just qualifying for the event but he was now in the semifinals and would soon see himself in an ATP1000 final.
In what was truly a remarkable tournament of upsets, this story shined brighter than the others.
This proved that some up-and-comers just need to get a few big wins under their belt in order to advance to the next stage of their careers.
David Ferrer would defeat Janowicz in the final in what would be the first ATP1000 Masters title earned by a non-Big-Four member since the 2010 Paris event (wherein Robin Soderling, the David Ferrer at the time, would secure his first big title).
Maybe David Ferrer was supposed to win this match on his least favorite surface, but nobody really predicted a destruction of this magnitude.
Ferrer did not have to work that hard or play his scrappy game to break Delpo, and for that reason, this upset was a substantial one. The Spaniard would go on to lose a very close four-setter to Andy Murray.
Martin Klizan, the up-and-coming lefty, took it to Jo-Wilfried Tsonga on an early day of the US Open.
He displayed his patient shot-making abilities as well as his desire to win big matches. This was a very disappointing match from Tsonga's standpoints, considering how well he performed in the previous Majors.
Looking down and out in the first round of the Australian Open, a light bulb in young Bernard Tomic's head that propelled him to the second week of the tournament.
He pulled out a tight win against Fernando Verdasco, one of the fittest guys on the tour, and only had more tough opponents ahead of him.
Dropping the first set again (he would go on to do it in the next round as well), Tomic somehow scrapped his way back into this second round encounter.
Sam Querrey was just coming back from a hiatus due to injury but was still labeled the favorite.
In perhaps one of the most interesting matches in the past few years, Bernard Tomic defeated Alexandr Dolgopolov in a slice-and-dice five-setter in Melbourne.
Though Tomic would go on to lose to Roger Federer, he showed that his 2011 Wimbledon run was no fluke.
The Czech player was looking to continue on his trail of fine form that started with a quarterfinals run at the Australian Open.
Sure, the grass surface can be tricky for some players but Berdych's style is well-suited for it.
Unfortunately, Ernests Gulbis plays quite similarly and was the more aggressive player that day, beating Berdych in a you-better-hold-your-serve encounter.
Seeming to have officially reversed the momentum in this match against FeVer, Rafa Nadal was up 5-2 and a double break in the final set.
He squandered five straight games and three straight breaks to crash out of this clay event.
Obviously he wasn't happy with his performance or the slippery court but this loss was truly inexplicable.
This would be the only clay tournament that the No. 1 Spaniard would not win.
Though the thought of Murray beating Djokovic isn't usually an upset, this would have been an upset against any player since it was the Scot's fifth time knocking at the door for a Major title.
Djokovic seemed to be coming back and the difficult, windy conditions were swaying the match all over the place. In the end, Murray won a cruel five-set battle and officially booked his spot in the Big Four.
Tomas Berdych, always a dangerous power-hitter, beat Roger Federer in four sets in a very peculiar way.
This was perhaps one of the Swiss' worst performances of the year and he saw no rhythm on his strokes until he found himself in an all-or-nothing scenario in the third.
Federer was on an incredible string of wins and success but fell way short this time.
There was much hype surrounding the Olympics gold medal match.
Perhaps Roger was tired from his three set (the last one was 19-17), win over Juan Martin del Potro.
Perhaps Murray exuded more confidence than usual after beating Novak Djokovic.
Murray likely prevented Federer from ever earning a gold medal in singles by winning in comfortable, straight-sets fashion.
Ladies and gentlemen, if you never saw this match or even highlights of it, I highly suggest you do so that you can see what a Top 100 player can be capable of when he is on (and remains that way for five sets).
Even after dropping the first set, wherein he had a set point, Lukas Rosol was still able to execute his low-percentage power game.
Rafa had no rhythm on return games in the second, third or fifth sets. He was physically beat as opposed to handing opportunities the Czech's way.
Of course, Rosol lost in the next round but he showed just how talented a player he is, mentally and physically.
Follow B/R Featured Columnist and Tennis Community Leader, Jeff Cohn, on Twitter.