NASCAR: 5 Lessons We Learned from Sunday's AdvoCare 500 at Phoenix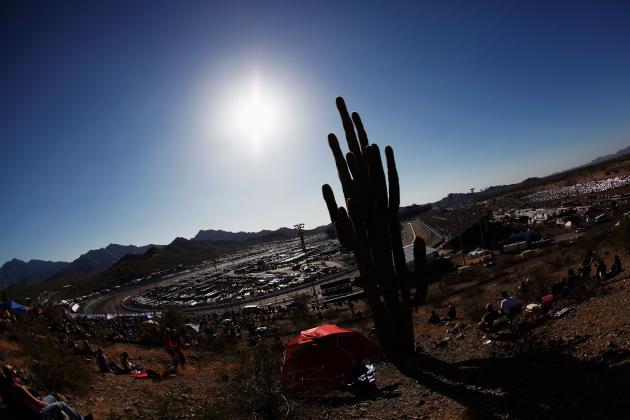 Tom Pennington/Getty Images
As Sunday's Cup race fades into the sunset, we're left with some great memories -- and some not so great.
What many believed would be a mundane, routine, even boring race Sunday at Phoenix International Raceway was anything but.

From a serious shuffling of the points standings to a melee on pit road in the closing laps unlike any seen in NASCAR in recent memory, Sunday's AdvoCare 500 was one of the most exciting yet troubling races we've seen all year.

In the end, a race that many thought would bring Jimmie Johnson one step closer to his sixth career Sprint Cup championship actually may have cost him the very same thing.

Let's recap the five top lessons we learned from Sunday's race at Phoenix:


Begin Slideshow

»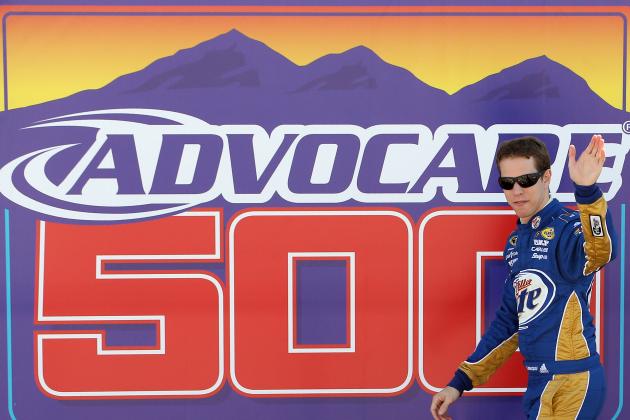 Christian Petersen/Getty Images
Is Keselowski practicing his champion's wave already?
Jimmie Johnson came into Sunday's race seven points ahead of closest challenger, Brad Keselowski. After a blown tire that sent him careening into the Turn 4 wall, Johnson left Phoenix 20 points behind Keselowski with just the season finale at Homestead next Sunday remaining to decide the 2012 Sprint Cup champion.

Keselowski ran what has become his trademark: a smart race. While he should have had a top five finish, Keselowski didn't do all that bad, ultimately finishing sixth.

Still, two or three extra places in the standings—and an equal amount of extra points—would have helped put a bit more space between Keselowski and Johnson heading into Homestead.

If it was any other driver, 20 points over the next closest challenger would seem like an insurmountable mountain to get over. But this is the five-time champ, and you better believe that Johnson will be at the top of his game at Homestead.

One interesting fact: Homestead is one of the few tracks on the Cup circuit that Johnson has not won at in his career. Neither has Keselowski. But given the hole he finds himself in, Johnson has no choice but to go only for the win next Sunday. That's in stark contrast to the way he won most of his five prior Cup championships, where he went into Homestead needing only a top-10 or top-15 finish to win the crown.

Now, Johnson has to throw everything at the wall, including the kitchen sink, and hope it sticks. He won last week on the 1.5-mile track at Texas and he can most definitely win Sunday at Homestead's 1.5-mile layout.

But right now, Keselowski has the lead and the championship is his to lose at this point.

Oh and by the way, if Johnson does lose his championship bid, it would only be the second time that has happened in his career. Remember 2004? Johnson lost what would have been his first Cup title to eventual champ Kurt Busch by what, at that time, became a NASCAR record of just eight points.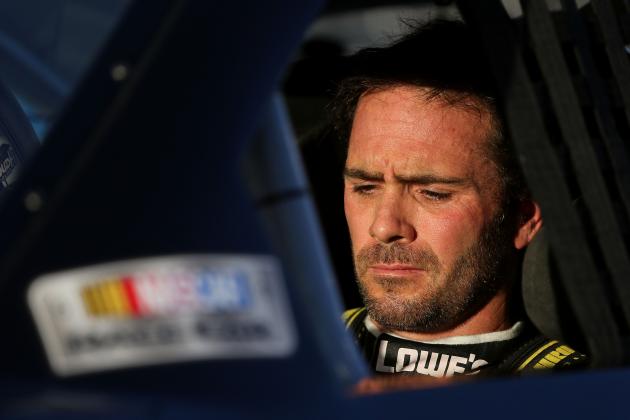 Christian Petersen/Getty Images
How did Jimmie Johnson do at Phoenix? The look on his face says it all.
Keselowski has achieved something that other drivers have tried in recent years and failed miserably at executing: he's found a way to get into Johnson's head and cause him to make untimely mistakes.

Keselowski proved that in the Chase opener at Chicago nearly two months ago, when he surprised Johnson on getting back onto the track late in the race, and Johnson ultimately could not find a way to answer Keselowski's challenge, with the Polish Rocket ultimately going on to win.

Keselowski has gotten into Johnson's head several other times during the Chase, and Sunday at Phoenix was the most recent example. Johnson was close to 12 positions back of Keselowski at the time and may have been pushing a bit too hard when the tire on his car blew out, sending Johnson into the Turn 4 wall.

Faced with a must-win situation at Homestead to steal the title away from Keselowski—and a win ultimately may not be enough if Keselowski finishes within 15 spots of Johnson—Johnson has to find a way to block Keselowski out of his mind, run the kind of race he knows how to run and give his best effort possible.

It ultimately may not be enough, but no one will ever be able to accuse Johnson of not trying.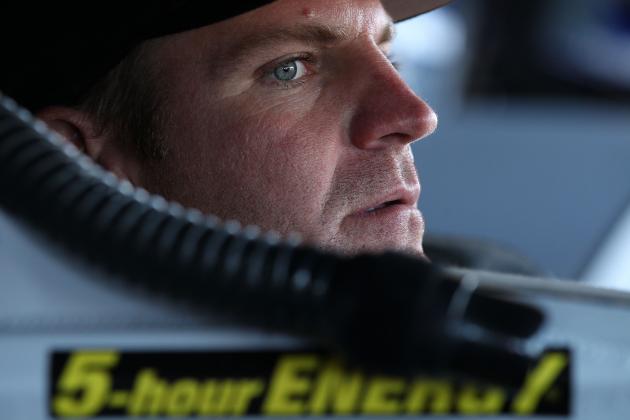 Tyler Barrick/Getty Images
There is no excuse for the actions of Clint Bowyer, and particularly his crew, in Sunday's race at Phoenix.
Sunday was one of the worst cases of poor sportsmanship NASCAR has seen in many years.

Granted, Clint Bowyer is somewhat of a throwback to the type of driver like Cale Yarborough or David Pearson, but the days of slugging it out behind a trailer to settle differences is long gone.

What Bowyer—and particularly several of his crew members—did Sunday was inexcusable. Bowyer, in particular, is one of NASCAR's rising stars and a young driver who is looked up to by countless of young and impressionable fans. You might expect that from other drivers, but not Bowyer.

Whether Jeff Gordon intentionally banged into Bowyer—effectively ending Bowyer's long-shot bid for the championship, while also protecting Hendrick Motorsports teammate Jimmie Johnson's fading title hopes—is important, unquestionably.

But more importantly, can't the same be said of what Kyle Busch did to Ron Hornaday Jr. in last year's fall truck race at Texas, an act of road rage by Busch that not only sent Hornaday into the race track wall head-on, it also ended Hornaday's championship hopes.

While Gordon will likely be penalized for his actions in starting Sunday's fiasco, Bowyer should ultimately be punished even harsher for everything that transpired from the point Gordon climbed out of his race car.

You may have settled your differences for on-track issues behind the hauler 30 years ago, but you definitely don't try and settle it in front of TV cameras and millions of viewers today.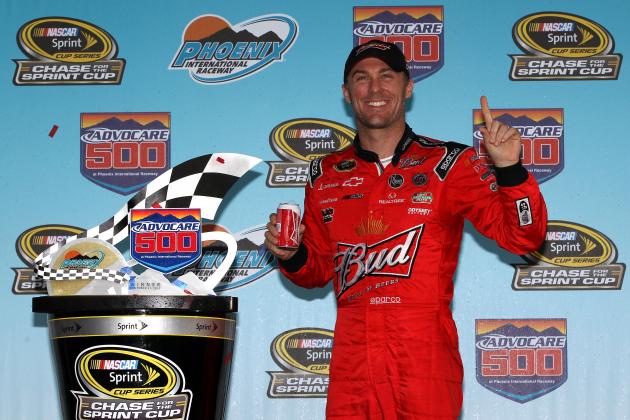 Tyler Barrick/Getty Images
Finally, Kevin Harvick breaks through to a victory in 2012 Sunday at Phoenix.
Kevin Harvick was unquestionably at the right place at the right time Sunday, taking the lead late in the race and finally winning his first race of the season.

The win was a long time coming for Harvick and helped salvage what has been a dismal Chase up to now.

But even more, Harvick proved he can win in light of rumors that took the Cup garage by storm on Friday that he would be leaving Richard Childress Racing at the end of 2013 to join Stewart Haas Racing in 2014.

Sure, that's still 15 months away, and the rumors appeared to have blindsided team owner Richard Childress, but all was forgiven—at least for one day—with Harvick's first visit to victory lane.
John Harrelson/Getty Images
The 2012 Sprint Cup season started off hot -- and is likely to finish the same way this Sunday at Homestead.
The 2012 Sprint Cup season went from the penultimate race to the final round with next Sunday's season finale at Homestead Miami Speedway.

At times, it's been a crazy season—even by typical NASCAR standards. It started with Matt Kenseth winning a rain-delayed Daytona 500 that wound up taking second billing to Juan Pablo Montoya crashing into a track dryer during the race, setting off a monstrous inferno (fortunately, no one was injured).

Things continued on with Hendrick Motorsports' 200th career Cup win as an organization at Darlington, Dale Earnhardt Jr. breaking a 143-race winless streak that dated back to 2008, and Kyle Busch having a decided non-Kyle season. Speaking of Busch, older brother Kurt struggled at Phoenix Racing, only to be rewarded with a new team and deal with Furniture Row Racing.

Then came the Chase, with drivers like last year's runner-up, Carl Edwards, and Kyle Busch both missing the 12-driver playoff. Speaking of Edwards, his winless streak now stands at 68, dating back to last year at Las Vegas.

Defending Cup champion Tony Stewart struggled early in the Chase, while Denny Hamlin—with Darian Grubb, who was unceremoniously dumped as Stewart's crew chief after leading him to the championship last season—started strong, only to once again fade in the Chase.

We saw Jimmie Johnson win at Martinsville and Texas and came into Sunday's race at Phoenix with a full head of steam, only to leave Sunday night with his championship hopes potentially up in smoke.

Yes, Sunday's race at Phoenix was an event that had a little bit of everything that could be expected, as well as some things that weren't. Still, it sends us into the season finale with some great memories of what has been thus far, with the potential of additional memories to be made at Homestead this coming Sunday.
Follow me on Twitter @JerryBonkowski