Top 5 Drivers with the Most Pressure Headed into 2013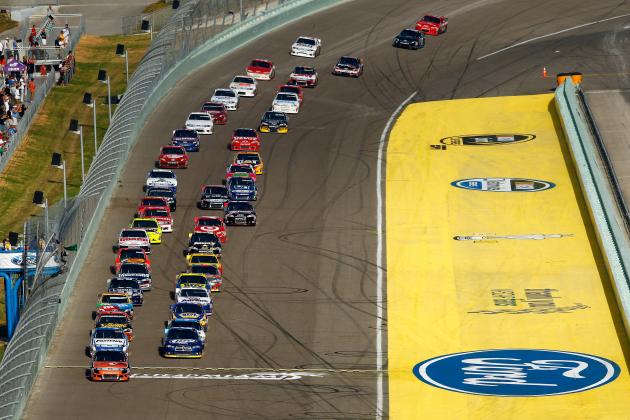 Mike Ehrmann/Getty Images
Drivers take the green flag @ Homestead-Miami Speedway in November
Pressure is driven by the media. It is also the expectations it puts on drivers. But there's also internal pressure. Sometimes, situations lead to pressure. Sometimes, a younger driver coming through the ranks can leave the pressure to perform at a high level.
These next five drivers will have the most pressure. Whether it's their situation, or someone else in their organization.
I will give my predictions on where the driver may stack up headed into next season. It could be good; it could be bad; but those are reasonable expectations for the driver, and after their seasons in 2012, the predictions are on the upside, not the downside.
Lastly, most of these expectations are brought on by the fans themselves. I'm not trying to "kill" a driver, but just look at their situation realistically. Placing unfair expectations on a driver is more detrimental than telling the truth about them. We see it all the time in sports.
Enjoy.
Begin Slideshow

»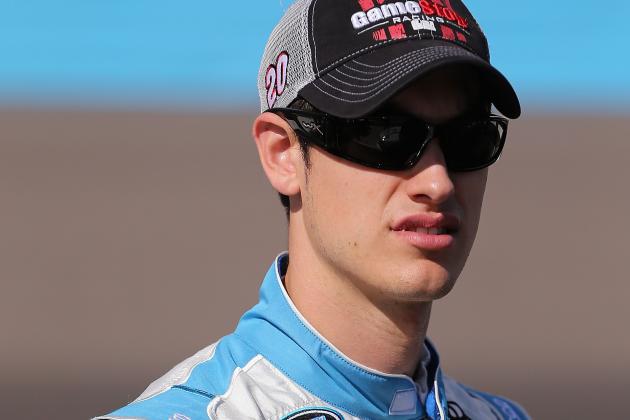 Christian Petersen/Getty Images
Joey Logano had 9 wins in the Nationwide Series in 2012. This doesn't mean that his Cup season was any better than years past.
A lot can be said about Logano's tenure at Joe Gibbs Racing.
He wasn't ready. He underachieved. He needed a better crew chief.
Whatever the reason, Logano struggled, big time.
In four Sprint Cup seasons, which equals 144 races, Joey Logano's teammates have won 30 of them, or 21 percent of those races.
Logano's only won two. One, a rain shortened victory and the other win at Pocono this season.
So what made him a top free agent?
His age. He's still young. He's going to be 23 in May, the same age Kyle Busch was when he jumped ship to Joe Gibbs Racing and won eight races in 2008.
Now, I'm not saying Logano is going to do that. But this is a different organization all in itself.
Since JGR has had Denny Hamlin, the 20 team has only won three races. This includes one season with Tony Stewart at the wheel. (Remember when Regan Smith lost that race at Talladega? Tony Stewart won it.) So what was the cause? Was it Greg Zippadelli, Joey Logano, or just a lack of good people to work on the 20?
We'll see next year with Matt Kenseth. But let's focus on Logano.
He joins a 22 team that had some turmoil in 2012. After losing driver A.J. Allmendinger to a suspension in July, Sam Hornish, Jr. finished out the season.
Hornish didn't win a Nationwide race in the 2012 season. Logano won nine of them. Is Hornish more qualified for this ride than Logano?
I don't think so. Logano is a good driver. But "sliced bread" needs to mature. Roger Penske is the perfect fit for someone to do that. Logano will be a man before we know it.
The pressure: He's with a premier team. A team that won two races with Kurt Busch in 2011. Logano needs to prove to people that he's worth the money that Roger Penske spent on him, and worth not hiring Sam Hornish, Jr.
It's going to be interesting to see whether or not Joey can handle the pressure. He's on a multi-year deal at Penske, so he feels secure in his future, which levels the field a bit for the 23 year old.
Prediction: Logano will surprise many of his doubters in 2013. If he can run some Nationwide races for Penske in 2013, that will only help him more. I expect Joey to finish 14th in the chase with a win or two. He'd be a wild card contender. And after a 2012 that had him finish 17th in the series standings, I think Roger Penske will take that year one.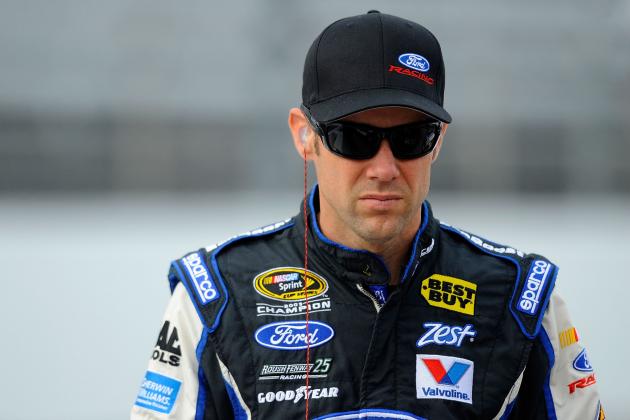 Jared C. Tilton/Getty Images
Matt Kenseth will join Joe Gibbs Racing in 2013. Leaving Roush Fenway Racing after a 13 year relationship.
The 2003 NASCAR Sprint Cup Series champion, Matt Kenseth, is next.
Kenseth is number four on this list for two reasons:
One: He took the money from JGR and needs to live up to those expectations.
Two: He hasn't driven anything but a Roush Ford since Bill Clinton was president.
This is going to be a year of transition for everyone involved. Kenseth has been a tremendous model of consistency over his 13 year career.
He's won three races the last two seasons, but here's why I'm putting the pressure on Kenseth.
He's a good intermediate racer, but not so good on short tracks or road courses. In fact, only three of his 22 wins have come on a track shorter than one mile.
He's no longer in the intermediate favorable Roush Fenway Ford like he's used to.
It's going to be a tough transition for Kenseth early on. Matt Kenseth is a very patient driver, being mixed with Kyle Busch who's the most aggressive driver in the sport.
He's got new relationships with the touchy personalities of Denny Hamlin and Kyle Busch to get along with. Everything is new.
But it's not all bad. Matt Kenseth is a true professional. The hire will be good all around for Joe Gibbs Racing. He will teach Kyle Busch some needed patience, which will be good for the team.
Also a veteran presence like this hasn't been felt since 2005, before the departure of Bobby Labonte.
Prediction: Kenseth will wind up in the top-10 and making the chase. But it's going to be a struggle for everything new, early on in the season. He won't have a win; he'll make the chase on consistency. Be prepared for Kenseth to have big second half. He's become an excellent superspeedway racer, and won two of the final 10 chase races in 2012. Once he and Jason Ratcliff see eye-to-eye, Kenseth's going to win a lot of races. It just won't be right away.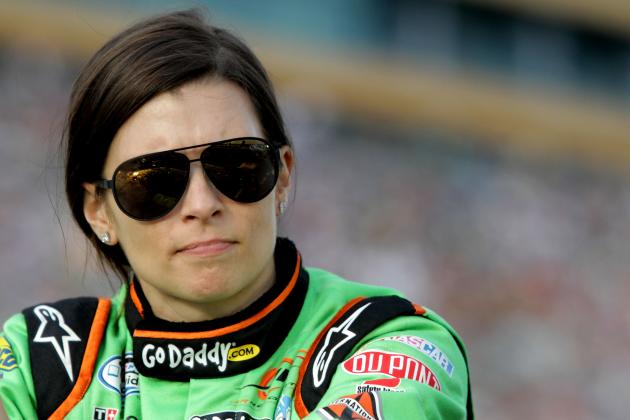 Jerry Markland/Getty Images
Danica Patrick will move to Sprint Cup full-time in 2012. She'll be competing for rookie of the year honors against Ricky Stenhouse, Jr.
Danica is number three on this list for one reason.
The Danicaniacs. It's my name for the Danica Patrick version of "Junior Nation."
Those Danicaniacs have her winning two to three Sprint Cup races in her rookie season.
It's expectations like that that will ruin a driver's career. All of the Indy drivers who have tried to make the jump to Cup have experienced it, and only Tony Stewart has been able to avoid it enough to be a championship winning driver.
To say that Danica Patrick is going to win races next year is bonkers. Heck, she doesn't even have a finish higher than fourth in the Nationwide Series.
She'll be headed to tracks in 2013 that she's never seen before. For example, Martinsville Speedway, which is a tough ol' place to begin with.
What alarms me about Patrick is that usually a Nationwide Series driver comes to Cup, qualifies decently, and runs well throughout the course of the race, and then either wrecks it, or has the handling go away on him/her.
Danica didn't do that in any of her 10 Cup races this season. Her best finish was at Phoenix, where she wound up 17th, but not before angering several veteran drivers including Jeff Burton and Bobby Labonte along the way.
Her altercation earlier in the season with Landon Cassill had a lot of people shaking their heads, but it's not entirely Danica's fault.
The pressure placed on her by everyone in the sport is unfair. She was running in the top-25 and having a solid day. But with the expectations for her set as high as they are, she pulled some aggressive moves to keep herself in those spots, rather than just learn a little give and take. She did this to live up to those unfair expectations.
I'm going to go on the record first by saying that Danica needs another year of full-time Nationwide competition before moving to Cup.
Her finishes haven't been good enough in the Nationwide Series, and there are times where she has even doubted herself. If she had another year in Nationwide, and JR Motorsports improved, like they're expected to, maybe her confidence level will rise before going to Cup to learn again.
Just look at the track record of inexperienced drivers in good/decent equipment right out of the gate. Sam Hornish, Jr., Reed Sorenson, Scott Speed, AJ Allmendinger. Where are all of those drivers right now?
I still think the best way for a driver to learn is at the Nationwide level. A driver shouldn't have a huge learning curve once they get to the Cup level, because the competition is so much greater.
Ricky Stenhouse, Jr. has two Nationwide Series championships under his belt. If people think Danica is going to beat him in rookie of the year honors, well they've got another thing coming to them.
Prediction: My prediction for her is realistic, and where everyone else's prediction should be. If she can take the No. 10 Chevy and finish 25th in owner's points with it, I'd say that's a solid rookie year for Danica Patrick. She's got to qualify good, and stay there to compete in this level. But I think she's been rushed to Cup too soon, and could wind up with her other Indy friends—Al Unser, Jr., Christian Fittipaldi, Sam Hornish, Jr. and Scott Pruett—rather than being a Sprint Cup champion.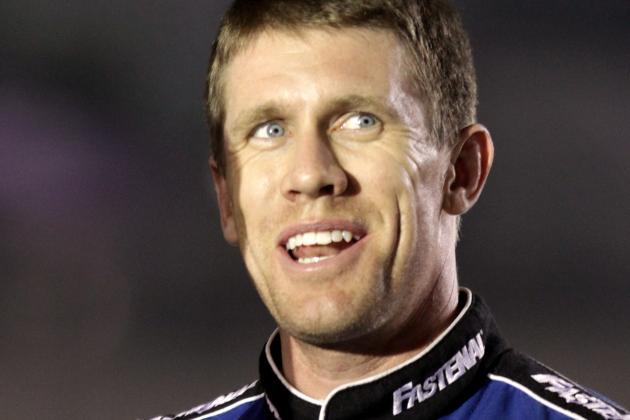 Jerry Markland/Getty Images
After a 15th place points finish, Carl Edwards is coming off of the worst season in his Cup career. It will be interesting to see how he rebounds in 2013.
Roush Fenway Racing's premier driver, Carl Edwards is next.
In 2012, Edwards was the only one of the three RFR drivers to miss the chase, and not win either.
His three top-10 finishes are four worse than his previous of seven in 2009.
The thing that's most alarming here is that Carl ran only one Nationwide race in 2012, his lowest number ever.
Since 2005, his first full-time season, 90 percent of Carl's 19 wins have come with running the Nationwide the week of the win.
So is that what the difference was in 2012?
It could be. Over the course of time, some drivers have benefited from running Nationwide races, and others have not. That will be more prevalent in our next driver.
Carl is one of those drivers who seems to benefit.
Currently, Jack Roush doesn't have any Nationwide races in store for Carl in 2013, but will field two full-time teams with Trevor Bayne and Travis Pastrana.
None for Carl Edwards, so far.
If Jack can manage to put in some races for Edwards, I think it will benefit him.
Carl had two crew chiefs in 2012: Bob Osbourne and Chad Norris. Neither of which will be his crew chief in 2013, as veteran Jimmy Fennig will take over on the pit box.
But not all is bad for him.
He had a similar year like 2012, in 2009, and that was coming off of a season where he won eight races. Yet, he still made the chase, and two of the other Roush cars missed the chase. Even when the organization as a whole was struggling, Carl was still one of the best cars there.
What happened to Edwards in 2012 is really puzzling, and I'm not so sure Jimmy Fennig is the answer.
Why the pressure for Carl? Before the 2012 season, team owner Joe Gibbs, and sponsor Home Depot were in hard pursuit of Edwards. Jack Roush stepped up to the plate and gave Carl around the same deal that Gibbs was giving him, to convince Carl to stay.
Matt Kenseth was in the same situation this silly season. Joe Gibbs stepped up, but Jack Roush didn't. Matt has a championship, and two Daytona 500s. He also made the chase this season, and won three races. So Matt's track record is better than Carl's, yet Carl was the one who got the big deal from Roush.
Carl also needs to prove that Jack Roush made the right move in stepping up to the plate and giving Carl the big deal over Matt Kenseth.
Another source of pressure is rookie driver and teammate Ricky Stenhouse, Jr. Unless Stenhouse wins two or more races, I doubt highly he'll make the chase in his rookie season. So if Carl misses it again, that leaves Roush with only one hope, Greg Biffle. Only having one car in the chase for Roush Fenway will leave people questioning if they still are a powerhouse team in this sport. So, Carl needs to step up.
But, another season like 2012, and Jack could be kicking himself for years to come.
Prediction: 2013 will be a much better year for Carl. The engineers from the No. 17 team have come over with Fennig. The team that won three races will be with Carl in 2013. I'm expecting at least two wins from Carl with him making the chase and finishing around fifth. He needs to, because I'm not so sure Ricky Stenhouse, Jr. will make the chase in his rookie season.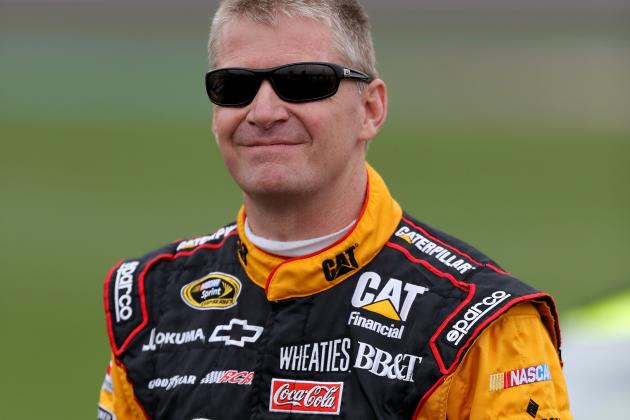 Ed Zurga/Getty Images
Jeff Burton hasn't had a win in 4 years; and with the Dillon boys waiting in the wings, this could be the 45 years old's last shot at a winner.
The driver with the most pressure headed into 2013 is veteran Jeff Burton.
Yes people, Burton is still out there racing, although 2011, and '12 were absolutely dreadful for him.
A 20th and a 19th place points finish the last two seasons has Jeff Burton in the biggest slump of his 20 year career.
The 45-year-old hasn't won a race since Charlotte in 2008. That was also the year of his last top-10 points finish.
He did not have top-five this year on a track other than Daytona and Talladega, very worrisome for a driver who once dominated the circuit.
Richard Childress Racing had an off year in 2012, but 2011 wasn't as bad. Three out of the four RCR cars won races in 2011. Burton was the only one that didn't.
If you read the Carl Edwards slide, then this is the driver that I was talking about.
In his Cup career, he's finished in the top-10 in points eight times. In all eight of those seasons, Jeff has run at least 11 Nationwide Series races.
Furthermore, 59 percent of his 21 career wins came when he's run the Nationwide race the same weekend.
So this clearly benefits Jeff Burton. I think for Burton to return to a chase contender, he's going to need to run more Nationwide races in 2013.
Burton's under pressure for a number of different reasons. First, he's in his final season at Richard Childress Racing, a premier Cup team. At 45, and turning 46, if he doesn't make the chase this season, his options in 2014, if he wants to continue racing, could be very slim, and getting a car good enough to win on a consistent basis would be nearly impossible.
Also, the Dillon boys, Richard Childress' grandsons Austin and Ty, are waiting in the wings at RCR. Austin will definitely be in Cup full-time in 2014. And with as little sponsorship that could be going around, Jeff could be out at RCR.
Kurt Busch is another reason why Burton should feel the pressure. He's driving for Furniture Row Racing in 2013, a subsidiary team for RCR. Busch is on a one year deal. With Burton at the end of his contract, he is also a candidate to drive the 31 in 2014.
And finally, the shake up. Richard Childress Racing is going through a major shake up in 2014. Kevin Harvick will be leaving for Stewart-Haas Racing, and taking the Budweiser sponsorship with him. If Busch and Dillon move to Cup, that only leaves Paul Menard with his dad's sponsorship as the last sponsor at RCR; as I imagine General Mills stays with Dillon and CAT will go to Busch.
So that leaves Burton all but out at RCR after 2013. If he does rebound, one of his options could be Roush Fenway Racing or Furniture Row Racing. Maybe even MWR or JGR could step up, as his veteran presence could be very valuable to a team looking to grow.
But if he doesn't rebound, the the word "done" will be associated with Burton.
Prediction: Burton and the 31 team will step up its game in 2013. He will make the chase as a wild card driver, winning a race and ending up 11th in points after Richmond. This will be enough to keep Burton's career going to 2014. If RCR can somehow find him Nationwide races, I think that will help Jeff even more, but with two lame duck drivers at RCR, do they give up and just prepare for 2014? That's a possibility as well, and a scary one for Jeff Burton.