Men's Tennis: Predicting the Top 10 at the End of 2013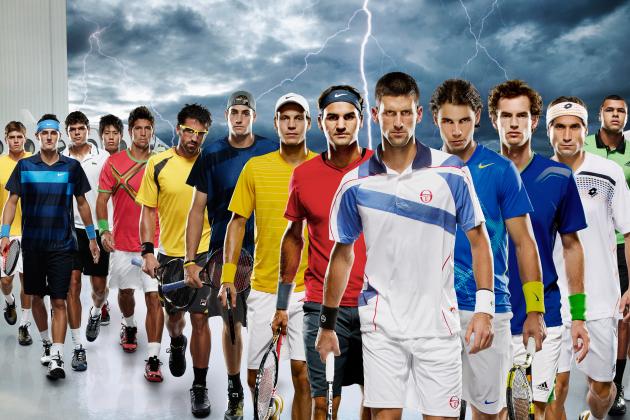 Clive Brunskill/Getty Images

The ATP World Tour has recently put a cap on what was an exceptional 2012 season.
For the first time since 2003, four different players won the four majors. Each member of the "Big Four" captured one in the order of their preseason rankings.
Like the top four, the top 10 remained relatively steady throughout the year, but radical changes could be coming soon.
In the following slides, I will dissect and analyze my predictions for who will finish 2013 in the top 10; what will the rankings look like 52 weeks from today?
This year, the top ten looked like, in reverse order: Gasquet, Tipsarevic, Tsonga, Del Potro, Berdych, Ferrer, Nadal, Murray, Federer and Djokovic.
There could be incomers, outgoers or simply shifts in the top 10 itself in 2013.
Finishing among the top 10, or eight, is a very prestigious honor in the world of tennis, and at least 20 people have a chance heading into 2013.
Who will prevail?
Begin Slideshow

»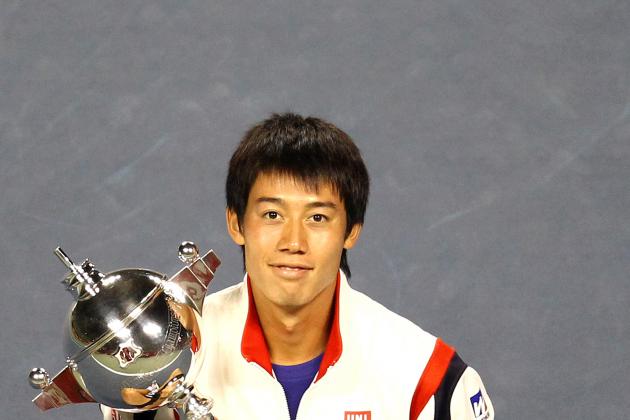 Koji Watanabe/Getty Images

Kei Nishikori is already the best Japanese tennis player of all time, and he's only 22 years old. Last month, Nishikori reached a career-best No. 15 in the ATP rankings. He is currently in the 19th position.
This was the Japan native's best year on tour, as he won 37 matches and his second career ATP title. He also made a brilliant run into the Australian Open quarterfinals. Overall, Nishikori was very consistent in 2012, not losing very many matches that he shouldn't have and consistently getting into the quarterfinals.
NIshikori's only title was a very sweet one, as he defeated big-serving Milos Raonic in a tough three-set final in Tokyo, the capital of Kei's home country.
Since first arriving on the tennis scene in 2008 as a Bolitierri-trained player, Nishikori has had a tough time avoiding setbacks in his career. From the start, he was very talented, as he captured the ATP World Tour Newcomer of the Year award in 2008.
Now, under the guidance of Dante Bottini, he seems to be piecing it all together. If you take a glimpse at the current world rankings, it is very conceivable that Nishikori makes the big leap into the tour's elite.
Currently blocking his path there are, in reverse order: Alexandr Dolgopolov, Stan Wawrinka, Gilles Simon, Marin Cilic, John Isner, Milos Raonic, Juan Monaco, Nicolas Almagro and Richard Gasquet.
Only four of the above-mentioned players have not yet hit their peak, and some of them seem to be content just sitting in the edge of the top 10 or 15 players. The prime example is Ukrainian Dolgopolov, who, in last year's edition of this article, was projected to make the jump. Instead, he remained around the No. 18 spot and showed massive inconsistency throughout the season. He also had some bright spots, like a title in Washington, D.C., but his overall season was a disappointment after such a surprising 2011.
I also think that Wawrinka, Simon, Monaco and Almagro could very well see their respective rankings take a tumble.
Since the path into the top 10 isn't really as hard as it may seem, I predict Nishikori to creep into it next year.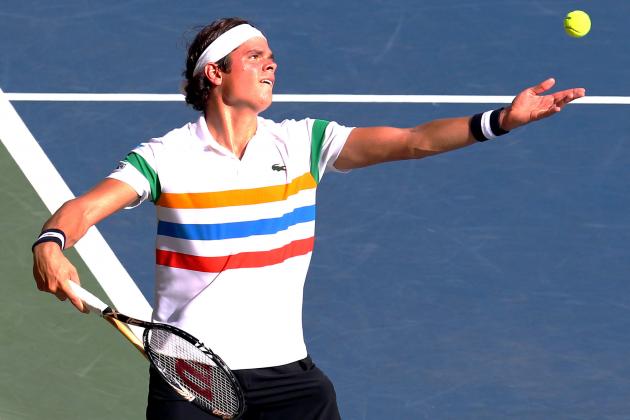 Milos Raonic has made his best impressions early in both the 2011 and 2012 seasons. Two years ago, the big-serving Canadian made a stunning run in the Australian Open quarterfinals and then won his first title in San Jose before losing a tough final in Memphis to Andy Roddick.
Then, this past season over the first few months of the year, he won a title in Chennai, defended his San Jose crown and made another run to the final in Memphis.
However, Raonic slowed down considerably as the year winded down, aside from a runner-up showing in Tokyo (when he defeated Andy Murray), and some good showings in the American summer hard-court swing. His last three tournaments ended with premature exits.
Still, finishing the year ranked No. 13 is a considerable achievement for the Canadian. Expect to see another solid rise from the 21-year-old over the next 12 months. The four players who he will need to overtake are Gasquet, Almagro, Monaco (see the Nishikori slides for why they won't stand their ground), and No. 9 Janko Tipsarevic.
It may be tough for Raonic to overtake Tipsarevic, but the Serb has struggled to give top players good fights in recent times. Tipsarevic could very well maintain his spot, but Raonic is a bigger threat to the bigger names and an entire year should be just enough for Raonic and Nishikori to overtake him.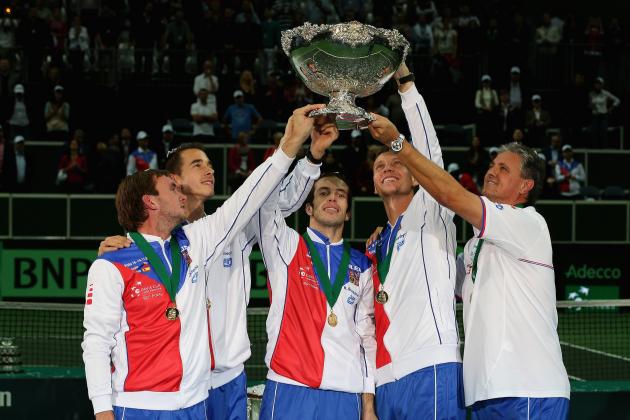 Tomas Berdych is the first current inhabitant to make this list. His 2012 season, after which he was ranked No. 6, could be considered a success, but the Czech was a little too inconsistent to convince fans to trust him over the course of an entire year.
As always, Berdych hit the ball cleanly, and every shot in his arsenal is always a weapon. He has developed a huge forehand that helped him take out Roger Federer in the US Open quarterfinals, as well as a brilliant Davis Cup victory over defending champion Spain.
Overall, Berdych was great, as he won 61 matches and two titles, and had many other good results. However, he hit a rut in midsummer and struggled during the grass and early summer hard-court seasons. His surge after the US Open helped him avoid a drop in the World Rankings.
It will be tough for Berydych to overtake David Ferrer and the "fab four," but he could even drop beyond Jo-Wilfried Tsonga and Juan Martin del Potro.
In my opinion, del Potro will make a big jump on his 2012 season and climb up the ranks, but Berdych and Tsonga will fight for the No. 7 and No. 8 spots in the rankings.
Tsonga has shown signs of improving his consistency, and Berdych is a seems to have already peaked. For those reasons, he will become No. 8 in the world in 2013.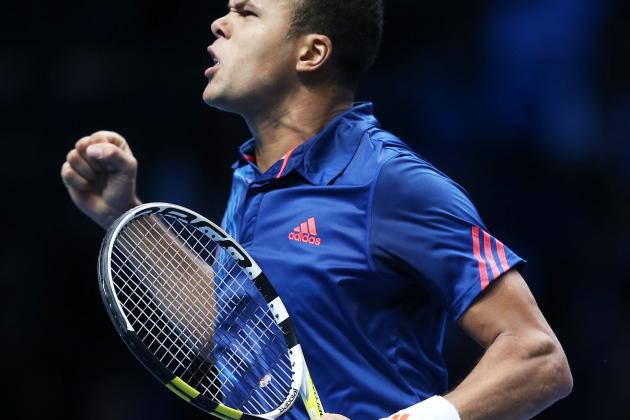 Tsonga continues to show signs of the player he can be in 2012. He once again made it to the semifinals at Wimbledon, and was a point away from reaching that same round at the French Open.
He mixed the brilliant, like his showing at the SW19, with the confounding, notably a second-round loss to Martin Klizan at the US Open.
On talent alone, Tsonga is clearly among the tour's best. He possesses a great serve. a very big forehand and some outstanding touch at the net. He is one of a few players who still employs a serve-and-volley tactic on a regular basis.
However, two things seem to keep the Frenchman from making the quantum leap.
First, he, like countryman Gael Monfils, sometimes seems to be more intent on putting on a show instead of winning.
Secondly, his decision-making remains very suspect. He sometimes decides to use a single-handed backhand, which can be spectacular at times, but is usually a hindrance for Jo-Willy. His two-hander isn't great, but it, along with a slice, work better than the straight one-handed shot. The 27-year-old is also known to go for way too much and to dive all over the court, putting his body in danger simply to entertain.
However, these problems are very fixable.
Late in the year, Tsonga showed what he was truly capable of, making the final three of four tournaments in October.
If Tsonga makes the right adjustments, he can inch up the rankings next year.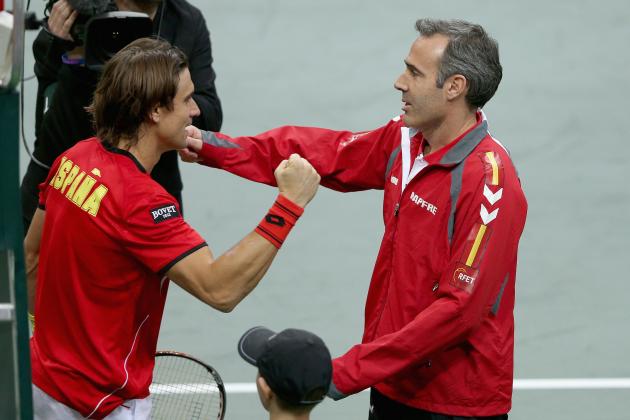 To be honest, I have never been very high on David Ferrer. Until this year, that is. I thought that his finishing fifth in 2011 was a fluke. I thought that by the end of 2012, he would have tumbled to No. 8 in the world.
However, the Spanish veteran is still fifth, and he stands a good chance of leapfrogging compatriot Rafael Nadal early next year.
This year, I once again see Ferrer dropping a bit in the rankings, but it is nothing against him.
He is the tour's hardest worker and among the most consistent players in the world. He rarely loses to players ranked below him, and an opponent has to hit many good shots against Ferrer to put him away.
However, his record against the "Big Four" is an abysmal 14-45 (4-30 against Nadal and Roger Federer).
Still, he won an outstanding 76 matches and seven titles, both ATP highs. He finished the year by winning 14 of his last 15 matches.
He still struggles to get many free points, but his attack forehand is improved, and the 30-year-old is so fit that he doesn't seem to mind.
The Spaniard won his first ATP Masters 1000 title in Paris and also made semifinal runs at the French and US Opens.
So why does he tumble to sixth in my predictions?
Simply because Juan Martin del Potro is the real deal. In 2013, fully healthy, the Argentine will make a splash.
Ferrer will once again win in the neighborhood of 70 matches next season, but will experience a slight fall.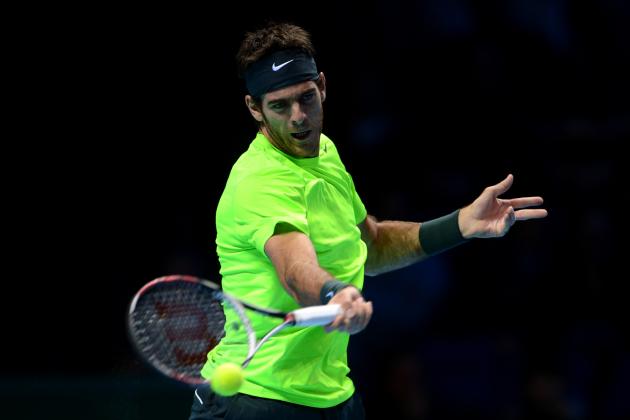 Michael Regan/Getty Images

Juan Martin del Potro enjoyed a successful return to near-full health in 2012. The 2009 US Open champion finished the year ranked No. 7 and won 65 matches over the course of 2012. In 2011, del Potro had tumbled down to World No. 485 after a wrist injury had prevented him from playing in most of 2010.
However, this year, his serve and forehand both looked almost as exquisite as in 2009 and very early 2010, when his ranking peaked at No. 4. Next year, expect the Argentine to almost reach that level.
With some outstanding hard-court displays, including titles Basel, Vienna and Marseille, del Potro proved once again that he should be considered as the most serious potential intruder in the Big Four's dominance.
As a matter of fact, delPo is the only player outside of the top four slots to win a major since Marat Safin, way back at the 2005 Australian Open.
During his miraculous run in Flushing Meadows three seasons ago, Juan Martin was able to shellack Rafael Nadal in the semifinals and tough out a win against Roger Federer, whom he defeated twice late in the year, in the final.
He showed signs of returning to that level.
Expect deep runs, especially on hard courts and perhaps even at Roland Garros, where the Argentine had Federer on the ropes before injuring his knee and bowing out in a five-set quarterfinal.
However, del Potro will still end up just short of "the club" in 2013.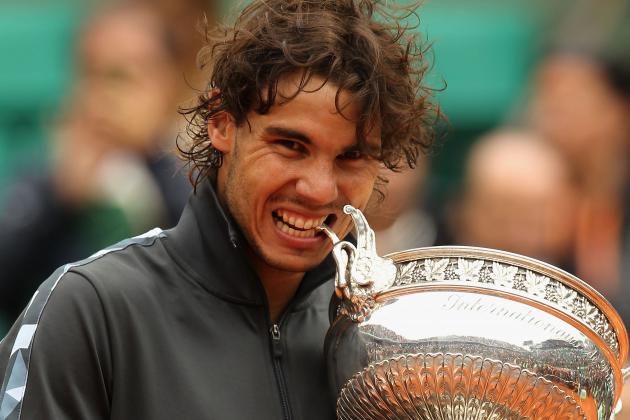 Matthew Stockman/Getty Images

Finally, we have reached the Big Four.
Rafael Nadal, who ended 2012 in this very spot, easily had the most disappointing year of the top four players. Of course, injury had a lot to do with it.
After losing another tight final to Novak Djokovic (his seventh consecutive loss to the Serb), this time in Melbourne, Nadal once again dominated the spring clay-court season.
He won his eighth career title in Monte Carlo and secured victories in Rome and Barcelona. He took a record-breaking seventh at the French Open, finally defeating his rival in a major final after having suffered defeats at Wimbledon, the US Open and the Australian Open.
However, since suffering an absolutely shocking second-round defeat to then-world No. 100 Lukas Rosol at Wimbledon, the world of tennis did not see Nadal.
He missed the Olympics, the US Open and the World Tour finals, as well as four Masters 1000 tournaments during the summer and fall. During his absence, his world ranking dropped from second to fourth. Entering 2013, his lead over compatriot David Ferrer is very slim. The two Spaniards could very well swap places after the next Australian Open.
Reports are conflicting about when Rafa plans to make his long-awaited return to the court. Some say he won't be in Melbourne, while others expect him to be there, although no one is entirely sure. Interestingly enough, the two reports are based off the same Nadal quotes, but they were interpreted in different ways.
Nadal will probably drop outside the top four early in the year, because he will drop points in the early hard-court season.
However, with no points to defend down the stretch, he can get back into a position similar to the one he had in 2012 as a member of the Big Four with a tedious lead over the fifth-ranked player.
For a more in-depth look at how Rafa's 2013 will turn out, check out this article.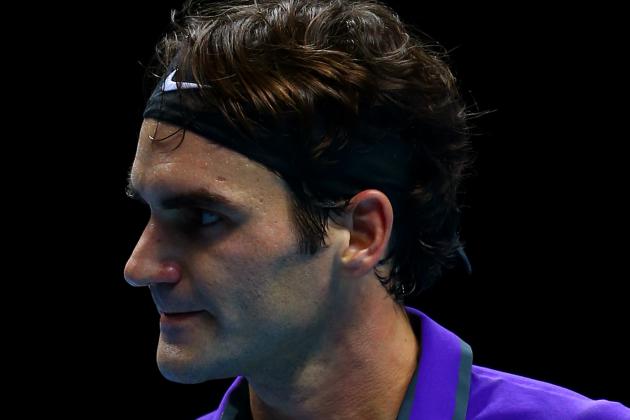 Matthew Lewis/Getty Images

Roger Federer was able to prove his doubters wrong in 2012.
Entering the year, the Swiss maestro had gone slam-less since his title at the 2010 Australian Open. Journalists and fans alike were beginning to write Federer's swan song. Roger showed them that they were still a little early.
After going on a tear to close 2011, Federer proved that he was still the greatest best-of-three player on tour, as he captured early-season titles in Rotterdam, Dubai and at Indian Wells. He still couldn't get over the hump in majors, however, bowing out in the semis during the year's first two.
However, the current world No. 2's showing at the All-England Club in July showed that he could still win the big ones. With a four-set victory over fan favorite Andy Murray, Federer extended his record with Grand Slam No. 17, won his record seventh Wimbledon crown and regained the No. 1 ranking that had eluded him since the summer of 2011. His win at the SW19 also enabled Fed to break Pete Sampras' record of 285 total weeks ranked No. 1.
Federer continued to play a high level of tennis, winning the silver medal at the London Games and capturing a title in Cincinnati.
But the Swiss star's finish wasn't quite as strong as it has been in years past. Unlike in 2010 and 2011, when Roger captured three titles in the indoor season, Federer lost in the semis of Shanghai (Murray), the final of hometown tournament Basel (Juan Martin del Potro), pulled out of Paris and was runner-up at the World Tour Finals (Novak Djokovic).
These good but not great showings enabled Novak Djokovic to jump Federer in the rankings and kept Roger from finishing No. 1 for the sixth time in his illustrious career.
I firmly believe that Federer is at worst second in the world at three-set matches; however, tennis's method of measuring is and will always be major tournaments.
Federer will pile up match and tournament victories in 2013, but when it is all said and done, he will finish behind two players in the end-of-year rankings.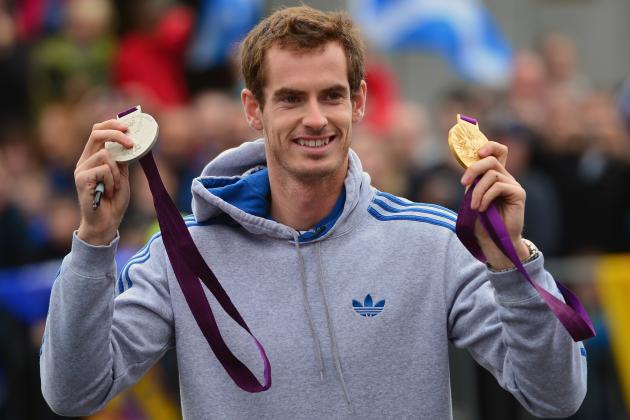 Jeff J Mitchell/Getty Images

Andy Murray's 2012 was enormously successful. Beginning in the land down under in January, Murray proved to the world of tennis that he was a different player. Despite getting knocked out in the semis, Murray played brilliantly against Novak Djokovic, the very man who had humiliated him in the 2011 semis, ultimately falling 3-6, 6-3, 7-6(4), 1-6, 5-7. The Scot failed to convert any of his five break points at five-all in the fifth.
However, after a quiet showing during the spring portion of the season, Murray entered Wimbledon with enormous pressure, as he was tasked with becoming the first Brit since Fred Perry way back in 1936 to capture a Grand Slam title. Murray had performed well at previous appearances at the All-England club and was a three-time returning semifinalist.
The man responsible for Andy's exit in both the 2010 and 2011 editions of the tournament, Rafael Nadal, was shockingly bounced from the tournament early, seemingly clearing the path for the hometown favorite.
After winning a highly entertaining affair with Frenchman Jo-Wilfred Tsonga in his fourth consecutive semi, Murray could finally say that he was a Wimbledon finalist.
Despite a loss to Roger Federer, the Scotland native won over the hearts of many fans when he struggled through tears at the trophy ceremony. The 2012 Wimbledon marked the fourth consecutive time that Andy Murray had lost a major final. He is the only only player besides Ivan Lendl, his coach, to hold that dubious distinction.
A month later, having returned refreshed to London, Murray battled Federer in yet another final, this time at the 2012 London Olympics. In this final, Murray pasted Federer, and many people saw him clear a mental barrier as well.
Two months or so later, the transformation was complete. Murray overcame heavy winds and a determined Novak Djokovic to win the first major title of his career at Flushing Meadows.
With two Scottish icons, Sir Alex Ferguson and Sean Connery, looking on, Murray jumped out to a two-sets-to-love lead over Djokovic, only to see the Serb retaliate and win the next two.
The Brit saved his best for last, winning the final set, 6-2, and ending a streak that had begun on the same stage four years prior.
In 2013, Murray will continue his climb. The No. 3 slot that he ended at in 2012 was already a career high, and with he and Djokovic seeming like the next great tennis rivalry, it is only fitting that they end next season 1-2.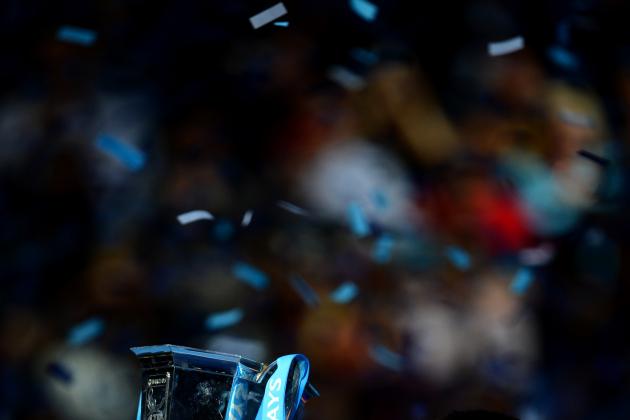 Michael Regan/Getty Images

After a historic 2011, many doubted that Novak Djokovic could keep his foot on the gas. He was unable to to that, but the five-time major champion didn't step on the brake either.
Novak Djokovic opened 2012 by winning two of the all-time greatest matches back-to-back. In the semis and final of the Australian Open, Djokovic needed to come back from a deficit, winning both of them (against Andy Murray and then Rafael Nadal) in straight sets.
Although Nole came up empty in the other three majors, finishing runner-up in two, he still played outstandingly well over the course of the year.
Along with a third title in Melbourne, Djokovic won five other trophies, including three Masters 1000 shields and the season-ending World Tour Finals.
Djokovic, who shocked many with what he pulled off in 2011, made many more uncharacteristic, unforced errors, but the Serb's groundstrokes continue to be the tour's best.
He and Andy Murray made up what is sure to become tennis's next big rivalry as the pair squared off seven times in 2012, with Djokovic winning four meetings.
Djokovic won't be as drained, physically or emotionally, in 2013, so he can hopefully play more relaxed.
He will hold onto the No. 1 ranking throughout the season, and despite a late-year charge by Murray, Djokovic should be able to end the year No. 1 for the third year running in 2013.