MLB Free Agents: 5 Players the Reds Can Sign If They Let Ryan Ludwick Walk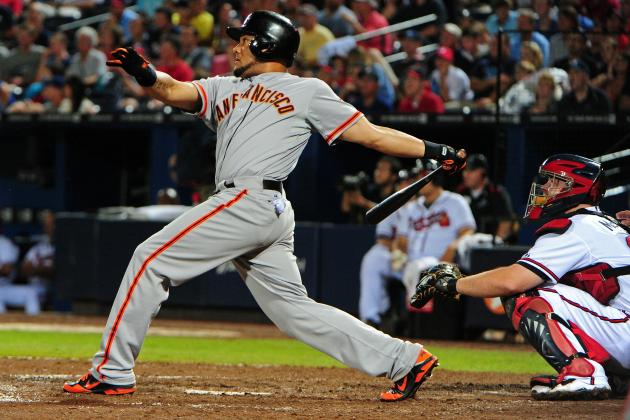 Scott Cunningham/Getty Images

The Major League Baseball regular season is over, meaning that the Major League Baseball offseason has begun. This time of the year is often referred to as the "Hot Stove" season—you can bet that the stove will be flaming hot in Cincinnati this winter.
The Cincinnati Reds' Ryan Ludwick and Ryan Madson have already filed for free agency, and you shouldn't be surprised to see them both playing in new uniforms next season. Ludwick may have been a key component to 2012, but his soon-to-be inflated 2013 salary will outweigh his actual 2013 value.
A young team with such a bright future cannot waste its money that could be used to eventually lock up more of its young core—the Reds won't make such a mistake.
As the Reds prepare to let Ludwick walk, let's have a little fun and take a look at five free agents that Cincy should take a serious look at this winter.
Begin Slideshow

»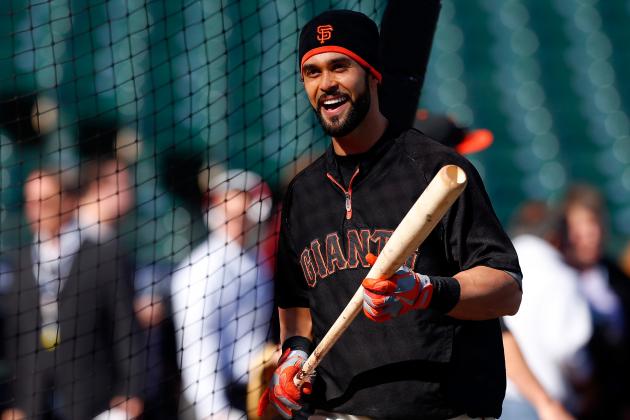 Jason O. Watson/Getty Images
Angel Pagan could be the spark at the top of Cincinnati's lineup that pushes them over the edge.
Angel Pagan stepped his game up a notch in 2012. He may not put up flashy numbers, but the dude knows how to win games. His WAR totals over the past four seasons support this claim—3.8, 5.1, 1.0 and 4.0 respectively.
Pagan put up a slash of .288/.338/.440 and lead the NL in triples with 15. He also added 29 stolen bases.
Why he is a fit for the Reds?
He takes over center field from Drew Stubbs and can easily man the leadoff or second spots in the batting order. Did I mention Pagan's switch-hitting abilities?
Not only would Pagan man center field, but he would do so better than the great Stubbs.
Why he is not a fit for the Reds?
He will turn 32 next season and may be expecting a contract of three to four years. The Reds would need to get him relatively cheap and most likely for only one to two years.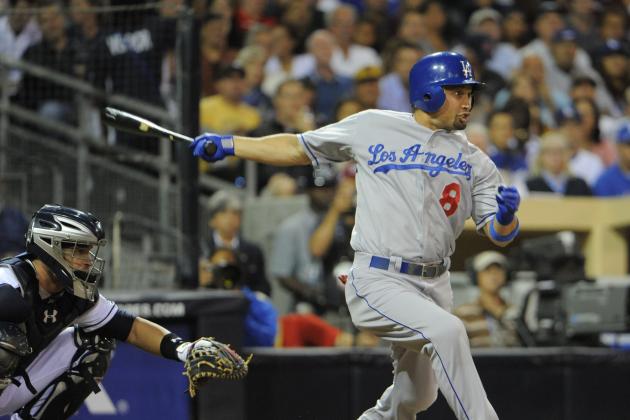 Denis Poroy/Getty Images
Shane Victorino may be 32, but he has at least one more good year left in him.
He may not be the same "Flyin' Hawaiian" we remember, but he has some play left in him. Do not forget that Shane Victorino put up a slash line of .279/.355/.491 with 16 triples and 17 home runs just one year ago.
He had a down year in 2012, but lots of players have down years throughout their careers and bounce back. He did steal 39 bases this past season, so he still has his legs—maybe he just needs a change of scenery.
Why he is a fit for the Reds?
He may not be able to man center field like he used to, but Victorino would play an above-average left field. He is a proven veteran and we all know how Dusty Baker loves his veterans.
At the plate, Victorino also helps fill the void that is leadoff, for Cincinnati.
Why he is not a fit for the Reds?
This is his last chance at an extended contract, he may be looking for more years than Cincy is willing to give him. But he could play his cards wrong and end up having to settle for a one-year deal—this is where the Reds swoop in for the steal.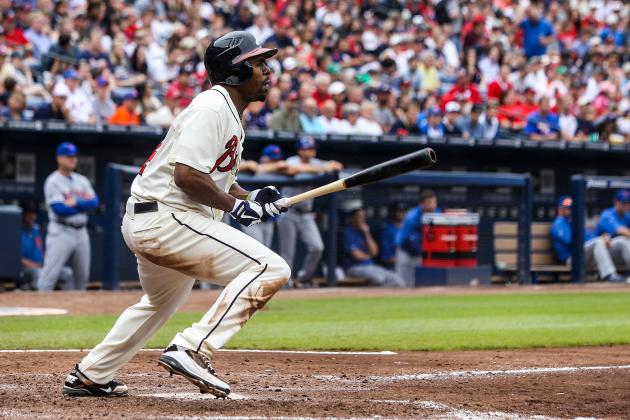 Daniel Shirey/Getty Images
Michael Bourn may be packing his bags and heading out of Atlanta.
Michael Bourn is an interesting player. He plays about as good a center field as you will find in the game, and he is a pretty decent leadoff guy. But his numbers are a little tricky. He has never scored over 100 runs in any season, even though he has stolen over 60 bases in a season.
Bourn put up a 6.0 WAR last season—that is huge folks, but why doesn't he score runs? Isn't that what your leadoff guy is supposed to do?
Why is he a fit for the Reds?
Simple, he fills the leadoff void for them. He gets on base, has the ability to steal bases and puts himself in scoring position.
Why is he not a fit for the Reds?
He strikes out way too much, 155 times in 2012 to be exact. The Reds cannot afford another guy like that in the lineup. Not to mention he will come overpriced and will be looking for too many years on his contract. He will not put up another 6.0 WAR again in his career.
Leon Halip/Getty Images
Nick Swisher could be the 2013 version of Ryan Ludwick.
Nick Swisher has put together a pretty solid career. If he finds himself in the right situation, he may be able to put up solid numbers for a couple of more seasons. He could do this in New York, but may be on the move and in need of greener pastures.
Swisher hit 24 home runs and drove in 93 runs for the Yankees this past season. He also boasted an .837 OPS—not too shabby.
Why he is a fit for the Reds?
He could be the Reds' 2013 version of Ludwick. Swisher could easily bash 25-for-30 home runs in GABP while filling the No. 4 spot in the batting order. Swisher is also clutch, hitting .301 with 11 home runs RISP.
If he leaves New York, he seems like a prime candidate for a one-year contract, which is where Cincy needs to be with him.
Why he is not a fit for the Reds?
He may be overpriced. He would be worth $5 million for one year to Cincy, but anything more would be too much of a risk.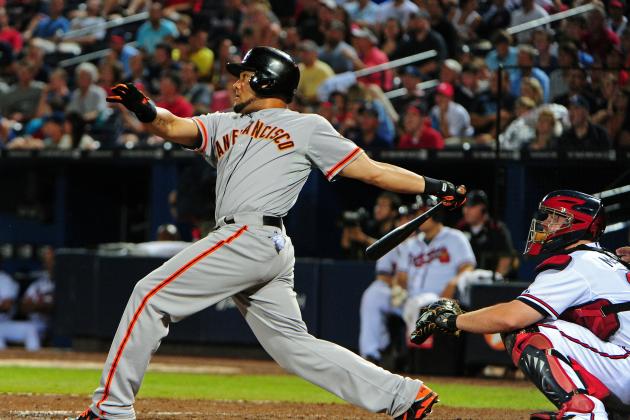 Scott Cunningham/Getty Images
Melky Cabrera is a risk, but could come with a high reward.
Melky Cabrera has served his time and is set to begin play once again in 2013. After serving a 50-game suspension for the use of PED's, Cabrera will be out to prove that he can perform while clean.
He posted a .346/.390/.516 slash line with 10 triples, 11 home runs and a 4.6 WAR in only 113 games this past season.
The Giants have been pretty hush about their plans and/or interest in resigning him. Cabrera was left off the postseason roster, even though he was eligible to join the team. The team did, however, leave him on the 40-man roster.
Why is he a fit for the Reds?
Cabrera would fit perfectly into the No. 2 hole in Cincy's batting lineup. He's a switch-hitter who provides a much-needed right-handed option in a left-handed heavy lineup.
Aside from his offense, Cabrera is an above-average outfielder who would fill the void left in left field by the departure of Ludwick.
Why is he not a fit for the Reds?
He is no longer on PED's (that we know of). No one knows how this will affect his offensive numbers. Cabrera was putting up superb numbers before his suspension and was well on his way to a batting title—there is no guarantee this is the player Cincy would get.
The risk may be higher than the reward.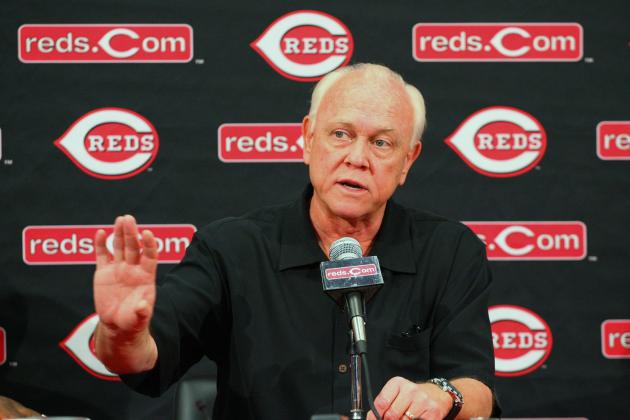 Hunter Martin/Getty Images

There will be plenty of options to fill the obvious offensive needs for the Cincinnati Reds this season. What remains to be seen is the cost of these options.
With most of these options being top-of-the-batting-order outfielders, you can bet Reds GM, Walt Jocketty will be hard at work all winter long.
You can follow Josh on Twitter @JRamCincy