Washington Redskins 2012: How "Redskins Rule" Picks a US President.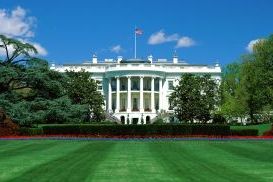 The Carolina Panthers at Washington Redskins on Sunday is pivotal to both teams as they search for answers to questions many fans want to know.
Which team is going to show up? Is this season a bust? Will the second half of the NFL 2012 season bring about a turnaround and a possible seat at the playoff table?
Both teams are led by quarterbacks Robert Griffin III and Cam Newton, whose meteoric rise their rookie year silenced even the harshest critics. The Redskins are 3-5 with a single win at home and a loss of two straight games. The Panthers are 1-6 so far this 2012 season. They have yet to win on the road, and they have lost five straight games.
There is much on the line for this 1 p.m. kickoff Sunday in our nation's capitol. The most important question fans may want to know is who will win the Presidential election: Barack Obama or Mitt Romney?
There are many superstitions, omens, indicators and predictors that determine the results of a presidential election. None has greater accuracy than the "Redskins Rule," as noted by the Elias Sports Bureau in 2000. It goes something like this: Since the Redskins moved from Boston to Washington, D.C., in 1937, there have been 18 presidential elections. If the Redskins win their last home game before the election, the incumbent party has held office.
Although not perfect, and we are talking superstition, this has held true in 17 of 18 presidential elections. In 2004, the visiting Green Bay Packers defeated the Washington Redskins, 28-14. George Bush held onto his presidency, defeating John Kerry. That election had to even be reviewed by the officials. (Too bad there was no political equivalent of a coach throwing a red flag on the play for that one.)
Bush had secured the electoral votes but not the popular vote. Otherwise, it could be a perfect 18 of 18 instances this had occurred. The rule worked 17 of 18 times, resulting in an accuracy rating of 94.4 percent. That nearly matches 49er's QB Alex Smith's performance last Monday night against the Cardinals. Strong. Very strong.
At last glance, the Redskins are favored to win by three points Sunday. I've always been told that a three-point advantage is the home-field advantage. This is too close too call for both the Week 9 Redskins-Panthers matchup and the election. This I do know.
There will be die-hard Republican Redskins fans pulling for the Panthers so that, if this game means anything to the future direction of our country, Mitt Romney emerges as the 45th president of the United States. And there will be die-hard Democratic, Redskins fans who want a win in order to have their cake and eat it too.
If we take the "Redskins Rule" out of the equation Sunday, the ideal scenario for Sunday's game would be a knockdown, drag out, last-minute heroics-style game similar to when the teams first met at FedEx Field in 1999. No political election on the line. The Redskins won with a game-winning field goal, 38-36, where quarterbacks Brad Johnson and Steve Beuerlein combined for 671 yards.
Sunday afternoon, let RG3 and Cam Newton just go all out until the last second, and whichever team has the ball last has a chance to win the game. There is much more at stake than a win in the win-loss column between these two teams. The future of the country over the next four years needs a clear-cut winner.
Although it has not happened in the NFL in four years, let's hope the game does not end in a tie.
This article is
What is the duplicate article?
Why is this article offensive?
Where is this article plagiarized from?
Why is this article poorly edited?

Washington Redskins: Like this team?