10 of Tennis Star Novak Djokovic's Best Moments Caught on Film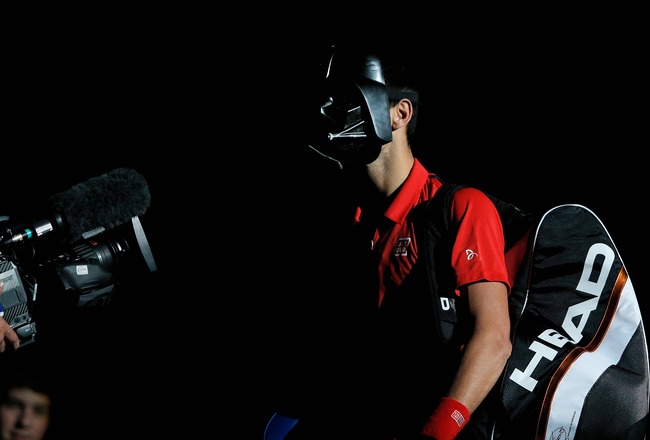 Dean Mouhtaropoulos/Getty Images
Novak Djokovic has been quite a character off the court to go with his on-field exploits.
The latest was his mask-wearing antic at the Paris Masters (even though Nole would go on to lose his match against Same Querrey).
This is not the first time Djokovic has been entertaining crowds with his tricks, however.
There have been many instances where Nole has regaled his fans, most of the time playing to the gallery with the latest happening around the world.
In recent times, it has been Djokovic who has interacted with fans in a manner familiar to the veterans like Leconte, Mansour Bahrami and others.
His interactions, especially at the US Open, have been memorable for fans and other players.
Djokovic's sense of humour has been one of the best and this comes to the fore whenever there is an opportunity to showcase it.
Let us look at the ten best videos of Djokovic over the years
Imitating Rafael Nadal
Djokovic imitates his top-rival Rafael Nadal and others in this video!
About His Dog
Talking to Maria Sharapova in Wimbledon 2012 about his dog at the press conference!
Dancing with a Fan
At the 2011 US Open, Djokovic interacts with a fan who shows some amazing dance moves!
Federer Impersonation
Way back in 2007, Djokovic impersonated Roger Federer in the locker room.
Nadal and Sharapova Again
Rafa and Maria seem to be Novak's favourite targets for impersonation! Here he goes again!
Marriage Proposal
Djokovic received a marriage proposal on court and see what he did then!
Call Me Maybe
On Arthur Ashe Day in August!
Gangnam Style in Beijing
Watch Djokovic dance to the famous Gangnam Style video in Beijing!
Impersonation at the US Open
This is a longer one where he impersonates many players like Sharapova, Nadal, Federer, Roddick, Ivanisevic and Hewitt.
With John McEnroe
At the US Open, Djokovic imitates and then has a hit with John McEnroe
Keep Reading