Federer Withdraws, Nadal Injured, Djokovic Upset: What Does It Mean for Bercy?
Use your ← → (arrow) keys to browse more stories
Clive Brunskill/Getty Images

The Paris Masters 1000 is a highlight in every tennis fan's calendar. In the relatively slow period between majors, the Masters 1000 draws the biggest names and provides excellent entertainment.
Tennis can hardly be considered to have an offseason (the ATP World Tour Finals begin November 5th after which there are no more tournaments until 2013), but post-Wimbledon can be a sleepy period. For this reason, Bercy is always something to look forward to.
The BNP Paribas Masters finds itself in very unusual circumstances this year. With the second-round exit of Novak Djokovic, the tournament is without the Big Three altogether. American Sam Querrey upset Djokovic in three sets. Roger Federer withdrew from the tournament following his run to the finals at Basel, citing health as his primary motivation.
"It's really too much for me. I have some physical problems…Even if I won Basel I wouldn't have gone to Paris, but I hope to play in London. I'll take some days to rest and I'll train again on Thursday or Friday." (via Tennis World)
Rafael Nadal has not played since Wimbledon, though he hopes to make his return at the Australian Open in January.
With the Big Three absent, we have to ask ourselves: will Bercy be more or less exciting for it?
More
The Big Three have dominated the tennis scene and consequently outshined other players who are deserving of recognition. Their absence will give less well-known and younger players an opportunity to get exposure and make headlines themselves.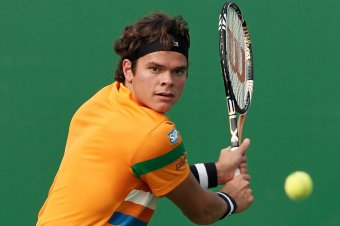 Lintao Zhang/Getty Images
Earlier rounds will be far more interesting than they typically are because the draw is more open without the Big Three. While the Top Ten have great depth, those ranked No. 4 through No. 10 are more likely to produce close matches against one another than against Rafa, Roger, or Novak. In accordance, the Big Three play the most engaging matches against one another and their victories over lower-ranked players have grown predictable and boring.
Tennis pundits love to predict who the "up-and-comers" are, and Bercy will serve as an excellent proving ground. Without the Big Three, players such as Milos Raonic and Kei Nishikori will be "headliners" along with the more established names. Fans will be able to learn their games and playing styles better without the focus being on the Big Three as it typically is.
The younger generation has immense talent and the misfortune of playing during one of tennis' finest golden ages.
With Federer's retirement looming, this year's Bercy will allow for glimpses of tennis' future and the rivalries that will dominate the next phase of tennis greatness. Querrey's upset of Djokovic is only the first highlight of what is bound to be a thrilling tournament.
Less
Tennis fans have been spoiled by the ridiculously high caliber of tennis the Big Three have consistently delivered over the last several years. Appearances in the quarters, semis and finals have been all but guaranteed. The Federer-Nadal rivalry is one of the greatest in tennis history, and the two have produced arguably the greatest match of all time (Wimbledon 2008 final).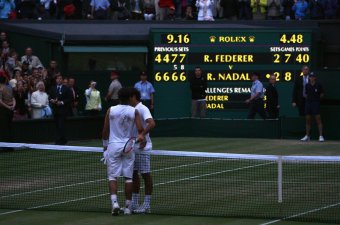 Julian Finney/Getty Images
Rarely do the Big Three fail to entertain. Each of the Big Three has a distinct style of play that creates for a great match against any player. Even when Federer is administering a 6-0, 6-0 beatdown, his graceful footwork and technique keep viewers enthralled.
The Big Three's most thrilling matches are the ones amongst themselves. At this year's Bercy, tennis fans will not have the usual quarter, semi and final matches to see the Big Three display their unparalleled skills.
Though Murray is part of the less-often mentioned "Big Four", fans will be disappointed to watch the progression of a tournament lacking the sport's biggest stars. The absence of the Big Three ensures that the tournament will lack the excitement generated by the best of the best matching each other stroke for stroke.
Regardless of whether you vouch for the more or less exciting stance, Bercy will undoubtedly be interesting as a flash-forward image of what tennis will look like in future years without the Big Three. Though there are no clear-cut replacements for the Big Three set to emerge from the younger generation, perhaps Bercy will be able to shed some light on this issue.