Mississippi State vs. Alabama: 6 Bulldogs You Must Know Before Upset of the Tide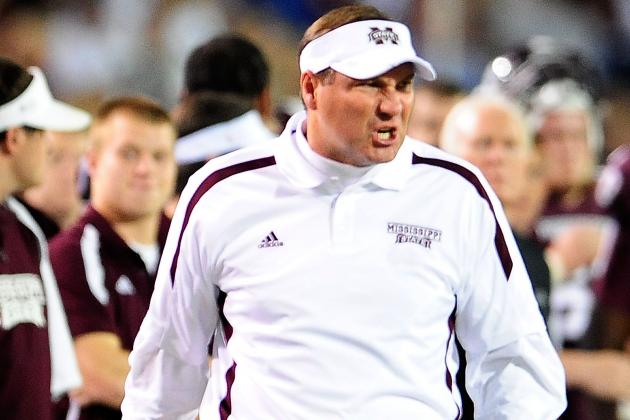 Stacy Revere/Getty Images
Head coach Dan Mullen
The Mississippi State Bulldogs are having a dream season thus far.
They could be in for a rude awakening come Saturday in Tuscaloosa when they face a top-ranked Alabama team. But the Bulldogs are pretty happy themselves to be sporting a 7-0 record and top-15 BCS ranking.
The only problem is that their best victory was a 10-point win against Tennessee, the same team that was demolished last weekend by Alabama. Their only other SEC victories were against Kentucky and Auburn, two teams near the bottom of the entire FBS.
Although many Tide fans will do their best to convince you otherwise, Alabama is not invincible and could be in for a slugfest this weekend.
If Mississippi State is to pull off the upset, here are six players that will likely play huge roles in the outcome.
Begin Slideshow

»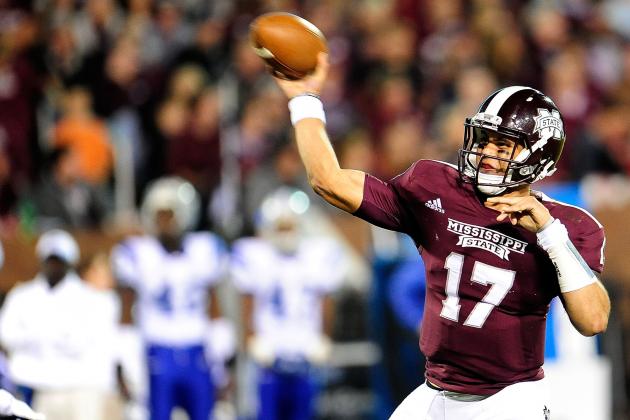 Stacy Revere/Getty Images

Much has been made of the fact that Alabama quarterback AJ McCarron hasn't thrown an interception this season. But Mississippi State QB Tyler Russell is only a step behind, having thrown just one.
Taking care of the ball is going to be crucial if the Bulldogs have a shot at the upset.
Russell also has 15 touchdowns on the year and is coming off his most efficient performance of the season in last week's 45-3 victory over Middle Tennessee.
His completion percentage is just above 60 percent, which will probably have to improve against Alabama. But if Russell can continue to take care of the ball and rely on the playmakers around him, his team will have a chance this weekend.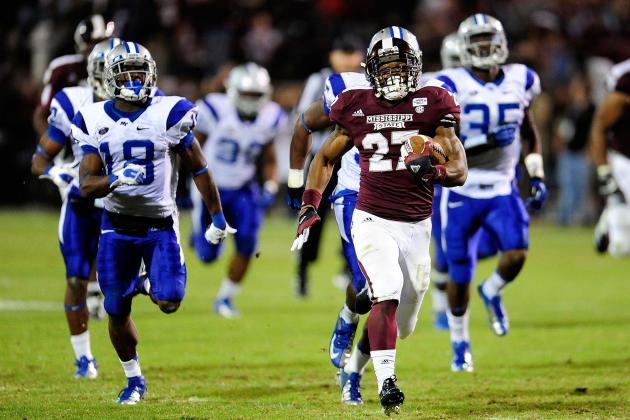 Stacy Revere/Getty Images

Bulldog running back LaDarius Perkins is going to have his work cut out for him going up against a stout Bama front seven.
But Perkins is having an excellent season thus far, putting up 724 yards on the ground with an average of 5.8 yards per carry.
The 5'10" junior is coming off three straight 100-yard performances, and he'll likely need another one if MSU is hoping to become one of the few teams to have the Alabama D on its heels.
Last week against Tennessee, the Crimson Tide were able to sit back and take advantage of the Volunteers' ability to throw the ball. Against Michigan, they held steady up front to stop Denard Robinson and the Wolverines' rushing attack.
A balanced attack, led by LaDarius Perkins on the ground, may be the only way to attack the Tide.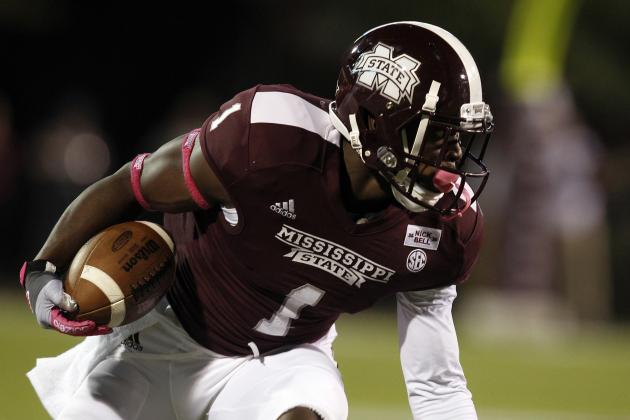 Butch Dill/Getty Images

Chad Bumphis is the biggest threat in the Bulldogs' passing attack.
Bumphis, a senior, has 29 grabs on the year for a total of 479 yards and six touchdowns. He also has a three touchdown, 180-yard performance this season, which came against Troy.
He is a playmaker that can create space and use his speed to get downfield in a hurry. Alabama won't let him run free, but Bumphis does have the ability to cause problems in the secondary.
With the connection between Russell and Bumphis being stronger than ever, the Bulldogs' passing attack will be a major reason why this game should be closer than the experts think.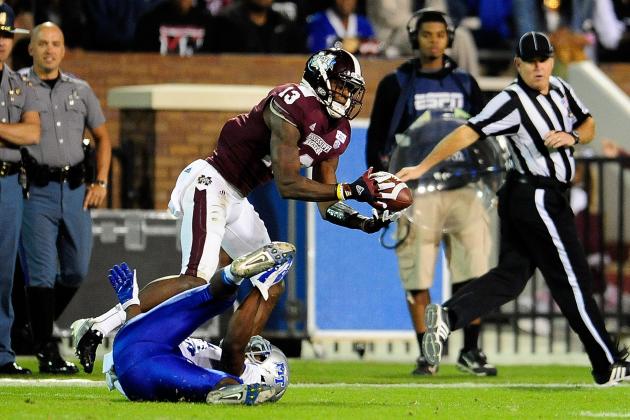 Stacy Revere/Getty Images

Jonathan Banks is one of the best corners in the country, and he'll need one of his best performances this Saturday.
Banks, a 6'2" senior, has size that matches up well with an improving Alabama passing game.
If he can keep up with stud freshman Amari Cooper in the Tide's aerial attack, he'll be taking away the most important dimension in Alabama's offense.
We know that the Tide can run the ball, and they've have been doing it as well as anybody for several years. But the added balance through the air has set them apart this season. Banks can take that away with a big game this weekend.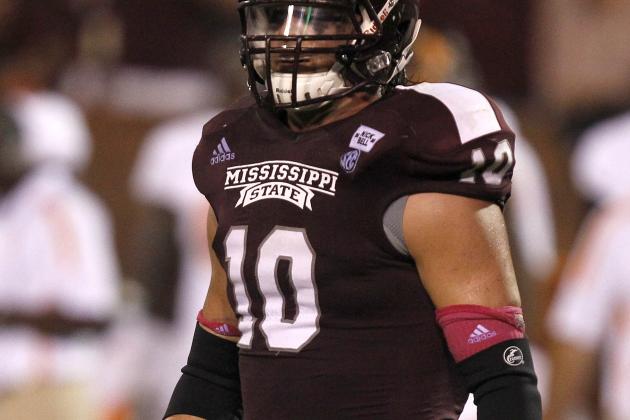 Butch Dill/Getty Images

If the Bulldogs are expected to have success stopping the Alabama offense on Saturday, LB Cameron Lawrence will have to play a huge role.
The 6'3", 230-pound senior has 49 tackles on the season and isn't afraid to get in behind the line and stop a run before it gets going.
He'll face his biggest challenge to date going up against Bama backs Eddie Lacy and TJ Yeldon.
Lawrence will also have to watch out for the play-action from McCarron. But if he can stay disciplined, he'll have a chance to make some big plays in this one.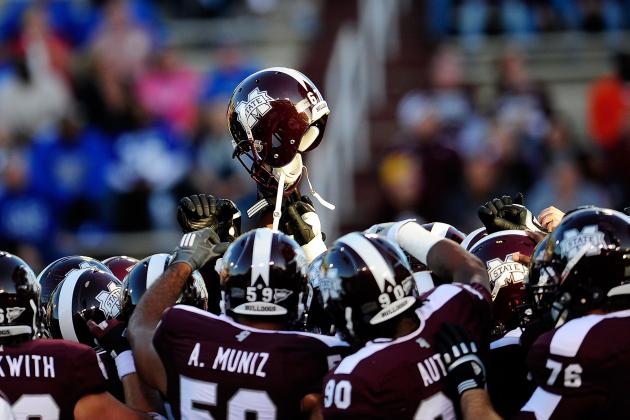 Stacy Revere/Getty Images

What's a preview of an SEC matchup without showing the punters some love?
For Mississippi State, punter Baker Swedenburg could play a huge role in the field-position battle on Saturday.
Swedenburg is averaging over 40 yards a punt, and making Alabama go the length of the field will be a huge key for the Bulldogs in keeping the score relatively low.
Short punts and turnovers will spell doom early for Mississippi State. So while playmakers on offense and defense will determine what the scoreboard reads at the end of the game, Swedenburg will play an important role as well.