Detroit Lions vs. Chicago Bears: Final Game Grades and Player Analysis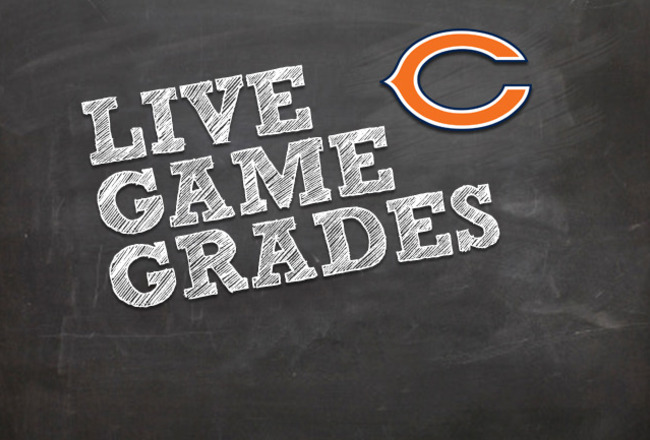 Early on the Bears put a quick touchdown on the board and it looked like they might have a big offensive game. Come to find out that was the only touchdown the team scored and once again they had to rely on the defense.
Matthew Stafford and the Detroit Lions could not muster up anything against the Bears stingy defense. The Lions turned the ball over three times in the red zone and had four turnovers overall.
Bears quarterback Jay Cutler was limited in the second half by a rib injury after taking a big hit. He managed to finish the game but had only 150-yards through the air. Brandon Marshall had six receptions for 81-yards and a touchdown. Matt Forte chipped in with 96-yards on 22 carries.
The Bears still sit alone atop the NFC North and have now won four games in a row. They will face the Carolina Panthers (1-5) at home next week.
Jay Cutler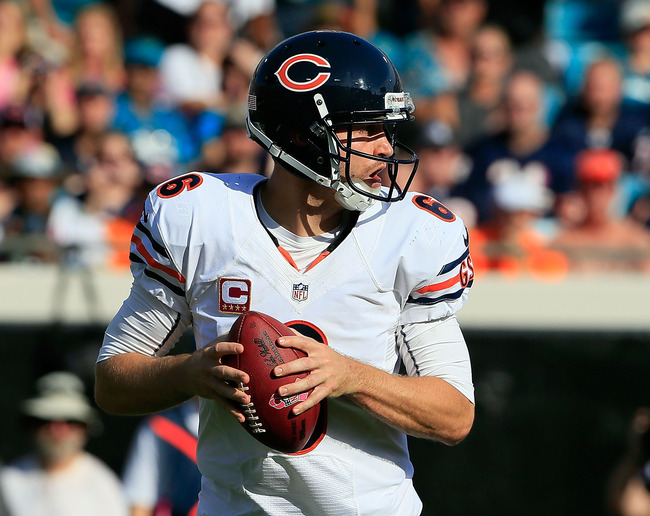 Jay Cutler
Sam Greenwood/Getty Images
Jay Cutler: B
He came out moving well and it looked like Cutler might have a huge game. Then the rush got to him and he was slowed down by a rib injury from a hit by Ndamukong Suh. The injury really had a negative impact on his throws for the rest of the game. Still he took care of the football and did just enough to protect the win.
Only 150 yards through the air while completing 16 for 31. He had a short touchdown pass to Brandon Marshall.
Jason Campbell: B
Campbell was forced to grab his helmet and hit the field when Cutler went out for a couple plays before the half. He did what a serviceable backup would do, protect the ball and not make a mistake. He even completed a pass but it was for a grand total of zero yards.
Running Backs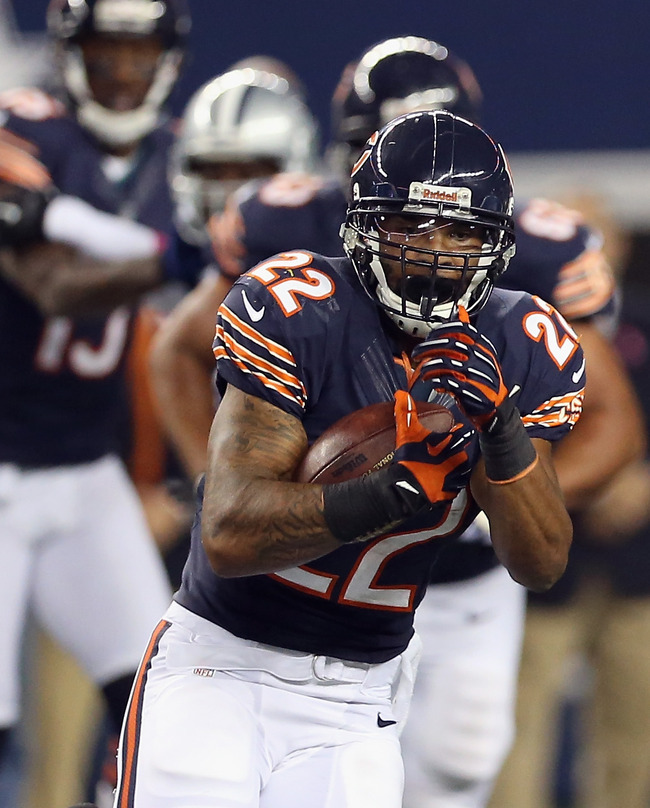 Matt Forte
Ronald Martinez/Getty Images
Matt Forte: B+
A very underrated game by Forte. The Lions knew Cutler was hurt and Forte would get more carries. He still fought his way for a more than respectable 96-yards on 22 carries. He wasn't a large factor in the passing game but was huge in grinding out the clock in the second half.
Michael Bush: B+
When Bush got his chance he ran well. He racked up 36-yards on six carries and showed some nifty moves to elude the Lions. It would have been nice to see him get a couple shots during the goal line chance in the third quarter.
Wide Receivers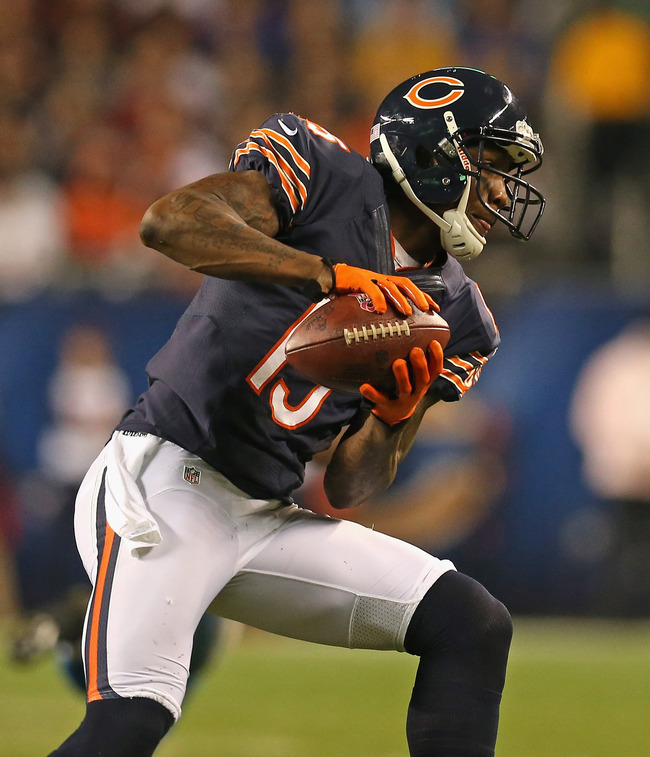 Brandon Marshall
Jonathan Daniel/Getty Images
Brandon Marshall: B+
This was a showdown between two elite receivers and only one showed up to play. Marshall got on the board right away with a touchdown and went on to catch six balls for 81-yards on 10 targets.
Devin Hester: C
Yes he had three catches but he should have been able to shake free more than he did against a beaten up Lions secondary. Once again Hester still has a problem seeing the ball into his hands and drops are still an issue with him.
Earl Bennett: C
It was nice to see Bennett back on the field but the rust was evident. He managed to catch three passes on six targets. Like Hester he should have been able to shake free in the middle of the field for more catches. He sat in the wrong spots of the zone on multiple occasions.
Tight Ends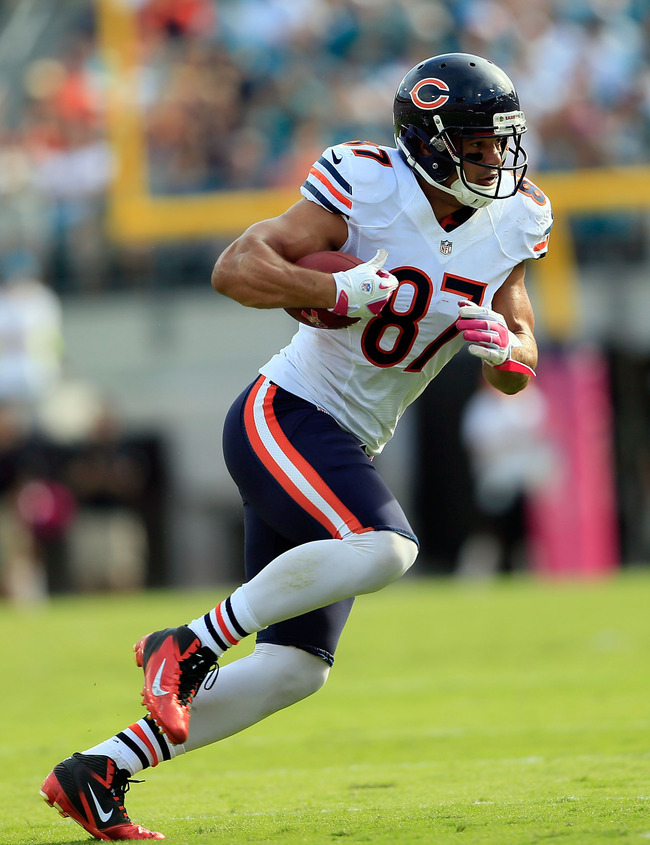 Kellen Davis
Sam Greenwood/Getty Images
Kellen Davis: D
The bad season for Davis continues. He had one catch you might remember and one drop that really sticks out. It would be nice if the team's pass catching tight end could actually catch passes.
Matt Spaeth: B
Another solid blocking game for Spaeth. He had a pass thrown his way and seemed to be the most shocked guy in the stadium. His hands are still like a frying pan and he dropped the football.
Kyle Adams: C+
Adams had some good blocks and he whiffed on quite a few. Clearly his strength when blocking from the backfield is being able to lead block on sweeps and runs to the outside. Anything up the middle he struggles.
Offensive Line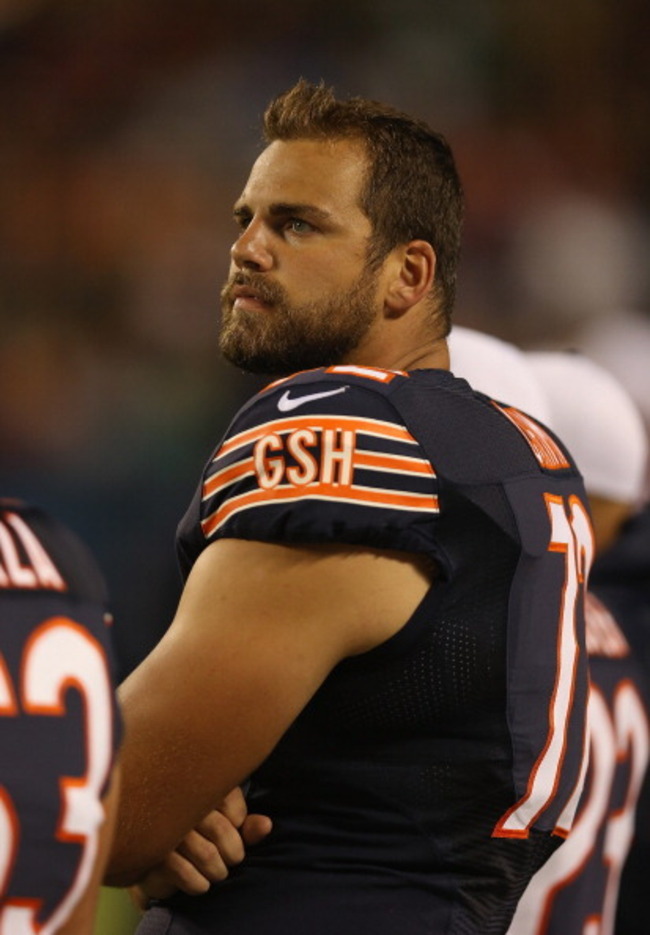 Gabe Carimi
Jonathan Daniel/Getty Images
J'Marcus Webb: B+
As crazy as it sounds Webb Nation had a good game and has really hit his stride. He played well against Cliff Avril and held him at bay for the better part of the game.
Chilo Rachel: D+
Penalties and poor blocking up the middle. Rachel might be the worst lineman on the starting unit but another guy right now is playing worse than him. Still there were too many times when Rachel was either pushed back or just spun around like a turnstile.
Roberto Garza: D
Bad game for the veteran. Garza had a couple of penalties, did a poor job recognizing blitzes in the second half and was consistently beat up the middle by the Lions' defensive tackles.
Lance Louis: C
Very up and down effort for Louis. He had some good moments and then some times when like the other interior linemen were just pushed backwards by the overpowering Lions tackles.
Gabe Carimi: F
He was bad and has been bad all year. When he got help from a back or tight end was the only time pressure did not come from that side. He was pushed back, blown up and continued to add penalties. It might be time to give John Scott a look on that side.
Defensive Line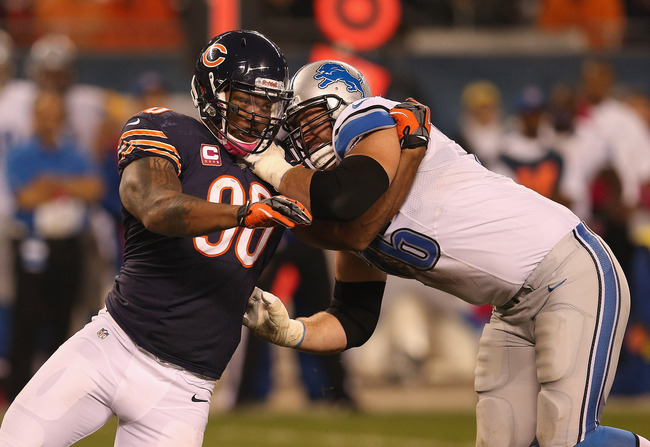 Julius Peppers
Jonathan Daniel/Getty Images
Julius Peppers: B+
When it was time for Matthew Stafford to put the ball in the air on third down he had to deal with Peppers almost every time. Peppers had a sack but could be seen chasing Stafford from sideline to sideline on multiple occasions.
Stephen Paea: C
Nice job putting pressure on the quarterback but poor job stopping the run. Considering it's his main duty to stop the run he didn't have that great of a game. Can't give up 5.3 yards per rush to Mikel Leshoure.
Henry Melton: B-
A couple good pressures on Stafford including the one to seal the game during the D.J. Moore pick but like Paea got gashed a little in the running game.
Israel Idonije: B
Had a strong game solidifying his end of the field especially on first and second down. Ended the game with a sack.
Shea McClellin: B
The rookie really excels in those obvious passing situations. He made his presence felt early on and proved again his high motor on third and long is very tough to deal with.
Amobi Okoye: B-
Saw a big increase in his snaps from past weeks and proved to be a fresh player who can provide some energy.
Corey Wootton: B
Like McClellin, Wootton has done well showing off his speed and athleticism in those obvious passing downs.
Linebackers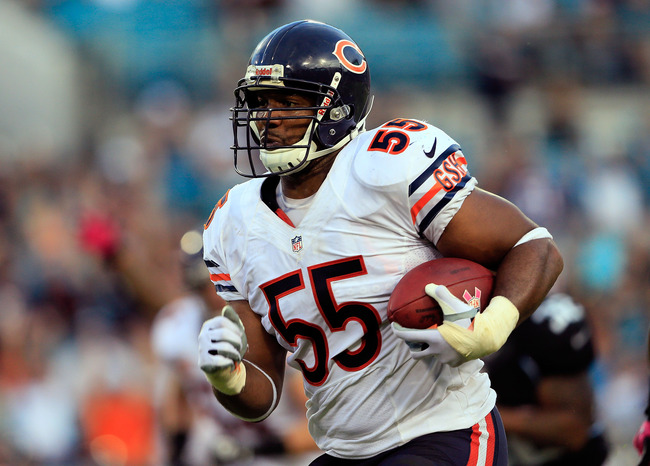 Lance Briggs
Sam Greenwood/Getty Images
Lance Briggs: A
You can make a case Briggs is the best player on this football team right now. He was all over the field and his forced fumble on Mikel Leshoure was an early back breaker for the Lions.
Brian Urlacher: A
Even if Urlacher is not the same athlete he is still one of the smartest players on the field. He made at least four big plays to cut down some key Lions drives just by sniffing out the play.
Nick Roach: C-
Just because Briggs and Urlacher are making all the plays doesn't mean Roach can't contribute. He needs to take a more active role in shutting down the run when he's on the field.
Secondary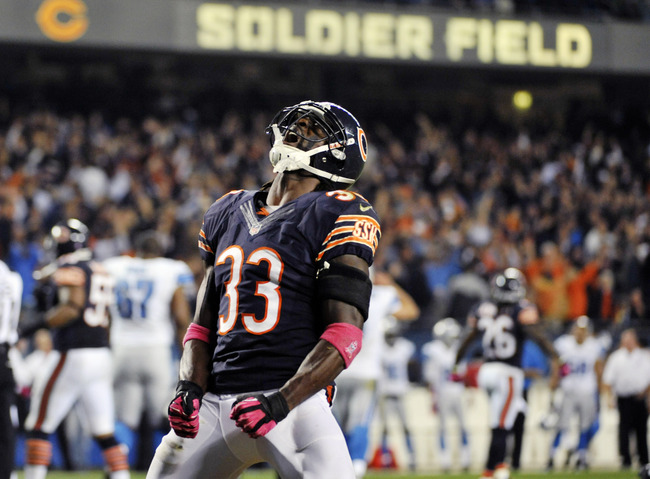 Charles Tillman
David Banks/Getty Images
Charles Tillman: A+
What a great game by the crafty veteran. He owned Calvin Johnson for most of the night and made huge plays to deny him the football. His two forced fumbles were just icing on the cake.
Tim Jennings: B-
With Tillman locking down one side of the field it was up to Jennings to make sure somebody else didn't become a game breaker. He did well against Nate Burleson but struggled to keep up with the smaller Titus Young after Burleson left with an injury.
Kelvin Hayden: B
In somewhat of a surprise, Hayden took over the nickle spot for D.J. Moore. His size was very helpful in certain blitzing packages allowing others to get to Stafford when he blitzed in.
D.J. Moore: B
The benched player came out with the interception to all but seal the game late in the fourth quarter.
Chris Conte: A
Did a nice job playing a deep zone making sure Calvin Johnson did not get vertical. He played the angles well on the run coming up fast often times being 20 yards away from the play.
Major Wright: A
Like Conte, Wright did a fine job playing the two deep zone. Had a couple shots at an interception but overall did will to eliminate the Lions' big play threats.
Special Teams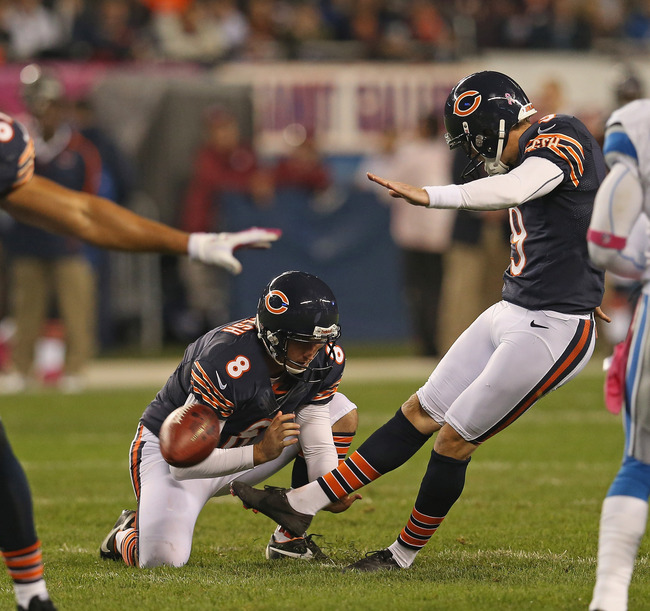 Adam Podlesh & Robbie Gould
Jonathan Daniel/Getty Images
Robbie Gould: B
Can't really blame the blocked field goal on Gould even though it was a very low kick. It's tough to stay perfect forever.
Adam Podlesh: A
Did a great job pinning the Lions deep a couple times. His punts really flipped the field position for the Bears.
Devin Hester: D
Still couldn't get going and really looked frustrated at times.
Eric Weems: B
Got down the field for a couple nice coverage plays and had a decent return when given the shot.
Earl Bennett: D
Had one shot on a punt return and one shot on a kick return. Did poorly on both.
Punt Return: F
Too many penalties that pushed the offense back towards their own goal line. Very uncharacteristic.
Coaching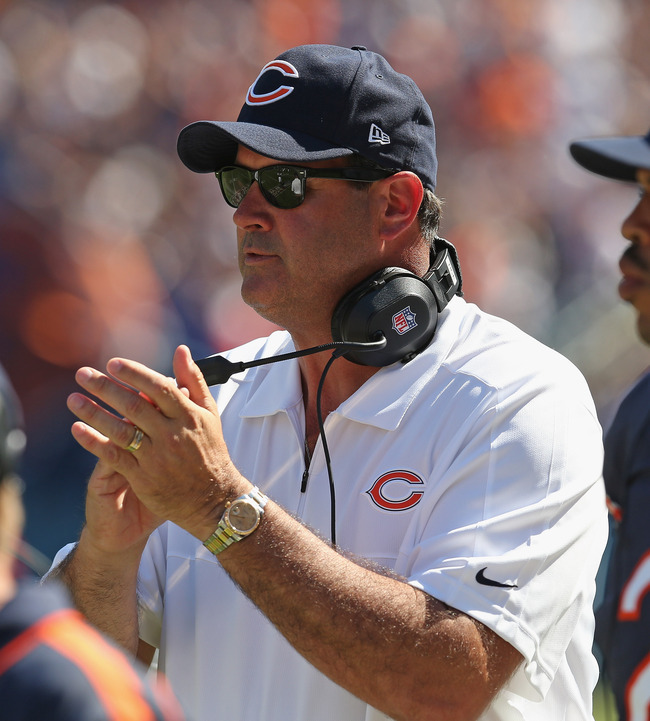 Mike Tice
Jonathan Daniel/Getty Images
Lovie Smith: B
Did the right thing playing it conservative and playing into the hands of his defense. There could have been some serious second guessing if Cutler got even more hurt after leaving with the sore ribs.
Mike Tice: C-
Was hampered in the second half because of Cutler's injury but the protection breakdown is somewhat on him and not running the football three yards from the end zone when you have a quarterback who's hurt was a bad move.
Rod Marinelli: B
Had a terrific game plan against the Lions deep plays and their star receiver Calvin Johnson. His style is to make teams string long drives together to score and right now they just can't do it against the defense.
Keep Reading

Chicago Bears: Like this team?