5 UFC-Style Changes Boxing Must Take to Save the Sport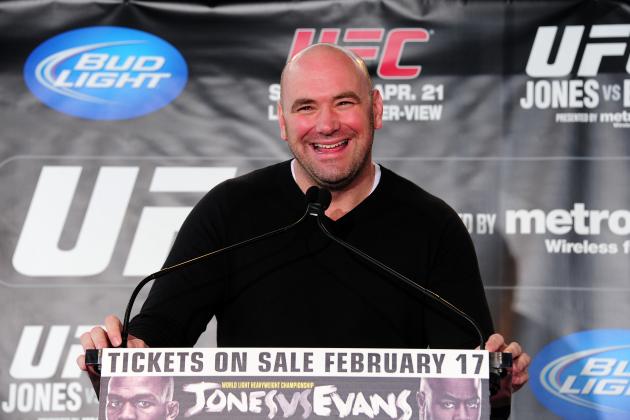 Scott Cunningham/Getty Images
Dana White built the UFC from the ground up and boxing has a lot to learn from him.
For decades, the American combat-sport market was dominated by boxing. Boxers such as Muhammad Ali, Sugar Ray Leonard, Mike Tyson and even Oscar De La Hoya weren't just big names within the sport, they were big names in all of sports.
In recent years that mantle has been achieved by a few fighters, most notably Floyd Mayweather Jr. and Manny Pacquiao, but the sport overall has been in decline.
As boxing has receded, mixed martial arts have been on the rise. The market is dominated by the Ultimate Fighting Championship, started and owned by Dana White, which has significantly eaten into a fanbase once dominated by boxing.
There are many reasons for boxing's decline and MMA's rise, but here are five ideas that boxing itself could adopt, and help the sport regain its former prominence.
Begin Slideshow

»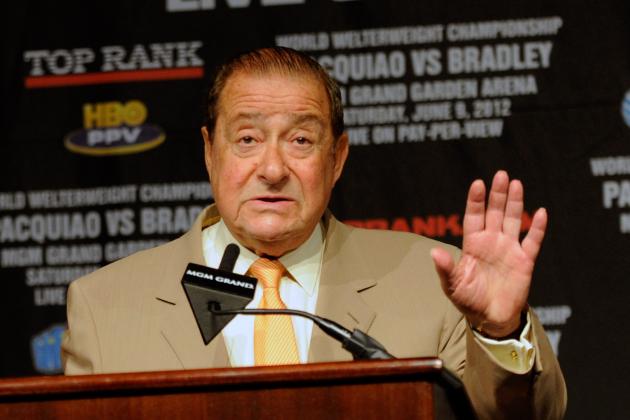 David Becker/Getty Images
Bob Arum is the most noted offender, but he's not alone.
Top Rank, DiBella Entertainment, Golden Boy Promotions, Square Ring, Don King, Bob Arum and on and on we go.
One thing that UFC has figured out to a science is the art of promoting its brand. And it's a singular brand. Every fighter who gets the call to join the UFC competes under the same banner. There is none of the sort of nonsense that exists in boxing and constantly derails big fights.
In the UFC Dana White is the sole promoter. Everyone works for him. Joe Silva, along with White, makes, schedules and signs the matches.
And you fight who they say you fight, or you don't work for them.
It means that promoters can't protect their cash-cows and fighters can't duck each other.
In boxing today, Top Rank and Golden Boy Promotions have, between them, many of the world's top fighters under contract. But if they work for the opposing company, they'll never see the inside of a ring together. They could be the top fighters in their division, hell even the top two in the world, and it just won't happen.
This is one of the primary reasons that boxing fans have yet to see Floyd Mayweather and Manny Pacquiao square off in the ring. It's why Abner Mares and Nonito Donaire won't fight.
The UFC system is built so this would never happen.
This may not seem practical for boxing, at least in its current form, but would certainly improve the quality of fights, fighters and the sport as a whole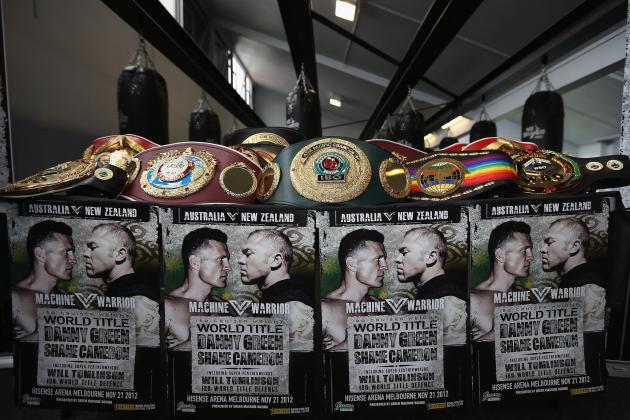 Sandra Mu/Getty Images
That sure is a lot of hardware.
WBC, WBA, IBF, WBO, NABO, NABF, IBO, NABC, NABA, Continental Americas, FECARBox.
Interim champion, super-champion, silver champion, gold champion, champion in recess.
This bout is for the interim WBC Continental Americas silver championship in recess.
The UFC? One champion per weight. And you always know who it is.
It has gotten to the point that boxing championships are largely meaningless. The biggest name fighters don't even seem to care about them anymore, often vacating them to make more meaningful fights.
Somehow, the sanctioning bodies, who are equally as corrupting, if not more so, than promoters have managed to ensure that every fighter who has ever stepped into the ring holds a title.
It's not bad enough that fans hardly have a clue who the real world champion is, since everyone holds some title, but then they come up with these ludicrous rankings and force fights to the public that are often lopsided and ridiculous.
Perfect example. Alexander Povetkin is the WBC "regular" champion. I guess that makes Vitali Klitschko the irregular champion? He only holds a title so the sanctioning bodies can charge both him and Vitali a fee to defend their belts. Otherwise it's completely meaningless.
To defend his farce of the belt, he was forced last month to defend against mandatory challenger, Hasim Rahman. Rahman who was nearly 40, badly out of shape, and hadn't won a fight of significance in more than a decade.
This type of nonsense kills the sport. The Ring Magazine has tried to rectify it by presenting one fighter per class as their champion.
It's time we make that the official, not just de facto, gauge of championship quality.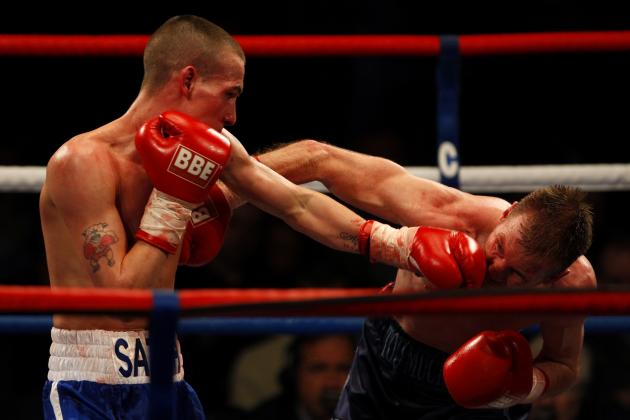 Dan Istitene/Getty Images
Quick, what's the weight limit at super flyweight?
What's a super flyweight? I say that partially tongue in cheek because I am one of the few who can immediately tell you it's a fighter who competes at 115 pounds. But the average joe doesn't know that, and why should he?
Boxing has 17 weight divisions. Count 'em, 17. And with all the belts in those divisions, that means that 11,453 guys can rightfully claim to be recognized by a sanctioning body as a world champion.
The UFC currently recognizes eight divisions. And this is for a practical reason. Fewer weight divisions means more possibilities for fights.
Many have rightfully criticized the seemingly arbitrary nature of many boxing weight divisions. The only really statistically significant weight jump is from light heavyweight (175 pound limit) to cruiserweight (200 pound limit). Other than that most divisions are separated by anywhere from 4-7 pounds.
Most fighters come down in weight in order to compete in their chosen division. In a recent interview I conducted with cruiserweight contender BJ Flores, he commented that he walks around outside the ring at 215 pounds, and then cuts weight to the 200 pound limit in training camp.
This is the case with many fighters. They weigh-in at the weight limit for their division, rehydrate and walk into the ring 10-15 pounds heavier.
It's time for boxing to say sayonara to some of these weight divisions. Make the sport more compact, and open up possibilities for better fights.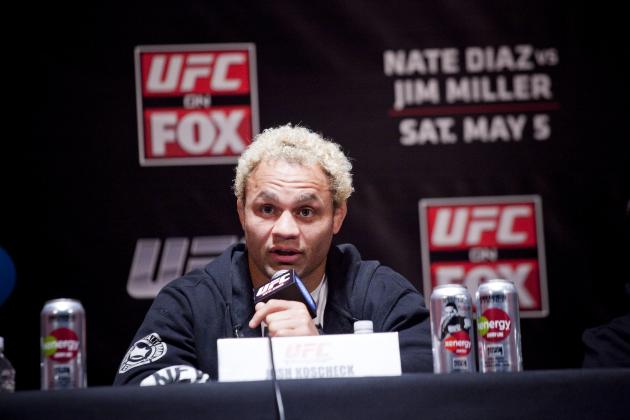 Michael Nagle/Getty Images
What's that? Big fights on FREE TV?
In recent years boxing has been largely relegated to the cable networks HBO and Showtime. If you don't subscribe to those networks, or heaven forbid don't have cable, you are out of luck.
UFC, on the other hand, has recently made investments and deals to bring their product mainstream by televising fights on regular television networks. Anyone with a television can tune in and get an idea what the sport has to offer.
Are they always the best fights? Not at all. But they're the hook. They're intended to spark your curiosity and make you want to see more. Next thing you know you're tuning in more and open your cable bill to see a UFC PPV charge on there.
When was the last time you saw boxing mentioned, in a positive way, on any of the regular news channels? Even huge fights aren't given 20 seconds of air time during the sports segment.
That's because boxing has done a poor job of promoting itself in the mainstream. The networks have no stake in the sport and aren't in the business of free publicity.
In their last free card, on Fox, UFC gave away fights featuring Shogun Rua, Lyoto Machida, Ryan Bader and Brian Vera. They upped the ante by letting viewers know that the most impressive winner that night would be in line for a title shot against the singular light heavyweight champion, Jon Jones.
When was the last time boxing ever did something like this? It's been a really long time. And it needs to become a priority.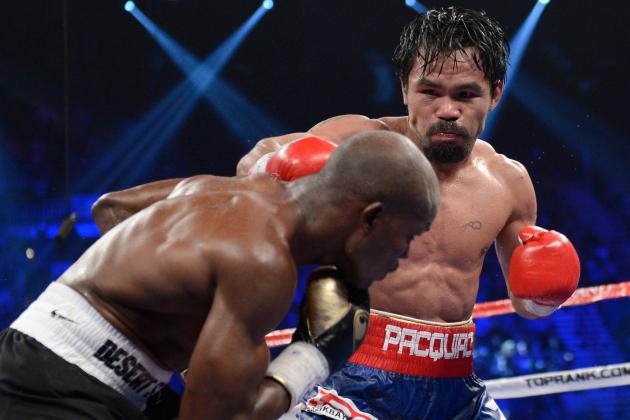 Kevork Djansezian/Getty Images
Pacquiao vs. Bradley had a terrible undercard.
Sixty bucks is a lot of cash to dole out when you don't know what you'll get for that money. You might get a night of epic fights, stunning knockouts and great battles, or you might get squat.
This is especially true given that boxing promoters are increasingly asking you to throw that money down, with only one fight on the card worth paying to see.
Guys like Floyd Mayweather and Manny Pacquiao will always do just fine at the PPV level. They have those names that just sell on their own.
But can you even name me the co-featured fight on the Pacquiao-Bradley undercard? Quickly now.
If you guessed Mike Jones-Randall Bailey, and then said why the hell was that a PPV fight, you are correct on both counts.
Boxing promoters should feel an obligation to provide you some bang for your buck. PPV cards used to be full of big fights, championship defenses (by legitimate champions) and exciting young fighters.
Nowadays you're lucky to get one decent fight on a PPV card. And it's not just that they're good fights on paper that turn out to be duds. That happens and it happens in UFC too. But generally speaking UFC cards are matched up better, with more compelling fights.
In other words, most times when you purchase a UFC PPV, even if the main event stinks, you can point to at least one other fight that made it better.
In boxing not so much. Now in fairness, Golden Boy Promotions has recently tended to be making an effort at providing quality undercards. You could easily argue even that the main event of their recent Showtime card, Alvarez-Lopez, was the least exciting fight of the night.
And that's exactly what the UFC does, and it's something boxing needs. If you want my 60 bucks, make it worth my while.