Chicago Bears Players Off to the Best and Worst Starts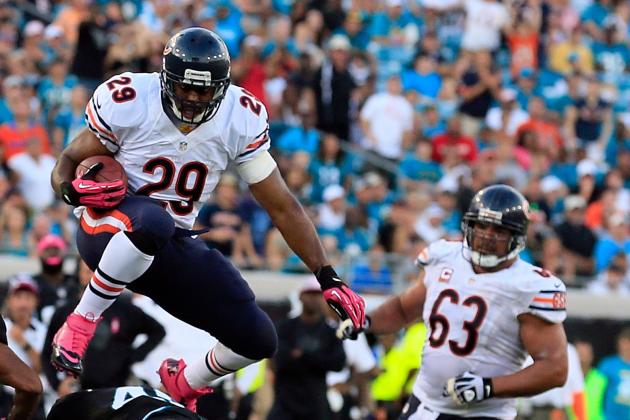 Sam Greenwood/Getty Images

The Chicago Bears are off to a hot start, sitting in sole possession of first place after the first six games of the 2012 NFL season. They have certainly had their high points as well as their low ones, from 41-3 blowout wins over Jacksonville to 23-10 losses to their archrival Green Bay Packers.
The Bears have done well so far, with certain players outperforming others. That's not to say that the team is doing poorly, or that the team needs to step up and play better; it's simply stating that there are players on the Chicago Bears who have not performed up to their full potential thus far.
On the other side, there are players on the Chicago Bears who have performed better than expected, players that have gone above and beyond what was expected of them so far this season.
There have been players who have been the best on the team, and some players who have been the worst considering what they were supposed to do coming into the season.
Begin Slideshow

»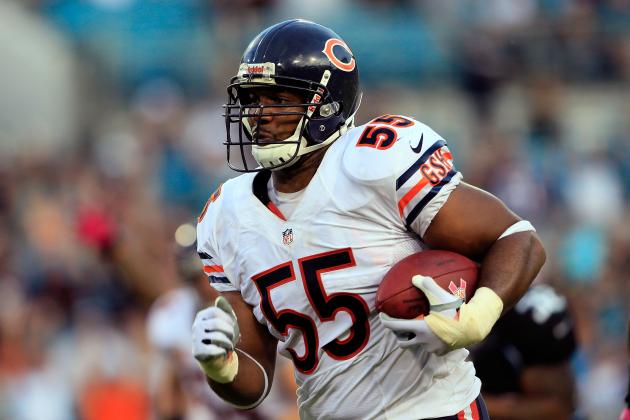 Sam Greenwood/Getty Images

Lance Briggs has been hot as of late, but the linebacking corps as a whole has been absolutely outstanding so far this season. The Bears lead the league in points per game allowed (14.2), rush yards per game allowed (65.8) and takeaways (17).
Without the help of Brian Urlacher and Lance Briggs, the Bears would not be where they are today.
Briggs has been an absolute animal so far this season, with 29 tackles, one sack, one recovered fumble and two interceptions returned for touchdowns. Briggs has easily been one of the best players on the team so far, and he shows no signs of slowing down.
Brian Urlacher has been unstoppable as well. Urlacher came into this season looking like he was going to be a bit slower than usual, with his surgeries this offseason and the fact that he didn't play a single down in any preseason game.
His play so far, however, has been better than expected. Urlacher has 20 tackles so far this year, an average of four per game. He is showing that even as he gets older, he isn't slowing down or showing signs of deteriorating as a leader on this team.
Because of the linebackers, the defense has been better than they have in recent years, and that is why the linebackers have been one of the best parts of the Bears so far this year.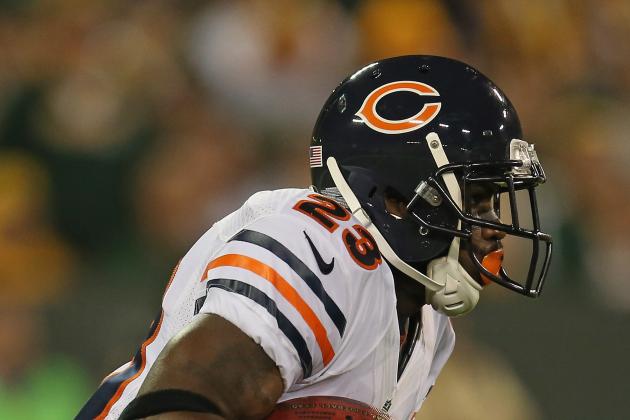 Jonathan Daniel/Getty Images

Hester has been solid at receiving this season, and he has been somebody that Cutler can throw the deep ball to in the last few games. His return game, however, has taken a big hit this season.
Hester is averaging under eight yards per return this season, and he has just one return of 20-plus yards. He has yet to return one for a touchdown, and he hasn't even broken 90 punt return yards for the entire season yet.
Hester has been a huge disappointment so far in returning punts this year, and he needs to step up to give the Bears a boost on offense. If he returns better, then the offense can get better starting field position, put more points on the board in the first half and stop relying on the defense to keep them in games until the second half.
There has been a lot of talk about how Hester has to run sideways to try to find an opening, and that he doesn't have the same special teams unit that he used to have. However, at some point the excuses have to stop and results have to come.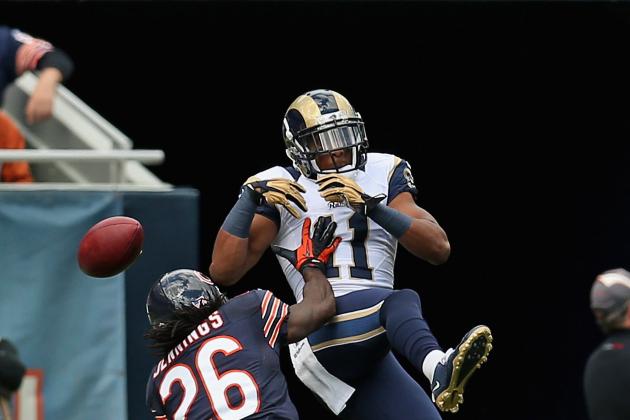 Jonathan Daniel/Getty Images

Tim Jennings provided the first spark for the Bears on defense this season, and he has shown why the secondary of the Chicago Bears is a force to be reckoned with this year.
Jennings has four interceptions and 22 tackles so far this season, and he was awarded the Defensive Player of the Month Award for the month of September. Jennings has been a permanent player who the Bears can rely on so far, he and continues to be a part of this amazing defense.
At the beginning of training camp, Jennings jumped in front of 6'5" Brandon Marshall and intercepted the ball, and made players, fans and coaches all alike turn their heads and notice him. If he continues this run, who knows where Jennings can take himself, and his team, this season?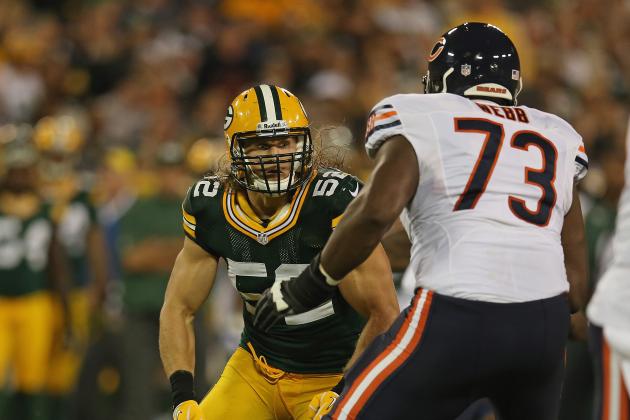 Jonathan Daniel/Getty Images

Webb has been better as of late. However, his stats on the season have not been great through the first five games, and he needs to improve if the Bears want to become better this season.
Webb has given up 3.5 sacks so far this season, which wouldn't seem like a lot except for the fact that he is supposed to protect the blind side of quarterback Jay Cutler.
Every time Cutler gets hit from his blind side, he gets worried and is more and more susceptible to throwing crucial interceptions instead of stepping up in the pocket and making the throws that he needs to.
Like I said, Webb has been better of late, and there is a direct correlation in the better play from Cutler because of it. However, there is still a tremendous amount of pressure on him to perform. Now if he gives up any sacks, people will know the name and get upset even more quickly with him than before, which could cause a problem in the offense. Webb just needs to get his blocking assignments down, and he will be just fine the rest of the season.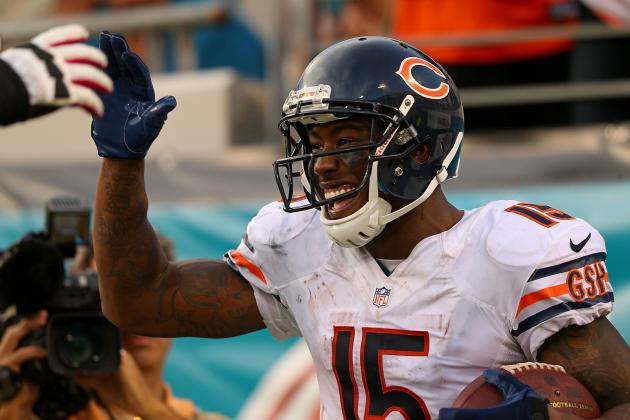 Mike Ehrmann/Getty Images

With how well the offense has been playing lately, there had to be one offensive player on the best list, right?
Brandon Marshall came to Chicago with nothing but praises for the city, its fans and the team that he was going to be playing for.
Fans saw him as a way for Jay Cutler to catapult into the elite conversation amongst quarterbacks in the NFL. Coaches saw him as depth to a position that was quite thin in years past, and Cutler saw a great friend and even better teammate coming back into his life after years of being apart.
Marshall has been all of this, and then some.
Marshall has 496 yards receiving and three touchdowns on 35 receptions. He has been a positive influence and good role model for rookie wide receiver and fellow teammate Alshon Jeffery, and he hasn't had an attitude problem since being in Chicago.
Marshall has done everything right for the Bears, proving Phil Emery and the front office smart for bringing him to help them out. Marshall is putting up great numbers so far, and he looks like he doesn't have any plan of slowing down.