The Baltimore Orioles are already in a place where they haven't been in 15 years, as they qualified for the postseason for the first time since they won the AL East in 1997.
If things go their way, the Orioles will soon find themselves in a place they haven't been since 1983—the World Series.
The O's won it all the last time they went to the Fall Classic, dispatching the Philadelphia Phillies in five games. Cal Ripken, Jr. was only 22 years old and already a star player, and Scott McGregor was Baltimore's top pitcher with 18 wins.
At first glance, this year's Orioles club doesn't appear to be as strong as the 1983 club, which won 98 games during the regular season in addition to the World Series. The 2012 O's are a quality ballclub, but it's been oft noted over the last few months that they don't look particularly strong on paper; especially not when compared to a team like the 1983 O's.
Then again, what's the harm in actually putting a claim like that to the test? Just for kicks, here's a look at how the 2012 Orioles measure up against the 1983 Orioles.
It's time for an immediate discussion.
Starting Pitching
Starting pitching has been pointed out as the major weakness of the 2012 Orioles, and rightfully so. Though the club's starting pitching did settle down late in the year, Orioles starters compiled an unspectacular 61-58 record and a 4.42 ERA that ranked 21st in MLB throughout the course of the season.
It wasn't a train wreck along the lines of, say, the Colorado Rockies' starting pitching, but Baltimore's starting pitching was at best a middle-of-the-road unit this season.
For much of the season, reliable starters were hard to come by for the Orioles. Only Wei-Yin Chen made more than 30 starts, ultimately ending the year with a 12-11 record and a 4.02 ERA. No other Orioles starter made more than 20 starts, and in the end, Buck Showalter had used 12 different starters throughout the course of the season.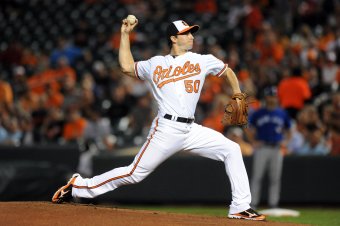 Mitchell Layton/Getty Images
Still, Baltimore's starting rotation was (and still is) home to some hidden gems. Jason Hammel was solid when he was healthy, posting a 3.43 ERA in 20 starts. Former top prospect Chris Tillman went 9-3 with a 2.93 ERA in his 15 starts. Unheralded right-hander Miguel Gonzalez went 8-3 with a 3.53 ERA in his 14 starts. Joe Saunders posted a 3.63 ERA in his seven starts after he was acquired from the Arizona Diamondbacks, and he pitched the Orioles to a win in the AL Wild Card Game against the Texas Rangers.
Quality starting pitching was at the core of the impressive run the Orioles went on in September and October, as O's starters posted a 3.56 ERA while the club went 20-11 in its final 31 games. Had Orioles starters remained mediocre, it's doubtful that the club would still be playing baseball right now.
As good as Baltimore's starting pitching was down the stretch, however, this year's club doesn't come close to measuring up against the 1983 Orioles in the starting-pitching department. The old Orioles teams are practically synonymous with great starting pitching, and the 1983 club definitely fits the mold.
O's starters combined to go 74-51 with a 3.71 ERA in 1983, ranking second in MLB in wins and eighth in ERA.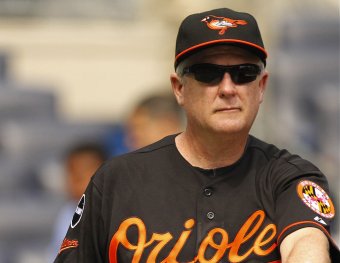 Michael L. Stein-US PRESSWIRE
As mentioned above, it was Scott McGregor who led the way. He started a team-high 36 games, and he won half of those while posting a 3.18 ERA and pitching 260 innings. He ultimately finished sixth in the AL Cy Young voting.
Storm Davis also topped the 200-inning plateau, winning 13 games with a 3.59 ERA. Mike Boddicker, then in his first full major-league season, went 16-8 with a 2.77 ERA in 26 starts. He pitched a team-high five complete-game shutouts.
To put that in perspective, this year's Orioles starters combined to pitch exactly one complete-game shutout (hat tip to Mr. Hammel).
The only starter the Orioles used in 1983 who didn't have a good year on the mound was Dennis Martinez, who went 7-16 with an ERA well over 5.00. However, he was doing a lot less damage by the end of the year, as manager Joe Altobelli was using Martinez sparingly as a reliever/starter hybrid.
Baltimore's starters played a major role in the club's success in October that year as well, earning victories in six of the seven games the Orioles won in the 1983 postseason.
I'd say this discussion is pretty one-sided.
Edge: 1983 Orioles
Relief Pitching
Whereas people were complaining about Baltimore's starting pitching pretty much all year, the O's haven't given anybody reason to complain about their relief pitching this year.
The O's had one of the best bullpens in baseball this season, as O's relievers combined for an ERA of an even 3.00 that ranked fifth in all of baseball. O's relievers won more games, posted more saves and lost fewer games than any other team in the American League.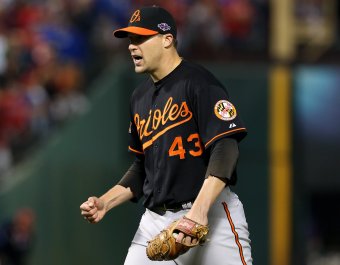 Ronald Martinez/Getty Images
They have Jim Johnson to thank for the saves, as he led MLB with 51 of them. He only blew three saves all season while posting a 2.49 ERA and holding hitters to a .220 batting average and a .284 slugging percentage. His power sinker was death on opposing clubs' power hitters.
To boot, the bridge to Johnson was very strong in 2012. Troy Patton, Luis Ayala, Darren O'Day and Pedro Strop all logged over 50 appearances, and all four of them posted ERAs under 3.00.
When Baltimore's bullpen started showing some signs of wear and tear at the end of the year, Brian Matusz came along and helped stabilize things by posting a 1.35 ERA and a .114 opponents' batting average in 18 appearances between August and September.
When Showalter's bullpen perhaps should have been breaking down at the end of the year, it actually stayed strong. In September and October, Orioles relievers posted a 2.76 ERA and compiled a 10-1 record.
Though we're certainly talking about a different era of baseball, the 1983 Orioles had a bullpen that wasn't quite as strong as the 2012 club's bullpen. O's relievers ended the 1983 season with a 3.49 ERA, good for 11th in MLB.
Sammy Stewart and closer Tippy Martinez (hooray for baseball names!) were the only relievers who logged more than 50 appearances for the Orioles in 1983. Tim Stoddard came close by logging a total of 47 appearances, but he did more harm than good with a 6.09 ERA and 1.63 WHIP.
Martinez was undoubtedly Altobelli's top reliever, as he finished the year with a team-high 65 appearances and 103.1 innings pitched. He had an unspectacular 2.19 strikeout-to-walk ratio and he allowed 10 home runs throughout the course of the season, but he finished with nine wins and 21 saves to go along with a 2.35 ERA.
The 1983 club didn't rely on its relievers too much in large part because it didn't really have to. Orioles starters handled over 1,000 innings in 1983, whereas Orioles starters this season handled just south of 940 innings.
It's a good thing this year's club had such a good bullpen. It truly needed one.
Edge: 2012 Orioles
Offense
The 2012 Orioles finished in the middle of the pack with 712 runs scored this season, but that's a little misleading. Consistency was not a strong suit of the 2012 club's offense, but it was an offense that opposing pitchers were wise to fear.
The primary weapon of the Orioles' offense was the long ball. Only the New York Yankees hit more home runs than the Orioles in 2012, and it was a collective effort. The Orioles had five players—Adam Jones, Chris Davis, Matt Wieters, Mark Reynolds and J.J. Hardy—finish the season with more than 20 home runs.
Davis led the way with 33, and 10 of those came in September and October. Jones was right there with him with 32 home runs, and his homers tended to come in key situations. He hit eight home runs in the eighth inning or later, including four in extra innings.
Most of Baltimore's home runs came in the second half of the season, when they finished tied for third among AL clubs with 108 homers. Nate McLouth and Manny Machado came on late in the season to combine for 14 home runs.
Power hitting was very much the name of the game back in 1983 as well, and the Orioles hit for power better than any other team in baseball that year. The O's led the MLB with 168 home runs in 1983, and they finished second in runs scored behind the Chicago White Sox.
Eddie Murray hit over 30 home runs for the third time in four years in 1983, finishing with a team-high 33 long balls. Of those, 20 came in the second half of the season, with nine of those coming in September and October.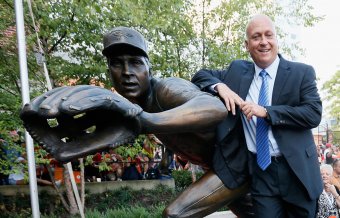 Rob Carr/Getty Images
Ripken finished the 1983 season with 27 homers and a team-high 47 doubles. Nobody else finished with more than 30 doubles.
Perhaps the most impressive power hitter on Baltimore's roster that year was Gary Roenicke. He played in only 115 games and collected only 84 hits, but 19 of those were home runs.
The 1983 Orioles may not have hit as many home runs as the 2012 Orioles, but one area where the 1983 club has the 2012 club beat is slugging percentage. The 1983 O's slugged .421. The 2012 Orioles slugged .417 during the regular season.
Furthermore, the 1983 club combined to post an OPS+ of 111. The 2012 club bears a collective OPS+ of 97, which may be a byproduct of the fact that Oriole Park at Camden Yards played like a bandbox in 2012.
It's a close call, but the 1983 club gets the edge here.
Edge: 1983 Orioles
Swagger
The 2012 season marked Buck Showalter's second full year on the job in Baltimore, and his fingerprints are all over this year's Orioles team.
For much of the season, people were pointing to the Orioles as overachievers. Their primary complaint was over Baltimore's lackluster run differential, which was in the red for a good portion of the year.
The O's ended the season with a positive run differential, but that didn't save them from finishing the season with a less-than-stellar Pythagorean record. Mathematically, the Orioles should have won only 82 games this season.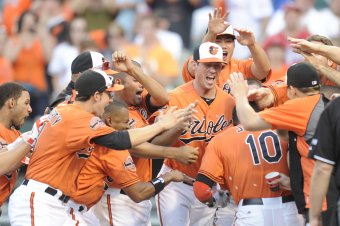 Mitchell Layton/Getty Images
The O's won 93 games because there were a lot of games throughout the course of the season that they simply refused to lose. They had a knack for winning the close ones in particular, ultimately ending the year with a 29-9 record in one-run games. Just as impressive, they went 16-2 in extra-inning games.
Baltimore's "never-say-die" attitude didn't go away when people were looking for them to go away late in the season. From the first of August until the end of the season, the Orioles went 38-20.
The 1983 Orioles, meanwhile, were still very much an Earl Weaver team even though Altobelli was in his first year at the helm. Their success was based around pitching and power hitting, and they had no time for silly things like stolen bases.
Just like the 2012 club, the 1983 club finished the season strong, going 39-24 in the last couple of months of the regular season. Where the 1983 club differs from the 2012 club, however, is that the 1983 team never really strayed into mediocrity. The '83 Orioles didn't have a single month in which they finished at or below .500, and they were in first or second place for all but one day from June 1 straight through to the end of the season.
One-run games weren't the 1983 team's forte, as it went just 20-19 in such contests. They much preferred the blowout, winning a grand total of 33 blowout games. The 2012 Orioles, by comparison, won only 25 blowout games.
I'd thus classify the 1983 Orioles as a dominant team, with the 2012 Orioles being more of a pesky team. The swagger call is a judgment call, but I'm of the mind that it requires a lot more swagger to be the pesky underdog than it does to be dominant.
Edge: 2012 Orioles
The Grand Conclusion
Full disclosure: I was born four years after the Orioles won the World Series in 1983. I feel like I know them well after having done my research, but I can't sit here and claim that I remember what their World Series run was like from a personal perspective.
But don't worry. I'm not going to sit here and rant and rave about how the 2012 club is so much better than the 1983 club. I can't make that claim because, well, I'd rather not make everyone start head-desking while cursing my stupidity.
The 1983 Orioles deserve the benefit of the doubt because, obviously, they did something that the 2012 O's haven't done yet, and that's win the World Series. Before that, they won 98 games during the regular season, five more than the O's won during the regular season this year.
Plus, if you buy into the Pythagorean formula, the 1983 club's Pythagorean record tells us that its record was no fluke. The 1983 Orioles had all the makings of a truly elite team.
The 2012 Orioles, on the other hand, belong more in the "up-and-comer" category. They had an excellent year and were fueled by some scrappy young players, but the 2012 season feels like a precursor to better things to come. Perhaps the O's will be an elite team when Machado develops into an elite player and Dylan Bundy develops into an elite pitcher.
On the bright side, O's fans probably won't have to wait very long for this elite team to arrive if all it's waiting on is Machado and Bundy. All the other pieces are in place.
For now, the 1983 Orioles shall remain the last truly great team the Baltimore faithful got to witness.
Edge: 1983 Orioles
Note: Stats courtesy of Baseball-Reference.com unless otherwise noted.
If you want to talk baseball, hit me up on Twitter.