Dallas Mavericks Training Camp Report: Latest News and Preseason Predictions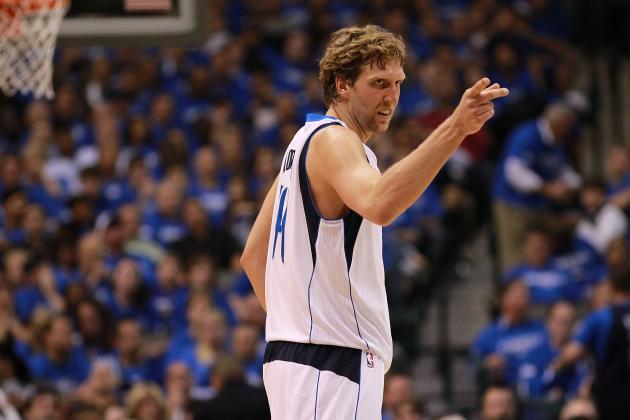 Ronald Martinez/Getty Images

The Dallas Mavericks started training camp a little earlier than the rest of the league to prepare for the 2012-2013 season. That early start is for their preseason tour abroad, when they hit star Dirk Nowitzki's homeland Germany and then Spain.
After winning a sloppy game against Alba Berlin in this new look group's first game action, the Mavericks look to wrap up international action against FC Barcelona.
With so many new faces and the window on Nowitzki closing, can this group of youngsters band together in time to make a playoff run? OJ Mayo and Darren Collison certainly have the talent, but with the Western Conference now loaded up, it's going to take more than talent to dispatch the West's best.
Here's a comprehensive look at everything going on in Mavs nation, including injury updates and predictions for Dallas' first season without Jason Terry since 2004.
Begin Slideshow

»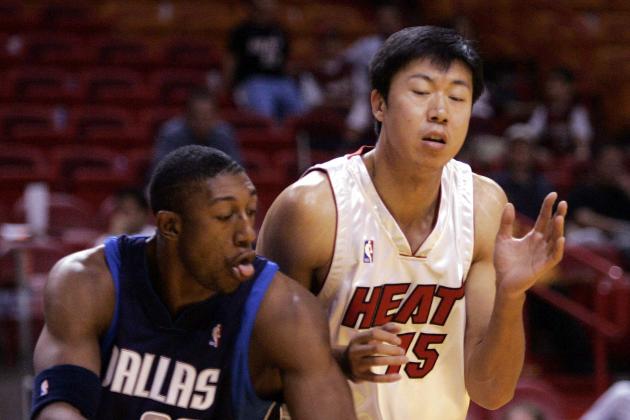 Eliot J. Schechter/Getty Images

Update: Oct. 25, 2012 by Stephen Babb
The San Antonio Spurs' loss became the Dallas Mavericks' gain on Thursday when they acquired Eddy Curry after he was waived by the club's neighbors to the south. ESPN Dallas' Tim MacMahon reports that the center's addition likely means the end of the road for embattled guard Delonte West.
McMahon cites sources who believe the organization is working to part ways with West, either via waiver or buyout. The Mavs suspended the 29-year-old for a second time this month, once again making vague reference to "conduct detrimental to the team."
Drama aside, Dallas certainly could use the depth up front. Chris Kaman and Dirk Nowitzki are both dealing with injuries, so another seven-footer would give coach Rick Carlisle a bit more to work with.
It's been a busy offseason for the Mavericks, so it's only fitting for some last-minute action with the season opener just around the corner.
---End of Update---
Update: Oct. 17, 2012 by Stephen Babb
So much for that indefinite suspension. The Associated Press reports the Dallas Mavericks have already reinstated Delonte West after the guard met with head coach Rick Carlisle and president of basketball operations Donnie Nelson.
That makes for a suspension of just one day.
Given how little the club has disclosed about what happened, one can only assume the suspension was either premature or just an attempt to make a firm statement. Either way, Dallas' limited backcourt depth means life without West wouldn't have been easy.
---End of Update---
Update: Oct. 16, 2012 by Stephen Babb
As if concerns about Dirk Nowitzki's knee soreness weren't enough to dampen the Mavs' otherwise positive preseason vibes, Delonte West's suspension certainly won't help. ESPN Dallas' Tim MacMahon reports that the organization has had enough with the guard's most recent antics:
Sources told ESPNDallas.com that West's suspension stems at least in part from an outburst in the locker room after the Mavs' 123-104 preseason win Monday over the Houston Rockets. He had 2 points, 2 assists and 1 rebound in 16 minutes during the win.
Whatever the reasons behind West's indefinite absence, the effect on Dallas' rotation could be troubling if this becomes an extended ordeal.
Rodrigue Beaubois reasons to pick up some of the slack if West isn't back soon, but he's dealing with a sprained ankle at the moment. That leaves Dallas with precious few options behind starting point guard Darren Collison.
---End of Update---
Roster Moves
After bringing in former Mav DJ Mbenga to camp on a non-roster basis, the Mavs released him, and Tu Holloway as well, before the trip to Europe.
The roster now sits at 16 players, with one more move to be made before the regular season limit of 15 is required.
Latest News
Dallas first game against Alba Berlin, in Germany, was a tight one. In the 89-84 victory, the Mavs looked rusty and at times careless, turning the ball over 27 times before squeezing out the close win.
Darren Collison, Vince Carter and Chris Kaman led the way for Dallas with 14 points a piece. Collison looked to be quite the player as advertised in Indiana and New Orleans, running the offense with good pace and showing his quickness with the ball.
After the NBA's new flopping rules were imposed, Dirk Nowitzki was adamant that the rule is ridiculous and takes some of the sport out of the game.
Dirk called the rule "a bunch of crap" and it will be interesting to see what kind of impact it has on a player like Dirk. Not known to flop on defense, Nowitzki certainly has the ability to make the officials see a foul when there's very little contact on offense.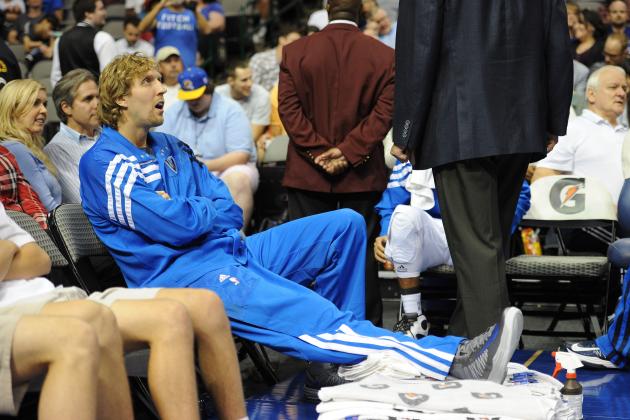 Jerome Miron-US PRESSWIRE

Update: Oct. 22, 2012 by Stephen Babb
We're still early into Dirk Nowitzki's recovery from arthroscopic knee surgery, but there's already word that he'll be back in action sooner than previously expected according to ESPN Dallas' Tim MacMahon:
The Dallas Mavericks are optimistic that star power forward Dirk Nowitzki's return from arthroscopic surgery on his right knee will be closer to three weeks than six weeks, multiple sources said.
Dallas really couldn't have hoped for better news. The early goings will still be rough on head coach Rick Carlisle's re-tooled roster, but they won't have to fend for themselves for long.
The 34-year-old Nowitzki is coming off a slightly down season, at least by his standards. By getting this surgery out of the way and laying the foundation for a pain-free season, he should be able to bounce back in fine form.
---End of Update---
Update: Oct. 19, 2012 by Stephen Babb
It may not be the best of news, but we finally have some closure regarding Dirk Nowitzki's knee (via the Dallas Mavericks' official Twitter feed):
Dirk Nowitzki underwent arthroscopic surgery to his right knee. He is expected to resume on-court activities within approximately 6 weeks.

— Dallas Mavericks (@dallasmavs) October 19, 2012
The downside of that six-week absence is that the Dallas Mavericks won't have much margin for error this season in their push for the playoffs. A seventh seed in 2011-12, the roster has almost certainly improved, but it will still struggle to keep up with the likes of the Lakers, Thunder, Spurs, Nuggets and Clippers.
Digging a hole in the standings early on could make for a stressful attempt to catch up later in the season.
On the bright side, Dirk's absence will create an opportunity for a roster full of new faces to develop an identity and some self-reliance.
---End of Update---
Update: Oct. 16, 2012 by Stephen Babb
Well, so much for that respite from worrying about Dirk Nowitzki's sore knee. Though the power forward returned to practice on Friday, the swelling in that knee returned shortly there after.
That leaves the possibility for surgery wide open (via ESPN Dallas' Tim MacMahon):
"I'm doing everything I can not to have surgery," Nowitzki said Monday after sitting out a second consecutive preseason game due to the knee. "I guess that's obvious that I really don't want it done now. If I want to do it, I would love to do it after the season, get through the season somehow, but the swelling came back three or four times now. That's obviously not good news.

"If it's going to keep swelling up on me, that's obviously not a way to go throughout an 82-game season and hopefully long playoff run."
MacMahon also reports that in the event the Mavs go forward with the surgery option, recovery could take between three and six weeks. That's hardly ideal for a would-be playoff team in this ever-competitive Western Conference, but it's preferable to a season-long battle with knee pain.
---End of Update---
Update: Oct. 12, 2012 by Stephen Babb
For now, those concerns over Dirk Nowitzki's sore knee appear to have subsided (via Mavs.com's Earl K. Sneed):
Rick Carlisle says Dirk Nowitzki (right knee effusion) was a full participant in today's practice.

— Earl K. Sneed (@EKS_MavsNBA) October 12, 2012
If last season's experience is any indication, Dirk may not be out of the woods just yet. But if he's on the floor and practicing, chances are the team isn't too worried. Given that just days ago Nowitzki was speculating about the possibility of surgery, the almost-immediate return to action is more than encouraging.
---End of Update---
Update: Oct. 10, 2012 by Stephen Babb
It's nothing too serious for now, but the Mavericks are keeping a close eye on Dirk Nowitzki's sore right knee (via the Dallas Morning News' Eddie Sefko):
"We'll see how it responds," [Nowitzki] said. "But the longer we wait, obviously the worse it is. If we have to do something, it'd be better to do it quick.

"But we're still hopeful that this is a temporary thing. If we relax and rest it for a week and see how it goes, then we'll have a better idea."
Though the possibility of surgery still looms, it would likely be a minor arthroscopic procedure with a modest recovery time. Missing Dirk for any period of time is hardly appealing, especially given what promises to be another season in which making the playoffs will be a struggle in its own right.
At the same time, the organization will do whatever it needs to if it means preventing a nagging problem from plaguing the star forward throughout the year. Nowitzki remains the Mavs' first option on offense and one of the very best all-around scorers in the league.
---End of Update---
It's been a tumultuous first couple of weeks for the Mavs, who've seen Chris Kaman, Brandan Wright and now Rodrigue Beaubois go down.
The first two aren't considered serious, but Roddy B wasn't able to return to the game against Alba Berlin after landing awkwardly on his foot towards the end of the third quarter. Here's the Twitter report from Mavs beat writer Earl K. Sneed:
It's a left ankle injury and Roddy Beaubois will not return.

— Earl K. Sneed (@EKS_MavsNBA) October 6, 2012
Earlier in camp, Chris Kaman went down with an apparent back injury, but it was not serious enough to keep him out of the game against Alba Berlin.
Brandan Wright, the PF/C who had a comeback year as an enforcer off the bench last season, left the second practice of the year with some quad issues.
Although it's not considered serious, Wright didn't play against Berlin. We'll continue to monitor his status going forward, since he's considered to be one of the contributors who needs to step up off the bench for this team going forward.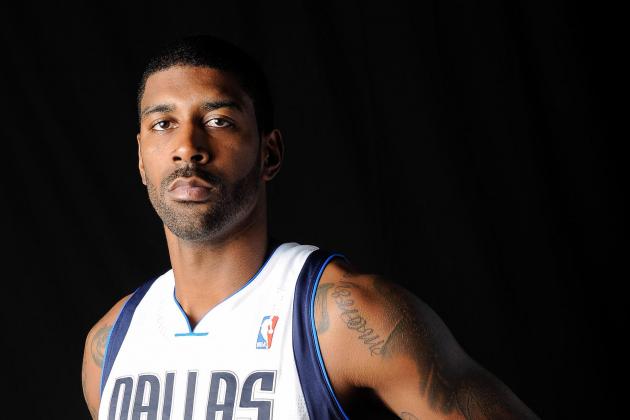 Jerome Miron-US PRESSWIRE

Point Guard:
(1) Darren Collison (2) Delonte West (3) Dominique Jones
Collison gets the reigns for the Mavericks, and he did a great job in his debut of running this "flow" offense to a quality performance for Dallas.
Behind him Delonte West is a very capable and solid backup, who brings toughness and a fiery wild card mentality to the team. Dominique Jones will look to bring his playmaking ability and dribble-drives to be able to help this team that he hasn't been able to do in two seasons.
Shooting Guard
(1) O.J. Mayo (2a) Roddy Beaubois (2b) Dahntay Jones (3) Jared Cunningham
Mayo's time is now, and with all the expectations surrounding him as the No. 3 pick in the draft, you'd have to consider him a bust right now. That hunger plays into a great thing for Dallas, who hopes he's the guy to add some stability to a position that needs it.
Behind him, a group of young guys includes Beaubois and Cunningham, and the defensive ace Jones. Lots to choose from for Coach Rick Carlisle, so this is a spot to keep an eye on going forward.
Small Forward
(1) Shawn Marion (2) Vince Carter (3) Jae Crowder
Marion returns on the downside of his career, but he is still a capable defender and does the job asked of him no matter who he's defending. Carter is now a three-point specialist, and it wouldn't surprise me if Crowder passes him at some point this season.
Power Forward
(1) Dirk Nowitzki (2) Elton Brand (3) Brandan Wright
Dirk certainly enters the season with something to prove, after questions of his durability and age creeped up last year. But Nowitzki works harder and longer than anyone in basketball, and this will be a season to prove that.
Brand, the amnesty waiver pick-up, will split time between PF and C, and Wright figures to be in the mix as an energy guy that can alter the game in just a few minutes a night.
Center
(1) Chris Kaman (2) Bernard James
Kaman is the starter, and his health is really the only jumping off point for his time here this season. Behind him, I think you will see Wright and Brand, but Bernard James certainly has a chance to make an impact during his rookie season.
The Mavs wouldn't draft a 27-year-old with the intention of sitting him on the bench to develop, so you can bet James will get a chance this year.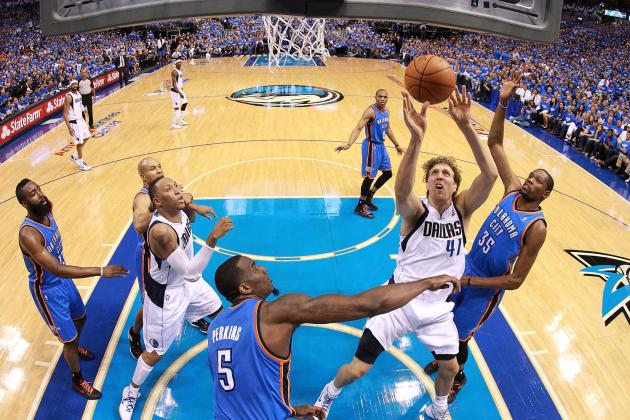 Ronald Martinez/Getty Images

Once the season wears on, this label will likely shift to Collison or Mayo. But for now it falls on Dirk, who, as the elder statesman of this team, must carry the load during the learning process for the new guys.
People forget Dirk was eighth in the league in scoring last year, still managing 21 points a game after his horrendous start to the 2011-12 campaign. With an offseason where he stayed in shape and now regains some hunger to win a title, Dirk will have to get back to his title season form.
Hopefully Nowitzki can take a lesser role in the offense once Collison and Mayo begin to mesh, but for now Dirk must be an All-Star once again for this Dallas team.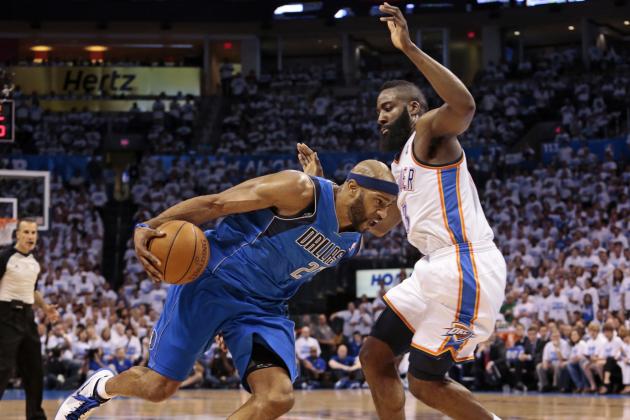 Brett Deering/Getty Images

Dallas shed the image of the jump shooting Johnny's during the title run, but that image crept back up during the 2011-12 season.
Adding Vince Carter was supposed to help, but he has been more of a three-point only type guy, and it's suited him. Jason Kidd and Jason Terry were both comfortable from the outside, and it hurt Dallas when the shots weren't going down.
Now, after adding Jared Cunningham, Jae Crowder, OJ Mayo and Darren Collison in separate moves this summer, this team needs to help dispel that notion that this team can't score from inside. You know what you're going to get from Nowitzki, but the rest of these guys have to get to the basket when the shots aren't falling, or it will be a similar fate that this team has suffered year-after-year.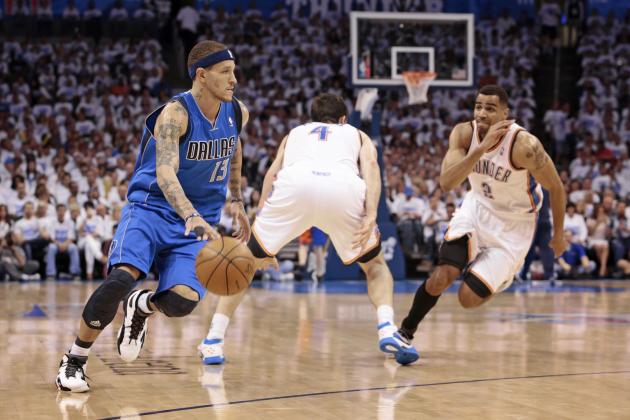 Brett Deering/Getty Images

2012-2013 Regular Season
W-L: 51-31
While 51-31 would be a top four to five seed in the Eastern Conference, this record doesn't bode well for the Mavs' chance to be a top-tier team.
It will likely land them a seven or eight seed in the West, which gets them into the playoffs with another shot at the OKC Thunder or L.A. Lakers.
It's a learning year, but as teams in the past have proven, it's all about being hot when the playoffs hit, which will be the key as this transition year continues.
Points Leader
Dirk Nowitzki - 23.8 PPG
Dirk has the skills and the ability to put up big numbers on any night. When he gets hot, there are only a handful of players in the NBA that can guard him.
He's going to have to do some of the same work he did during this team's title run to take them anywhere deep in the season, and here's thinking Dirk does have that type of season. He's hungry, motivated and heading into the point in his career where he can take nothing for granted.
Rebounds Leader
Elton Brand - 8.2 RPG
With Chris Kaman always an injury threat and Dirk a lesser rebounder than any of his frontcourt counterparts, Brand could see a huge opportunity to make an immediate impact on this team.
Brand averaged close to a double-double in Philadelphia last season, and he's still at the point in his career where he can make an impact on the defensive end.
Assists Leader
Darren Collison - 7.2 APG
His career high before this year is 5.7 in his rookie season, but Collison has more weapons to work with than ever before in Dallas.
Dirk Nowitzki and Shawn Marion are both always around the rim, and you know Kaman and Mayo are going to be looking to score when they get the ball. Collison gets the offense going, and his penetration ability helps increase his numbers right up there with the quality PGs in the league.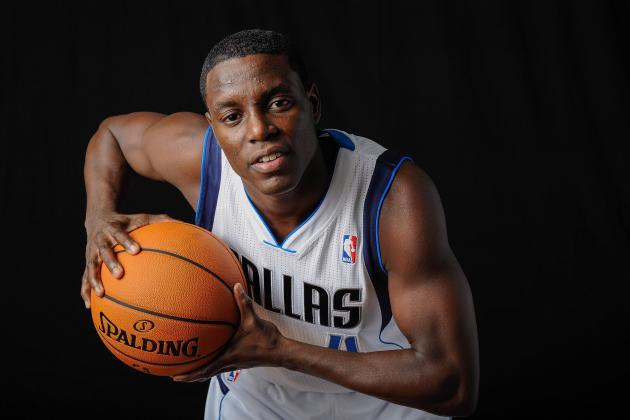 Jerome Miron-US PRESSWIRE

Mixing New Talent Quickly
With so much riding on the final two seasons of Dirk's contract, Dallas quietly added enough talent to be considered just as dangerous as in years past in the West.
But as we've seen in the NBA over the past couple of seasons, teams like Oklahoma City and Miami have a decided edge because of the way they've been able to keep the roster intact over the past few seasons.
Much is expected of Mayo and Collison in the backcourt; in the frontcourt, Elton Brand and Chris Kaman are still hungry for their first title. This team is going to go through some struggles in the first part of the season, but with a strong defensive identity and some under-performing players stepping up at key positions, they'll have a chance to compete with any team on any night, including the new-look Lakers.