2012 MLB Top 100 Prospects Entering the Offseason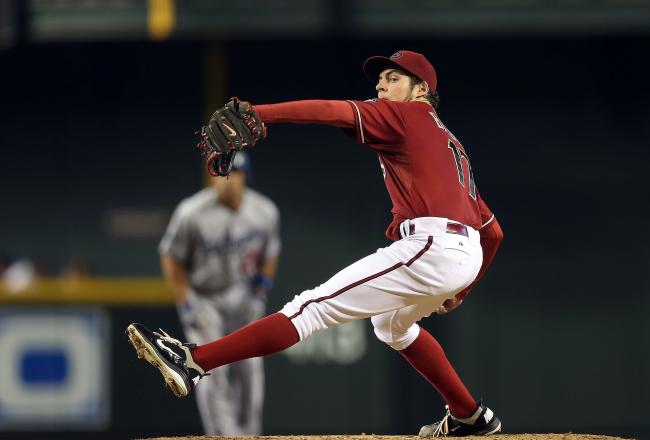 Starting Pitcher Trevor Bauer of the Arizona Diamondbacks, ranked in the top 10 prospects going into the MLB offseason
Christian Petersen/Getty Images
In the last year alone, a number of minor league players have ascended prospect lists across the nation.
Oscar Taveras, Jose Fernandez and Xander Bogaerts are just a few names that weren't anywhere near the top of the rankings at the start of the 2012 season. All three find themselves in the top ten because of their performances this season.
Here is the look at the rest of the Top 100 going into the offseason.
The Top 10:
1. OF Wil Myers (KC)
2. RHP Jose Fernandez (MIA)
3. OF Oscar Taveras (STL)
4. SS Jurickson Profar (TEX)
5. RHP Dylan Bundy (BAL)
6. 3B Nick Castellanos (DET)
Who is the most underrated prospect on this list?
7. RHP Trevor Bauer (ARI)
8. SS Xander Bogaerts (BOS)
9. RHP Gerrit Cole (PIT)
10. LHP Danny Hultzen (SEA)
No. 11-30
11. SS Billy Hamilton (CIN)
12. OF George Springer (HOU)
13. 3B Miguel Sano (MIN)
14. C Mike Zunino (SEA)
15. OF Bubba Starling (KC)
16. 3B Jedd Gyorko (SD)
17. LHP Tony Cingrani (CIN)
18. 1B C.J. Cron (LAA)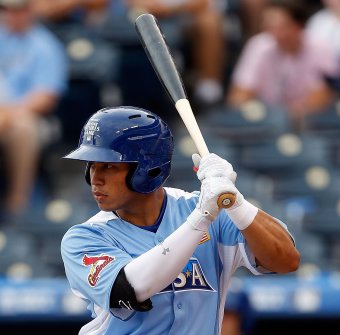 Second Baseman Kolten Wong, the St. Louis Cardinals top infield prospect
Jamie Squire/Getty Images
19. 3B Mike Olt (TEX)
20. RHP Jameson Taillon (PIT)
21. Byron Buxton (MIN)
22. OF Jackie Bradley (BOS)
23. 2B Kolten Wong (STL)
24. OF David Dahl (COL)
25. 1B Jonathan Singleton (HOU)
26. RHP Zack Wheeler (NYM)
27. C Travis D'Arnaud (TOR)
28. OF Christian Yelich (MIA)
29.. 1B Darin Ruf (Phi)
30. OF Albert Almora (CHC)
No. 31-50
Which prospect among the Top 100 will be the first to be a major league All-Star?
31. 3B Matthew Skole (WSH)
32. SS Javier Baez (CHC)
33. RHP Taijuan Walker (SEA)
34. 1B Hunter Morris (MIL)
35. OF Tim Wheeler (COL)
36. SS Joe Panik (SF)
37. RHP Matt Barnes (BOS)
38. C Gary Sanchez (NYY)
39. 3B Anthony Rendon (WSH)
40. RHP Cody Buckel (TEX)
41. SS Carlos Correa (HOU)
42. 3B Kaleb Cowart (LAA)
43. RHP Kevin Gausman (BAL)
44. LHP Tyler Anderson (COL)
45. RHP Archie Bradley (ARI)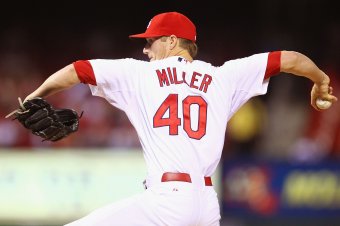 Shelby Miller of the St. Louis Cardinals, one of their top pitching prospects who made his major league debut this season
Dilip Vishwanat/Getty Images
46. OF Tyler Austin (NYY)
47. SS Francisco Lindor (CLE)
48. RHP Kyle Crick (SF)
49. RHP Shelby Miller (STL)
50. C Will Swanner (COL)
No. 51-70
51. RHP Michael Wacha (STL)
52. OF Gary Brown (SF)
53. 1B Miles Head (OAK)
54. 2B Delino Deshields Jr. (HOU)
55. 3B Stefan Romero (SEA)
56. RHP Julio Teheran (ATL)
57. OF Josh Bell (PIT)
Which organization has the best minor league talent?
58. 3B Adam Duvall (SF)
59. RHP Taylor Jungman (SD)
60. RHP Clayton Blackburn (SF)
61. C Tommy Joseph (PHI)
62. SS Trevor Story (COL)
63. 1B Dan Vogelbach (CHC)
64. OF Aaron Hicks (MIN)
65. RHP Julio Rodriguez (PHI)
66. RHP Chris Archer (TB)
67. 2B Eddie Rosario (MIN)
68. OF Bryce Brentz (BOS)
69. SS Addison Russell (OAK)
70. OF Mason Williams (NYY)
No. 71-90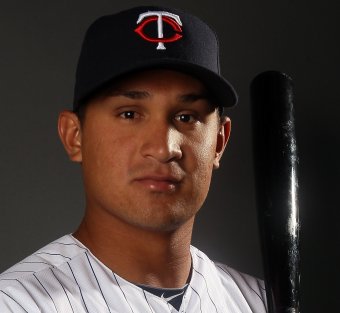 Outfielder Oswaldo Arcia of the Minnesota Twins
Elsa/Getty Images
71. RHP Jake Odorizzi (KC)
72. RHP Robert Stephenson (CIN)
73. 1B Nate Freiman (SD)
74. OF Oswaldo Arcia (MIN)
75. SS Nick Franklin (SEA)
76. LHP Tyler Skaggs (ARI)
77. RHP Carlos Martinez (STL)
78. RHP Chris Heston (SF)
79. OF Rymer Liriano (SD)
80. LHP Tyler Matzek (COL)
81. C Austin Hedges (SD)
82. SS Joc Pederson (LAD)
83. OF Matthew Scurzur (CHC)
84. RHP Mike Foltynewicz (HOU)
Which prospect ranked near the bottom of the Top 100 will rise the fastest by next year?
85. RHP Brad Peacock (OAK)
86. C Blake Swihart (BOS)
87. OF Zoilo Almonte (NYY)
88. RHP Jarred Cosart (HOU)
89. 2B Scooter Gennett (MIL)
90. SS Nolan Fontana (HOU)
No.91-100
91. 3B Zach Cox (MIA)
92. OF Brian Goodwin (WSH)
93. 1B Tommy Medica (SD)
94. 2B Christian Colon (KC)
95. 3B Nolan Arenado (COL)
96. RHP Noah Syndergaard (TOR)
97. 3B Cody Asche (PHI)
98. OF Leon Landry (LAD)
99. SS Jace Peterson (SD)
100. OF Mikie Mahtook (TB)
This article is
What is the duplicate article?
Why is this article offensive?
Where is this article plagiarized from?
Why is this article poorly edited?