Chicago Bears vs Dallas Cowboys: Final Game Grades & Player Analysis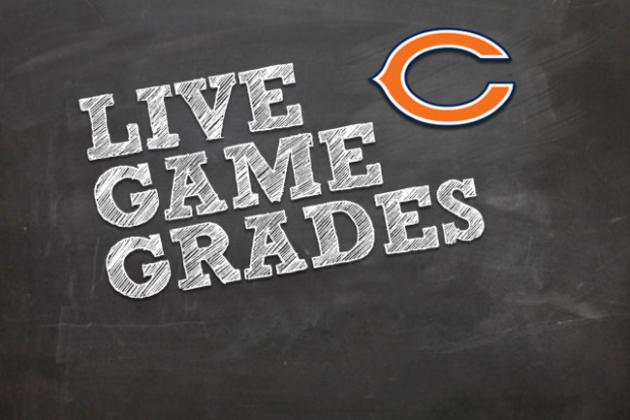 The Chicago Bears dominated the second half in route to a 34-18 victory. It was a tale of two quarterbacks as Tony Romo was intercepted five times while Jay Cutler finished with two touchdowns and a 140.1 quarterback rating.
The Bears were only up by three at halftime but came out on their first drive in the third quarter with a touchdown to Devin Hester. They later added a Lance Briggs interception which opened the flood gates to a big victory. The Bears now sit tied on top of the NFC North at 3-1 with the Minnesota Vikings.
Begin Slideshow

»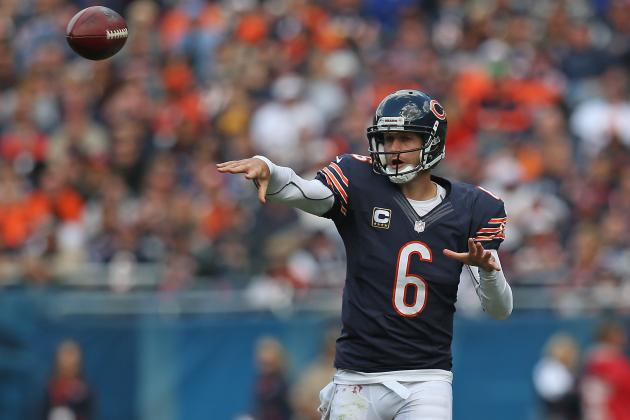 Jonathan Daniel/Getty Images
Jay Cutler
Jay Cutler: A
When Cutler plays like this the Bears are a tough team to beat. He spread the football around to six different guys but really found a connection with Brandon Marshall.
Cutler got into a groove that saw him finish with 275 yards, two touchdowns and a quarterback rating of 140.1. His ability to move around in the pocket and make crisp throws was something that has been lacking the last couple weeks.
Cutler's one mistake was holding the football too long resulting in a sack/fumble forced by DeMarcus Ware. Still Cutler did a fine job cutting down on the erratic throws and not forcing the issue.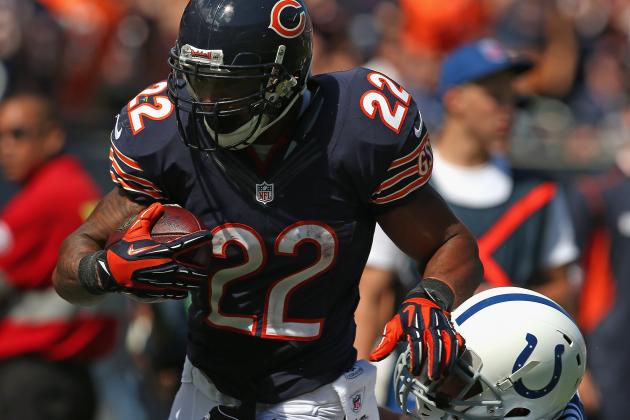 Jonathan Daniel/Getty Images
Matt Forte
Matt Forte: B
Forte showed a lot of guts running hard on a bad ankle. After his first run he clearly re-aggravated the injury but grinded out a 13 rush, 52-yard performance.
Michael Bush: C-
Bush seems to be taking the grind it out label too much to heart. He once had the quick bounce and explosive capability but lately he has shown nothing more than a slow, rugged style. This game was no different as he finished with 29-yards on 10 carries.
Kahlil Bell: B
Not much for Bell. He got two carries in garbage time and gained 12-yards.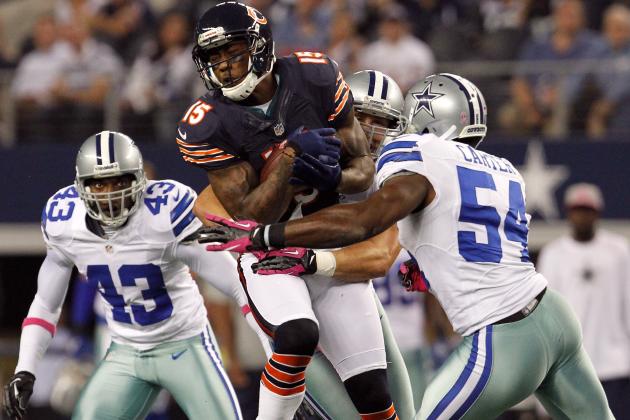 Tom Pennington/Getty Images
Brandon Marshall
Brandon Marshall: A
Marshall had his coming out party as a Bear against the Cowboys. His physical play gave the Cowboy defenders fits all game. He had a huge impact of the game finishing with seven receptions, 138 yards and a touchdown.
Alshon Jeffery: B-
Considering Jeffery was targeted only five times he made the most of it hauling in three receptions. He still has some trouble with the physical corners and was pushed out of bounds by standout rookie Morris Claiborne on a long pass.
Devin Hester: A
Many were wondering why the Bears threw a couple gimmick passes to Hester early on. Then you saw in the third quarter what an engaged Hester can bring. His double move on Claiborne was a thing of beauty and he did a nice job holding on to the football.
Dane Sanzenbacher: C
One target that was broken up. Other than that he didn't get much time at all on the field.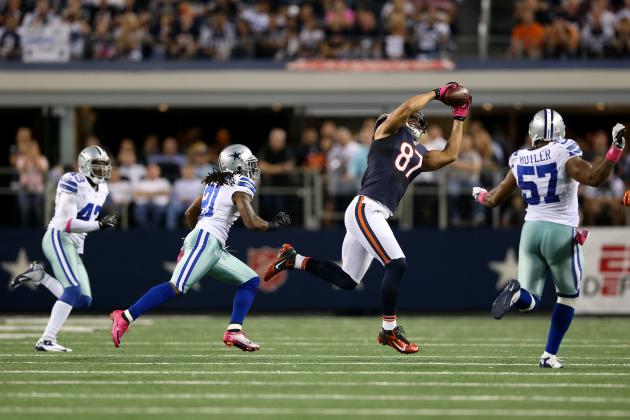 Ronald Martinez/Getty Images
Kellen Davis
Kellen Davis: B-
Davis had an ugly drop early but came back with three catches for 62-yards. A solid game for Davis but otherwise average for a tight end who should get more chances when Brandon Marshall is on the field.
Matt Spaeth: B
Spaeth's job was to slow down the pass rush and he did a good job helping the linemen. Other than a sack that led to a fumble, DeMarcus Ware was relatively quiet.
Kyle Adams: B-
For Adams it wasn't pretty at times but it was good enough. He was called upon to lead block for backs and chip block against pass rushers. He was pushed back a couple times but held his ground enough to keep Cutler upright.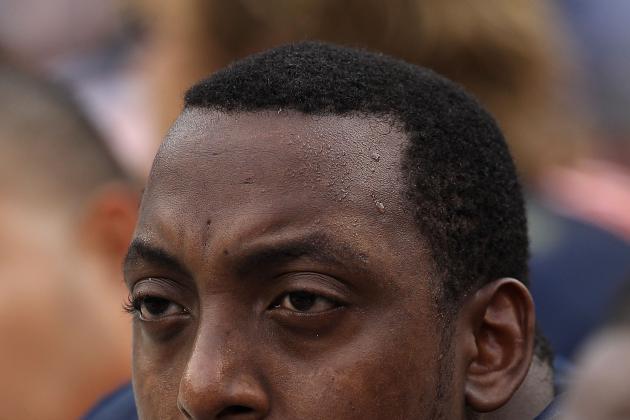 Jonathan Daniel/Getty Images
J'Marcus Webb
J'Marcus Webb: B+
Webb played well against one of the premier pass rushers in the NFL. He protected Cutler's blindside as well as you can ask. There were times when he was beat but this is still by far his best effort of the season considering the competition.
Chilo Rachel: C-
More and more Rachel is becoming the weak link on the line. He is bad in run blocking and had a terrible whiff on a screen play early on.
Roberto Garza: B-
Right next to Rachel on that whiff was Garza. He was not great either in run blocking but held up well in pass protection and picking up the blitz.
Lance Louis: B
Louis rebounded from a rough week against the Rams to play much better. The Bears found success running the football and rolling Cutler to the right side.
Gabe Carimi: B+
Carimi has separated himself as the best lineman on the team. He showed a good effort tonight in run and pass blocking.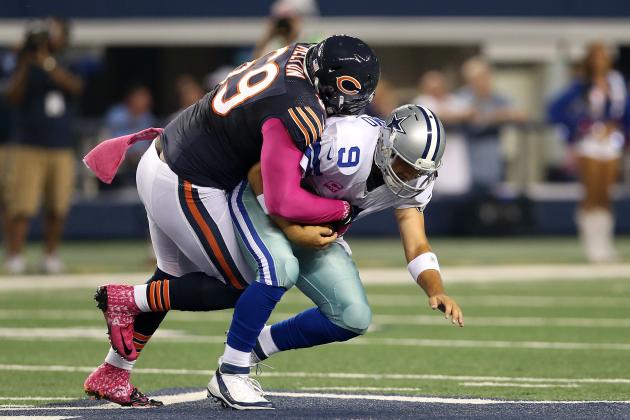 Ronald Martinez/Getty Images
Henry Melton
Julius Peppers: B-
This was one of those games that doesn't show up in the stat sheet for Peppers. He was most effective in moving around causing the Cowboys to account for him thus setting up other players.
Henry Melton: A
Melton was dominant with a sack early on and the play of the game in the third quarter. Lance Briggs' interception was forced by Melton and should go down as a sack/fumble for him.
Stephen Paea: C-
This wasn't the kind of game where Paea could be effective. The Cowboys abandoned the run early forcing the Bears to substitute him for quicker, more athletic guys.
Corey Wootten: C+
Nothing in the stat sheet for Wootten but he had a couple nice pass rushes.
Shea McClellin: C
Another guy who finished with a goose egg on the stat sheet. He did have the key pressure on the Melton sack but over pursued at times notably on a Kevin Ogletree run.
Amobi Okoye: C
Not much time but finished with a quarterback hit.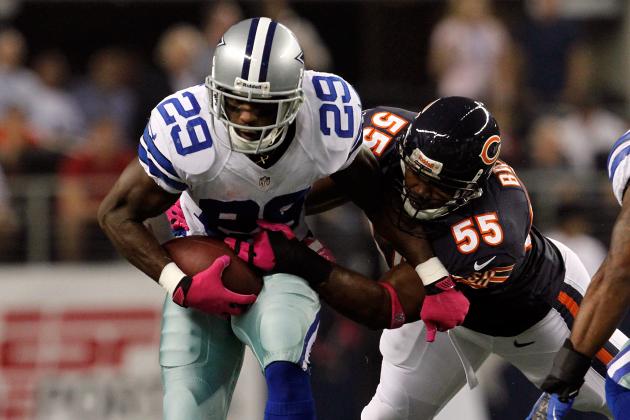 Tom Pennington/Getty Images
Lance Briggs
Brian Urlacher: B
Urlacher still looked a little slow but played well against the run. He still has trouble getting deep in the passing game due to the knee injury.
Lance Briggs: A
Briggs had no trouble at all getting deep. He forced a lot of errant throws by Tony Romo and made some bone jarring hits against the run. His interception returned for a touchdown turned into the biggest play of the game.
Nick Roach: C
Not much action for Roach. The lack of a running game by the Cowboys caused Roach to have just one tackle in the game.
Geno Hayes: B-
Whenever one of the starters needed some rest, Hayes was there to fill in.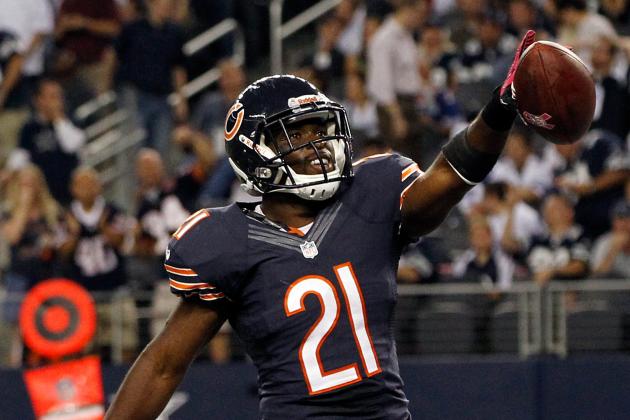 Tom Pennington/Getty Images
Major Wright
Tim Jennings: B
It's still up for debate whether Jennings forced that eventual interception by Major Wright or if Kevin Ogletree just dropped the ball. He still had a solid game either way.
Major Wright: A
A healthy Wright has been there for every loose ball and has made the most of being in the right place at the right time. He came away with two interceptions tonight with the last one more impressive than the first.
Chris Conte: B
A couple times Conte had trouble keeping track of some of the underneath routes but did a good job making sure they didn't turn into big gains. He did lead the team in tackles with 11.
Charles Tillman: B
Tillman was beat a couple times but was helped out by the poor play of Dez Bryant. He was just the right man in the right spot on the pick six but still made the play.
D.J. Moore: B-
It was an interesting game for Moore. He struggled early on getting beat out of the slot but settled in nice in the second half. He also got in on the fun with an interception on a poor throw by Romo.
Craig Steltz: C+
When Conte went out briefly with an injury it was Steltz who came in. He wasn't great but that was a tough spot to come in cold against Romo who was playing well at that time.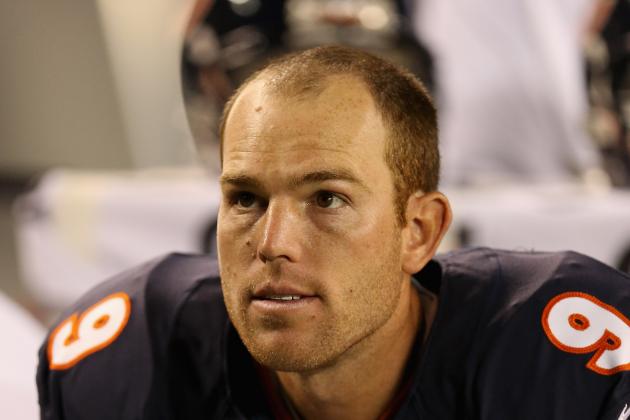 Jonathan Daniel/Getty Images
Robbie Gould
Robbie Gould: A
Just another day at the office for Gould as he had yet another perfect day.
Adam Podlesh: B
Podlesh was only needed three times and that within itself was a success.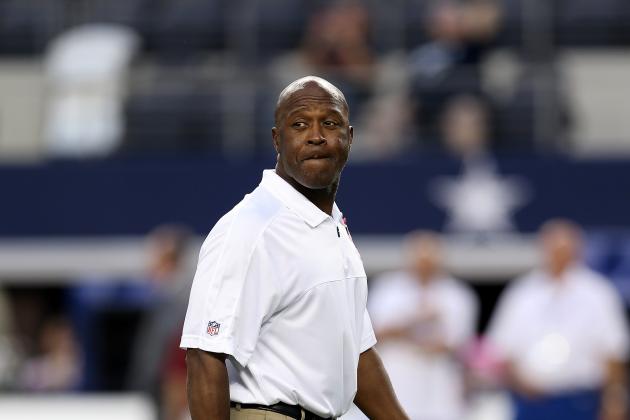 Ronald Martinez/Getty Images
Lovie Smith
Lovie Smith: A
You have to give it to Smith, he had his team prepared to go on the road and play poised in front of the National audience. One questionable call to take a penalty over a Brandon Marshall reception when the team was driving is water under the bridge. Both his challenges were the right call even though he lost one.
Mike Tice: A-
Tice's conservative playcalling early set the tone for the big passing plays in the second half. You can also tell he worked with the blocking schemes to protect Cutler and he did a nice job of getting his quarterback to make plays even after Cutler walked away from him in a frustrated moment.
Rod Marinelli: A
All season Marinelli's defense has gotten to the quarterback and forced turnovers. The Bears now have 14 forced turnovers and 15 sacks on the season.
Dave Toub: A
Nothing to critique from Toub's unit in this one.