Arkansas State vs. WKU: The Rodney Dangerfield Game of the Day for Sept. 29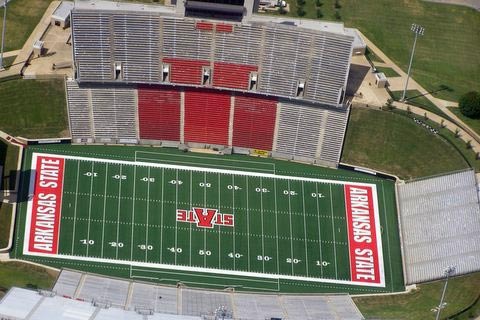 Liberty Bank Stadium (Photo Credit: Bowlsubdivision.com)
Rodney Dangerfield was a comedian known for the catchphrase "I don't get no respect!" Due to the humongous number of college football games played each Saturday, some matchups get ignored by the media and the viewing public.
Teams in the Sun Belt have been ignored by college football fans for years, but the conference may have never been stronger than right now. Louisiana-Monroe has already beaten Arkansas and had close misses against Auburn and Baylor. The Southeast Conference took another hit when Kentucky lost at home to Western Kentucky.
This Saturday, the game between the Arkansas State Red Wolves and the Western Kentucky Hilltoppers has the makings of a terrific ballgame that is way under the national radar. The contest represents the first Sun Belt Conference game in 2012 for both participants.
WKU comes to Liberty Bank Stadium in Jonesboro, Ark., with a 3-1 record while the Red Wolves are 2-2. The only losses that the Hilltoppers have had in their last 12 games have been to LSU and Alabama, both ranked No. 1 in the nation at the time.
The Red Wolves are the defending Sun Belt Champions. Arkansas State has home wins against Memphis and Alcorn State and lopsided road defeats to Oregon and Nebraska.
This game is loaded with solid players and intriguing subplots.
Begin Slideshow

»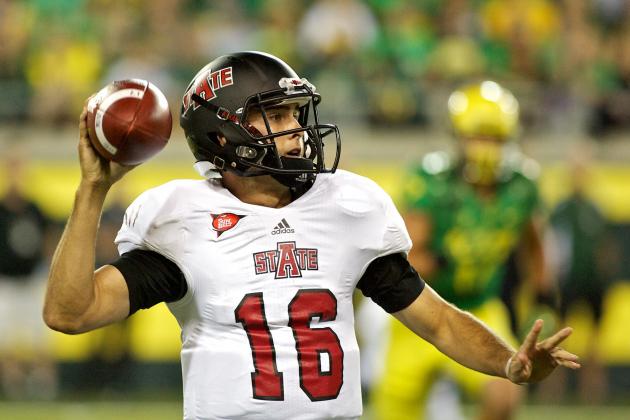 Craig Mitchelldyer/Getty Images
Arkansas State's Ryan Aplin
Ryan Aplin was the 2011 Sun Belt Player of the Year for Arkansas State. His current efficiency rating of 139.6 is higher than his rating from last season.
So far this season, Aplin has completed 61.8 percent of his passes for 961 yards. He has thrown seven touchdown passes while only tossing one interception this year. Aplin is third on the team in rushing with 152 yards on 30 attempts.
The senior quarterback is known for his leadership skills and his ability to improvise after a play breaks down. Aplin is the most important player on the Red Wolves.
Arkansas State is currently ranked 50th in the FBS with 250.3 yards per game. However, that ranking is misleading due to the fact that the Red Wolves only threw 16 passes in their contest against the Alcorn State Braves.
Western Kentucky's Kawaun Jakes may be the most improved quarterback in the nation this year. At times last year, the Hilltoppers struggled to move the ball due to his low completion percentage. However, this year Jakes has risen his completion rate to an incredible 70.2 percent.
After four games, he has passed for 806 yards with eight touchdowns and three interceptions. Although not asked to carry the offense, Jakes' efficiency this year has allowed the Hilltoppers to capitalize on defenses putting extra players in the box to stop their running game.
WKU may only be ranked 68th in passing yards per game, but that number represents a marked improvement from 2011.
Edge: Arkansas State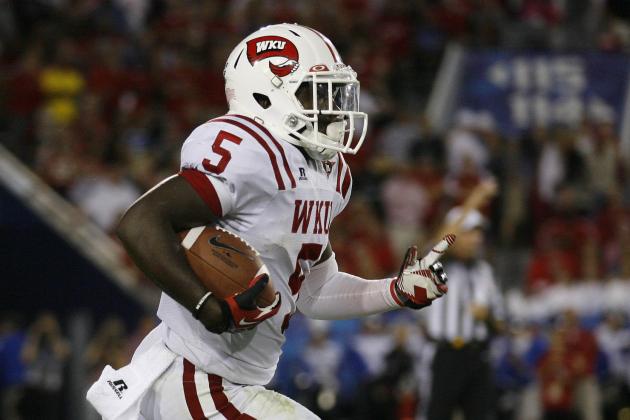 Mark Zerof-US PRESSWIRE
WKU's Antonio Andrews
Tennessee transfer David Oku leads Arkansas State in rushing with 328 yards on 65 carries. Oku's game-breaking ability has made the Red Wolves even more dangerous on offense while allowing Ryan Aplin to carry the ball less.
Frankie Jackson is a reliable backup while Sirgregory Thornton is averaging 10.9 yards per carry on a limited number of attempts.
The thought going to the season was that the Hilltoppers would have problems finding a replacement for Bobby Rainey, the all-time leading rusher in WKU history. However, Western Kentucky is actually running for more yards per game this year than in 2011.
The pricipal reason for this shocking development is junior Antonio Andrews. Andrews has four rushing touchdowns after four games along with 327 yards on a 5.3 average. He is also second on the team in receptions with 17.
Freshman Leon Allen had a great game against the Southern Mississippi Golden Eagles but disappeared against the Kentucky Wildcats after failing to run hard on a couple of short-yardage plays. Allen possesses a 6.6 average on 41 carries.
The Red Wolves are ninth in the FBS with 267 rushing yards per game. The Hilltoppers are 34th with an average of 205.5 yards per game. Just like their passing yards, Arkansas State's rushing yards are greatly influenced by the Alcorn State game. The Red Wolves rushed for 396 yards against the Braves.
Edge: Western Kentucky
Steve Mitchell-US PRESSWIRE
Arkansas State's Josh Jarboe
Josh Jarboe came into this year as the Red Wolves' leading returning receiver. However, freshman J.D. McKissic leads the team currently with 26 catches.
McKissic's emergence on the scene has offset the impact of senior Taylor Stockemer being injured and Allen Muse leaving the team. Jarboe is a tough wideout with 21 receptions on the year. Jarboe and McKissic are the possession receivers while Julian Jones and Carlos McCants are deep threats.
Unlike Arkansas State, Western Kentucky's leading receiver is a tight end. Senior Jack Doyle has 19 catches while still showing off his strong pass-blocking skills.
Willie McNeal has made the most of his limited opportunities by scoring three touchdowns on just seven receptions. Fullback Kadeem Jones has helped the passing game by making nine receptions so far.
Edge: Arkansas State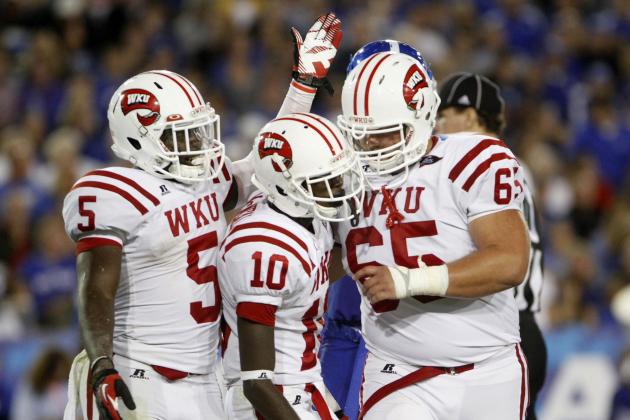 Mark Zerof-US PRESSWIRE
WKU's Center Sean Conway (No. 65)
Projected OL Starters for Arkansas State
LT Jason Williams
LG Steve Haunga
OC Eric Allen
RG Alan Wright
RT Zack McKnight
The offensive line for the Red Wolves has done a tremendous job opening holes for the running backs. Despite having already faced Oregon and Nebraska, Arkansas State has only allowed three sacks on the year. McKnight is considered to be the best offensive lineman for the Red Wolves.
Projected OL Starters for Western Kentucky
LT Ed Hazelett
LG Luis Polanco
OC Sean Conway
RG Adam Smith
RT Seth White
Smith was second-team All-Sun Belt last year while Conway is also a strong candidate for postseason honors. The offensive line for the Hilltoppers are strong run blockers but have allowed seven sacks in 2012.
Edge: Even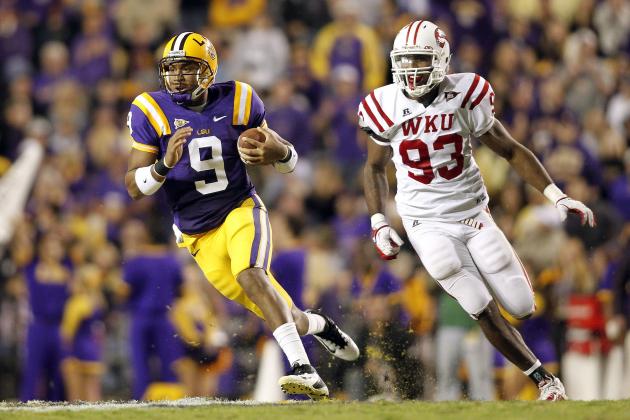 Crystal LoGiudice-US PRESSWIRE
WKU's Quanterus Smith
Arkansas State had 35 sacks last season but has struggled to replace the Sun Belt Conference Defensive Player of the Year Brandon Joiner and his 13 sacks. Chris Stone is an aggressive freshman who is still looking to record his first sack in his career.
Tim Starson has recorded six tackles for losses, while Ryan Carrethers has done a fine job plugging up the interior line.
Western Kentucky may have the best defensive line in the Sun Belt. What is even scarier for future conference opponents is that the unit can play even better.
At times, defensive tackle Rammell Lewis and defensive end Quanterus Smith have been dominant. However, there are stretches in games that both players disappear. The Hilltoppers recorded six sacks against Alabama with Smith recording three of them.
Edge: Western Kentucky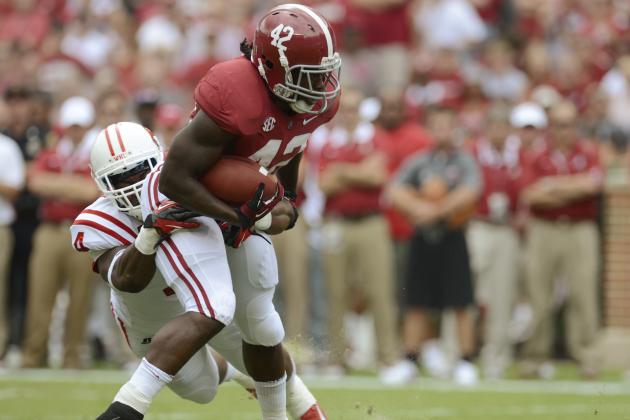 John David Mercer-US PRESSWIRE
WKU's Andrew Jackson
Senior linebacker Nathan Herrold has been a tackling machine so far for Arkansas State. He has participated in 37 tackles and recorded one sack.
Qushaun Lee was one of the few players that showed grit and attitude while the Oregon Ducks were running roughshod against the Red Wolves during the first half. Unfortunately for Arkansas State, Lee will miss the game on Saturday as a result of being suspended for lowering his head on a tackle against Alcorn State.
Junior middle linebacker Andrew Jackson came into the season as a strong candidate for the Sun Belt Defensive Player of the Year after leading the Hilltoppers in tackles last season with 109. Jackson is an aggressive player that fully showcases the physical play on defense Western Kentucky is now known for.
As good as Jackson is, Xavier Boyd leads the team in tackles this year with 30. Jackson is first on the team with five tackles for losses.
Edge: Western Kentucky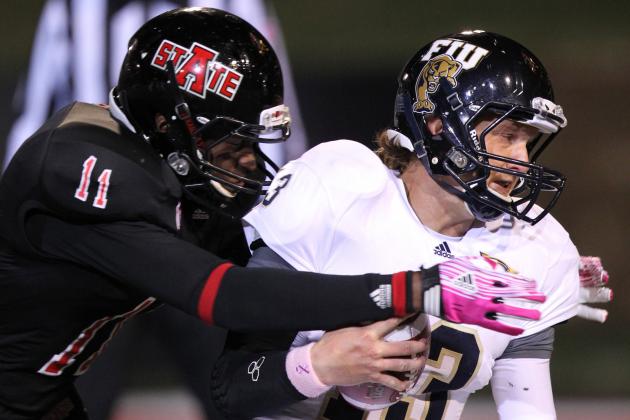 Nelson Chenault-US PRESSWIRE
Arkansas State's Sterling Young
The Red Wolves might have held Alcorn State to 32 yards passing, but the combination of Marcus Mariota of Oregon and Taylor Martinez of Nebraska were 31-36 for 380 yards with five touchdowns and no interceptions against Arkansas State.
The team's best cover corner, Chaz Scales, has one of the two interceptions the team has on the year. Don Jones, the defensive back/linebacker hybrid has the other. Sterling Young is a hard-hitting free safety that has 21 tackles in four games.
WKU free safety Johnathan Dowling is currently tied with two other players for the FBS lead in interceptions with four. Unfortunately, Dowling will be suspended for this game because of a helmet-to-helmet hit against Southern Mississippi last Saturday.
Former starter Kareem Peterson will most likely take Dowling's spot in the starting lineup. Peterson made a key defensive play in the game against Kentucky but also comitted a pass interference penalty that led to the game going into overtime.
Cornerbacks Tyree Robinson and Arius Wright are both returning starters from last year's team. Currently, the Hilltoppers rank 15th in the FBS against the pass, allowing just 167.3 yards per game.
Edge: Western Kentucky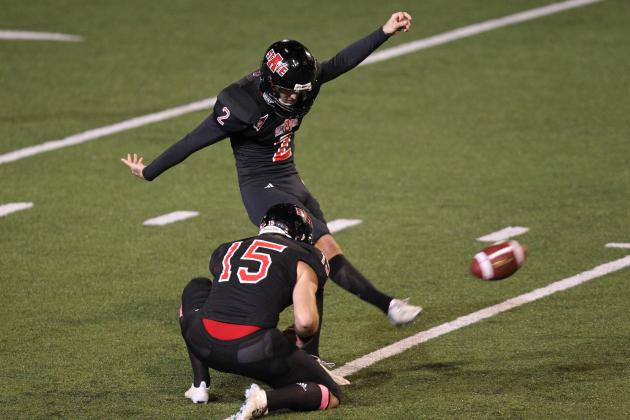 Nelson Chenault-US PRESSWIRE
Arkansas State's Brian Davis
Neither of these teams have specialty units that are really that special. The Red Wolves had a blocked punt and a muffed punt return returned for touchdowns against the Memphis Tigers.
Brian Davis has made six of his eight field goal attempts but is not a long-range threat. Neely Sullivant has three punts of over 50 yards to go with his 41.8 average.
The Red Wolves have only averaged 2.5 yards per punt return in their first four games. David Oku was a successful kick returner for Tennessee but has yet to excel in that department for the Red Wolves.
On the bright side, the Red Wolves have displayed great field goal defense this year as their opponents have yet to successfully kick a field goal on three attempts.
Western Kentucky has struggled so far with field goals as the combination of Jesse Roy and Garrett Schwettman have only converted once on four tries. Punter Hendrix Brakefield is averaging just 36.8 yards per punt on 16 attempts.
Not only has Antonio Andrews excelled running the football, but he has been exceptional in the return game. Andrews is averaging 23.7 yards on six returns and has returned a punt for a touchdown against Austin Peay.
Edge: Arkansas State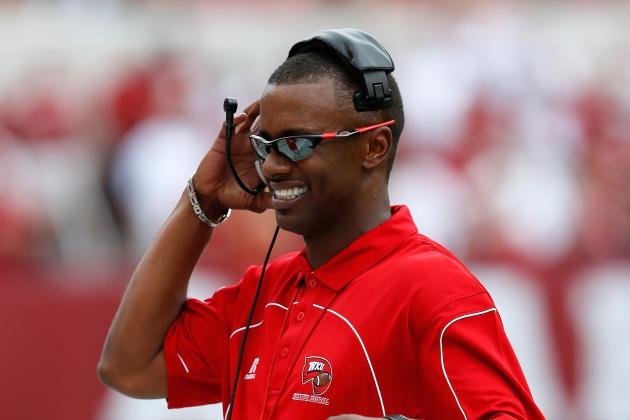 Kevin C. Cox/Getty Images
WKU's Head Coach Willie Taggart
Gus Malzahn is in his first year as the head coach of Arkansas State. He is a former Broyles Award winner that is known for his fast-paced offensive schemes.
The offense is running smoothly so far, but the jury is still out on whether Malzahn can match the success that Hugh Freeze had last season.
Willie Taggart took over a Western Kentucky program that was just 2-10 in 2008 and was considered to be the worst team in the FBS in 2009 while finishing 0-12.
The Hilltoppers were just 2-10 in Taggart's first year at the helm but won seven games last season. WKU lost all their non-conference games in 2011 but only lost to Arkansas State in conference play.
Edge: Western Kentucky
Since 2005, Arkansas State is 33-7 at home. On the flip side, Western Kentucky has a 6-1 road record in Sun Belt games dating back to October 2010.
Two distinctive offensive philosophies will be on display in this game. The Red Wolves try to tire defenses by running plays as quickly as possible. On the flip side, the Hilltoppers want to pound the ball inside while confusing the opposition with motion and various formations.
Currently, Arkansas State has the 15th best offense in the FBS. On the other hand, Western Kentucky ranks first in the Sun Belt in rushing defense, passing defense and scoring defense.
Arkansas State had problems staying competitive against Oregon and Nebraska. Although WKU is not as fast as those teams, the Red Wolves will have issues dealing with the physical nature of the Hilltoppers.
Three of Arkansas State's opponents have jumped on their early, and Western Kentucky will wish to duplicate the same model. Getting an early lead will enable the Hilltoppers to run clock and pass when they want to instead of when they have to.
Although Arkansas State is tough to beat at Liberty Bank Stadium, WKU appears to be the better team based on what both teams have accomplished during non-conference action. My guess is that the Hilltoppers will be able to run the ball against the Red Wolves and slow down Arkansas State's offense enough times to pull out a narrow victory.
Prediction: Western Kentucky 28, Arkansas State 24