Getafe 1-4 Barcelona: As It Happened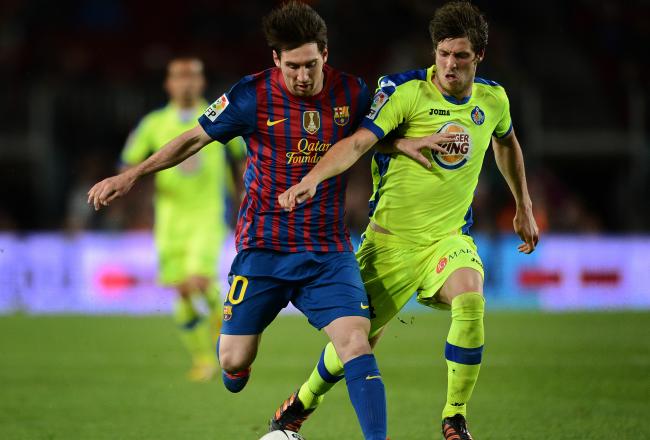 Jasper Juinen/Getty Images
Great result for Barcelona as they stay unbeaten and in first place.
The game was tight through the first hour, but the introduction of Messi and then Villa made Barcelona almost unbeatable.
Carles Puyol suffered a knee injury and his status will be watched very closely.
Keep an eye out for a match review later tonight.
Score
Getafe 1-4 Barcelona
Goal-scorers
Adriano (31')
Assist: Fabregas
Messi (73')
Penalty
Messi (78')
Assist: Montoya
Mascherano (80')
Own Goal
Villa (90')
Assist: Xavi
Starting XIs
Getafe: Moya; Valera, Alexis, Lopo, Torres; Leon, Castro, Abdel, Michel, Torres, Colunga
Bench: Rpdriguez, Mane, Abraham, Lacen, Sarabia, Alcacer, Alvaro
Barcelona: Valdes, Montoya, Puyol, Pique, Adriano, Busquets, Xavi, Thiago, Pedro, Cesc, Tello.
Bench: Pinto, Alves, Mascherano, Song, Villa, Messi, Deulofeu
That's it for me. Thank you all for joining Bleacher Report's continuing coverage of the 2012-2013 La Liga season.
I also appreciate the patience after having some technical difficulties. Thank you all.
That's it, match over!
Great result for Barcelona who stay unbeaten in La Liga and atop the Spanish table.
All eyes will be on Carles Puyol to see what the results are from tests on his knee.
More on the goal
Like I said, Barcelona are still threatening!
After such a lengthy layoff after breaking his leg last December, there are few sights more enjoyable for Barcelona fans than seeing Villa scoring a goal.
The striker is set loose after a pass from Messi sends him past the defense. Villa then takes a step wide and sends the goal straight past a disappointed Moya.
Less than 30 minutes played for Messi and Villa, three goals combined. Great sight for the Tito Vilanova's men.
89'—Xavi looking to close, Barcelona relentless
The match is basically over now, but Barcelona's attackers are not letting up.
Xavi is doing well to spread play and put the game on ice, but Villa, Pedro, and Messi are still knocking.
David Villa review
El Guaje has been very impressive in his limited time. He has worked very well with Messi, playing some nice passes with great touch.
This is a very positive sign for La Blaugrana as the team are desperate for more attacking power.
85'—Messi targeting a hat trick
There are barely five minutes of regular time and Messi is still threatening. He is apparently targeting a hat trick despite only playing 30 minutes.
I had mentioned before that the stadium looked rather empty in the first half. Now it looks almost like a ghost town as fans have made for the exit after Messi's second goal of the night.
A sad sight for La Liga supporters.
After review, Sarabia is denied his first senior goal as credit goes to Javier Mascherano for the own goal.
More on the goal
Well maybe it isn't quite over after all.
Just moments after scoring, Barcelona are caught asleep on the back end.
Sarabia, who had barely been on the pitch for 30 seconds, sends a ball off of Adriano's leg and then Mascherano's head before the ball finds the back of the net.
Tough for Victor Valdes to miss out on a clean sheet because of a double deflection, but that's football.
More on the goal
More typical Barcelona football.
Messi, Pedro, and Montoya run at Getafe with the defense almost shell-shocked at the pinpoint passing on display.
Barca's winger gets the ball out wide to Montoya in the run of play before the right back sends a cross into the box.
The cross finds Lionel Messi who makes no mistake with the ball and slots it home.
3-0 Barcelona and the match looks over.
77'—GOOOOOLLL MESSI!!!!!!!
75'—SUBSTITUTION
Tello comes off after an average game.
The youngster had loads of chances and was troublesome down the left flank, but was always lacking that final touch.
David Villa comes on with 15 minutes to play.
72'—Penalty
Valera, the man who led to the upset over Barcelona last November and Real Madrid earlier this season, brings Pedro down inside the box.
Messi to take the penalty to essentially seal the win.
Lots of long balls being sent forward for Barcelona, not really normal from them.
Tello's pace is proving to be a problem, but he has so far been unable to do much with the ball.
68'—SUBSTITUTION
Michel has come off with Lacen replacing him in midfield. Let's see what effect the change has with 20 minutes remaining.
60'—SUBSTITUTION
Sorry, I missed announcing that Adrian Colunga came off for Alvaro at the hour mark.
66'—Penalty Barcelona?
Oh trouble for Getafe here. Messi on a breakaway and gets tripped up in the box, but the ref denies penalty claims.
It looked like a foul at full speed, but it doesn't matter now. In the end, a corner is given an Xavi sends it straight at the keeper.
Getafe were lucky to avoid losing the match there.
Getafe should feel pretty good about where they stand after the hour mark.
The hosts have limited Barcelona to just one goal despite allowing so many chances and are just a breakaway or defensive error away from a draw.
63'—Barcelona knocking
La Blaugrana are testing the defense almost relentlessly.
Corner kicks, intricate passing into the box, just a general superiority is on display here.

58'—SUBSTITUTION
Vilanova feels that Thiago has had enough and he comes off just before the hour mark.
Getafe will relish no longer having the youngster on the pitch, but they will now have to deal with Lionel Messi as he aims to terrorize the hosts for the better part of 30 minutes.
57'—Moya again
Great save there! Tello breaks free and has a clear chance on goal, with only the keeper to beat on the left side.
Moya does well to parry the nice effort at full stretch. Great save!
More on Puyol
Rest a little easier, Cules. Puyol is back up and running around the opposing box as if nothing had happened.
The injury looked much worse than it actually was, apparently.. or did it?
Puyol stops midfield , clutching his leg and is now going to have to come off. This is certainly something to keep an eye on.
Mascherano comes on for No.5.
This article is
What is the duplicate article?
Why is this article offensive?
Where is this article plagiarized from?
Why is this article poorly edited?

FC Barcelona: Like this team?