US Soccer: What Went Right, What Went Wrong and What's Next for the USMNT?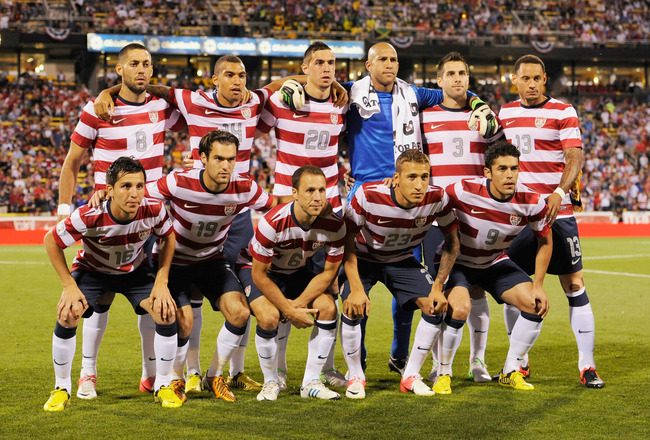 Jamie Sabau/Getty Images
After an up-and-down week with one win and one loss to the Reggae Boys, the United States Men's National Team will take a break for the next few weeks from international competition.
The next set of World Cup qualifiers comes in October when the U.S. will round out group play with games against Antigua and Barbuda and Guatemala. Currently, the U.S. is tied with Jamaica and Guatemala at seven points in group play.
Here's what went right, what went wrong and what's next for the USMNT.
Where Are the Goals?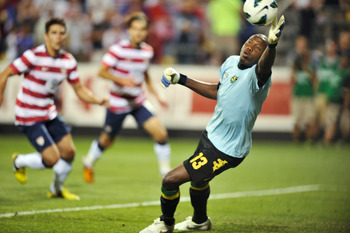 Jamie Sabau/Getty Images
In Jurgen Klinsmann's 18 games in charge, the USMNT has only scored more than one goal in three of them. Those games were against Slovenia, Scotland and Antigua and Barbuda, not exactly a who's who of international football.
When Klinsmann first took over the USMNT, many fans expected him to implement a more attractive, attacking style in contrast to Bob Bradley's defensive 4-2-2-2 bunker and counter strategy.
However, the goals are still few and far between. Without a doubt, the U.S. looked better on Tuesday night against Jamaica, moving the ball around well and creating chances. And the U.S. was certainly unlucky not to have scored more than one goal, hitting the post, hitting the crossbar and watching Jamaican goalkeeper Dwayne Miller stand on his head.
One thing that Klinsmann can definitely take from Tuesday is a midfield with width. The play of Graham Zusi, in particular, made a big difference.
What Did Klinsmann Get Right Against Jamaica?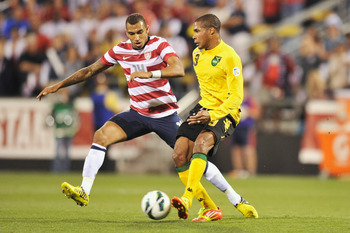 Jamie Sabau/Getty Images
As previously mentioned, Klinsmann added width to the U.S. midfield on Tuesday and the U.S. generated most of its chances from the flanks. Zusi was a surprise starter, the first of his international career not counting his "Camp Cupcake" appearances.
Perhaps the most impressive thing about Zusi's inclusion was how seamlessly he fit in with USMNT right back Steve Cherundolo. The two looked as if they had been playing side-by-side for years as they interchanged over and over. Zusi was also unlucky not to have scored.
Another decision Klinsmann got right on Tuesday was the use of Danny Williams as the holding midfielder. This was also a surprise considering that when Williams has been used in the past, it has been as a wide midfielder. Klinsmann had never given Williams a start as the U.S.' defensive midfielder and chose this highly important game to do it. It was a gamble, but it worked out.
The other decision that Klinsmann correctly made comes from Friday's game against Jamaica. While not much worked out well in that game, giving Michael Parkhurst the start was the right decision. Parkhurst endured a couple of nightmarish performances with the Nats in the May and June "Five-Game Series," but he played well against Jamaica. Credit to Klinsmann for giving Parkhurst, an experienced Europa League player, another chance.
Did Klinsmann Get Anything Wrong on Tuesday?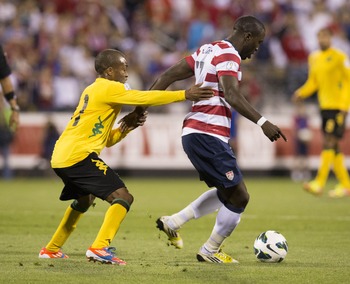 Greg Bartram-US PRESSWIRE
Obviously, in the Jamaica game, Klinsmann made a poor decision to play with a narrow midfield comprised of three defensive midfielders. The decision led to a stagnant attack and the loss put U.S. World Cup qualification hopes in jeopardy.
On Tuesday, while Klinsmann mostly got it right, there were a couple of questionable calls.
In the 72nd minute, Klinsmann replaced Graham Zusi with Maurice Edu and pushed Danny Williams to the outside. While Zusi was fading and it was the correct decision to replace him, moving Williams out of the middle, where he was controlling the game, was a suspect decision.
Edu gave the ball away on his first possession, but eventually settled into the game. And, to be fair, Williams did well on the outside to help kill off the game.
One decision that especially fell flat was the introduction of Jozy Altidore for Herculez Gomez in the 80th minute. It was a good idea to replace Gomez, who had run out of steam, but Altidore put in a dreadful performance, repeatedly losing the ball when the U.S. desperately needed to hold possession. But that decision is certainly not entirely Klinsmann's fault. Altidore bears most of the responsibility for this one.
The last questionable decision was leaving Clint Dempsey on for 90 minutes. Dempsey looked fatigued after going three months without playing a competitive fixture and putting in 90 minutes in Jamaica on Friday. Another forward, like Terrence Boyd, might have been able to add some energy on the counter.
Dempsey also spent much of the night dropping way too deep to get the ball. Perhaps this was the result of playing Jermaine Jones, a natural destroyer, as the attacking midfielder, perhaps it was because Dempsey himself is not an out-and-out striker. It's tough to tell if this was a personnel issue, or a tactical one.
You Have to Give It to Frankie Hejduk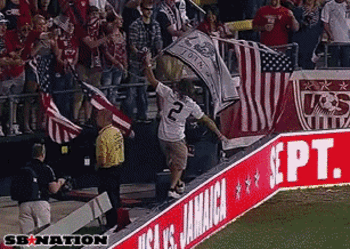 sbnation.com
Frankie Hejduk, who captained the Columbus Crew and played for them for nearly a decade, was at the game, standing in front of the supporters, pumping them up before kickoff.
Although Hejduk's past appearances with the national team were often overly energetic, his enthusiasm for the game on Tuesday, as well as his love for the national team was palpable, even on television.
Over his career, Hejduk had 85 caps for the USMNT and now works as an ambassador for the Crew.
What's Next for Jozy Altidore and Jose Torres?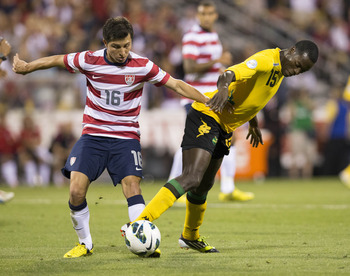 Greg Bartram-US PRESSWIRE
Jozy Altidore, while playing very well for his club, has been struggling with the USMNT for over a year now. With strikers like Terrence Boyd, Herculez Gomez, Clint Dempsey and Chris Wondolowski, will Altidore continue to receive call-ups?
Jose Torres is another interesting question. While Torres was again deployed out wide—not his natural position—he did not log a convincing performance. He played ok, but did not show the flair USMNT fans have come to expect from him and has struggled over the past few months in his international appearances.
With Danny Williams and Michael Bradley in the middle, and Jermaine Jones and Maurice Edu favorites of Klinsmann, what will happen next for Torres? There is certainly less depth on the outside of the midfield, but if Graham Zusi continues to play well, Torres will have a tough time beating out Zusi, Landon Donovan, Brek Shea or Josh Gatt.
Alejandro Bedoya, a Bob Bradley favorite, is also coming back to form and Clint Dempsey can be deployed wide as well. Joe Corona, who is a normal call-up, can also play on the outside and is also comfortable playing on the left. Torres is in for a battle for his USMNT roster spot.
Follow me on Twitter @AmerTouchline
Follow me on Facebook www.facebook.com/AmericanTouchline
Keep Reading

United States (National Football): Like this team?