Chicago Bears: Winners and Losers from Sunday vs Colts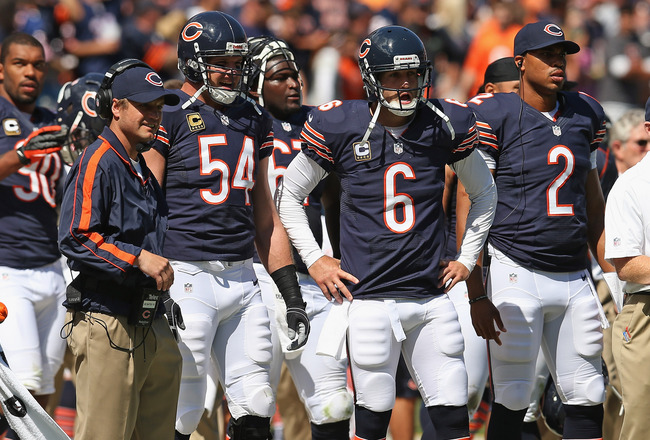 Jonathan Daniel/Getty Images
The Chicago Bears were not going to let Andrew Luck's NFL debut steal the show from them during their home opener on Sunday.
Coming into the game, there were a lot of national headlines for both sides. The Colts, of course, with the new No. 1 overall draft pick in Andrew Luck, and also introducing a new head coach.
The Bears, on the other side, were introducing Mike Tice as offensive coordinator, as well as several new weapons on offense, most notably Pro Bowl receiver Brandon Marshall.
The Bears looked good on paper, but nobody knew how they were going to do in a live action game. After Sunday, it's safe to say the Bears silences most doubters by winning 41-21 over the Indianapolis Colts.
Winner: Jay Cutler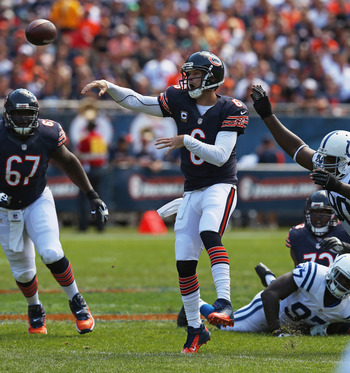 Jonathan Daniel/Getty Images
Coming into Sunday, Chicago Bears quarterback Jay Cutler had shown some flashes of greatness in the preseason, and also shown some signs of a quarterback who just looked rattled and confused. Sunday was no different, but the order that he showed them in made him a winner.
Cutler started the game 1-for-9 with an interception returned for a touchdown, and the fans were getting restless, and some were even getting worried. However, Cutler bounced back and showed why he deserves to be among the elite in the NFL.
Cutler ended the day completing 21 of his 35 passes for a total of 333 yards and two touchdowns, one of those going to newly-acquired Brandon Marshall and the other going to the much talked about rookie Alshon Jeffery.
On Sunday, Cutler showed his stuff. Despite being sacked twice, Cutler didn't let himself get rattled, kept his head on straight and played phenomenally well for the Chicago Bears, and that is why he was a winner from Sunday's game.
Loser: 1st-Quarter Bears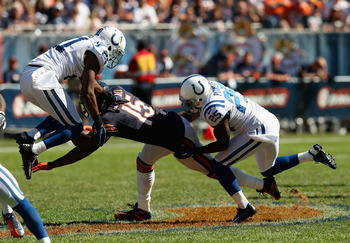 Jonathan Daniel/Getty Images
This may sound strange, but it's true. In the first quarter, the Bears came out slow and sluggish, looking like a team that was the worst fear of every Chicago Bears fan.
Cutler started off 1-for-9 and had an interception returned for a touchdown. Did the team settle down after this? Absolutely. But that is not the point.
On Thursday, the Bears will be playing Green Bay, and the Packers may not be as forgiving as the Colts were this past Sunday.
Aaron Rodgers is a different quarterback than Andrew Luck, and the Packers are a better team than the Indianapolis Colts. The Bears will have to come out swinging on Thursday night, or else the final result may not look as pretty as it did on Sunday.
Winner: Tim Jennings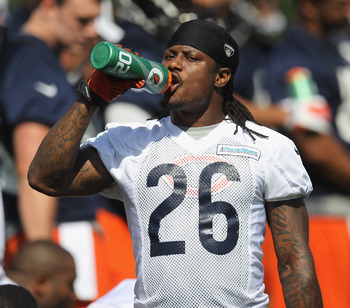 Jonathan Daniel/Getty Images
Tim Jennings had been showing signs all preseason that he had been improved and was ready to give the Chicago Bears fans some flash of excitement. On Sunday, he confirmed those thoughts.
Since Jennings jumped in front of Brandon Marshall in practice earlier during training camp and intercepted the ball, fans have been looking for something great out of him. Sunday, he exceeded expectations.
Jennings had two interceptions and four tackles, making him look like a Pro-Bowler after just one game.
Jennings will be getting more attention nationally now and will definitely be targeted in Thursday's game against the Packers. Now is going to be the real test, and the way it looks right now, he should be able to continue his stride.
Loser: Tight Ends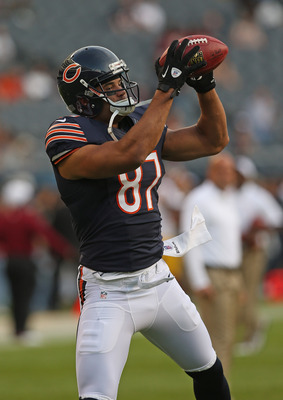 Jonathan Daniel/Getty Images
Ever since the departure of Greg Olsen, the tight end position in Chicago has been different. Sunday, we saw that difference hit a whole new level.
Kellen Davis and Evan Rodriguez both had zero receptions—that's right, zero.
And Kyle Adams, another tight end for the Bears, only got one reception. Between three players at the tight end position, they only got one reception.
We knew that with Mike Tice as the offensive coordinator, the tight ends would be targeted less, but one reception between three players comes as a bit of a shock.
This in no way means that the tight ends are bad players, and it in no way means that the coaches are dumb for not throwing to them. It simply means that after the result of Sunday, the coaches made a statement that the tight ends will not be targeted this season, and for that reason, it makes them losers from the game on Sunday.
Winner: Matt Forte/Michael Bush Combo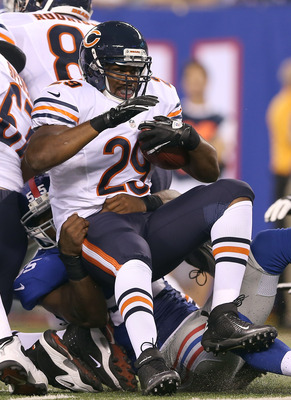 Elsa/Getty Images
When the Chicago Bears went out and got Michael Bush this offseason, many fans were wondering how the run game was going to work with two legitimate starting running backs in the backfield.
Sunday vs. the Colts, we all found out that it worked pretty well.
Matt Forte, the starting running back who just got a new four-year deal, ran for 80 yards on 16 carries and had one touchdown.
Michael Bush, the backup and third-down running back for the Bears, ran for 42 yards on 12 carries and had two touchdowns.
Besides the three touchdowns and 112 yards between the two of them, the most important thing that we learned from these two on Sunday was that while we know they can run, it also opens up the pass game for Marshall and Jeffery to get big passes from Cutler. After fans were wondering all offseason how the dual running back system was going to work, we finally saw on Sunday that it works beautifully, in more ways than one.
Loser: Brian Urlacher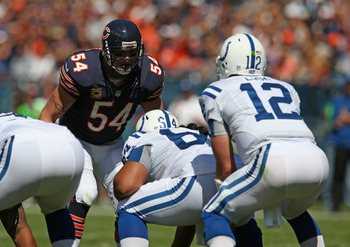 Jonathan Daniel/Getty Images
Before everyone starts with the comments, just hear me out on this one.
Urlacher by no means had a bad game. He just didn't have an Urlacher game.
The Urlacher of past years was fast, alert and played at an elite level that nobody else could match. In the game on Sunday, he was not bad by any means, he just didn't look like the Brian Urlacher of old.
On Sunday, he had only two tackles. Two tackles! Urlacher just didn't seem like the player he used to be.
Don't get me wrong, Urlacher is a great leader, and he will always have a place with the Chicago Bears. But like he said himself, his knee will never be the same, and his level of play may never be either.
Winner: The Fans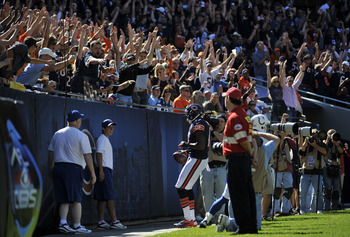 David Banks/Getty Images
It has been a long time since the Bears were atop the Green Bay Packers in the standings.
Granted, the Packers did play a great team, a team who is a legitimate Super Bowl contender this season, and the Bears were playing a team that had two wins last season. But right now, it's not about that.
The Bears have momentum. They're coming off a huge win, where, aside from the first few drives, everything went above and beyond expectation. The Packers lost, something they only did once in the regular season last season. Now, going into the head-to-head matchup, the Bears have all the momentum, especially from the fans.
Last season, the Bears fans were embarrassed when their team started off 7-3 and finished 1-5, while the Packers went 15-1 in the regular season. Now, Bears fans have something to be excited about, and they're showing it. Which is important for the Bears organization, especially with the huge game on Thursday.
Keep Reading

Chicago Bears: Like this team?