Kentucky Basketball: Stat Predictions for Each Wildcat Player in 2012-13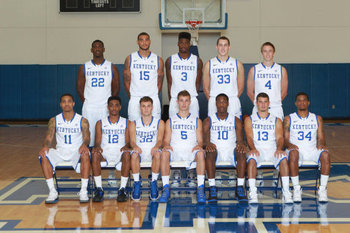 Image via CoachCal.com
The 2012-13 Kentucky Wildcats have no template for the upcoming season. They are looking to forge their own path in college basketball next year.
This team will rely on new faces, just like every John Calipari team, but those faces won't belong to just freshmen.
Six players on the 2012-13 team played for the 2012 national champions. Two more player will be added to the rotation that have played college basketball elsewhere: Ryan Harrow and Julius Mays.
Add four freshmen and you get a 12-man roster: Seven returnees, five newcomers.
So what will the statistics look like for this contingent of athletes?
As a teaser, here are my predictions for team totals for the Kentucky Wildcats next year: 76.1 points per game, 38.4 rebounds per game, 13.4 assists per game and 7.7 blocks per game.
Minutes per game add up to an even 200, although end-of-year averages rarely hit that mark.
Statistics will be as follows: MPG (Minutes Per Game), PPG (Points Per Game), RPG (Rebounds Per Game), APG (Assists Per Game), BPG (Blocks Per Game)
Twany Beckham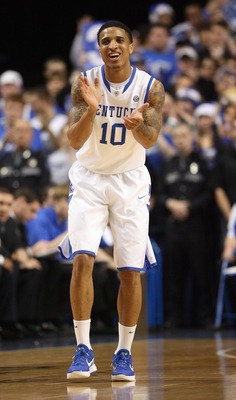 Beckham will be sporting No. 11 next season.
Mark Zerof-US PRESSWIRE
Stat Predictions: 4.0 MPG, 0.5 PPG, 0.7 RPG, 0.6 APG
Twany Beckham did not score last season in 44 minutes over 16 games.
This season, I expect him to score.
I highlighted Beckham's interesting situation in this article. He played 15 minutes per game back at Mississippi State, and he'll probably never reach that mark at Kentucky.
Beckham has more size than Ryan Harrow and Julius Mays, making him an interesting play for defensive purposes. I see Beckham playing a limited "defensive specialist" role next season.
Willie Cauley-Stein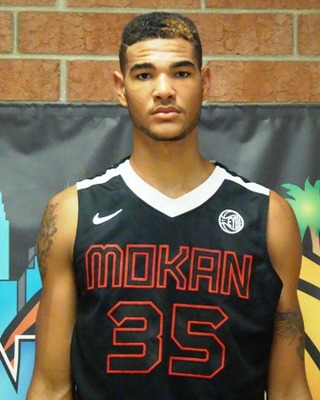 WCS will wear No. 15 next year. Image via NY2LASports.com
Stat Predictions: 15.1 MPG, 4.5 PPG, 5.2 RPG, 1.8 BPG
There's tons of hype surrounding Willie Cauley-Stein. He's the tallest player on the team, something that is evident in the opening picture.
John Calipari has offered up the idea of a "Twin Towers" lineup, starring Nerlens Noel and WCS down low. With that length, opponents would struggle to score down low, but Kentucky would be limited down low on offense.
I have his minutes at a respectable 15.1 per game for next year, primarily because he's raw. He doesn't have the offensive capability of Kyle Wiltjer, but will steal minutes because of his athleticism and defense.
With his 15 minutes, I expect WCS to be very productive.
Archie Goodwin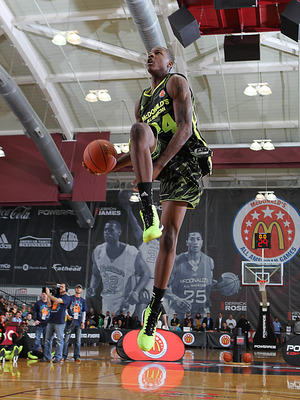 Goodwin at the McDonald's Slam Dunk Contest. He'll wear No. 10 next year.
Brian Spurlock-US PRESSWIRE
Stat Predictions: 28.4 MPG, 12.6 PPG, 3.1 RPG, 2.2 APG
Archie Goodwin will be a great scorer for the Wildcats. He's strong, athletic and skilled.
Don't expect another Doron Lamb at shooting guard next season, though, because Goodwin doesn't have that three-point prowess. He is bigger and quicker than Lamb, which makes him more likely to drive to the basket.
The per game averages I have laid out for Goodwin are fairly low, considering Coach Calipari plays his starters over 30 minutes per game. He'll have to split time with Julius Mays, which is why I see his minutes slightly below that threshold.
Ryan Harrow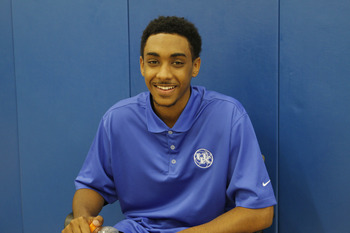 Harrow will wear No. 12 for the Wildcats next year.
Mark Zerof-US PRESSWIRE
Stat Predictions: 29.7 MPG, 13.9 PPG, 1.8 RPG, 4.6 APG
What can we expect from Ryan Harrow?
He's smaller than John Wall, Brandon Knight and Marquis Teague.
But he can shoot better than Wall and Teague. He's quicker than Knight.
Where Harrow will lose minutes is on the defensive side of the ball, primarily because of his size. Teague was a bully on the defensive side of the ball, and Wall and Knight had great length to disrupt ball-handling and passing lanes. Neither are strong points for Harrow.
With Harrow's quickness, he should be able to stay in front of guards. Is that enough for John Calipari to play him 30-plus minutes per game?
Jon Hood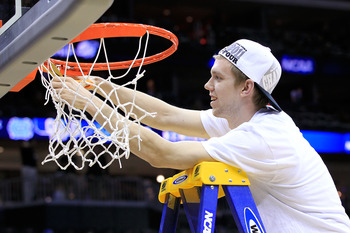 Hood will hold down No. 4 for another season.
Chris Trotman/Getty Images
Stat Predictions: 4.0 MPG, 1.0 PPG, 0.7 RPG, 37.7 3P%
Like Twany Beckham, Jon Hood won't be used in every game. He's not great defensively, but could be an asset as a shooter on the offensive side of the ball.
Hood played 4.4 minutes per game as a freshman and 4.8 as a sophomore. Unfortunately, there isn't much room for his playing time to increase over five minutes per game this season.
Who knows? Hood could blossom into a scoring threat off the bench for the Wildcats, much like Kyle Wiltjer did last season. Right now, I'll temper my expectations.
Brian Long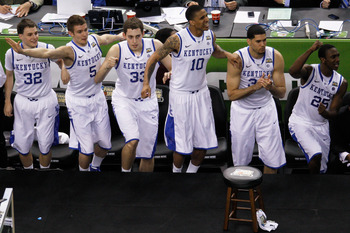 Long (32) will wear that same number next year.
Chris Graythen/Getty Images
Stat Predictions: 1.2 MPG, 0.3 PPG, 0.1 RPG, 0.1 APG
Brian Long played in 12 games last season, with the margin of victory for the Wildcats never dropping below 15 points in those games.
That's what it will take for Long to see the court next season. When he's on the court, don't expect much.
Sam Malone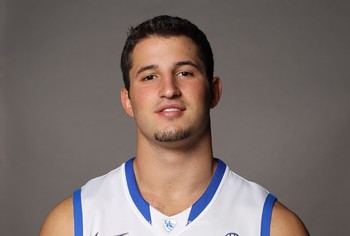 Malone will wear No. 13 in 2012-13. Image via VaughtsViews.com
Stat Predictions: 1.2 MPG, 0.5 PPG, 0.2 RPG, 0.2 APG
While Sam Malone may have better basketball skills than Brian Long, he won't see the court much more.
Malone has a knack for shooting the basketball when he's in the game, which is why his points per game are so high compared to his minutes per game.
Last season, Malone scored six points in 13 minutes.
Julius Mays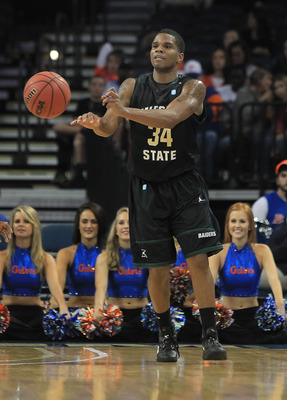 Mays, a transfer from Wright State, will wear No. 34 next season.
Kim Klement-US PRESSWIRE
Stat Predictions: 24.8 MPG, 8.4 PPG, 2.4 RPG, 1.8 APG
At Wright State, Julius Mays averaged 33 minutes and 14 points per game.
He was brought in to solidify the Kentucky backcourt, one that consists of Archie Goodwin and Ryan Harrow.
Mays probably won't see 33 minutes per game, and I doubt he'll have a double-digit scoring average. Mays will be a great scoring option off the bench for the Wildcats, even if it is in a smaller capacity compared to his time at Wright State.
Nerlens Noel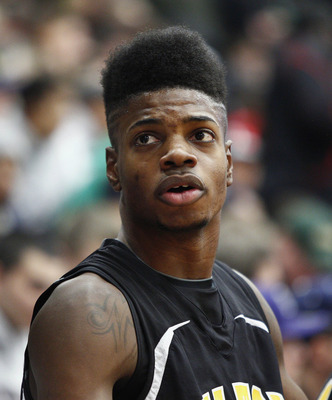 Noel will wear No. 3 for Kentucky next year.
Mark L. Baer-US PRESSWIRE
Stat Predictions: 29.5 MPG, 6.9 PPG, 9.4 RPG, 3.2 BPG
The eligibility concerns surrounding Nerlens Noel may be a cause for concern for the 2012-13 season, but if Noel plays, he's an immediate game-changer on defense.
On offense, not so much.
But the Wildcats won't need Noel on offense. They'll need his defensive presence down low beside Kyle Wiltjer, a known liability on that side of the ball.
Noel and Wiltjer compliment each other better than any other pair of big men for the Wildcats. Wiltjer doesn't assert himself on the boards, leaving plenty for Noel to snag. Contrast that on offense, and where Noel struggles, you'll see Wiltjer pick up the scoring slack.
Jarrod Polson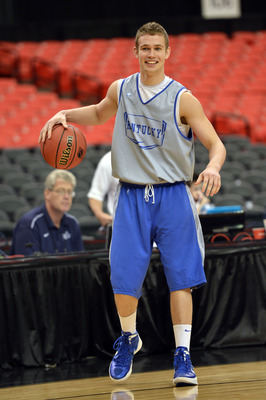 Polson will be No. 5 for another year in Lexington.
Paul Abell-US PRESSWIRE
Stat Predictions: 2.6 MPG, 0.0 PPG, 0.3 RPG, 0.5 APG
If it weren't for Julius Mays, Jarrod Polson might have seen a sharp increase in his minutes per game.
Unfortunately, that won't be the case.
Polson is a fan favorite in Lexington, which may earn him a bit more PT at the end of games.
Alex Poythress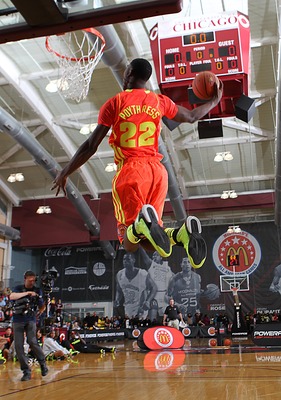 No. 22 will belong to Poythress next season.
Brian Spurlock-US PRESSWIRE
Stat Predictions: 32.9 MPG, 13.2 PPG, 7.8 RPG, 1.3 BPG
The best all-around player for the 2012-13 Kentucky Wildcats will be Alex Poythress.
He brings more on offense and defense than any other player, which is why he'll see the most minutes.
His size (thickness, really) might be his most valuable asset. I expect Poythress to start at small forward, even though he has power forward size. That versatility will keep him in games more than any other player.
Poythress will be a beast on both ends of the floor. Opposing teams will have a tough time keeping him off the glass.
Kyle Wiltjer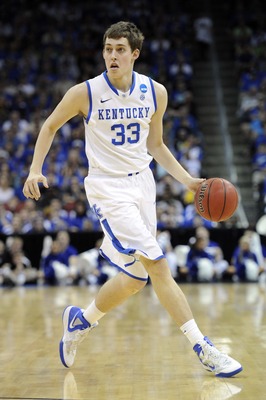 Wiltjer will continue to wear No. 33 in 2012-13.
Jamie Rhodes-US PRESSWIRE
Stat Predictions: 26.6 MPG, 14.3 PPG, 6.7 RPG, 44.1 3P%
The leading scorer for the Wildcats next season will be Kyle Wiltjer.
Kentucky will rely heavily on Wiltjer's scoring, mainly from the outside. Unless one of the guards (Archie Goodwin, Ryan Harrow, Julius Mays) comes out and surprises us all with a deadly outside shot, Wiltjer will be the team's best shooter.
I'm also predicting an increase in Wiltjer's activity on the boards. He was well below average on the glass last season, averaging just 1.8 rebounds per game last year in 11.6 minutes per game.
If Wiltjer can assert himself on both ends of the floor, he'll be the MVP for the 2012-13 Kentucky Wildcats.
Keep Reading

Kentucky Wildcats Basketball: Like this team?