US Open Tennis 2012: 10 Keys to Victory for Andy Murray over Tomas Berdych
Andy Murray is one match away from his third significant final of the summer
Clive Brunskill/Getty Images
The 2012 U.S. Open semifinal between Andy Murray and Thomas Berdych is certainly not the one most expected to see.
Fresh off his quarterfinal upset of Roger Federer, Berdych will be looking to double down and upset the man who may have had the greatest summer of anyone on the tour in 2012.
Andy Murray is still my pick to advance to the final, and here are his 10 keys to victory.
1. Safe Start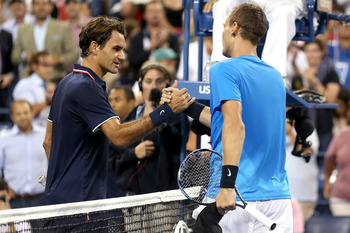 Murray will need to feel out the effect of Berdych's victory over Federer
Matthew Stockman/Getty Images
A case could be made that Murray should open aggressively and force Berdych to prove he belongs in the U.S. Open semifinal. I disagree. Why risk it?
This match will be one of the five biggest of Berdych's entire career, and he's coming off a win over the greatest tennis player that has ever lived.
It's not a prediction that he will have nerves and emotions—it is an inevitable fact. Murray needs to at least allow him the opportunity to self-destruct.
However…
2. Second Set (and Beyond) Aggression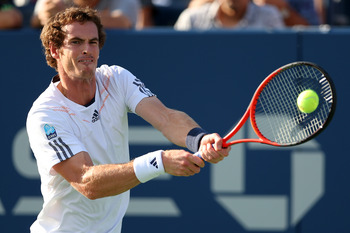 Murray will need to assume the role of aggressor by the second set
Clive Brunskill/Getty Images
Eventually, Murray must be the one to dictate the flow of the match. Will they exchange groundstrokes? Will the volleys become surprisingly pivotal? That is for him to decide.
If Berdych does ride the wave from his previous match, Murray must be ready to adjust accordingly. And the only way to do that is to match the level of energy.
Great players are separated from the good ones because of their ability to be responsible for their own outcome—win or lose. If Murray is truly a great, then it will not be up to Berdych to decide how and when he hits his shots.
3. Concentrate on Making Serves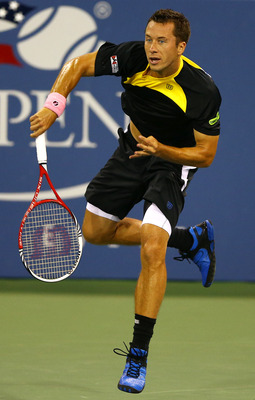 Murray's first serve accuracy is equal to that of Kohlschreiber
Al Bello/Getty Images
This should not be confused with "concentrate on serving well." He needs to make more serves rather than worry about bringing up the aces and three-shot service points.
Murray has been erratic on hard court for much of the year on both his first and second serves. The second serve issue is especially surprising considering the relative softness of the shot. He has made exactly 60 percent of his first serves in 2012.
To say his accuracy is (adjective) bad would be an understatement. It's simply an unacceptable aspect of his otherwise solid game. Forty-two players have a higher percentage.
The second serve has needed some work in the Open as well. Murray's seven double-faults in Round 3 catalyzed his most challenging match of the tournament. He needed four sets, including three tiebreakers, to beat the number 30 player in the world, Feliciano Lopez.
4. Continue Return Roll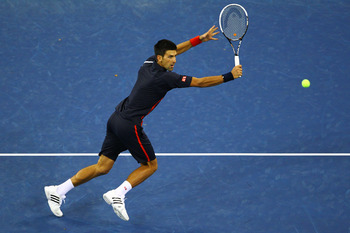 The return game of Novak Djokovic has been the most important part of his success.
Alex Trautwig/Getty Images
Murray's service may be poor, but he has more than made up for it with an overall return game that only Novak Djokovic can best.
Murray has broken his opponents an average of 5.5 times through the first five tournament matches, and this strength should be amplified against Berdych.
Like Murray, Berdych struggles with his first serve accuracy and connects on just 59 percent of them on hard court. Nobody on the tour wins a higher percentage of second-serve returns than does Andy Murray.
5. Make Berdych Move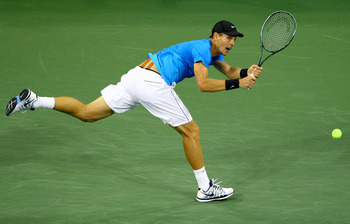 This is something Murray hopes to see Berdych do a lot
Alex Trautwig/Getty Images
Tomas Berdych has made a living with powerful groundstrokes, especially on the forehand side.
He is very much a baseline player and, like the rest of his faction, is at his best when opponents are content to place balls within two yards of the T.
Murray is a fellow member of the backcourt fraternity and is well aware that he will need to go for some shots that he may ordinarily pass up.
6. Utilize the Slice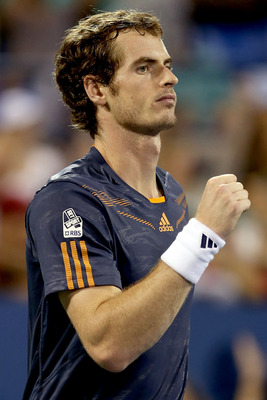 The slice should be one of Murray's more frequent shot selections
Matthew Stockman/Getty Images
Tomas Berdych stands at 6'5". As a groundstroke player, he loves nothing more than a short, topspin ball that he can strike right in his sweet spot.
Murray will keep him constantly on the run, but frequent slices, especially off his backhand, should be equally common as balls played to the corners of the court. Not only will backspin prevent Berdych from crushing the ball, it will also work the Czech's knees.
This match could easily exceed three and a half hours, so even the most minor of physical ailments will play a part.
7. Remember the Net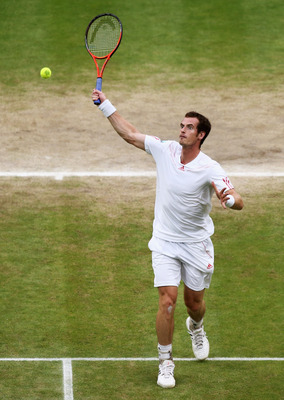 Murray has been volleying more this year
Paul Gilham/Getty Images
Murray and Berdych both prefer to operate from the baseline, but even when these types of players meet, volleys are still pivotal. If anything, capitalizing on short balls is even more important when they are so rare.
A first-serve percentage of over 65 percent will create more net opportunities, assuming Murray elects to attack short returns.
Once again, an underlying concern of Murray must be conserving energy. Throwing in the occasional serve-and-volley will accomplish this.
8. Maintain Composure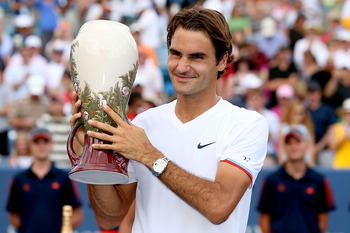 It's no coincidence that one of the most emotionally composed players of all time is also the greatest
Matthew Stockman/Getty Images
This was once viewed as Murray's great weakness. Frustration, fatigue and flat-out stinkers characterized many of his matches.
One would think that his impressive summer will make this point an afterthought, but it should be noted that there are many reasons Berdych could get under Murray's skin.
For one, Berdych is 4-2 against Murray in 2012. This is also not the first time that Berdych is ready to make a run of consecutive upsets in a major. He beat Federer and Djokovic on the way to the 2010 Wimbledon final before losing to Rafael Nadal.
This is going to be a close match that looks like your textbook five-setter. Murray cannot allow Berdych to rattle off consecutive sets.
9. Don't Worry About the Final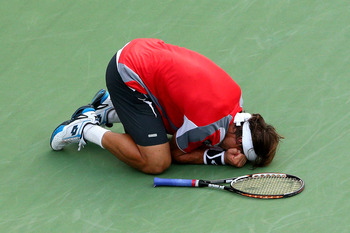 David Ferrer gave us a show on Thursday, but nobody's stopping Djokovic
Cameron Spencer/Getty Images
After winning maybe the greatest three-set match I have ever seen, Djokovic is one away from the final. David Ferrer? Forget it. Djokovic is moving on.
Nothing would be more satisfying for Murray than to get his first major while simultaneously dethroning Djokovic—not to mention, it would be his second big win over the Serb in as many months (London Olympics).
If Murray spends anytime fantasizing about this prospect, however, he won't get the opportunity to live it.
10. Disregard Reasons 1 Through 9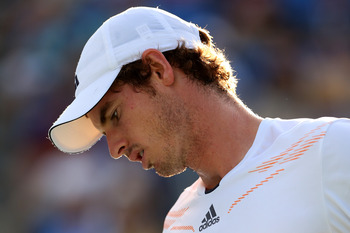 Andy Murray is better, and it SHOULD be that simple
Matthew Stockman/Getty Images
Andy Murray is the better player and is in the midst of the greatest streak of his life. He should have supreme confidence and is about as well-rested as one could be at this junction of the tournament.
Murray should win the match and, as is usually the case with something as mentally taxing as tennis, minimal thinking is a good thing.
Keep Reading