Florida State Football: What We Learned from the Week 1 Game vs. Murray State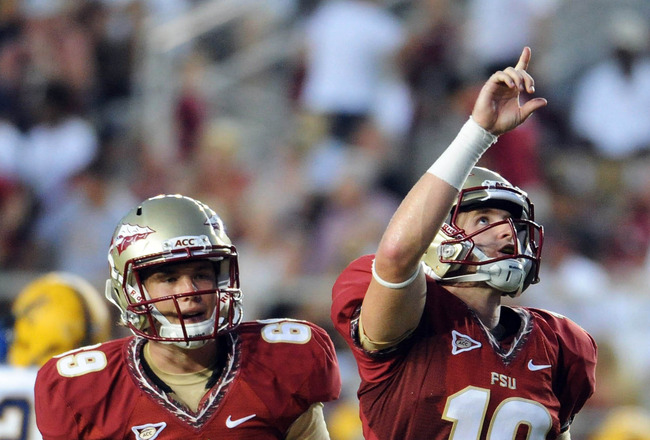 Florida State's Saturday game against Murray State gives hope for the Seminoles this season.
Melina Vastola-US PRESSWIRE
It's not every day that Bobby Bowden gets in the Florida State Hall of Fame.
His induction was one of many savory sights for a game-goer on Saturday as FSU steamrolled Murray State 69-3.
This home opener showed the ensemble cast of Florida State, as many combinations of starters and backups made footprints in the turf and gave some skeptical Seminoles the hope that Florida State might not only make it back to a BCS bowl this season, but might win the whole enchilada.
Quarterbacks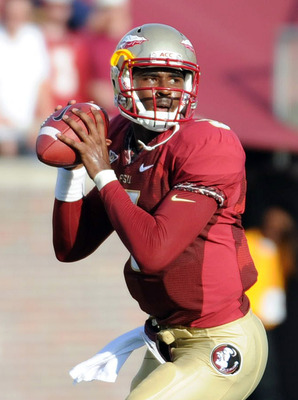 E.J. Manuel threw more to his sides and had receivers run the ball rather than risk interceptions.
Melina Vastola-US PRESSWIRE
E.J. Manuel had another pedestrian showing against Murray State. Some might attribute it to working out the rust, which is a legitimate claim. Fortunately, while Florida State's fifth-year senior quarterback hasn't been Heisman worthy (yet), he has been reliable for most of the time. His only interception came off a missed catch by wide receiver Kenny Shaw.
It wasn't rare for E.J. to throw to the outside and have receivers gain the necessary 10 yards. Manuel still made a few mental mistakes (who doesn't?), but his unimpressive numbers—a touchdown, a pick and 188 yards—will not impress Heisman voters.
Clint Trickett, in his back-up position, performed exceptionally well and keeps giving the Seminoles hope that 2013 and beyond will be secure with the back-up quarterback. Given Jacob Coker (who is nearly as good as Trickett in practices) and No. 1 2012 class dual-threat quarterback Jameis Winston, the Seminoles quarterback position could actually strengthen with all the back-up time quarterbacks got on Saturday and soon against incoming Savannah State.
Grade: B- for Manuel (it's an FCS team)
Running Backs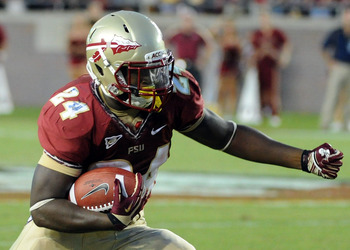 Lonnie Pryor was part of a running back express that scored seven touchdowns.
Melina Vastola-US PRESSWIRE
Seminole Nation garnered national attention over Murray State for more than one reason: Jimbo Fisher's team had, incredibly, seven rushing touchdowns. While the unit has yet to play an FBS team, one can take solace that this year's opening victory featured 285 rushing yards of bliss. What a comfort for a team whose 2011 Achilles' heel (besides injuries) was their offensive line.
Like predicted, Chris Thompson was given early carries by Jimbo Fisher, but Devonta Freeman was actually used in a limited capacity. Instead, it was veteran Lonnie Pryor, sophomore talent James Wilder, Jr., and back Debrale Smiley that combined for the aforementioned seven scores. Devonta Freeman was also used in the red zone, but never actually scored. It's likely that Jimbo is trying to create more competition for the starting running back position by using all his backs.
Apparently the guys have found a way to deal with some of the offensive line's remaining issues.
Grade: A+
Wide Receivers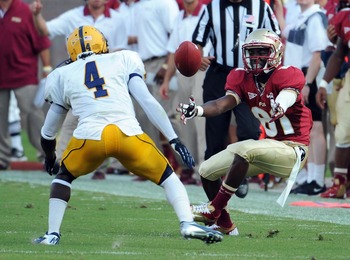 Kenny Shaw was solid, but allowed an interception.
Melina Vastola-US PRESSWIRE
Greg Dent emerged from the stunning group of wide receivers. It seems that whenever Manuel was in a corner, he threw to Dent. Given that he was not in many of them, though, he focused his strength on two guys.
The experienced quarterback-to-receiver chemistry was aglow when E.J. Manuel threw to receiver Kenny Shaw, who had four catches for over 80 yards. A fumbled catch ended Manuel's streak of passing attempts without an interception, a performance that had started in last year's Champs Sports Bowl against Notre Dame.
Freshman Kelvin Benjamin got attention from back-up quarterback Clint Trickett, giving the Seminoles who dared to stay for the second half a glimpse of what the future holds. Benjamin had three receptions, and just looked glorious on the field.
All in all, the wide receiver corps is doing just fine.
Grade: B (for Shaw's mishandled football)
Offensive Line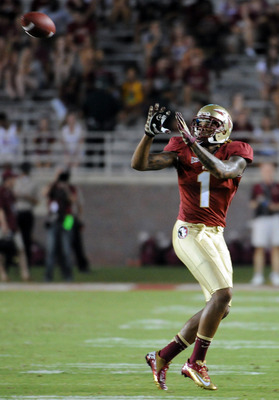 Well-executed offensive line play left Kelvin Benjamin wide open.
Melina Vastola-US PRESSWIRE
The offensive line is becoming a strong suit in Florida State: after all, the team only had seven rushing touchdowns (isn't it fun to say?).
FSU doesn't have the caliber and ultra-experienced offensive line of say, a Texas A&M, but the line has become serviceable and reliable. True progress can't be measured until the Seminoles play their first FBS team (Wake Forest) on September 15th or even later, but the enigmatic offensive line is sending a message of robust resiliency for future foes.
Grade: B (it's an FCS team)
Florida State Defensive Line and Ends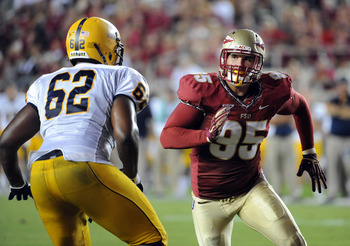 Bjoern Werner is now the leader of the Florida State defense.
Melina Vastola-US PRESSWIRE
Defensive Stat of the Game: six sacks.
Now, the FCS certainly does not have quarterbacks that are eye candy to major recruiters, but Murray State quarterback Casey Brockman was supposed to be the 2012 quarterback of the year, according to Lindy Sports.
Six sacks, an interception and a woeful 52.7 percent completion percentage later, Brockman was out of the game. Defensive End Bjoern Werner had an excellent day, collecting four sacks himself. Werner's ability to lead will help with fellow end Brandon Jenkins' ankle injury sidelining him for the year.
In the run game, the Racers were limited to only 39 total yards! The line did excellently—so well, that you would think that it belonged to Alabama! Overall, Murray State accumulated 156 yards. That's good news for a line that allowed minimal rushing yardage last season.
Grade: A (FCS team or not, this was amazing)
Linebackers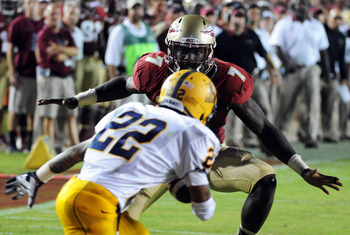 Christian Jones showed his athleticism against Murray State on Saturday.
Melina Vastola-US PRESSWIRE
Secondary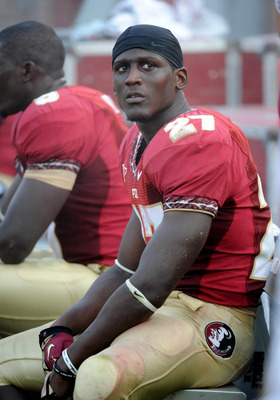 Xavier Rhodes made life a nightmare for Casey Brockman.
Melina Vastola-US PRESSWIRE
At the game, a friend of mine said Xavier Rhodes is his new favorite football player.
I agree.
Rhodes got one of Brockman's three interceptions, blocked two passes and made four solo tackles. It seemed that whenever Murray State started to get a drive going, the veteran cornerback would end the play for a loss.
The safeties got little time to shine, with already the nation's best defensive line, ends, cornerbacks and secondary blocking for them.
Grade: A (at least for Rhodes)
Florida State Special Teams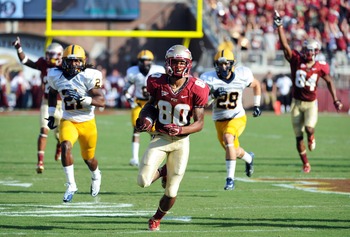 Rashad Greene ran a kickoff for a touchdown to overwhelm Murray State early.
Melina Vastola-US PRESSWIRE
"Who is Greg Reid?"
Florida State made up for the loss of Reid in the return game with Rashad Greene's touchdown return against Murray State. The Racers might have chased, but Greene saw the end zone first only one-minute-and-a-half of play in the first quarter.
Dustin Hopkins, one of FSU's team captains and kicker, made a 38-yarder and a 30-yarder in the third quarter. He also made all of his extra points. It was a quiet day for Hopkins, but fans should still shudder about how he performs when a game is on the line. Hopkins will be fine, but he has to have the strength to prevent another wide left tragedy.
Grade: A
Coaching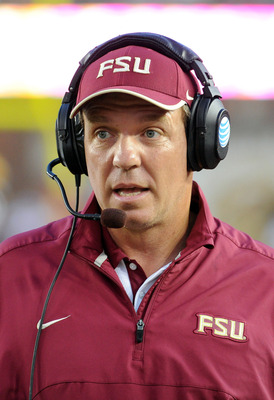 Jimbo Fisher is already redeeming last year's 9-4 blemish.
Melina Vastola-US PRESSWIRE
Jimbo Fisher continues to recruit the best, and it seems he is getting the best of out of his first real recruiting class in the post-Bowden era.
He made sure Manuel didn't throw far downfield and risk an interception, instead sticking to screens. Perhaps Fisher is a Nick Saban (albeit a nicer, more genuine one) of his own: his running backs led the way to victory while the quarterback was serviceable.
Mark Stoops' defense was enviable, allowing only three points on the day. While Murray State was able to move the ball in the first half (and had another chip-shot field goal that their kicker missed), Stoops' crew buckled down as time went on. His backups played as well as his starters in the second half. 'Noles fans should enjoy Stoops while they have him, because he is going wherever he wants after this season (maybe Arkansas?).
Grade: A
Intangibles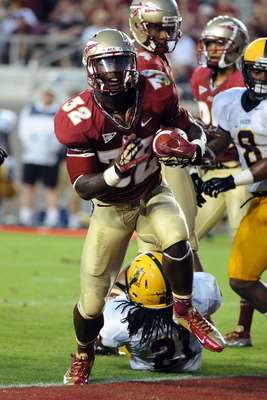 Florida State never looked back.
Melina Vastola-US PRESSWIRE
This season, something just feels different.
Last year, Florida State's campus emitted euphoria for the Oklahoma game. Injuries took their toll, and a new offensive line needed time to gel.
But with a schedule like this, recruiting the best players over the past two years (okay, second-best to Alabama in recruiting ranks) and actual experience over all positions (i.e. quarterback) the autumn air does not seem so deceptive.
Even though this was (no offense Murray State) a scrimmage, one couldn't help but feel that this was it. The defense, offensive line, and running backs were sturdy enough that the Seminoles could excel without a Heisman-winning quarterback. And E.J. didn't throw any interceptions on his own (Kenny Shaw messed up), even though his decision making is still developing. Manuel's a great quarterback who will keep things together well enough that the defense might only have to bail him out once this season.
This team can pack a punch, and I finally believe some of the hype. The Seminoles might not be at the mountaintop, but for the first time in a long time, they are staring right at it.
This is a Grade A team.
Keep Reading

Florida State Football: Like this team?