UCF vs. Ohio State: Complete Game Preview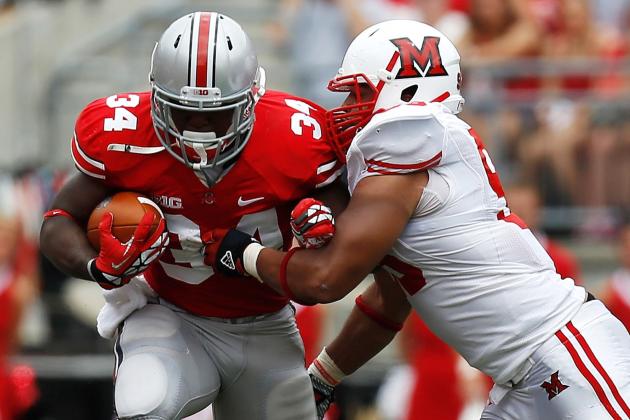 Kirk Irwin/Getty Images

The No. 14 Ohio State Buckeyes (1-0) will play the UCF Knights (1-0) in the first ever meeting between the schools this Saturday in Columbus.
Both Ohio State and UCF are banned from postseason play this year because of NCAA violations committed by both schools. Both also field two very talented football teams, and this complete game preview will provide all the details of their matchup this Saturday.
Begin Slideshow

»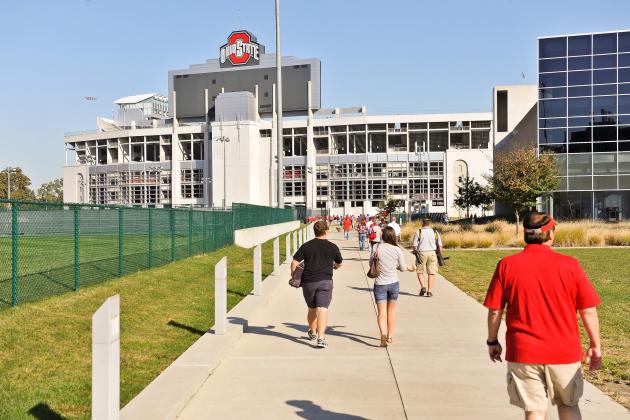 Jamie Sabau/Getty Images

Who:
Central Florida (UCF) at Ohio State
When:
Saturday, 12:00 (ET)
Where:
Columbus, Ohio
Stadium:
Ohio Stadium (102,329)
TV:
ESPN2 will be televising the game nationally.
Radio:
Florida: Orlando - 740 AM | Maitland - 540 AM | Clearwater - 1350 AM | Daytona Beach - 1340 AM | Fort Myers - 770 AM
Ohio: Akron - 1590 AM | Cincinnati - 1480 AM | Cleveland - 850 AM | Columbus - 1460 AM | Columbus - 97.1 FM | Youngstown - 1390 AM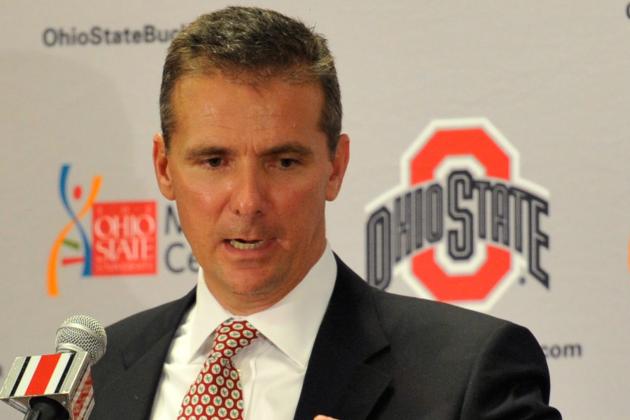 Jamie Sabau/Getty Images

Quarterback:
Braxton Miller | Kenny Guiton
Running Back:
Carlos Hyde | Bri'onte Dunn
Fullback:
Zach Boren | Adam Homan
Wide Receiver (H):
Jake Stoneburner | Chris Fields
Wide Receiver (X):
Devin Smith | Michael Thomas
Wide Receiver (Z):
Corey Brown | Evan Spencer
Left Tackle:
Jack Mewhort | Darryl Baldwin
Left Guard:
Andrew Norwell | Antonio Underwood
Center:
Corey Linsley | Jacoby Boren
Right Guard:
Marcus Hall | Chase Farris
Right Tackle:
Reid Fragel | Taylor Decker
Tight End:
Nick Vannett OR 86 Jeff Heuerman

Defensive End (LEO):
John Simon | Steve Miller OR Noah Spence
Nose Tackle:
Garrett Goebel | Joel Hale
Defensive Tackle:
Johnathan Hankins | Adolphus Washington OR Tommy Schutt
Defensive End:
J.T. Moore | Nathan Williams
*Michael Bennett out with a groin injury
Outside Linebacker:
Ryan Shazier | Conner Crowell
Middle Linebacker:
Curtis Grant | Camren Williams
Outside Linebacker:
Etienne Sabino | Joshua Perry
Cornerback:
Bradley Roby | Doran Grant
Safety:
Christian Bryant | Orhian Johnson
Safety:
C.J. Barnett | Corey Brown
Cornerback:
Travis Howard | Adam Griffin

Kicker:
Drew Basil | Kyle Clinton
Punter:
Ben Buchanan | Drew Basil
Punt Returner:
Corey Brown | Devin Smith
Kick Returner:
Corey Brown | Bri'onte Dunn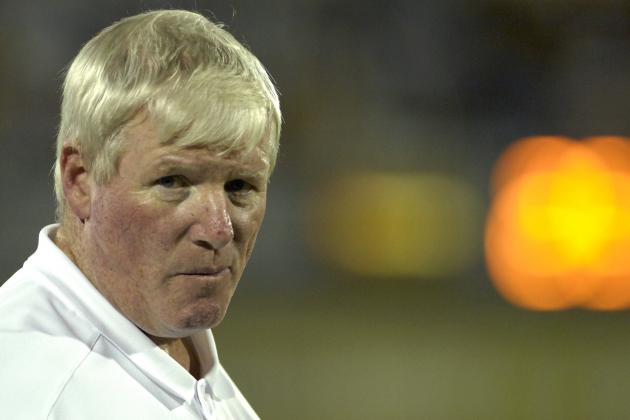 Al Messerschmidt/Getty Images

Quarterback:
Blake Bortles | Tyler Gabbert
Running Back:
Storm Johnson | Brynn Harvey
*Latavius Murray will not play due to a shoulder injury.
Fullback:
Billy Giovanetti
Wide Receiver:
J.J. Worton | Jeff Godfrey
Wide Receiver:
Quincy McDuffi | Rannell Hall
Left Tackle:
Torrian Wilson | Tony Jacob
Left Guard:
Theo Goins | Kelly Davison
Center:
Jordan Rae | Rey Cunha
Right Guard:
Jordan McCray | Tarik Cook
Right Tackle:
Justin McCray | Phil Smith
Tight End:
Justin Tukes | Chris Martin

Defensive End:
Victor Gray | Deion Green
Defensive Tackle:
Jose Jose | Thomas Niles
Defensive Tackle:
E.J. Dunston | Josh Wofford
Defensive End:
Troy Davis | Cam Henderson
Outside Linebacker:
Jonathan Davis | Troy Gray
Middle Linebacker:
Terrance Plummer | Willie Mitchell
Outside Linebacker:
Ray Shipman | Mark Rucker
Cornerback:
A.J. Bouye | Jacoby Glenn
Strong Safety:
Clayton Geathers | Jared Henry
Free Safety:
Kemal Ishmael | Lyle Dankenbring
Cornerback:
Jordan Ozerities | Brandon Alexander
Kicker:
Shawn Moffitt | Sean Galvin
Punter:
Jamie Boyle | Caleb Houston
Punt Returner:
Quincy McDuffie | Rannell Hall
Kick Returner:
J.J. Worton | Jeff Godfrey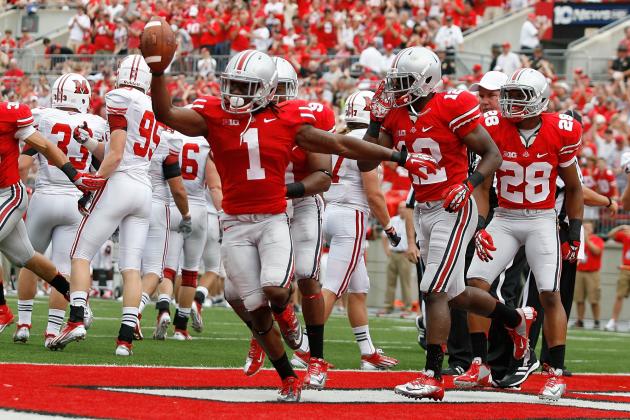 Kirk Irwin/Getty Images

Ohio State opened up the 2012 football season with a 56-10 rout of the Miami University RedHawks. The Buckeyes' offense was putrid to start the game, gaining just 48 yards, two first downs and no points in the first quarter, but the team gained their composure in the second quarter and closed out the game with eight touchdown drives.
Sophomore quarterback Braxton Miller had a fantastic game, throwing for 207 yards with two touchdowns and no interceptions while adding 161 yards and another score on the ground. His 161 yards rushing set a single-game school record for rushing yards by a quarterback.
The "Silver Bullet" defense struggled containing Miami quarterback Zac Dysert in the first quarter, surrendering 172 passing yards to the RedHawks through 15 minutes. Like the offense, Ohio State's defense adjusted and only allowed Dysert to throw for 141 yards the final three quarters.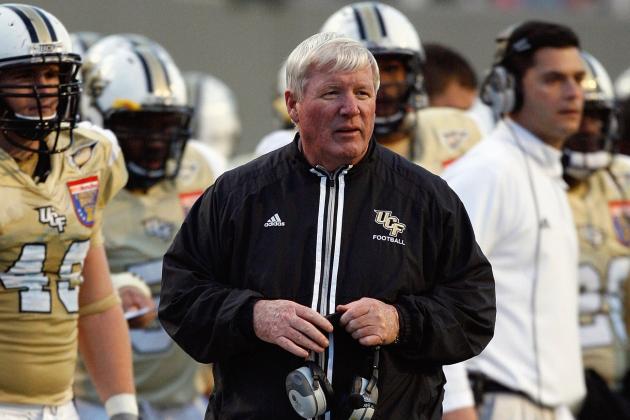 Joe Murphy/Getty Images

The UCF Knights invaded Akron last Thursday and ruined Terry Bowden's coaching debut for the Zips. The Knights piled up 206 yards rushing and forced four turnovers to fuel their 56-14 demolition of Akron.
Star running back Latavius Murray was having a fantastic game, rushing for 108 yards and a touchdown in little over one quarter of play, but the senior injured his shoulder in the second quarter and sat out the rest of the game.
UCF coach George O'Leary said Murray will not play against the Buckeyes, which is a huge blow to the team.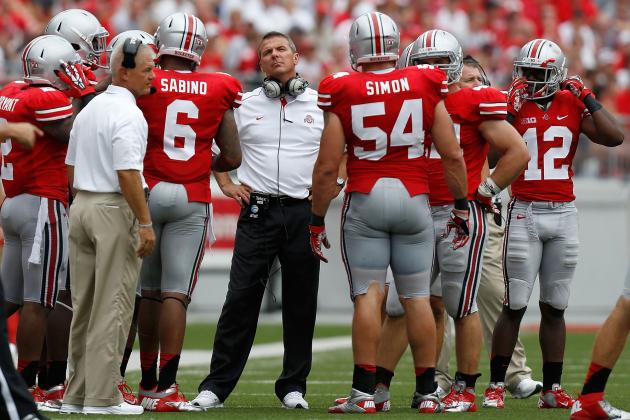 Kirk Irwin/Getty Images

For Ohio State: Each game on Ohio State's schedule has a significant amount of importance because of the bowl ban. Players like Carlos Hyde have come out and said their goal is to win all 12 games this fall, and stumbling early to an over-matched UCF squad would put a huge damper on the team.
For UCF: A victory over Ohio State would be huge for George O'Leary and the Knights. UCF has come on strong the last few years and notched victories over teams like Georgia in 2010 and No. 15 Houston in 2009, but a win over Ohio State would be O'Leary's biggest victory at UCF. With the Knights' postseason ban, defeating Ohio State in Columbus would easily be the peak of their 2012 season.
Braxton Miller, QB
Few things were more evident last Saturday than the fact that Ohio State's offense will only go as far as Braxton Miller can take it.
In the first quarter, Miller was 1-of-7 passing for just six yards, and Ohio State's offense looked as anemic as last year's team. But when Miller turned things on, the offense started humming. The sophomore quarterback connected on his first five passes in the second quarter, piling up 99 yards through the air while leading two quick touchdown drives for the Buckeyes.
If Miller struggles throwing the ball in Week 2, it will allow UCF to load the box and key in on Ohio State's running game.
Storm Johnson, RB

With Latavius Murray out, UCF will need backup Storm Johnson to have a big game. UCF, unlike Miami, relies heavily on the running game to establish a rhythm on offense.
Johnson was the seventh-best running back in the 2010 recruiting class and committed to play for the Miami Hurricanes, but he later transferred to UCF because of a lack of playing time.
After Murray's shoulder injury, Johnson came in against the Zips and rushed for two touchdowns—both of which followed Akron fumbles inside their own 10-yard line. Johnson finished the game with just 34 yards on 12 carries, so he'll need a much better effort against Ohio State to help his team pull off the upset.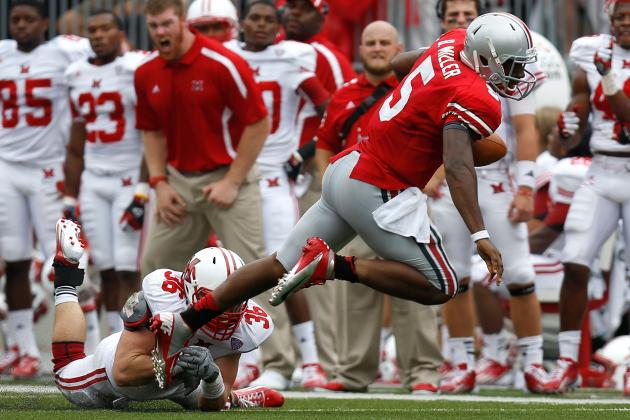 Kirk Irwin/Getty Images

The Buckeyes will win if Braxton Miller plays like he did in the second quarter last Saturday against Miami. UCF is a much more talented team than Miami—especially on defense. The Knights are big up front, with a defensive tackle that tips the scale at 340 pounds, so the Buckeyes will need to keep the pace up and wear out UCF's defensive front to open up the running game.
UCF's strength on offense is running the ball, but they'll be facing the biggest test of their season this Saturday against an Ohio State front seven that held Miami to minus-one yard rushing on 20 attempts last Saturday. If Ohio State brings that kind of effort this week, they'll get the victory.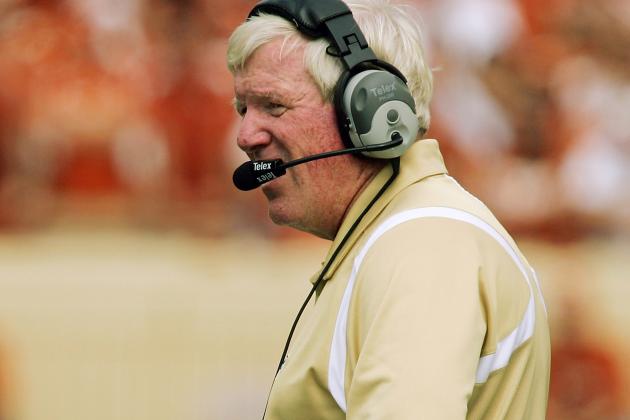 Brian Bahr/Getty Images

The Knights will win if they can fluster Braxton Miller into the kind of game he started having against the RedHawks. So much of Ohio State's success on offense depends on the quarterback, and if UCF can shut Miller down, they'll be halfway toward a big upset win.
To get all the way there, they'll need Storm Johnson to step in and have a huge game running the ball. UCF quarterback Blake Bortles will need to keep Ohio State's defense off balance with perfect execution in the passing game, and he might even have to tuck it and run more often than he did against Akron in their season opener.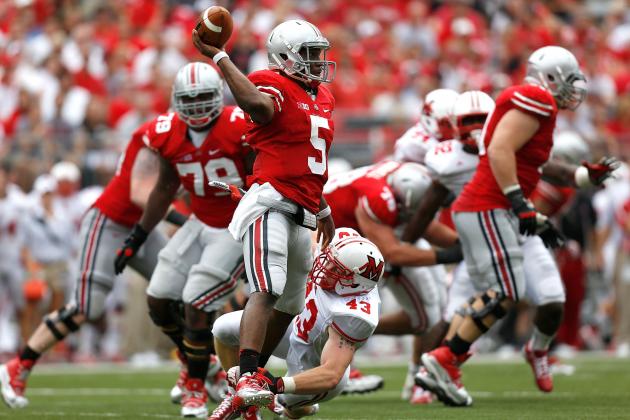 Kirk Irwin/Getty Images

The Knights will keep things close in the first half, but Braxton Miller and the Buckeyes will be too much to handle for UCF's defense.
Ohio State 38, UCF 13