US Open Tennis 2012: Power Ranking Men's Contenders After Round 3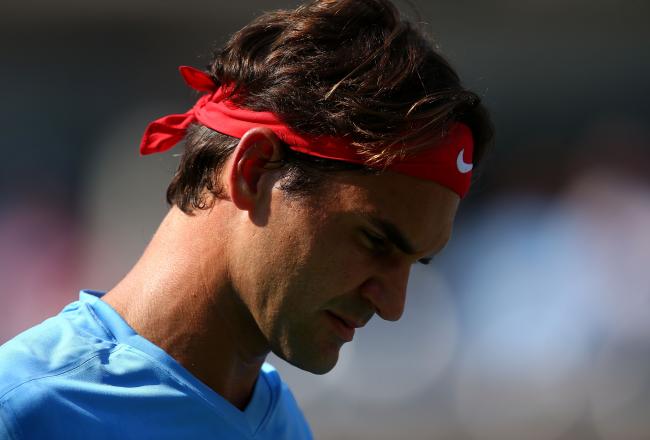 Elsa/Getty Images
Nothing has happened at the 2012 U.S. Open that should move Roger Federer from his favorite status to win this title.
However, with the U.S. Open narrowing itself down to 16 men left to fight for the title, it is a good time to rank those contenders now that we have three matches of tournament play to draw from.
Here are the top four.
2012 U.S. Open Men's Power Rankings
No. 4: Andy Roddick
Who will win this tournament?
Andy Roddick is a supreme long shot to win this tournament, but that can honestly be said of any player not named Federer, Novak Djokovic and to a lesser degree Andy Murray.
So when looking at the long shots to win this title, Roddick has some key ingredients. He is a former champion, will be a crowd favorite in any matchup and he announced this would be the last tournament of his career, which just might lead to some magic from Roddick.
In the end, his booming serve custom made for hard-court dominance is the biggest reason he belongs on this list. If he can get hot with his serve, he will be nearly impossible to beat, and he has hit at least 67 percent of his first serve in his three matches while consistently firing them off in the 130 mph range.
This has led to Roddick losing just one set in his three matches.
No. 3: Andy Murray
Before this tournament began, I actually had Murray ahead of Djokovic. Murray has been making solid strides, and with his Olympic win earlier in the summer it felt like he was closing in on a Grand Slam title.
He very well may be, but I doubt it is going to come at this year's U.S. Open. For Murray to finally break through for that win, he is going to have to be on top of his game.
While he has lost just one set at this tournament, he has struggled at times with his emotions and consistency. This was clear in his first match, and it was clear again in his third-round victory over Feliciano Lopez.
Murray won three sets to one, but he needed to go to the tiebreaker to win all three of his sets. This is not a terrible outcome, Lopez was seeded 30th for this tournament, it just reveals a big enough flaw that it points to Murray having a hard time toppling either of the next two players.
No. 2: Novak Djokovic
Djokovic has not only not lost a set yet at this U.S. Open, he has lost only 14 games. In fact, the three games won by 31st-seeded Julien Benneteau in the opening set of their third-round match is the most games Djoker has allowed his opponent to win.
Djokovic is playing fantastic right now. He clearly is focused in on defending his championship.
While Andy Murray almost always plays Djokovic tough, I don't see Murray winning more than a set vs. Djoker should they meet in the semis.
There is only one man with a realistic shot at beating Nole.
No. 1: Roger Federer
Federer has not been as dominant as Djokovic at this tournament, but he is not far behind. He has yet to lose more than four games in any set, and he has been giving off the feeling that he is toying with opponents.
Federer has hit at least 67 percent of his first serves in all three of his matches. This is always a key stat for Federer. When he is landing them with that kind of accuracy, he is very difficult to beat.
Federer has gotten the better of Djokovic the last two times they've played, and I expect he will make it three in a row while winning his sixth U.S. Open title.
This article is
What is the duplicate article?
Why is this article offensive?
Where is this article plagiarized from?
Why is this article poorly edited?