The Oakland Raiders need a healing revival in the locker room; otherwise, this snake-bitten team could potentially be doomed from the start of the 2012 NFL season.
The Raiders have had key starters on both sides of the ball sitting practices and games out this preseason, and given the fact that both units are operating under new coaches and therefore new playbooks, this presents a problem.
The Walking Wounded
Richard Seymour—the solid rock upon which this defense needs to be founded—is suffering what head coach Dennis Allen calls "an arthritic knee," according to the Oakland Tribune's Jerry McDonald, who writes that it's "a condition that is likely to need maintenance the rest of the season."
There have been contrary reports about Seymour, though. The San Francisco Chronicle's Vic Tafur reports:
Richard Seymour says he doesn't have arthritis, just resting his knees. And, obviously, I don't think he's playing Thursday either

— Vic Tafur (@VicTafur) August 27, 2012
Depending on who you believe, this problem could become a big-time issue for the Raiders going forward.
Starting center Stephen Wisniewski is also experiencing lower-body troubles, and his calf injury has forced the team to consider using Alex Parsons in Week 1, according to McDonald, who reports that Allen said this about his ailing center:
"The calf just hasn't quite responded as fast as I would hope, but we're still within that window of when we thought he might be ready to go (for the opener)."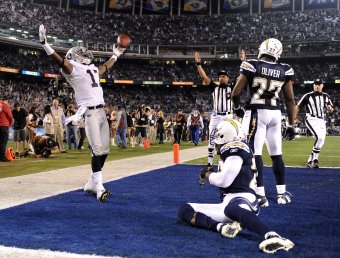 Harry How/Getty Images
Aaron Curry has been out all preseason on the PUP list with two ailing knees.
Denarius Moore (hamstring) and Jacoby Ford (ankle) are still out, though the team hopes they'll be ready to go once the regular season gets going.
Finally, there's Sebastian Janikowski's groin injury. He is set to be ready for Week 1, but we know groins can be tricky. All it takes is a little twinge and he's back to riding the pine.
Negative Impact
These injuries could really cripple this team early in the 2012 season—especially if any of them linger.
The Raiders face some stiff competition right off the bat this year, facing the San Diego Chargers, Pittsburgh Steelers and Denver Broncos within the first four games.
If Seymour can't go, or if he's limited in any way, the defense will struggle to contain the opposition's running game. More than that, Seymour requires double-teams; paired with Tommy Kelly, the duo opens up one-on-one opportunities for pass-rushers Lamarr Houston and Matt Shaughnessy on the outside on passing downs.
Justin Edmonds/Getty Images
Without him, the defensive line won't be nearly as effective, opening up the secondary for abuse from the likes of Philip Rivers, Ben Roethlisberger and Peyton Manning.
One more thing the Raiders may face on defense is the loss of starting middle linebacker Rolando McClain to a potential suspension, stemming from his offseason legal troubles (h/t CSNBayArea.com).
If he and Seymour are both out, the middle of the defense is subject to be breached.
On offense, losing Wisniewski for any amount of time could be catastrophic to an already-struggling Carson Palmer. Considering the fierce pass-rushers the team will face early on, the offensive line could be a train wreck right out of the gate.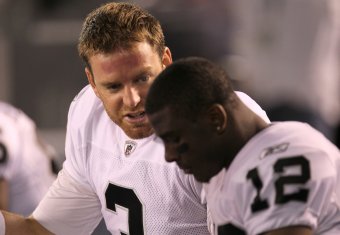 Stephen Dunn/Getty Images
On top of that, there's the simple fact that Palmer hasn't had any time to jell with two of the team's primary receivers—Moore and Ford—and if Palmer is getting pounded by defenders, he won't have time to develop chemistry with them.
All of this will be magnified by the fact that this team is being led by a new head coach and new coordinators.
Conclusion
The Raiders face an uphill battle all the way through the 2012 season.
Even with a fully-healthy roster, this team will be hard-pressed to compete with the other three teams within the AFC West—all of which have the potential to make the playoffs.
If the team continues to be hampered by injuries, it doesn't have a chance to win the division.
Hey, at least Darren McFadden is still healthy. If he can stay that way, he has a good chance to lead the league in rushing and carry the Raiders to a wild-card berth.
Follow me on Twitter @JesseReed78