Philadelphia Phillies: Picking an Intro Song for All 25 Players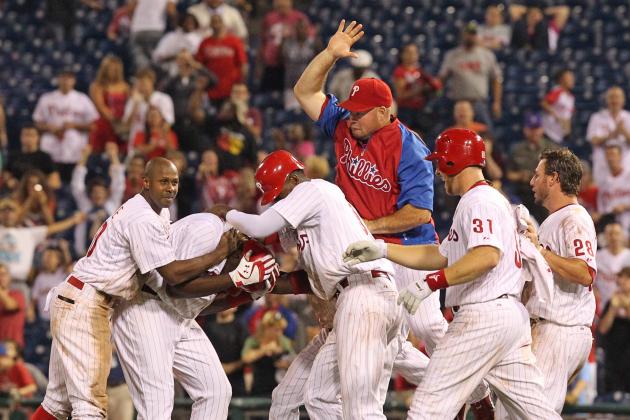 Hunter Martin/Getty Images

HUMOR.
Want to talk about one of the most underrated facets of Major League Baseball? How about the guilty pleasure of fans, players and ballpark employees everywhere?
Introduction music.
That's right. For batters, it's known as walk-up music. For starting pitchers it's a warm-up song, and for relievers it's entry music.
For the fans, it's fun.
Nothing gets the casual fan more hype than jamming out to a great song at the ballpark. Hitters feel the same way. Picking the perfect song before each at-bat could lead to a good outcome. Of course, the opposite is true as well.
For pitchers, it could be the difference between getting that extra mile per hour on your fastball. You need to get that adrenaline flowing big time before you deliver that first pitch. That's why the sounds of the game are so important.
For the Philadelphia Phillies, it's been a disappointing season—one worthy of new intro songs. That's right. I'm going to pick an intro song for all 25 players on this roster.
Of course, some of this is going to be complete satire. I really just couldn't help myself.
Begin Slideshow

»
"And the base keeps running, running. And running, running."
That's something that Jimmy Rollins should be doing too!
After Rollins arrived on the scene in 2000, his speed, contact skills and on-base percentage made him a nice fit at the top of a Phillies' lineup that could deliver some thunder behind him.
He has spent years in that position since and has been known as the club's "spark plug" for quite some time now.
Of course, we can debate whether or not that's actually true at a later date. For now, we'll leave it up to Rollins to get things started at the top of the order.
(You may now release a groan at the thought of more Black Eyed Peas music at Citizens Bank Park.)
I know it sounds ridiculous, but this is seriously what I think of when Juan Pierre comes to the plate.
Just think about it for a second.
Survivor's "Eye of the Tiger" has become synonymous with the Rocky movie franchise, which, of course, takes place right here in Philadelphia.
It's the story of an underdog fighting his way to the top against some tougher competition. Tell me with a straight face that Pierre hasn't taken the "Rocky" path to the starting left field job.
He came into spring training without a guaranteed contract knowing that the Phillies would have preferred to stick him on the bench and let John Mayberry Jr. blossom.
Instead, Pierre fought his way to the top of the depth chart and has been the only hitter not named Carlos Ruiz to maintain a batting average of better than .300 for any extended period of time this season.
Now that's a fighter.
Some things are just too perfect to change, and if you ask me, Chase Utley has the best walk-up music in all of baseball.
While he's been hurt for big chunks of each of the last two seasons, when Utley is going good at the plate, as he has been recently, the excellent riff of Led Zepplin's "Kashmir" rings through the ballpark like a note of impending doom for the opposing pitcher.
It's an iconic baseball song in Philadelphia right now. You can't say that about many others—if any at all.
Sure, it's a little generic. Anyone who's been to Citizens Bank Park has probably heard this song about 400 times.
But someone needs to remind Ryan Howard that he's supposed to be the most powerful hitter in the Phillies' order. Who better than Kanye West?
I'd list you some of the lyrics, but I'm pretty sure you already know them (or it).
So goodnight, cruel world, I'll see you in the morning.
"Evolution is a mystery."
Has that statement ever been any truer for a Phillies player than it is for Carlos Ruiz?
Signed as a second baseman as an amateur free agent, all Ruiz has done since his first professional season is evolve as a player. He's become one of the best defensive catchers in the game, and now, one of the best hitters as well.
After posting a slash line of .283 / .371 / .383 with six home runs in 2011, Ruiz blew that mark out of the water in 2012 by posting a line of .335 / .399 / .559 with 14 home runs.
There's a line in the song "Line in the Sand" by Motorhead that goes, "I see the line in the sand. Time to find out who I am."
I think Carlos Ruiz found out who he is. That's evolution.
The chorus for this song single-handedly made me like Internet Explorer again, so it could work wonders for Domonic Brown, right? I mean, everyone is into dubstep now, right?
Seriously though, I listen to the lyrics of this song, and Brown comes to mind. How long has the Phillies' prospect been "just too close?"
After being sent back to Triple-A in each of the last two seasons, the outfielder is here to stay now. He's the future of the franchise offensively with guys like Ryan Howard and Chase Utley aging.
He'll be "on his way." In fact, he already is.
So trying to find the perfect walk-up song for John Mayberry Jr. left me more perplexed than a hungry cow on AstroTurf, but I think I've finally found the right one.
Fittingly enough, it's by Daughtry.
Here are some of the lyrics:
I don't wanna be left behind. I been so blind to all that I have broken. Can we put this back together? No more empty promises, they don't exist. Just me, I'm in the open. I know this will take time. Can you give me one last chance to make it right?
It's like Mayberry wrote this song for Charlie Manuel and had it performed by Daughtry!
Placido Polanco loves himself some Pitbull as walk-up music, so I figured it would be best to stick to the artist but change the tune, and what tune relates better to Polanco than "Back in Time"?
It's something that the Phillies third baseman would surely like to do.
At 36 years old, Polanco is in the midst of yet another injury-plagued, offensively challenged season. Gone are the days were he could play everyday and hit better than .300.
Yes, Polanco would love to go back in time.
Roy Halladay's current warm-up music of Led Zepplin's "Good Times, Bad Times" is certainly a fine choice, but any time that someone mentions "Doc" Halladay, I have a hard time not whistling the theme to the classic movie "The Good, the Bad and the Ugly," starring Clint Eastwood.
It just sounds like a showdown.
Halladay has that intense stare when he's on the mound that seems to challenge a hitter to make the first move. He's a sniper with a baseball willing to break off one of the best curveballs in the game right now.
Halladay is just the type of pitcher that can make himself look good by making hitters look both bad and ugly.
Some things just work together. Peanut butter and jelly. Cereal and milk.
Cliff Lee and Ted Nugent.
Okay, so maybe that last one is a little bit of a leap, but few pitchers in the game warm up to a better tune than Lee.
If there's a better fit for his personality than Nugent's "Stranglehold," I can't think of it.
Warming up to "Sail," by AWOLNATION and "What if The Storm Ends?" by Snow Patrol hasn't been a bad choice for Cole Hamels, who has pitched to the tune of a 14-6 record this season and an ERA of 2.99.
Call me dated, but I prefer the classics.
In recent seasons, Hamels has warmed up to AC/DC's "Thunderstruck," and I thought it was a great choice. There aren't many songs with the same build-up as "Thunderstruck."
The guitar riff that kicks the song off, followed by the drums—you can call me thunderstruck.
I'm a sucker for classic songs, and Vance Worley wears glasses. The fit was too perfect.
Of course, the "Vanimal" is the kind of pitcher that would rather pitch in the dark anyway. He's 0-2 with an ERA of 4.43 in day games this season as opposed to being 6-7 with a 3.69 ERA in night games.
You clearly can't unleash the "Vanimal" until it is time to wear your sunglasses at night.
That, and this song has been the guilty pleasure of just about everyone I've ever known.
Kyle Kendrick is moving on up.
He started the season as the odd man out in a rotation that featured three perennial Cy Young contenders, a man who had finished third in the previous season's Rookie of the Year voting and Joe Blanton.
Now he's arguably the hottest starter in the rotation.
Over his last three starts, Kendrick has posted a record of 3-0 and a 0.90 ERA. That's pretty incredible, given the circumstances. He's also struck out 16 batters and walked just two in that same stretch.
But that's the kind of thing you can expect when a pitcher is making his pitches. He's throwing more quality changeups and cutters and fewer sinkers that run right over the plate. That's a recipe for success.
Kendrick has finally gotten himself a piece of the pie.
Erik Kratz needs a walk-up song that intimidates opposing pitchers in the same manner that he's intimidating them with his bat right now, and I've always found Korn to be kind of intimidating.
On a more serious note, Kratz can't be stopped at the plate right now. He's hitting .303 / .364 / .671 with seven home runs in 88 plate appearances.
Combined with the season that Carlos Ruiz is having, teams have to be wondering what the Phillies did to their catching corps last offseason. They're producing big time.
Feel free to replace the word "win" with "hit" in this song, because all Kevin Frandsen does is hit.
After leading the league in hits for most of the season in Triple-A, Frandsen joined the Phillies a couple of weeks ago and picked up in the Major League right where he left off in the minors—on fire.
Sure, it's a small sample size, but the Phillies have to like Frandsen's .344 / .398 / .422 slash line. The real question is where does he fit in next season?
They'll have time to figure that out.
Michael Martinez should just use this clip as his introductory music and save the fans the trouble.
With a current slash line of .141 / .191 / .234, his future with the club is in some serious jeopardy.
Comatose.
That's what Ty Wigginton's bat has been in the month of August.
The return of guys like Ryan Howard, Chase Utley and Placido Polanco drastically cut down Wigginton's playing time. When Charlie Manuel tried him out in left field, and he failed miserably, you kind of got the sense that Wigginton was at the end of his rope.
He has just five hits in his last 21 plate appearances, reducing his slash line to .232 / .302 / .370 and according to FanGraphs, he's been below replacement level this season (-0.7 WAR).
The Phillies hold a $4 million club option for the 2013 season. I'd be shocked if they didn't turn it down.
Laynce Nix may not be having the greatest season at the plate, but the guy is absolutely ripped.
Without getting the chance to see him play much before he signed with the Phillies last offseason, you never really got the full extent of just how much muscle mass this guy has.
He's actually kind of intimidating. If the Phillies were all professional wrestlers, he'd be like Goldberg—a wrecking ball of testosterone and adrenaline-fueled muscle mass.
Now if only he could wreck some baseballs. Nix hasn't been the same since returning from a calf injury that forced him to miss more than 50 games of the regular season. He's hitting .259 / .333 / .412 with just two home runs.
We haven't seen much of Phillippe Aumont in the MLB just yet, so it's a little hard to give him a "proper" warm-up song.
Here's what we know about him: Aumont is a hulking, 6'7" flamethrower hailing from Gatineau, Quebec, Canada.
We saw what has the potential to make him a great reliever in his debut. He has an explosive fastball with a ton of movement and, if he can locate it, a knee-buckling "slurve." What we didn't see is the splitter that he learned in the Phillies organization, which has the potential to make guys look silly.
Anyway, until we learn more, how about a song by the greatest Canadian rock band of all-time? "Tom Sawyer," by Rush.
Jeremy Horst must be feeling bulletproof right now.
Acquired in the trade that sent fan favorite Wilson Valdez to the Cincinnati Reds, Horst has been incredible for the Phillies.
In 18.1 innings, he's struck out 22, walked seven and allowed just two earned runs, good for an ERA of 0.98 and a WHIP of 1.091.
He also named his newborn son Cash, so in honor of that, Horst gets one of the greatest Johnny Cash songs of all-time.
I have to admit: It's getting better for B.J. Rosenberg.
His first few big-league appearances weren't any thing left to write home about and he found himself sporting an ERA north of 10.
His last few appearances? Well, like I said, they're getting better.
Charlie Manuel has found himself calling on Rosenberg in bigger spots over the last few games as the revolving door that is the Phillies bullpen continues to turn.
Rosenberg has made four straight scoreless appearances totaling two innings. He's struck out three and hasn't walked anyone over that stretch, hitting 97 mph on the radar gun a few times.
Baby steps. It's getting better all the time.
Admittedly, I'm kind of at a loss for Raul Valdes here, but then again, who isn't?
The Phillies invited him to spring training last offseason without the guarantee of a Major League deal, and he eventually fought his way onto the club's roster.
And he's been good. Valdes has thrown 29 innings, striking out 33 while walking just five. He's 10 earned runs, helping himself to an ERA of 3.10. He's also posted a WHIP of just 0.793.
But what in the world is a good warm-up song for Valdes? He's an underrated lefty, so I went with one of the greatest left-handed guitarists of all-time: Jimi Hendrix and his version of "All Along the Watchtower."
Well, this hasn't really gone according to plan for the Phillies.
When they sent Shane Victorino to the Los Angeles Dodgers, the Phillies expected Josh Lindblom to step into their bullpen and be the set-up man. Not so fast.
Lindblom has tossed eight innings for the Phillies and allowed seven earned runs. He's already walked eight batters but has also struck out eight.
For now, Lindblom gets the sad trombone, but I really like his chances to rebound for the 2013 season. He has the potential to be a late-innings guy and is still adjusting to life with a new club.
Warning: The video clip contains some foul language.
Antonio Bastardo's season has been interesting, to say the least.
To sum things up, it certainly hasn't been his best work. The Phillies' own "Wild Thing" is posting the highest BB/9 mark of any of the club's relievers at 5.0, but he's also posting the best K/9 mark of any reliever at 13.3.
Bastardo has been a lot better recently, so the Phillies are hoping that he's figured something out.
Jonathan Papelbon currently enters the ninth inning to Metallica's "For Whom the Bell Tolls." Hard to go wrong with Metallica, but I want to think outside the box for a moment here.
Baseball needs more characters like Papelbon. The guy has an alter ego named Cinco Ocho that he claims "takes over" in the ninth inning. He had the number 58 worked into his contract and gave Antonio Bastardo a Rolex for the number.
Then he gets on the mound. He does the stare. He has the explosive fastball.
They say closers are cut from a different cloth, and Papelbon certainly doesn't do much to prove "them" wrong.
So why not go with something a little more unique to the "character"? I'm going with former WWE superstar Sycho Sid's "Snapped."
Without a doubt, music makes this great game even better.
Of course, a lot of this slideshow was a satirical reflection of the player's season, but that doesn't mean that there aren't some realistic suggestions on this list.
Now it's your turn.
Let's talk about some of the introductory music that you would like to see some of these Phillies players use, realistic or not.
As always, thanks for reading.