Oakland Raiders News: Coaches Wisely Treating Next Game Like Regular Season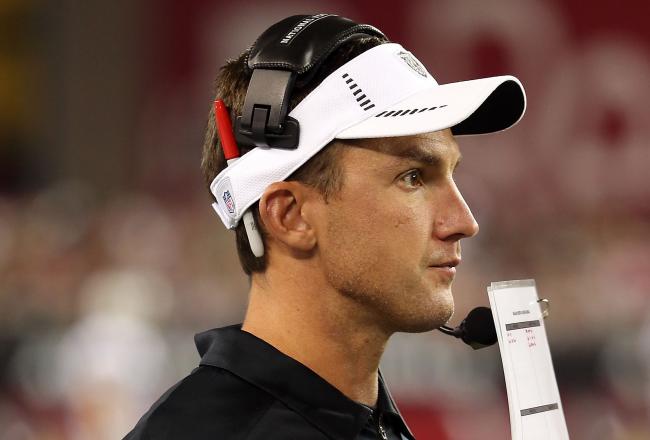 Christian Petersen/Getty Images
The Oakland Raiders are using Saturday's preseason game against the Detroit Lions as a dry run for the regular season, and that is a very good thing.
With as much transition as this team is dealing with, they need all the regular season-like experience they can manage.
This certainly is not a groundbreaking idea. The third preseason game is typically the one teams use to treat most like the regular season as they play starters into the third quarter, but for the Raiders, this is about much more than getting the first-stringers some extra run.
This is clearly not lost on offensive coordinator Greg Knapp. Check out his quote, which was captured by The Contra Costa Times' Steve Corkran:
We're doing this week like it's a mock in-season week, the way we teach our third-down presentation this morning, red zone, tomorrow short-yardage and goal-line. So, there's a growth going on right now with the players and with the coaches. It's not only we're just coaching the players here, we're coaching coaches because it's a new staff being worked together and this is really the first time we've prepared for a game.
Yep, the Raiders have to get a lot of moving parts on the same page. While much of the starting lineup returns from last season, these guys have to learn a new system on offense, which includes the move to a zone-blocking system from a power-blocking one.
Defensively, they have to adjust from their archaic man-to-man system to something a touch more modern. They will do so under the guidance of a rookie head coach and a staff that has to get used to working together.
This is the first chance for them to do any real game-planning and get the team to execute that game plan.
They want to get all the little details of preparation ironed out before the games start counting. Much of this will exist behind the scenes and happen prior to the game, but this emphasis has to also become apparent on the field with some better results for the Raiders, who are winless in the preseason.
Here is the biggest area where the Raiders must show improvement if they intend on having any hope of contending for the postseason.
Carson Palmer and the Passing Game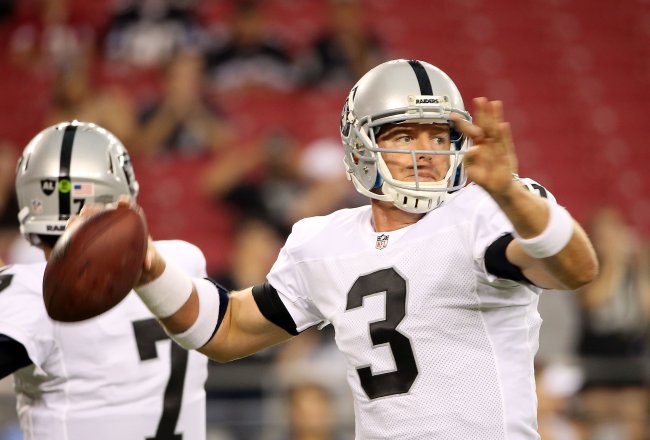 Christian Petersen/Getty Images
To be blunt, Carson Palmer has been terrible thus far. In two games he is 16-of-30 for 240 yards, with no touchdown passes and two interceptions, which all equals a passer rating of 38.2.
To be fair to Palmer, he has suffered some through some terrible drops—including two drive-killers by Jacoby Ford in the first game.
Palmer is not particularly concerned about this. He simply explains it off as part of the preseason. Check out this quote, provided by The Contra Costa Times' Jerry McDonald:
There are things we'll work on and plays we'll put in we normally wouldn't put in, or if we want to see if this guy can run by that guy. There are a ton of situations that come up where you do things you wouldn't do in a regular season game.
This may be true, but the Raiders are still executing the passing game worse than almost every team in the NFL. They are 29th in passer rating, and their 54.3 mark is far higher than the 38.2 turned in by Palmer.
While Palmer has struggled with his accuracy at times, this is not nearly as concerning as his decision-making.
Maybe this is just a case of trying things out, but this is the same guy that chucked 16 INTs in 10 games last season.
With some measure of game-planning going on, this game is about making the right reads and executing them. It is time to drop the excuses and start performing.
This article is
What is the duplicate article?
Why is this article offensive?
Where is this article plagiarized from?
Why is this article poorly edited?

Oakland Raiders: Like this team?