25 Things We Learned After the Raiders' 2 First Preseason Games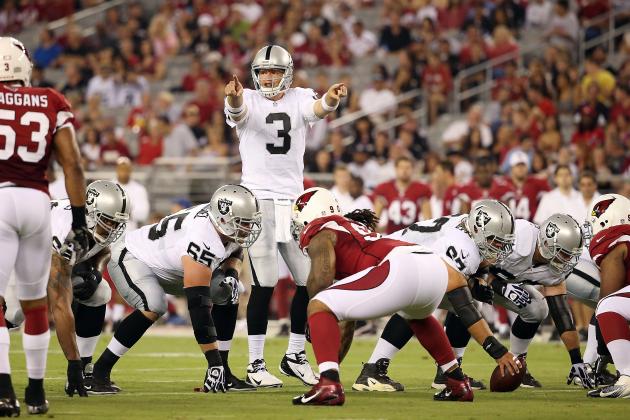 Christian Petersen/Getty Images

It's safe to say that after two preseason games, it's too early to crown a Super Bowl Champion or the No. 1 overall pick. However there are plenty of things that can be learned from watching the first two preseason games of the Oakland Raiders.
Many Raiders fans can are ready to hit the panic button, which is too early even by Raider Nation standards. The reality is that the preseason will be filled with errors that need to be corrected before the regular season. The good news for Oakland fans is that there are just as many good things as there are bad things.
I compiled a list of 25 things, both good and bad, that we have learned about the Raiders after a 0-2 start of the preseason.
Begin Slideshow

»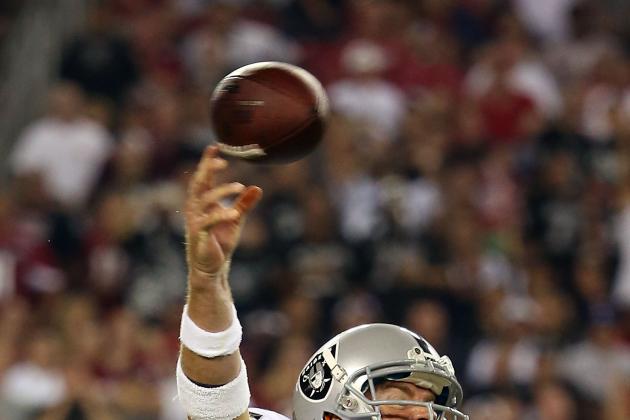 Christian Petersen/Getty Images

Last season, Carson Palmer threw 16 passes to the wrong team. In the NFL, those are called turnovers, and many of the Raider Nation was worried that this problem would not go away. As Palmer is learning a new offense, he is still making mistakes. The problem is that he isn't misreading players and their routes. He is just making poor decisions and is not accurate on his interceptions.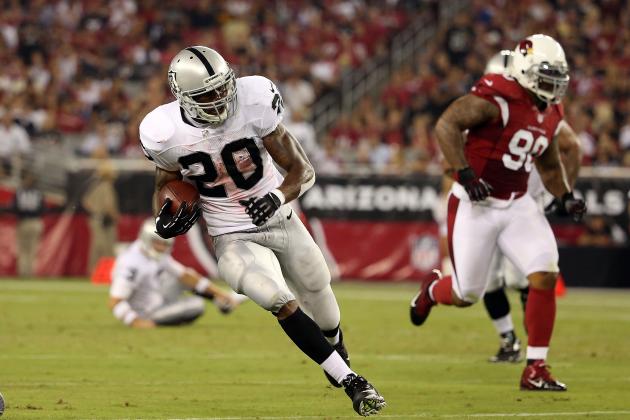 Christian Petersen/Getty Images

Darren McFadden has shown his speed, power and ability in the first two preseason games. He is dangerous on the ground and dangerous through the air. Like FedEx, he can and will deliver by any means necessary. McFadden is healthy and is primed to have a strong season.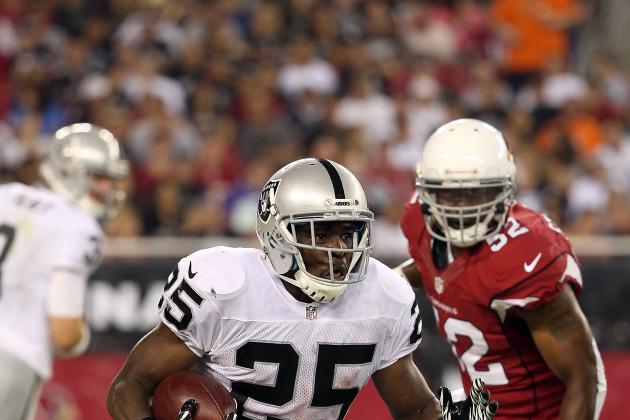 Christian Petersen/Getty Images

Mike Goodson was the second running back on the depth chart last week. He lost that spot faster than he lost the two fumbles against Arizona.
Holding on to the football was a big concern for Goodson, and his performance against the Cardinals didn't make anyone feel better about them. His stat line against Arizona was six carries for five yards and two fumbles.
Thearon W. Henderson/Getty Images

Don't feel bad if you didn't know who Rod Streater was before the preseason started. The majority of NFL scouts didn't know him much either. The undrafted free agent has not only been the most impressive rookie so far in 2012 for the Raiders, but he may also be the most impressive player. Streater once again led the team in receptions against Arizona and has 13 catches for 109 yards in two preseason games.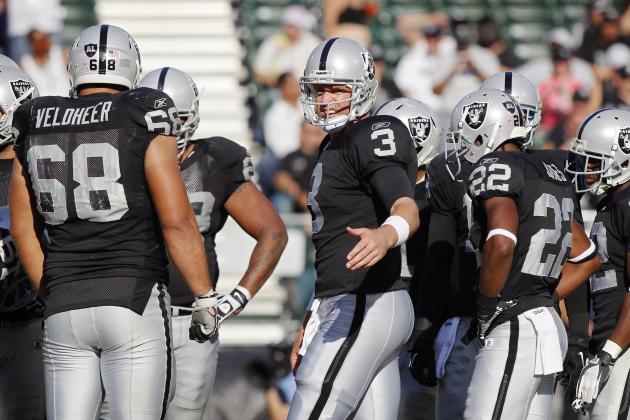 Brian Bahr/Getty Images

The Oakland Raiders offensive line blocked for a top-10 rushing attack last season and allowed the fourth-fewest sacks in the NFL. This year, they have moved from a power-blocking scheme to a zone-blocking scheme for the run game.
Currently, the Raiders rank 16th overall in rushing in the preseason and have the 22nd-worst runs-per-carry average. It's even more concerning that they failed to punch in a touchdown from the one-yard line in their second game with the starters and McFadden in.
Christian Petersen/Getty Images

Other than a few instances against Arizona, the Raiders offensive line is still pretty solid in pass protection. They allowed the fourth-fewest sacks in the league last year, and the starters have looked decent so far this preseason. Allowing only three sacks in two games, the Raiders are among 11 teams that have allowed three sacks or less in their first two games.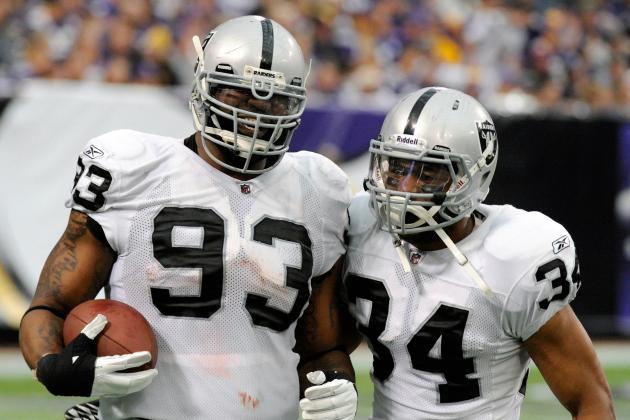 Hannah Foslien/Getty Images

The Raiders had a negative turnover differential in 2011. So far this preseason, they have turned the ball over five times and have created five turnovers.
Oakland needs to have a positive turnover differential in 2012 for it to be successful. Breaking even is not the way to finally win the AFC West crown.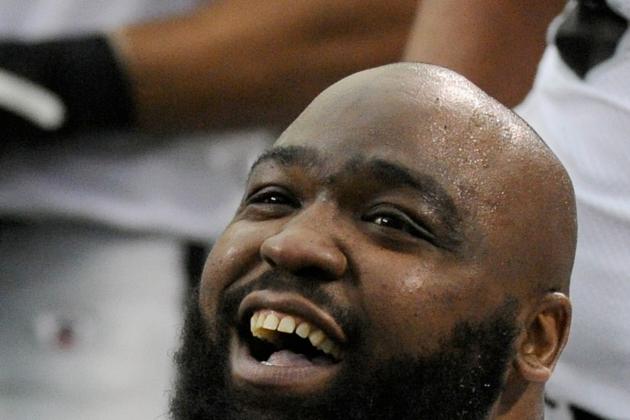 Hannah Foslien/Getty Images

Tommy Kelly is doing his thing in Oakland. This dude is "Hustlin" and scaring quarterbacks everywhere (that means you, Kevin Kolb). Not only is TK one of my favorite players, but in my opinion, he is the best defensive lineman on the team. In the last two seasons, Kelly has more sacks than Haloti Ngata and Ndamukong Suh.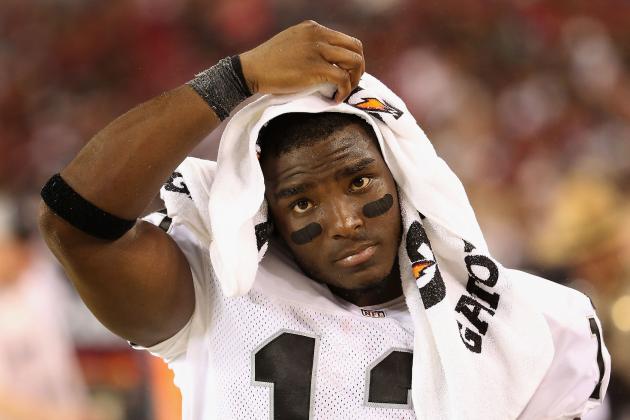 Christian Petersen/Getty Images

Jacoby Ford is one of my favorite players, and I had the opportunity to interview Ford this offseason. He suffered a sprained foot in Arizona and will miss some time. It's important for the Raiders to have a healthy Ford for the majority of the offseason. He is a playmaker and can score anytime he touches the ball.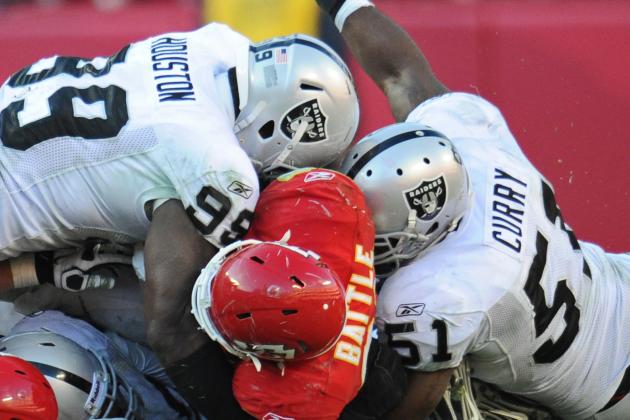 Peter Aiken/Getty Images

If you watch the first two Oakland Raiders games, you'll notice that almost every play that ends with a loss for the opposing team features Lamarr Houston getting into the backfield. Whether its a run or a pass, it's obvious that Houston has put in some work during the offseason. This could be a breakout year for the former Texas Longhorn.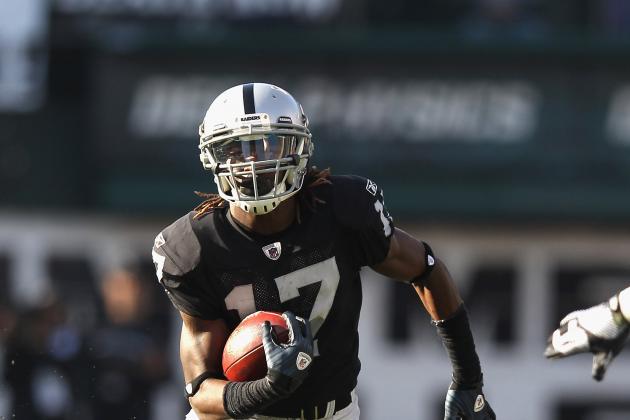 Ezra Shaw/Getty Images

By this time last year, everyone was talking about Denarius Moore like they are talking about Rod Streater now. So far this offseason, we have not seen Moore in action. The Raiders are taking their time with his hamstring injury and letting him get to 100 percent before he gets in on the action.
It will be very important for him to be healthy for the start of the season, especially with the Ford's injury.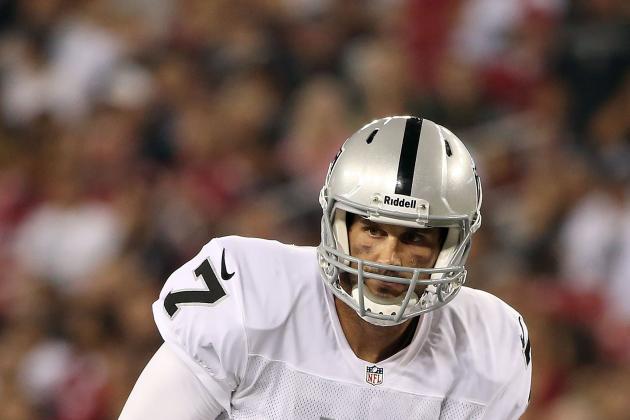 Christian Petersen/Getty Images

If there was a quarterback competition for the Raiders this offseason, I would give the nod to Matt Leinart. He looks more comfortable in the new offense and has put up some pretty decent numbers in the offseason. He had a short day vs the Cardinals, but if Palmer continues to struggle, should Leinart get a chance to start?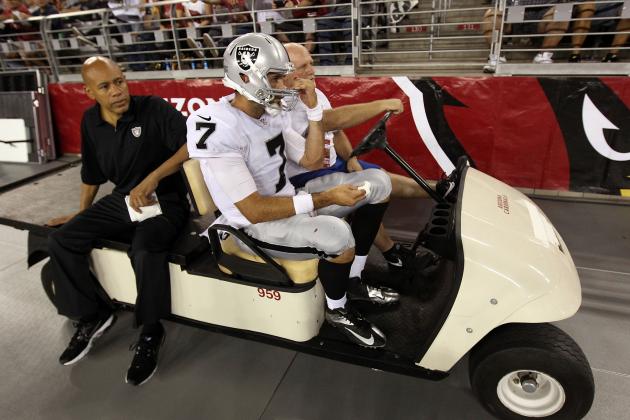 Christian Petersen/Getty Images

Well that didn't last long, did it? Leinart hurt his right index finger, which is on his non-throwing hand. He should be OK as the backup, but if he has to start for any reason, this injury could be somewhat of a concern.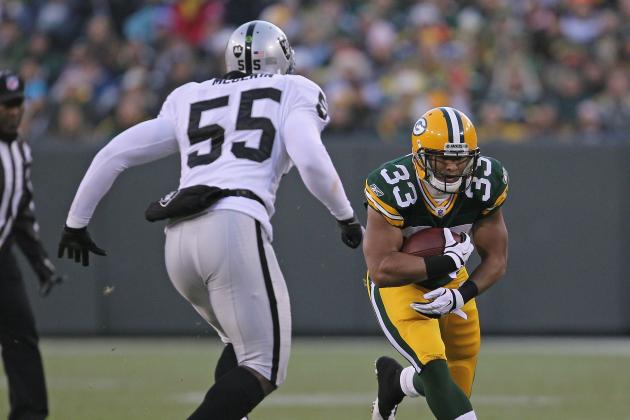 Jonathan Daniel/Getty Images

Rolando McClain has had a few big plays and hits in his first two games of the preseason. General McClain, as I like to call him for his salutes to the Raider Nation after big plays, is looking to have a big year. Head coach Dennis Allen has had nothing but praise for the third-year linebacker heading into the regular season.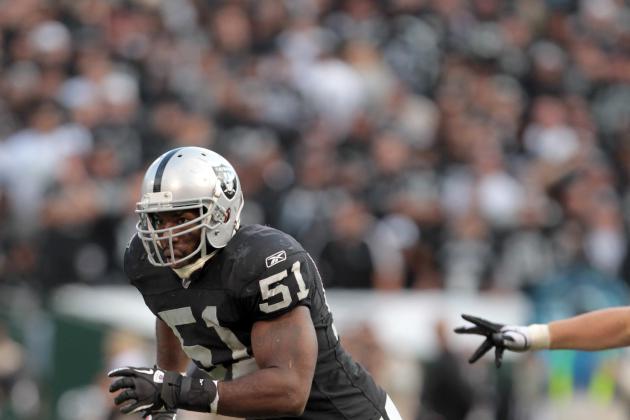 Ezra Shaw/Getty Images

The Raiders could have one of the best starting linebacker groups in the league if Aaron Curry is healthy. He is suffering from knee injuries that have kept him out of practices and games. Many out there question if it is even possible for him to make the roster if he is unable to play. Curry's health will no doubt affect the defense in 2012.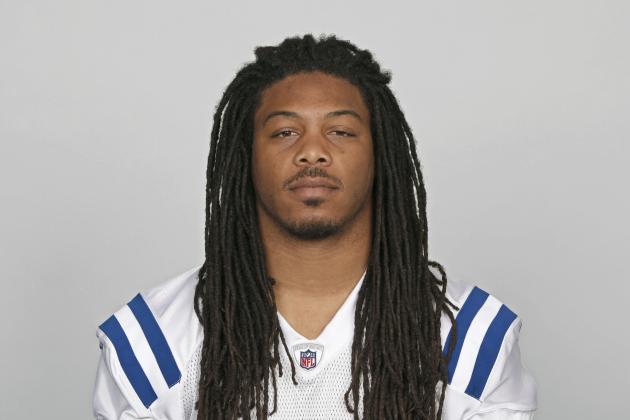 Handout/Getty Images

Perhaps the former Indianapolis Colt that will have the most success in 2012 after moving to the AFC West will be Phillip Wheeler. He has looked impressive so far in two preseason games, and his effort is being praised in practice. He's not afraid to blow up a run play and can stay with tight ends in coverage. He's slated to be one of the starters for the Raiders in 2012.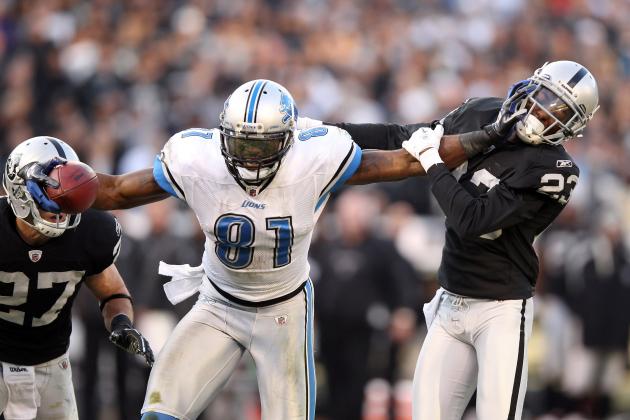 Ezra Shaw/Getty Images

DeMarcus Van Dyke has been praised for his play on the practice field, but is struggling to move it over to the games. He's been beat badly a few times and is struggling at making tackles. DVD has the ability to make plays and be a game-changer for the Raiders, but right now it's not happening. The Raiders need a young corner to step up, and DVD was supposed to be that guy.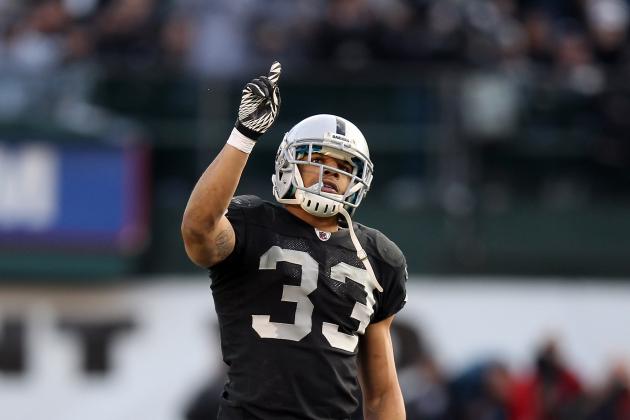 Ezra Shaw/Getty Images

Tyvon Branch is one of those players that many outside of the Raider Nation don't know much about. This could be the year that the world gets to know him. He looked solid against the Arizona Cardinals, as he recorded a sack and a big hit on the quarterback.
This year, Branch will be put in different places on defense allowing him to make plays. He's led all safeties in tackles the last three years, and he's ready to take the next step.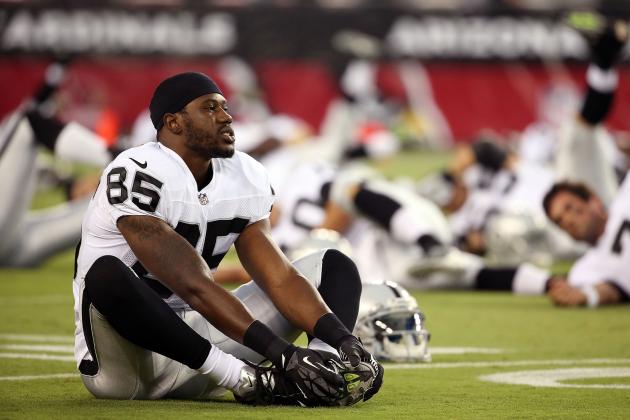 Christian Petersen/Getty Images

Darrius Heyward-Bey has caught two passes for 21 yards so far in the preseason. He's not exactly making too much noise so far, but all reports from training camp do sound positive. DHB has improved every year that he's been in the league, and I expect him to have his best season this year, but so far, he's been very quiet in the first two preseason games.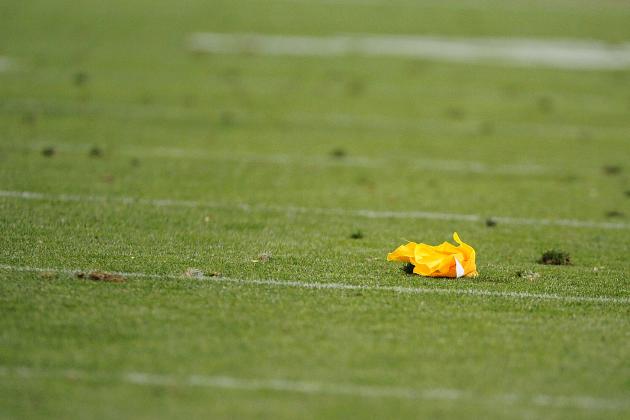 Garrett Ellwood/Getty Images

The Raiders have played two full preseason games and have only had nine penalties called on them. Oakland averaged about 10 penalties per game last season. This is an issue that every coach has tried to address, and so far, new head coach Dennis Allen appears to be making somewhat of an impact.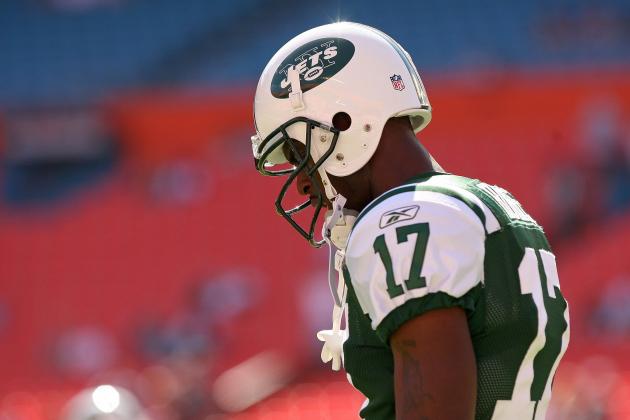 Mike Ehrmann/Getty Images

It has to be a concern to the Raider Nation that the Raiders are already having injury issues at wide receiver and running back. These are two key positions for the team, and bringing in a veteran now seems like a priority.
If Moore and Ford are not ready to go at the first part of the season, that leaves DHB, Streater and Juron Criner as the possible starters for Oakland at wide receiver. Oakland should look at a veteran like Plaxico Burress to help add depth and experience to the team's wide receiving group.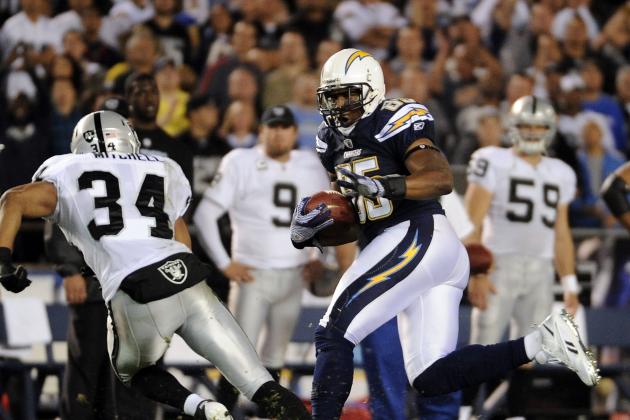 Harry How/Getty Images

Mike Mitchell is another player that the Raider Nation should be excited about. He's making plays for the defense, and his overall tackling has improved. He chased down Patrick Peterson from behind on a punt return that could have led to a touchdown. He also intercepted Kyle Orton in the first game ending a possible scoring drive before the half ended.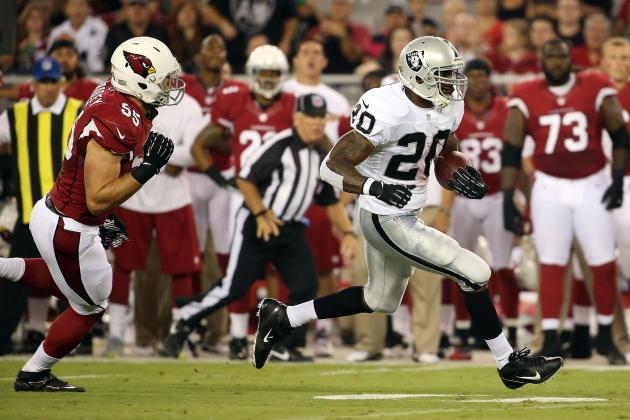 Christian Petersen/Getty Images

Most everyone talks about McFadden's injuries the last few years and question whether he can stay healthy or not for a full season. He has yet to finish a full 16-game season, so it must be concerning that both his backups haven't been able to stay healthy this offseason.
Goodson played in his first game against Arizona and left with an injury after fumbling the ball twice. Jones will play against the Lions in his first action of the preseason. This has got to be a concern for the Raider Nation, especially if Jones is unable to perform or stay healthy against Detroit.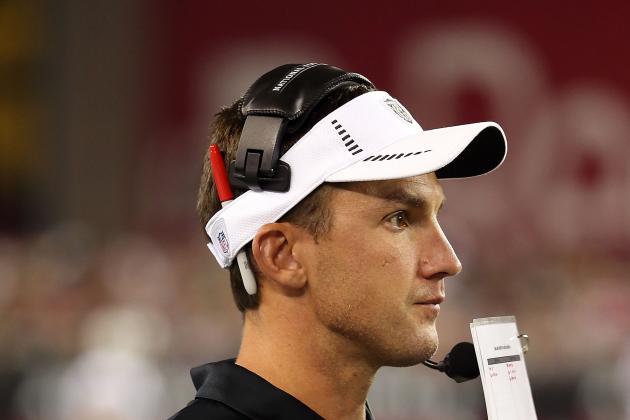 Christian Petersen/Getty Images

Dennis Allen is not only the youngest coach in the NFL, but he could also be a rising star. He has built a solid coaching staff to help him lead the Raiders back to the top in 2012. Stopping the run and penalties have been an issue for Oakland the last decade, and so far, it doesn't appear to be much of a problem in the preseason.
Allen is a defensive-minded coach, and so far, the defense has responded. If he can get the offense to get going before the start of the season, the Raiders will not only contend for the AFC West title, but could be contending for something bigger if they make it to the playoffs.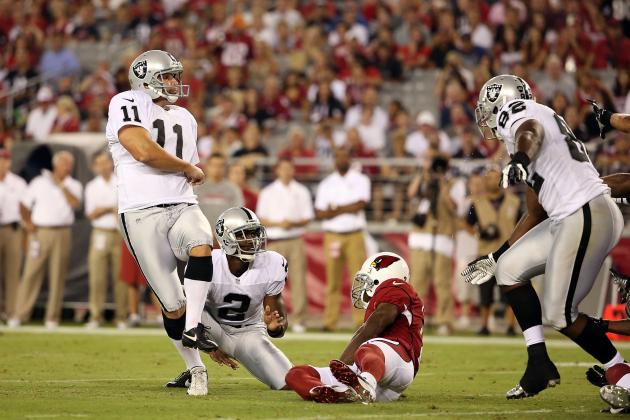 Christian Petersen/Getty Images

There has been a lot of good and more than enough bad for the Oakland Raiders this preseason so far. Oakland has made plenty of mistakes and will continue to make more before the season starts. It's important to get all of these mistakes on film to help them correct those issues. This is a team full of young hungry players and wise veterans. Expect them to clean up the big mistakes.
Special teams, Terrell Pryor and the offense in general need to improve if Oakland wants to make the playoffs this year. There is always room for improvement, and watching this team week in and week out this year will tell us how much it's bought into what Dennis Allen and Reggie McKenzie are selling.
If you love the Raiders, follow me on Twitter or visit my website. You can also "Like" me on Facebook.