Chicago Bulls Owner Jerry Reinsdorf Should Sell the Team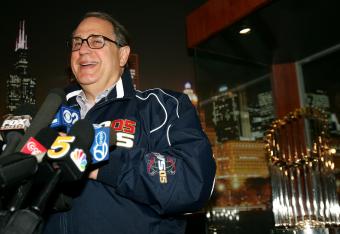 Jonathan Daniel/Getty Images
The landscape of the NBA has changed with Dwight Howard landing in LA with the Lakers and the Philadelphia 76ers getting the consolation prize in Andrew Bynum. The Chicago Bulls ended up with Kirk Hinrich. Can somebody tell me what's wrong with this picture?
Going into last season, the Bulls were thought to be championship contenders by most observers. Now those same observers are saying they're at least two years away.
How did that happen? Let's start at the top.
Jerry Reinsdorf bought the team in 1985, the year after Michael Jordan landed in Chicago. If ever a fortuitous opportunity fell into someone's lap—that was it.
You could also say he was a smart businessman—which he is. Reinsdorf turned a $16 million investment into a brand known worldwide and today worth an estimated $600 million according to a K.C. Johnson article earlier this year in the Chicago Tribune quoting Forbes magazine.
Perhaps those same "smarts" are also why he makes for a bad owner if you are a fan of the team.
The Bulls became a phenomenon under Jordan. They regularly sold out the old Chicago Stadium, and because of him—their current facility—the United Center, became the "House That Jordan Built."
After six titles in eight years, Reinsdorf, along with then GM Jerry Krause, decided to break up the juggernaut and rebuild. That move cut costs to the extreme, along with maxing out profits for Reinsdorf and the other shareholders.
While the team was now of expansion quality, the "Rock Show" prices of the Jordan era continued.
The most surprising development occurring from that were the fans still flocking to the arena—year-after-year—despite the teams' dramatic decline.
Don't you think Reinsdorf noticed that?
Just as Chicago Cubs ownership has known since the 80's—you don't have to put a winning team on the field to draw crowds.
Why spend the money if you're already selling out anyway: Just bank the profits and fill your pockets.
Reinsdorf has learned that lesson well.
So while other teams like the Lakers don't even consider the salary cap when making moves, the Bulls always err on the side of smart business.
The Howard move put the Lakers at a payroll of $99 million for the upcoming season, but according to general manager Mitch Kupchak in an article in the Chicago Tribune co-written by Broderick Turner and Mike Bresnahan, money is not the most important consideration for them.
"When it comes down to it, Dr. (Jerry) Buss is a competitor. And when it comes down to a decision about making a couple of dollars or a million dollars or $10 million or putting another banner up, he can't help himself. He chooses to go for the banner."
Can you say the same thing about Reinsdorf? This is the owner, who after under paying Jordan for so many years when he could have ripped up his contract and given him a new one like the Lakers did for Magic Johnson and the Boston Celtics did for Larry Bird, said that one day he would "regret" signing that contract after finally paying him what he was worth.
That's for the player who made him an untold fortune. You can see where his mindset is and that's his pocketbook.
Fast forward to the present. The current luxury tax level for this year is $70,307.000. You pay $1 for every $1 you are over that amount according to ESPN.
Reinsdorf has never paid the tax. This will be the first year they go over assuming they don't make any cost-cutting moves by the trade deadline, but we're talking pennies compared to a team like the Lakers.
The Bulls remodeled the "bench mob" while doing little else to help the team moving forward. If the previous "mob" couldn't help the Bulls win a title, do you think the current version will?
You win with stars in this league other than a few abnormalities every 10 years or so.
You can say it makes no sense with Derrick Rose out for most of the season to spend the money, but you can also ask why the team didn't try for an "out of the box" move in the previous seasons, even if they had to go into that dreaded luxury tax area.
They lucked into Rose because the ping pong balls bounced their way. What would this team look like if that hadn't happened?
Bulls ownership is conservative and that flows down to management. When have John Paxson or Gar Forman taken a chance to really change the culture of this team? Other than Ben Wallace, and we all know how that turned out—never.
You can question if Reinsdorf even cares about the Bulls. His love for basketball came from watching the Red Holzman-era New York Knicks teams with Walt Frazier, Willis Reed, Bill Bradley and Dave DeBusschere.
But that doesn't compare to baseball, which is more of a religion to him.
He bought the Chicago White Sox before the Bulls in 1981, and they are his true love. In a quote from an article by Peter Gammons on ESPN.com before the Sox won the World Series in 2005, he said, "He would trade all his Bulls championship rings for one World Series ring."
Is he treating the Bulls like a red-headed step child compared to his beloved White Sox?
White Sox general manager Kenny Williams constantly comes to Reinsdorf asking him to stretch the budget without being turned down. Williams has that burning desire to win, and maybe Reinsdorf does too.
Just not for the Bulls.
Don't Bulls fans deserve better?
This article is
What is the duplicate article?
Why is this article offensive?
Where is this article plagiarized from?
Why is this article poorly edited?

Chicago Bulls: Like this team?