Why Golfer Luke Donald Needs to Change Things Up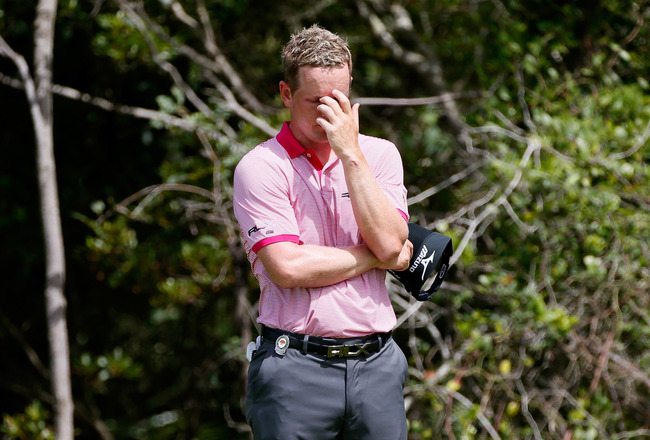 Luke Donald searching for answers
Sam Greenwood/Getty Images
Golf is probably one of the most humbling sports on the planet, and thanks to the Scottish, this game tests every last nerve of every man or woman who has ever played 18 holes.
Anybody who tells you otherwise is in denial.
Golf couldn't be more different than any other sport; there is no clock, no controlled climate, no spectator distractions, and golfers compete against themselves.
With that said, many would argue that golf is the most difficult sport.
This game constantly demands players to adjust and to make changes, and the one PGA Tour Professional that needs to change things up the most, is Luke Donald.
Here's a look at why Donald needs to change.
Luke Donald's Driving Distance Puts Him at a Disadvantage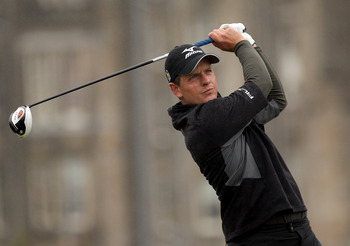 Donald needs more distance with the driver
Andrew Redington/Getty Images
The overwhelming reason why Donald has to change things up is because he has spent 50+ weeks at World No. 1 since turning pro back in 2001 and hasn't won a Major.
As a result, he must add distance to his drives if he expects anything to change.
The most glaring weakness in his game is his driving. Donald ranks 178th on the PGA Tour, with an average distance of 278.4 yards.
You and I would be ecstatic with an average drive of 278.4 yards, but we are not being questioned for poor performances in Majors; Donald is.
If he doesn't hit the gym and add some much needed distance to those drives, he'll continue to be at a disadvantage when he competes in Major Championships.
Imagine how much more efficient his great command of the short game would be if he could position himself better off the tee.
Luke Donald's Mental Game Gets in the Way of His Golf Game
Donald needs to toughen up mentally
Kyle Terada-US PRESSWIRE
Another reason why Donald has to change things up is because his mental strength has been a huge absence when he plays, and it's prevented him from achieving greatness.
It's been his mental strength that has deterred him.
Every time Donald plays on a big stage, his underachieving performances remind me of the line that Lillo Brancato, Jr., who played Calogero, says at the end of the movie, A Bronx Tale:
"The saddest thing in life is wasted talent, and the choices that you make will shape your life forever."
Alasdair Reid, Writer for the Telegraph, quoted Donald in his explanation for the reasoning behind his disappearing act in Majors:
"I've realised it for a while," Donald said. "I've understood that for probably a couple of years. I know it's a difference in myself. I get a little bit more agitated, a little bit more anxious."
Credit Donald for being aware that he gets agitated and anxious, but now he needs to rid those qualities and make a change.
If he doesn't change his current mental approach, he'll just be another great player who always let the moment define him instead of letting himself define the moment.
Luke Donald's Management of Expectations Are Sub-Par
34-year-old Donald knows that if he doesn't change things up, the media and fan expectations will completely overwhelm him and his natural ability to hit a golf ball.
Donald turned pro back in 2001, and just now, he seems to be discovering that there are expectations that come along with being a superstar golfer.
His lack of awareness of how he has allowed the media and his fans to create doubt and speculation about his game has severely impeded his development.
In order for Donald to be a golfing great, he has to heed his own advice and simply work hard, block out all distractions and not worry about anything else.
If he succeeds at clearing his mind of expectations and plays with the confidence that got him to World No. 1, winning a Major shouldn't be a problem with the kind of game he has.
Change Is the Only Constant Thing, Donald Must Change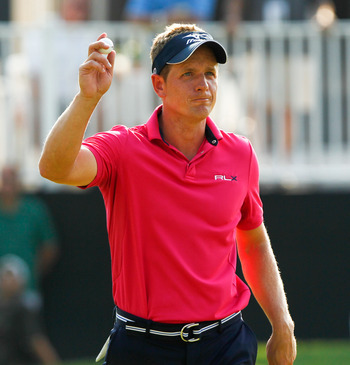 Can Donald change?
Debby Wong-US PRESSWIRE
Ultimately, why does Luke Donald need to change things up?
If he doesn't, he'll always be that contender who wins tournaments here and there but never the Major Champion winner.
There was a time when Phil Mickelson held that dubious distinction, but he turned it around by winning his first Major in 2004, and so can Donald.
Drive the ball further, become more mentally tough, manage expectations better, and Luke Donald will undoubtedly join the close-knit fraternity of Major Champion winners.
For all the aforementioned reasons, Donald needs to change things up and do it soon.
Keep Reading