Ranking the Penny-for-Penny Value of All Philadelphia Phillies Players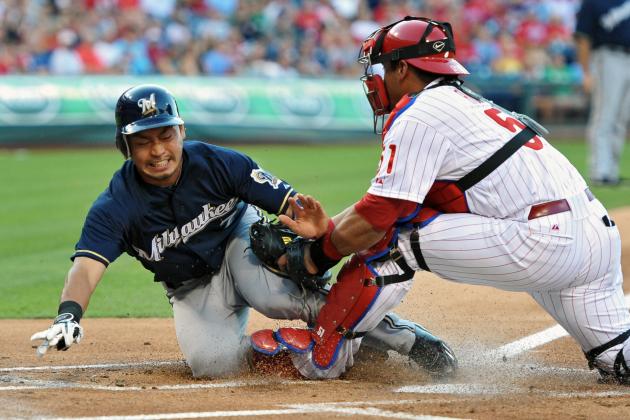 Drew Hallowell/Getty Images

In a season where the Philadelphia Phillies can lay claim to the highest payroll in the National League and finish near the bottom of the National League East, you better believe that fans are going to start asking questions.
How can a team with a payroll that rivals the behemoth New York Yankees, currently in first place in the American League East, fall victim to teams like the Washington Nationals and Atlanta Braves?
Well, there is a simple answer. They're not spending wisely. You can spend all the money in the world on this sport, on one team, but if you're not spending money on the right players and personnel, you're not going to win. It's as simple as that.
When a team like the Phillies isn't winning, however, the conversation is anything but simple. People want to know and will be quick to point out players that are making far too much money, the best steals on the roster, and even which players should be guaranteed money long term.
So let this slideshow serve as something like a "primer." Heading into the offseason, we're going to hear a lot about the Phillies' payroll and the massive, albatross contracts that saddle it.
If you really want to know who's burdening this club, however, you have to look at the penny-for-penny value. That's right. You have to compare the amount of money that each player is making to the value of their services on the club.
So naturally, cheaper players are going to be more valuable. That won't stop some big-money players from being extremely important to this roster though. It also won't stop big-money players from tying down the payroll like an anchor.
So in this battle of perceived value versus guaranteed money, who on this club is coming out on top?
*Note: This slideshow is discussing the 2012 season only. We will discuss the player's 2012 salary and their value to the club for this season.
Begin Slideshow

»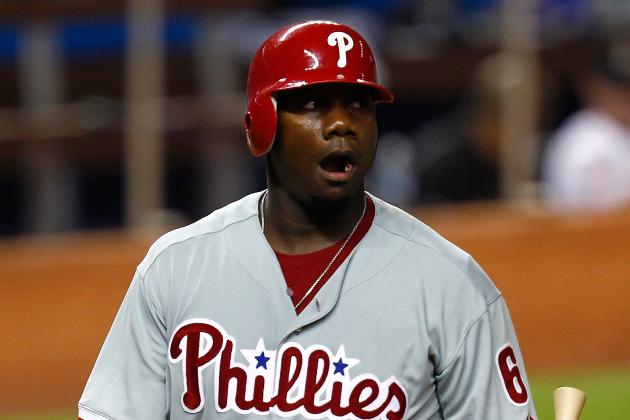 Sarah Glenn/Getty Images

2012 Salary: $20 million
There was realistically no way that Ryan Howard was going to live up to his salary for this season before he collapsed on the final play of the Phillies' 2011 season. Missing nearly three months of the season was only icing on the cake.
Howard has played in 33 games this season and posted a slash line of .231 / .308 / .444, with seven home runs. That's not a terrible line for a guy coming off of a torn Achilles tendon, but it's not good either.
Regardless, it won't justify his salary and you can expect many more seasons of the same rhetoric.
Stats through 8/17/12.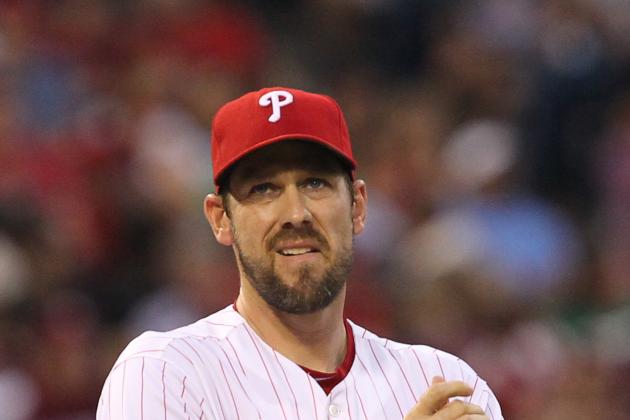 Hunter Martin/Getty Images

2012 Salary: $21.5 million
Cliff Lee is kind of in the same boat as Ryan Howard.
The Phillies, and all of the other teams in this league, take a huge risk when they give a single player more than $20 million per season, and almost every single time, a player fails to live up to that salary.
That doesn't mean that said player hasn't played well.
Lee's overall numbers may be ugly, but he's still pitched well for the Phillies this season. His record of 2-7 and 3.83 ERA just don't tell the whole story. His 8.64 K/9 and 1.46 BB/9 are in line with his career norms. In fact, both marks are better than his career averages.
The real problem has been the home run ball, but even keeping that number down wouldn't have helped justify paying Lee more than $20 million this season.
Stats through 8/17/12.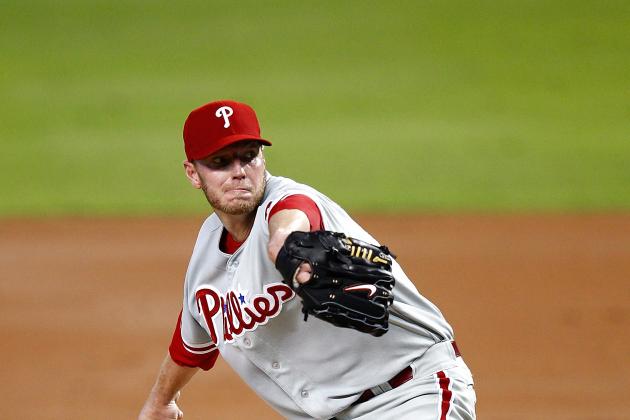 Sarah Glenn/Getty Images

2012 Salary: $20 million
Roy Halladay gets an asterisk. Had he not missed two months of the season, he'd probably be much higher on this list, but that's part of the risk that comes with paying a pitcher $20 million a season.
Halladay, 35, has made 17 starts for the Phillies this season, posting a record of 6-7 and an ERA of 3.80. Obviously, that's not where Halladay or the Phillies want him to be at this point in the season.
The good news for the Phillies is that he has looked much, much better over his last handful of starts than he did before he went on the disabled list. The bad news is that he won't even come close to living up to his salary.
Stats through 8/17/12.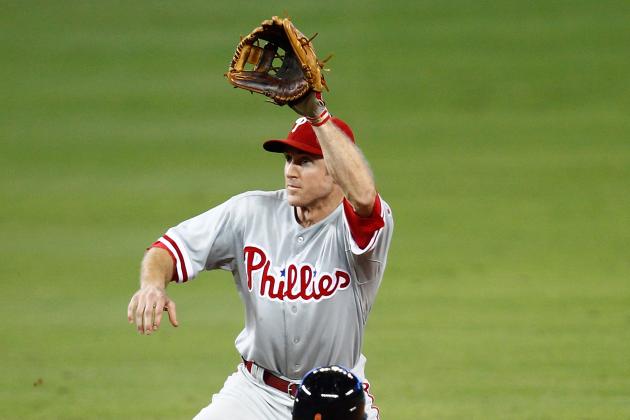 Sarah Glenn/Getty Images

2012 Salary: $15 million
As was the case with both Ryan Howard and Roy Halladay, seeing Chase Utley at the back end of this list shouldn't come as much of a surprise. Utley, who missed a significant portion of the season rehabbing his chronically bad knees, has played in just 41 games.
During those 41 games, however, Utley has managed to put up some of the more impressive numbers of anyone on this roster this season. The second baseman has hit .240 / .353 / .473, with eight home runs.
Sure, the batting average is a bit low, but that will improve over time. The positive signs for Utley are the high OBP and SLG numbers—both indicative of the health of his knees in different ways.
Stats through 8/17/12.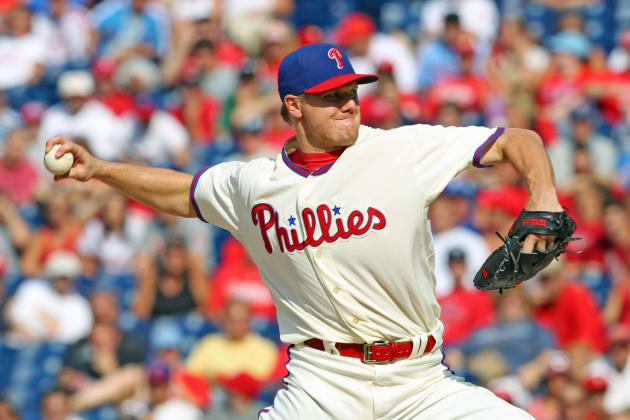 Hunter Martin/Getty Images

2012 Salary: $11,000,058
No, that salary number for Jonathan Papelbon is not a joke. The guy is just a little bit quirky. Most closers are.
Regardless of that, however, Papelbon is going to have a hell of a time trying to live up to that salary this season, and an even tougher time as he moves forward. It's just nearly impossible for a man who has never thrown more than 70 innings in a single season.
The Phillies knew that they were overpaying for consistency in the back end of their bullpen, but after the train wreck that was Brad Lidge from 2009 onwards, I still think they're happy with the deal.
Stats through 8/17/12.
http://www.phillyburbs.com/sports/phillies/phils-ville/early-returns-on-lindblom-have-not-been-good/article_58f5fab6-e889-11e1-b1c4-0019bb30f31a.html?mode=image&photo=0
2012 Salary: $483,000
Josh Lindblom being this low on the list is not a good sign for the Phillies.
Acquired from the Los Angeles Dodgers in the deal that sent Shane Victorino to Hollywood, Lindblom is at the opposite end of the spectrum from closer Jonathan Papelbon. He's making right near the Major League minimum salary and should have an easy time living up to it.
The Phillies expected him to come aboard and provide some quality innings as the club's set-up man, but he's done anything but. In five innings, he's allowed six earned runs while walking and striking out six batters, respectively.
He was supposed to be the club's set-up man moving forward, but right now, Lindblom is just another name with potential in a bullpen with a lot of upside.
Stats through 8/17/12.
Brian Garfinkel/Getty Images

2012 Salary: $2 million
Ty Wigginton would be back even further on this list if the Colorado Rockies were not on the hook for half of his $4 million salary this season.
The Phillies made the trade with the Rockies over the offseason hoping to shore up their bench, but Wigginton was forced into playing more semi-regularly with the injury to Ryan Howard and the ineffectiveness of Placido Polanco.
With most of the infield having returned, Wigginton went on the decline. Now, for the season, he has posted a line of .232 / .299 / .373, with 10 home runs.
The Phillies expected a little more out of Wigginton than that, especially considering the fact that he's been nothing short of a butcher on the field.
Stats through 8/17/12.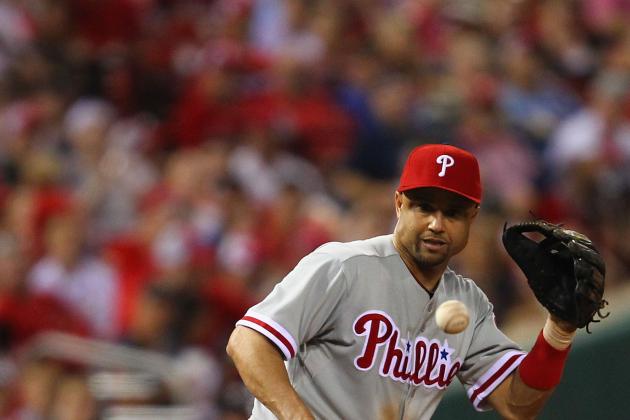 Dilip Vishwanat/Getty Images

2012 Salary: $6.25 million
This one shouldn't come as much of a surprise because Placido Polanco has been going in the wrong direction from the moment he inked his three-year deal with the Phillies prior to the 2010 season.
Now in the final guaranteed year of that deal, Polanco hasn't shown that he has much left in the tank. Though he has been a good defender, he hasn't shown an ability to stay healthy or consistent.
Polanco has played in just 82 games this season and has posted a line of .255 / .300 / .328, with two home runs. Needless to say, that isn't going to suffice for an everyday third baseman.
Stats through 8/17/12.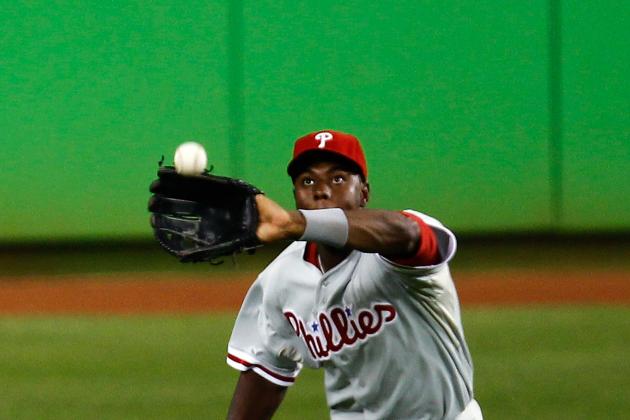 Sarah Glenn/Getty Images

2012 Salary: $495,000
With the way he played at the end of the season, John Mayberry Jr. looked like a potential steal coming into the season earning right around the Major League minimum, but he's been more of a burden than anything.
After failing to win the everyday left field job out of spring training, Mayberry's decline continued to gain momentum as the season progressed and it hasn't gotten any better.
The outfielder / first baseman is hitting .229 / .271 / .382 with nine home runs.
Even at such an affordable price, Mayberry has had negative value for the Phillies this season. The only thing keeping him afloat is his ability to play all three outfield positions defensively.
Stats through 8/17/12.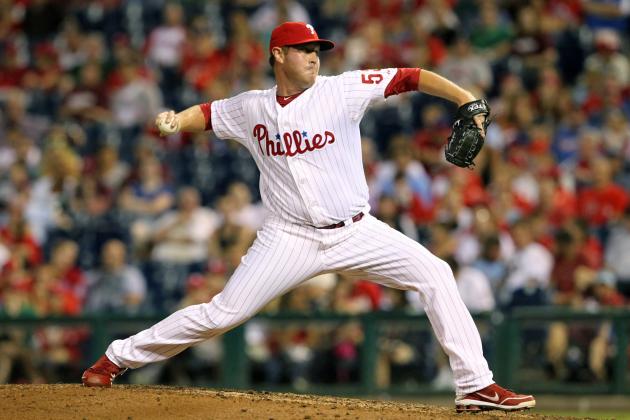 Hunter Martin/Getty Images

2012 Salary: $480,000
BJ Rosenberg hasn't been very good for the Phillies this season, but he's making the Major League minimum salary and that leaves a lot of room for him to add value to his "penny for penny" scale for the season.
Right now, I'd say he's about breaking even, putting him right in the middle of the pack.
The numbers aren't pretty. Rosenberg has logged 7.2 innings and surrendered 11 earned runs. Ouch. He's also walked eight batters, but struck out nine.
Stats through 8/18/12.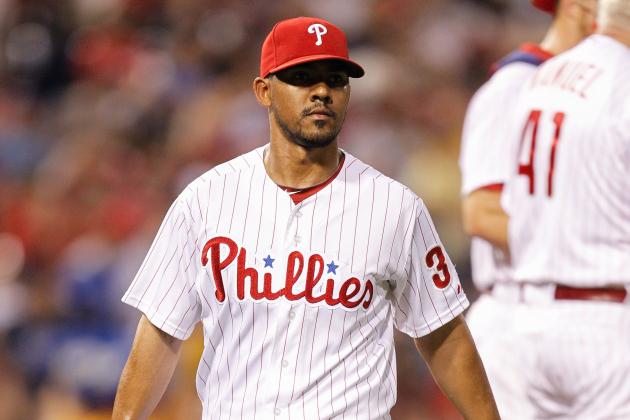 Brian Garfinkel/Getty Images

2012 Salary: $505,000
Antonio Bastardo was supposed to be a bargain coming into the season, but it is definitely tough to see the value right now.
Of course, like most players on this list with little MLB experience, the fact that he is earning right around the league minimum is the best thing that Bastardo has going for him right now, but the Phillies can't be happy with that.
After all, they expected him to come into the season as the club's set-up man. He was supposed to put his September 2011 struggles behind him and become the bridge to new closer Jonathan Papelbon—and for cheap.
But he's been bad this season. The lefty has appeared in 45 games and posted an ERA of 5.45. That's obviously not good for any reliever, but even worse for a man that came into the season with "back end of the bullpen" expectations.
His control has been the biggest culprit. With 21 walks already on the year, no Phillies reliever has issued more free passes.
Stats through 8/18/12.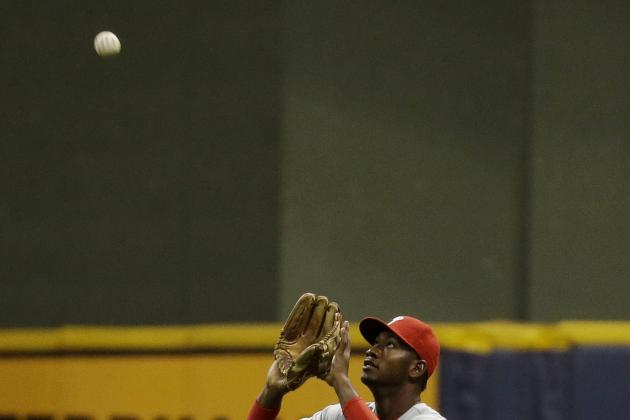 Mike McGinnis/Getty Images

2012 Salary: $480,000
Domonic Brown has been back with the Phillies for a short time—roughly three weeks—but in that time he's already shown that he is going to be one of this club's most valuable assets moving forward.
The primary reason for that fact is pretty obvious. He's cheap. Not even eligible for arbitration until after the 2014 season, Brown will be one of the club's most affordable options on a payroll bursting at the seams with huge salaries.
And while the numbers don't exactly say so, he's made improvements. Brown has taken the ball the other way with much more consistency this time around and has shown one of the lineup's best approaches at the plate post-trade deadline.
The slash line of .238 / .324 / .286 isn't pretty, but if you're looking for an encouraging sign, try this on for size—Brown has walked as many times as he has struck out with seven free passes and punch-outs apiece.
Stats through 8/18/12.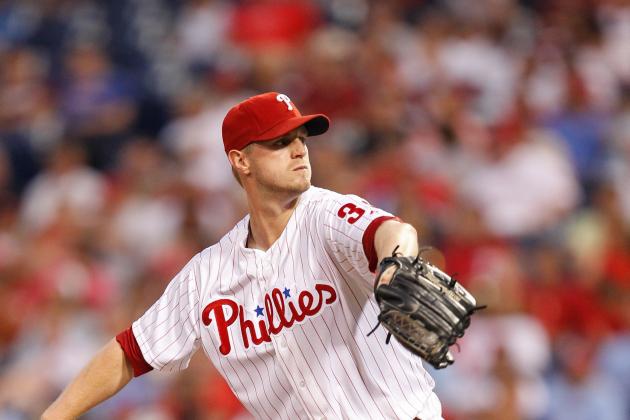 Brian Garfinkel/Getty Images

2012 Salary: $3 million
Kyle Kendrick isn't exactly the most beloved pitcher in the city of Philadelphia, but there is no denying that he has some value to this club.
While many people groaned and moaned (and rightfully so) when general manager Ruben Amaro Jr. inked Kendrick to a two-year deal, he provided the club with some cost consistency and locked the right-handed pitcher's salary in.
So what's that mean?
Well, with injuries in their starting rotation, the Phillies wound up getting a fifth starter who has posted a record of 5-9 with an ERA of 4.53.
For $3 million, that's actually not that bad. In fact, there is quite a bit of value in that.
Stats through 8/18/12.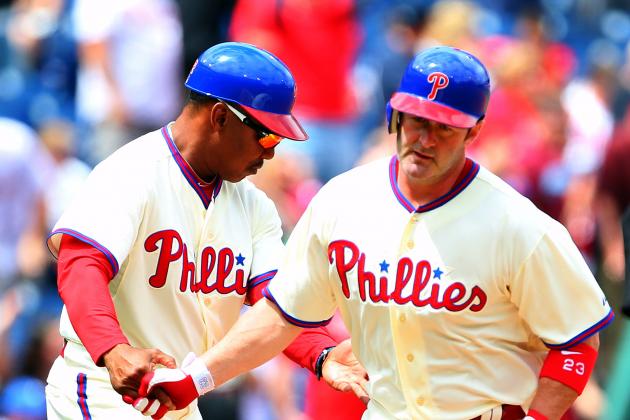 Rich Schultz/Getty Images

2012 Salary: $800,000
Brian Schneider plays a relatively small role on this club, but at least he does it for cheap.
Of course, the Phillies could have filled their back-up catcher role even cheaper over the last offseason and just given the job to Erik Kratz, who seems to have stormed onto the scene and taken it anyway.
But having Schneider around certainly isn't a bad thing. He is a veteran backstop with a good reputation amongst the pitching staff. He calls a good game and is a solid defensive option to give your starter a breather.
He's hitting .222 / .292 / .346 on the season with a pair of home runs. Considering the way that the 2011 season went for Schneider at the plate, I think this is about where everyone expected him to be.
Stats through 8/18/12.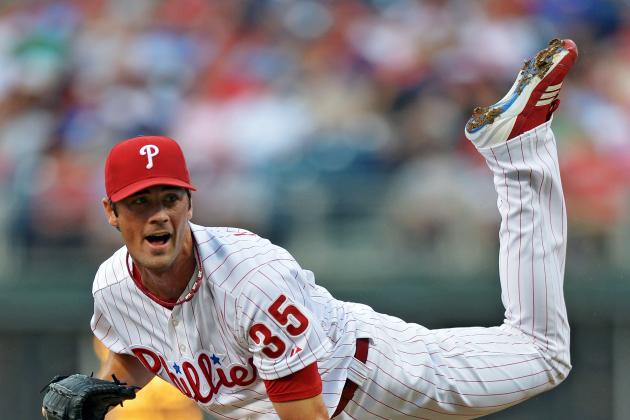 Drew Hallowell/Getty Images

2012 Salary: $15 million
All things considered, this may not seem like a very good spot on this list for Cole Hamels, who has realistically been the Phillies' best starting pitcher this season.
But you have to understand that when a player received a higher salary per season, it becomes harder and harder to live up to it with on-the-field performance. None of the players ahead of Hamels on this list are earning more in 2012, so this is actually quite an accomplishment.
Hamels has emerged as a legitimate Cy Young candidate this season. He's made 24 starts and posted a record of 14-6 with an ERA of 2.94. He's struck out 168 and walked just 42.
In reality, the biggest barrier to a Cy Young for Hamels may be the fact that the Phillies aren't a contender this season.
In regards to this list though, all you need to know is that, penny for penny, Hamels is the only player on this roster earning at least $15 million to live up to that salary.
Stats through 8/18/12.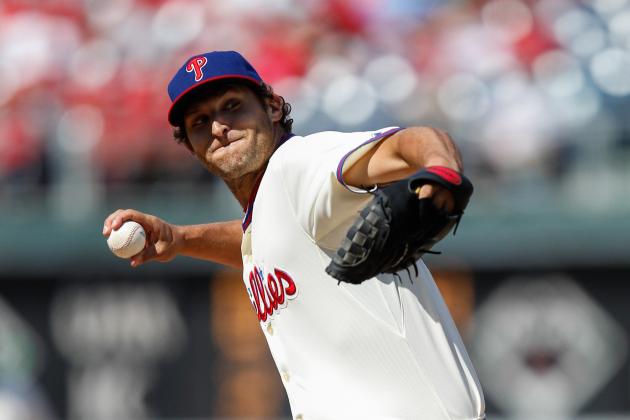 Brian Garfinkel/Getty Images

2012 Salary: $480,000
People throw this saying around a lot, but Michael Schwimer really has been "hit and miss" this season.
The Phillies were disappointed in the right-handed reliever early in the season and wound up sending him back to Triple-A.
He would be recalled later in the season when the Phillies found their bullpen depleted from injuries and in need of some help, and Schwimer would pitch well. A bit of a hot streak made him the best right-handed reliever not named Jonathan Papelbon at one point.
He's made 34 appearances to date, posting a record of 2-1 and a 4.59 ERA.
Those aren't the most appealing numbers, but Schwimer has also struck out 34 batters and walked 16.
He's been largely average this season, but there's some value in that when you're earning the league's minimum salary.
Stats through 8/18/12.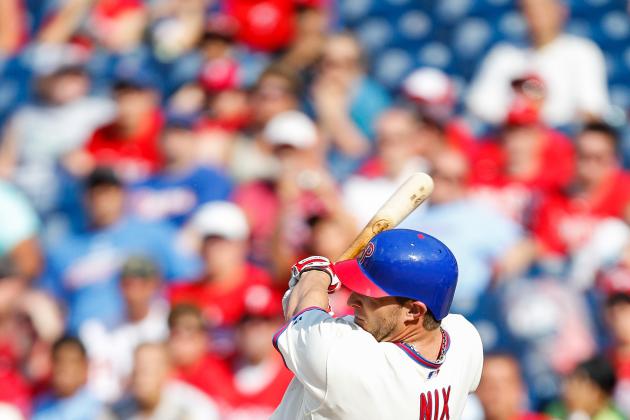 Brian Garfinkel/Getty Images

2012 Salary: $1.15 million
Who can say for sure, but had Laynce Nix not missed more than 50 games with a severe calf strain this season, he could have been in the top five on this list.
Right before he hit the disabled list, Nix was one of the club's hottest hitters. He hasn't exactly picked up where he left off for the Phillies, but he's been a quality left-handed option nonetheless.
Nix, who has appeared in just 39 games, has played four different positions. Yes, you read that right. Nix played a lot of first base in Ryan Howard's absence, but since returning from the disabled list Nix has played all three outfield positions as well.
In 85 plate appearances, Nix has posted a line of .260 / .329 / .429 with two home runs. I'm sure they'd like to see more power, but the Phillies will take that out of a guy they're paying just over $1 million in a part-time role.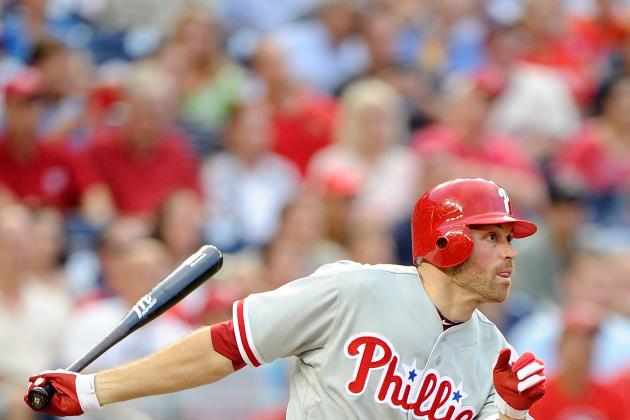 Greg Fiume/Getty Images

2012 Salary: $1.3 million
Nate Schierholtz comes with a bit of an asterisk here. I'm counting his entire 2012 season here, including his time with the San Francisco Giants.
Schierholtz came over from the Giants in the deadline deal that sent right fielder Hunter Pence to the Bay Area for a package of players that also included prospects Tommy Joseph and Seth Rosin.
Schierholtz, who was playing more of a bench role than anything in San Francisco, was getting a chance to play regularly with the Phillies before he broke his toe, including some time in center field.
For the season, he is hitting .246 / .315 / .406 with six home runs and figures to factor into the Phillies' bench plans for next season.
Stats through 8/18/12.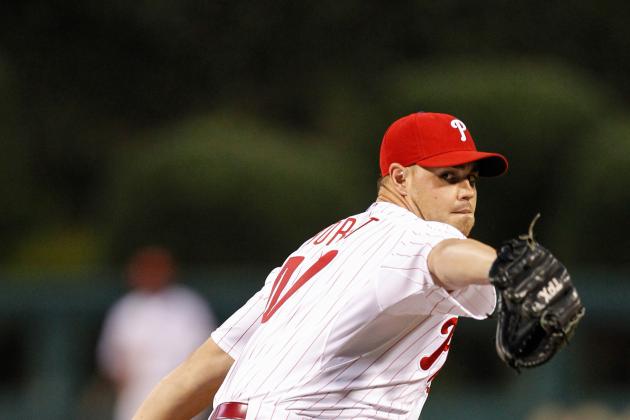 Brian Garfinkel/Getty Images

2012 Salary: $480,000
If there's been an "unsung hero" in the Phillies' bullpen this season, it has to be Jeremy Horst.
Not many people gave him much of a thought over the offseason when the Phillies acquired him in the deal that sent utility infielder and fan favorite Wilson Valdez to the Cincinnati Reds, but Horst has been one of the bullpen's few bright spots not named Jonathan Papelbon.
Horst has appeared in 16 games and logged 17 innings. He has posted a record of 1-0 with an ERA of 1.06 and surrendered just two earned runs. The lefty has also struck out 20 and walked just seven.
Not bad for a guy who didn't even factor into the club's plans coming out of spring training and is earning the league minimum.
Stats through 8/18/12.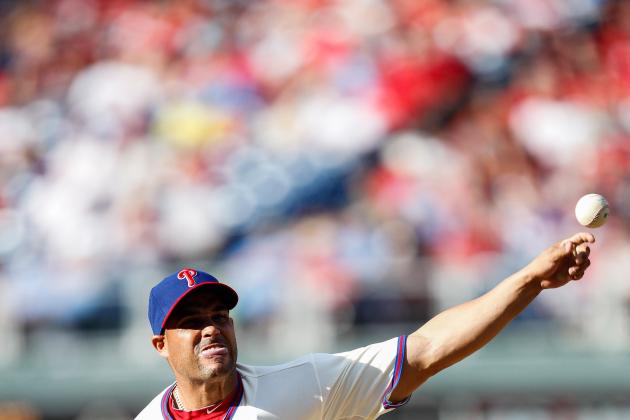 Brian Garfinkel/Getty Images

2012 Salary: $480,000
Raul Valdes is another guy who wasn't supposed to have much of an impact on the Phillies this season but has been quite impressive in his opportunity.
The lefty has logged 26.2 innings this season, including one start, and has posted a record of 2-2 to go along with a 3.38 ERA.
Valdes has shown good control this season, walking just five while punching out 31.
You can't do much better than that for a guy who is making the major league minimum in 2012.
Stats through 8/18/12.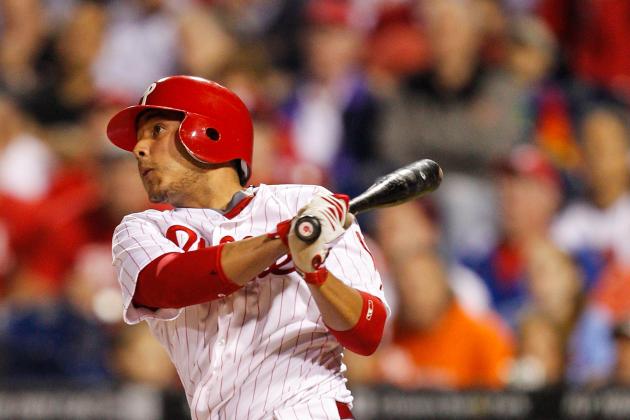 Brian Garfinkel/Getty Images

2012 Salary: $480,000
Freddy Galvis hasn't been heard from for quite a while, but I decided to take a look at him because he figures to factor heavily into the Phillies' plans for next season.
The middle infielder made his debut this season to hold down the fort for the injured Chase Utley and did a solid job. While his offense left something to be desired, Galvis' defense is second to none.
Galvis appeared in 58 games for the Phillies before suffering a Pars fracture of the spine and being forced onto the disabled list (and then being suspended for 50 games after a positive test found him in violation of the MLB's drug policy).
In that span of time, he posted a slash line of .226 / .254 / .363, with three home runs. The Phillies obviously hope that he'll be more comfortable at the plate in his second MLB season, but you take what you can get from pre-arbitration players.
Stats through 8/18/12.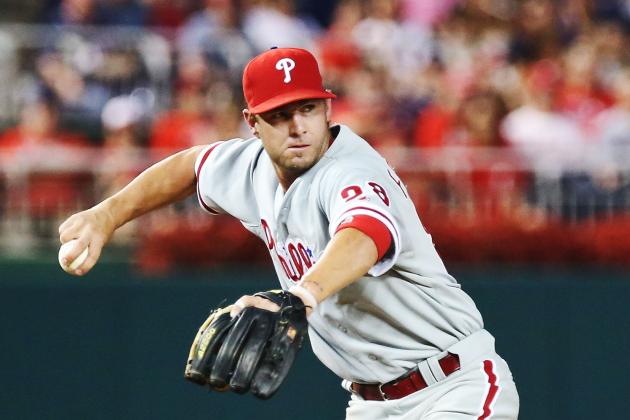 Kevin Jairaj-US PRESSWIRE

2012 Salary: $480,000
Sure, it's a small sample size, but all Kevin Frandsen does is hit.
The Phillies called him up after regulars like Carlos Ruiz and Placido Polanco were forced to the disabled list and Frandsen has taken over as the club's third baseman.
In just 19 games, he's already recorded more hits than Laynce Nix and has posted a slash line of .310 / .347 / .380 with a home run.
I understand that Charlie Manuel loves his veteran players, but how can you justify sitting Frandsen in place of Polanco? I don't think you can, and if that doesn't illustrate his penny for penny value, I'm not sure what would.
Stats through 8/18/12.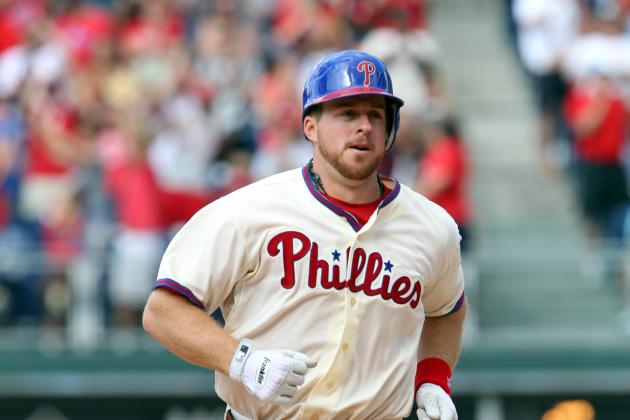 Hunter Martin/Getty Images

2012 Salary: $480,000
When the Phillies re-signed Brian Schneider to be their backup catcher over the offseason, a lot of people wondered what that meant for Erik Kratz, who realistically could have stepped into that role and played at least as well as Schneider, and for cheap.
Now we're wondering what he would have been able to do with regular playing time over a full season.
Kratz has done nothing but mash baseballs since being recalled by the Phillies a few weeks ago. He's appeared in 24 games and has posted a slash line of .271 / .343 / .678 with six home runs.
That's an impressive slash line coming from a guy who was third on the Phillies' catching depth chart and behind Schneider.
Also, he's making the league minimum. Must just be something special about Phillies' catchers this season.
Stats through 8/18/12.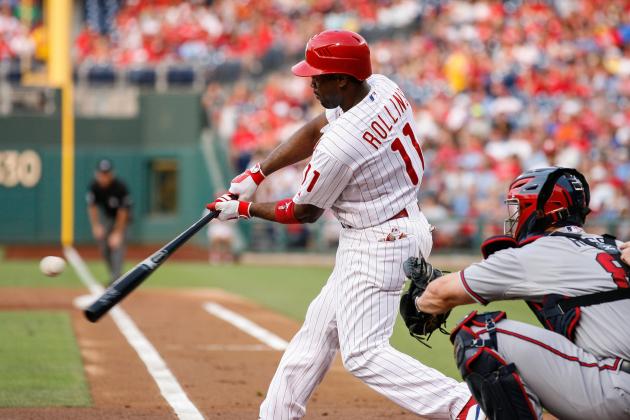 Brian Garfinkel/Getty Images

2012 Salary: $11 million
Here's the surprise on this list. Jimmy Rollins is in the top five.
That's right. I'm talking about the same man that gets thrown under the bus for jogging down the first base line on a ground ball from time to time, but tends to make scoring from first on a ball in the gap look pretty easy.
Yeah, that Jimmy Rollins.
The reason that he's so high on this list is that he is easily the best two-way player the Phillies have on this roster. There's no doubt that shortstop is a premium position and there are few in the game better than Rollins.
He's one of the best defensive shortstops in the game today, and while his offensive numbers are indicative of a lead-off batter, they aren't bad for a shortstop either.
When you look at the penny for penny value of a player, how many guys are as well rounded as Rollins?
Stats through 8/18/12.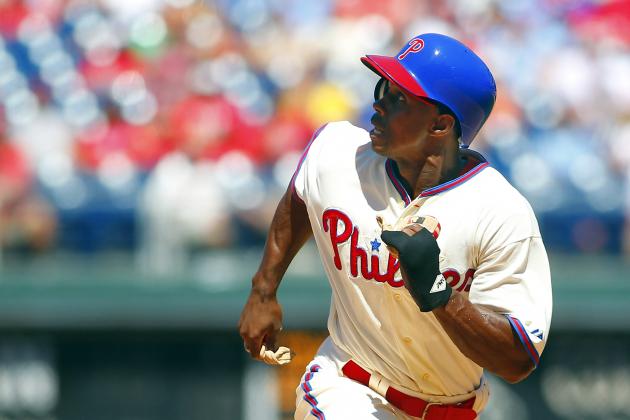 Rich Schultz/Getty Images

2012 Salary: $800,000
Who would have thought that Juan Pierre would have been this valuable when he signed a minor league deal with the Phillies over the offseason?
Surely, most teams thought that the slap-hitting left fielder with a noodle for an arm was at the end of his rope, but not so fast.
Pierre has been impressive for the Phillies this season and it isn't hard to imagine them wanting to bring him back in some capacity in 2013 after refusing to trade him (or even place him on waivers) in 2012.
Pierre has posted a line of .306 / .346 / .371 and even "slugged" a home run. He's also stolen 29 bases.
Not bad for an MLB veteran who didn't even have a guaranteed deal coming into spring training.
Stats through 8/18/12.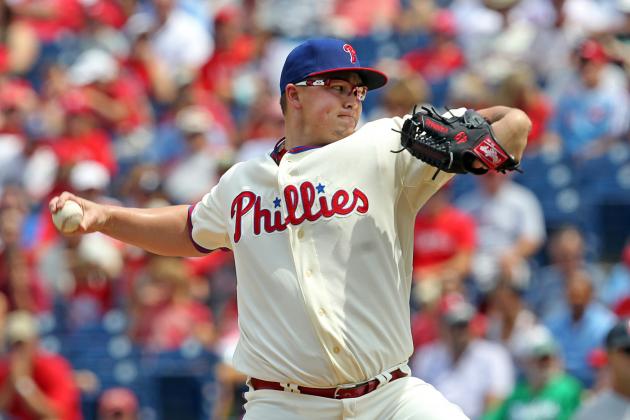 Hunter Martin/Getty Images

2012 Salary: $495,000
When you can get some young, affordable pitching with upside into your starting rotation, that's an easy decision to make.
That's been the case for the Phillies and Vance Worley over the last couple of seasons as the right-handed starter has settled comfortably into the club's rotation behind aces like Roy Halladay, Cliff Lee, and Cole Hamels.
Worley has been solid for the Phillies this season, having posted a record of 6-8 with a 4.11 ERA. It was supposed to be a make or break year for Worley, whom many thought would battle the sophomore slump.
Instead, he gets an asterisk. He's pitched almost the entire season with bone chips in his right elbow, and only Worley knows how much that truly effects him.
Regardless, having a pitcher like Worley in your rotation for around the league minimum is a bargain.
Stats through 8/18/12.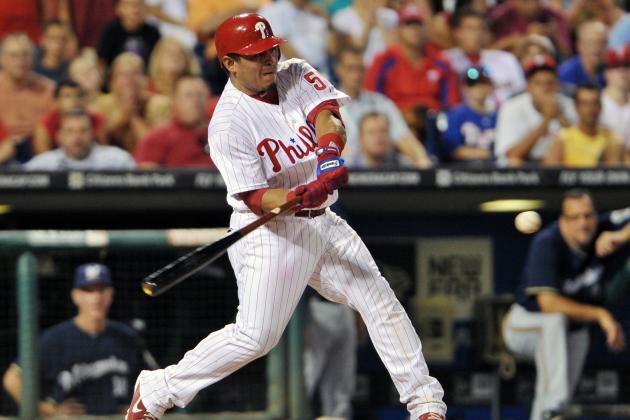 Drew Hallowell/Getty Images

2012 Salary: $3.7 million
"Bargain" doesn't even begin to describe Carlos Ruiz's value to the Phillies. As far as penny for penny value is concerned, Ruiz is at the top of the list for the Phillies and the rest of the pack really isn't very close.
Currently on the disabled list, Ruiz picked this team up and carried them on his back for most of the season as the Phillies battled to keep their playoff hopes alive through injuries to Ryan Howard, Chase Utley, and Roy Halladay.
In 95 games, Ruiz has posted a line of .335 / .399 / .559 with 14 home runs. Add to that the fact that he plays one of the most physically demanding positions on the diamond and naming Ruiz the most valuable player on this roster needs no further explanation.
Stats through 8/18/12.