AFC South Friday Tweetbag: Success Rate, Trades, Former Busts and More!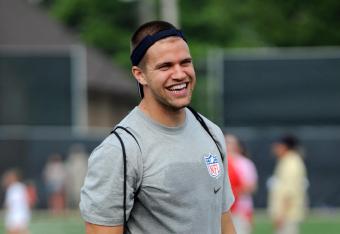 Fleener is popular with the ladies, but needs to squeeze the football.
Eric P. Mull-US PRESSWIRE
Welcome to the Tweetbag! As always, you can tweet, email or send your questions to me in the comments section of the articles. Be sure to use the hashtag #tweetbag!
Q: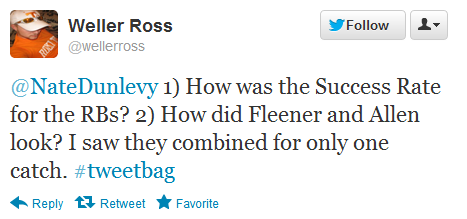 A: Success rate is a great way to measure the effectiveness of the run game. The Colts mostly did a nice job running the ball. The top four backs were 10-of-14 in successful runs on the day. Delone Carter and Vick Ballard were both 4-of-5, with one of Carter's runs ending the first half.
As for the tight ends, Coby Fleener dropped a pass. That's only concerning because it's been something that has plagued him all preseason. It's too early to worry about any rookie, but Fleener hasn't been as sure-handed as you'd like early on.
As for Allen's impact, just look at that success rate and you'll know what you need about his blocking on the day.
Q: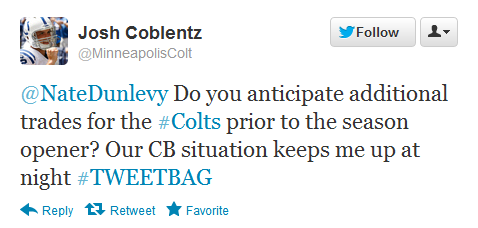 A: I don't know that the Colts will be making any more deals for players. You are right to be worried about corners, but Indianapolis isn't a playoff contender right now, and it makes no sense to deal picks for players unless you think your team is going to win the Super Bowl.
Indy will scour the waiver wire come cut day for quality veterans, but don't look for a deal to bring the solution for the secondary.
Q: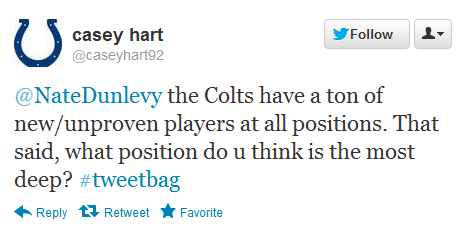 A: The Colts aren't deep, but if there is a position to feel good about, it's the running backs. Brown, Carter and Ballard could all be serviceable in a pinch. Losing Brown would take a way an explosive dynamic for the Colts, but there would still be tolerable depth.
While I think Allen and Fleener are potentially difference-makers for the Colts, the backup tight ends look credible as well.
Q: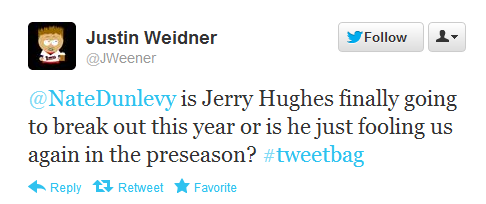 A: As I wrote this morning, it'll take more than a good game for me to get back on the Jerry Hughes bandwagon.
I was high on Hughes out of TCU and advocated strongly for the Colts to take him. Obviously, his play has been nothing short of disastrous.
I hate questioning the desire and intensity of an athlete, because those things are hard to measure. Still, Hughes often looks lost on the field.
Q: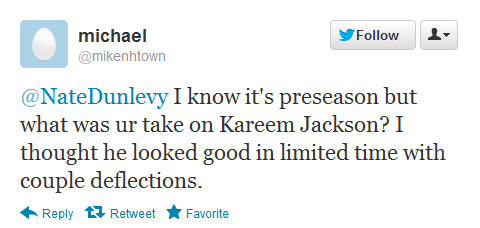 A: I've always had a modicum of respect for Kareem Jackson because he does do some things well. He's a very effective tackler in space, and I've always wondered if he wouldn't be more successful in another scheme. If he played for the Bears, he might be a star.
Still, he's been lost in Houston, and fans have been down on him. Wade Phillips is smart, though, and a good coach will find ways to put players in positions to succeed.
If Jackson had no talent, I'd be all for giving up on him, but when a player has a demonstrable skill, it's just a question of finding the right use for him. Last week he made an outstanding play on the ball early against the Panthers.
I'm not saying he'll ever be a Pro Bowl corner or even live up to his first-round pick status, but I think Jackson is a quality NFL player and will help the Texans more than hurt them.
Q: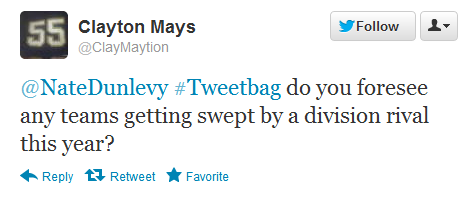 A: I expect the Texans to sweep the Jaguars, but not the Colts.
Why?
It's simple: The Texans will already have clinched when they come to Indy during the last week of the season. They'll rest their starters, and the Colts will win.
I suspect the Titans might sweep Indy, but that would be the only other 2-0 set that I see from the South.
Q: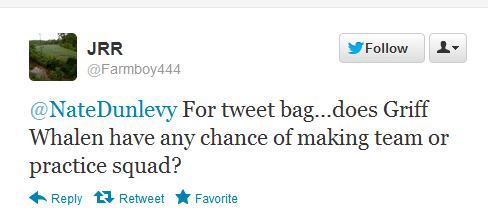 A: Griff Whalen is a popular guy to keep an eye on because of his connection to Andrew Luck. He missed time early in camp with an injury, however.
Given the play of the other receivers in Colts camp, I can't see a spot for Whalen, unless it's on the practice squad. That would be the absolute ceiling for him, however.
Q: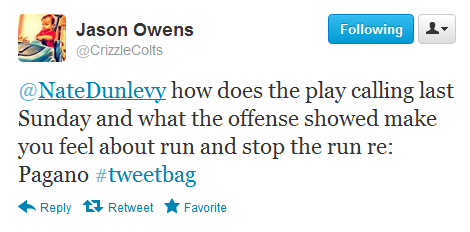 A: By my count, Indy passed 16 times and ran six with Luck in the game. That's counting Luck's scramble as a pass.
Let's just say that I think Luck is in good hands with Bruce Arians, and that Chuck Pagano has the look of a man in love when he talks about his quarterback.
No matter what Pagano wants to do about "running the ball," it's hard to call a run when you have a quarterback like that.
This article is
What is the duplicate article?
Why is this article offensive?
Where is this article plagiarized from?
Why is this article poorly edited?

Indianapolis Colts: Like this team?