Arsenal Transfer News: 10 Songs to Say Goodbye to Robin Van Persie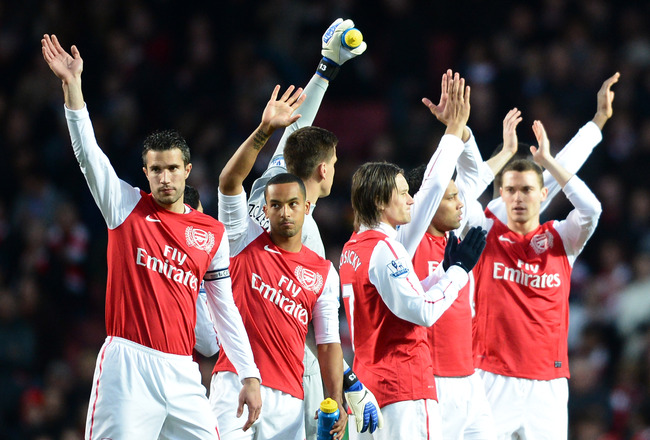 Laurence Griffiths/Getty Images
"Parting is such sweet sorrow" ~ Shakespeare.
Robin van Persie's exit from Arsenal is one bound to evoke a myriad of responses from Arsenal fans right around the world. Some will be angry, some will be nostalgic, others will simply be sad at the departure of their star striker.
Whatever feelings you have about Van Persie's move, we've got a song here that will cover how you're feeling. Be it anger or be it sorrow, let the words and melodies allow you to part from the 29-year-old striker who was once Arsenal's favorite son.
Read on to see the top 10 songs to say goodbye to RVP.
HM: 'Cry Me a River' (Justin Timberlake)
Unlucky to miss out on the top 10, but still very worthy an honorable mention, is the king of smooth—Justin Timberlake.
This Song Is Perfect For:
For the fan who's angry at Robin van Persie for leaving Arsenal but too much of a nice guy to say anything that aggressive.
Sample Lyrics:
You should've picked honesty, then you may not have blown it
You told me you loved me, why did you leave me, all alone?
Your bridges were burned, and now it's your turn to cry, cry me a river
10. 'Again' (Needtobreathe)
Kicking off our list is this heartfelt ballad from Needtobreathe, whose emphatic lyrics and soothing melody could have made a really nice love song. Anyway. That's besides the point.
This Song Is Perfect For:
The fan who feels he's been walked over and made fun of by Robin van Persie—left standing at the altar or having a dinner for two by himself.
Sample Lyrics:
You won't be the regrets that I can't live with
And we won't be the last ones to ever have to lose it all
Maybe I'm a fake, maybe you're a lie
Maybe our last chance died with last night
I don't want to stay, I don't want to fall in love with you again
9. 'Since U Been Gone' (Kelly Clarkson)
Who better to help you say goodbye than Kelly Clarkson—former winner of American Idol and national anthem singer for the recent SuperBowl XLVI.
Maybe it's the catchy pop-nature to the song, maybe it's the fact that it's Kelly Clarkson—either way, this song might help soothe some of the pain Gunners fans are feeling right now.
This Song Is Perfect For:
The fan who, angrily, wants to tell Van Persie how much better Arsenal is now that he's not there. So angry, he needs a female pop singer to do it.
Sample Lyrics:
You had your chance you blew it—out of sight, out of mind
Shut your mouth I just can't take it again and again and again and again
Since you've been gone, I can breathe for the first time
8. 'Goodbye My Lover' (James Blunt)
It must be noted that not every Gunners fan is completely angry at Robin van Persie—many will miss him at the club, and many never wanted him to leave the club.
Sometimes anger is overwhelmed with pure sadness, and if that's the case, there's no better man to help you through it than James Blunt.
This Song Is Perfect For:
The fan who is just plain old sad and plans on spending a few weeks in solitary confinement weeping about the transfer.
Sample Lyrics:
Did I disappoint you or let you down?
Should I be feeling guilty or let the judges frown?
It may be over but it won't stop there,
I am here for you if you'd only care.
You touched my heart you touched my soul.
You changed my life and all my goals.
7. 'The Scientist' (Coldplay)
If your tear ducts can't take Coldplay after James Blunt, then feel free to move on to number six. We'll catch up with you in a minute.
Again, letting something or someone go can be hard. All you want to do is go back to the start—back to when everything just worked and everyone was happy.
Let Coldplay take you there.
This Song Is Perfect For:
The fan who is trying to deal with his hurt by watching Van Persie's successful penalty in Arsenal's FA Cup win over Manchester United in 2005 over and over again.
Sample Lyrics:
Nobody said it was easy—it's such a shame for us to part
Nobody said it was easy; no one ever said it would be this hard
Oh, take me back to the start...
6. 'I Hate Everything About You' (Three Days Grace)
All right—that's enough of the sappy stuff for now.
Many Arsenal fans are very, very, very, very angry at Robin van Persie for leaving the club that "made him" and stood by him—claiming him as a greedy, trophy hunter.
Three Days Grace helps get some of that anger out for us.
This Song Is Perfect For:
The fan that ranks $amir Nasri or A$hley Cole higher in their minds than Van Persie at the moment.
Sample Lyrics:
I hate everything about you... (pretty much sums it up)
5. 'Good Riddance' (Green Day)
Maybe you're one of those fans that isn't sad or angry—you're just in the middle of the two and have already comes to terms with the fact that Robin van Persie isn't coming back.
If it's nostalgia you're after, then Green Day has the song for you. It seems every graduation in the world has this song, so it's only fitting that it features in our list.
This Song Is Perfect For:
The fan who's already completed a season FIFA team Giroud, Podolski and Cazorla and isn't at all fussed where Van Persie moves, as long as he's happy.
Sample Lyrics:
Another turning point a fork stuck in the road
Time grabs you by the wrist directs you where to go
So make the best of this test and don't ask why
It's not a question but a lesson learned in time
It's something unpredictable but in the end it's right
I hope you've had the time of your life

4. 'Cold as Ice' (Foreigner)
Time for a classic.
Nothing quite says "I don't need you anymore" like a power ballad from the 1970's, and if it does, it doesn't say it was well as Foreigner do here.
This Song Is Perfect For:
The fan who just wants to fist-pump and desk-thump his frustration out on Robin van Persie.
Sample Lyrics:
You're as cold as ice—you're willing to sacrifice our love
You never take advice—someday you'll pay the price I know
You know that you are as cold as ice to me
3. 'Yesterday' (The Beatles)
We're in to the top three now, which means it's time to get into the big guns. And there is perhaps no bigger gun in the musical world than The Beatles.
Some say that this song was about the band's inevitable breakup; I'm fairly sure that they wrote it in advance for all weeping Gunners fans.
This Song Is Perfect For:
The fan who is nostalgic, reflective, poignant, empathetic, withdrawn, pondering, downcast, depressed, bitter or just trying to keep it all together.
Sample Lyrics:
Yesterday, all my troubles seemed so far away
Now it looks as though they're here to stay—oh, I believe in yesterday.
Why she had to go I don't know she wouldn't say.
I said something wrong, now I long for yesterday.

Yesterday, love was such an easy game to play.
Now I need a place to hide away—oh, I believe in yesterday.

2. 'Somebody That I Used to Know' (Goyte)
If you haven't heard of this song, you must never have heard of the radio or YouTube. It's the most-played, most-watched, most-listened to song in history and a deserved entry into our list.
If you want to move on from Van Persie—which nearly every fan does—then Goyte is the man that can help you do that (and get some of your anger out along the way).
Because there's nothing better than a naked Australian man singing who's completely covered his body in paint, right?
This Song Is Perfect For:
The fan that just wants to move on; he wants to forget RVP and the knife that he stuck in the back of all Arsenal fans.
Sample Lyrics:
But you didn't have to cut me off
Make out like it never happened and that we were nothing
And I don't even need your love
But you treat me like a stranger and that feels so rough
No you didn't have to stoop so low
I guess that I don't need that though
Now you're just somebody that I used to know
1. 'Time to Say Goodbye' (Andrea Bocelli)
There is, however, no greater song to say goodbye than the brilliance of Andrea Bocelli.
Even if you don't like Italian opera—though I can't understand why—you've got to admire the wonder that is Con te Partiro or "Time to Say Goodbye."
Because at the end of the day, that is what Arsenal fans have to do with Van Persie—regardless of whether they're angry, sad or somewhere in between.
This Song Is Perfect

Read the English lyrics to the song here and prepare to be amazed.
What songs would you use to say goodbye to Robin van Persie?
Comment below or hit me up on Twitter: Follow @dantalintyre
Keep Reading

Arsenal: Like this team?